Apartment Life: 6 Tips for Getting (and Staying) Organized
Do your New Year's Resolutions include a vow to stay organized? Here's half-a-dozen ways to keep your home in a perpetual state of awesome.
Every year around January, I resolve to make my life a more organized one. And for a while, I do a great job. Then January comes to a close and there's laundry all over the place and a stack of dishes that I somehow managed to put off cleaning all weekend, and I start to get really discouraged and even overwhelmed.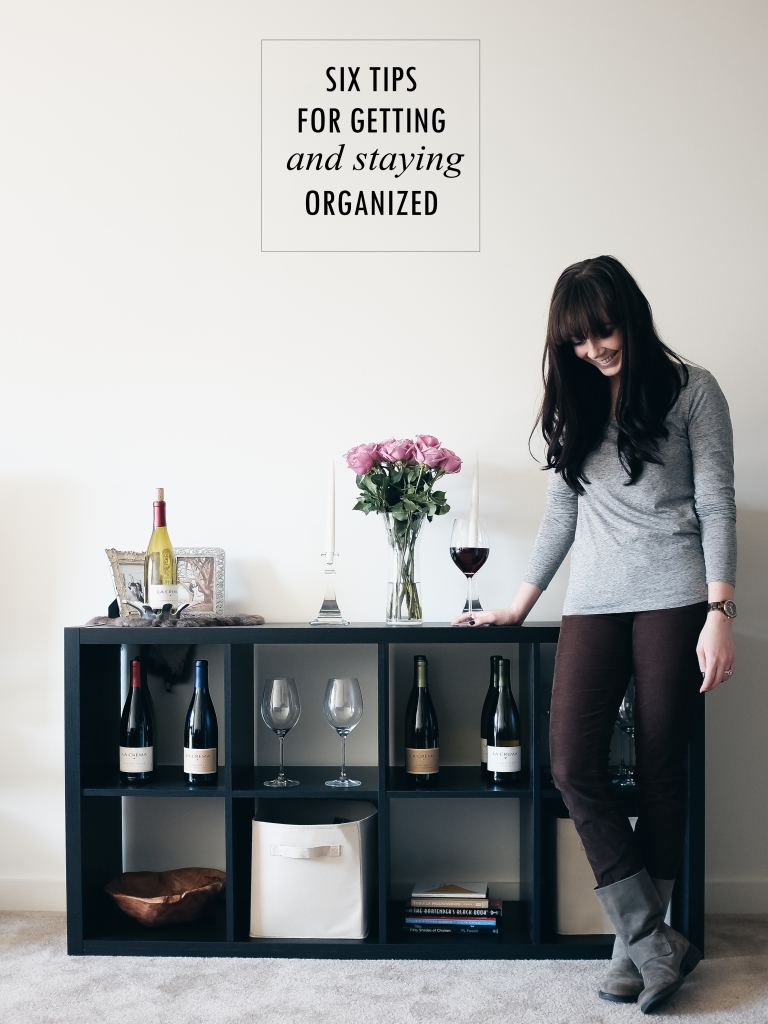 My husband and I moved in August and even just a few weeks ago, we still had a lot of dishes to unpack. Because we live in an apartment, there isn't nearly enough storage space for all the stuff we've accumulated over the years. After picking up a simple storage piece from Ikea the other day, I realized that a lot of my mental health regarding my home organization revolves around simply having enough space to put my stuff.
With that in mind, I thought I'd compile a list of things that have helped me stay organized (hopefully all year long)!
Have people over often. My apartment never looks better than when I'm having my in-laws over for dinner or even just sharing a glass of wine with a friend at my kitchen's bar. Not only is having people over fun, but it keeps me on my toes as far as laundry folding, bathroom cleaning, and general apartment organization.
Spend ten minutes every night tidying up. This makes such a difference–every night before going to bed, I like to spend a quick ten minutes attacking one or two things around me–maybe it's the kitchen sink or that pile of mail next to the front door. It's less overwhelming than trying to clean the entire apartment, and there's less clutter when I wake up.
Fit shelves wherever you can, and use them. We used to have a rickety little bar cart in our kitchen that held dishes and wine bottles we had no space for, but now that we have a sturdier piece (pictured in this post), we can really take advantage of all the space we've saved. We actually have several of these shelving units all over our apartment (we use a bigger one as a bookcase and a few smaller ones to organize clothes and shoes). I'm also planning to install a few wall shelves in our hallway to get some picture frames off of our counters and free up some more space.
Don't be afraid to hang things on your walls. I got a great wine rack from our neighbors back home and put off hanging it for so long. Now it's up and it holds five bottles! My next project is a gallery wall behind the couch so I can finally get rid of a big stack of photos that are hanging out in our living room. I used to be nervous about hanging things in a space that I would soon move out of, but it's amazing how much more home-y a place feels with your stuff on the walls.
Find a container for everything. A simple laundry hamper can make a world of a difference in your closet. Spend ten dollars on a jewelry organizer and never have to untangle a knot of chains again. A basket near the door can collect stray shoes. Even designating a junk drawer in the kitchen for random odds and ends will make your life a lot easier.
Stick to it. This is the hardest one for me. Laundry and dishes will always need to be cleaned. The floor will always need to be vacuumed, and your stuff is always going to find ways to turn into clutter and make you crazy. I like to have one or two chores per day of the week so I don't end up having to catch up on everything at once and blow an entire weekend. Find a way to manage it all and stick to it.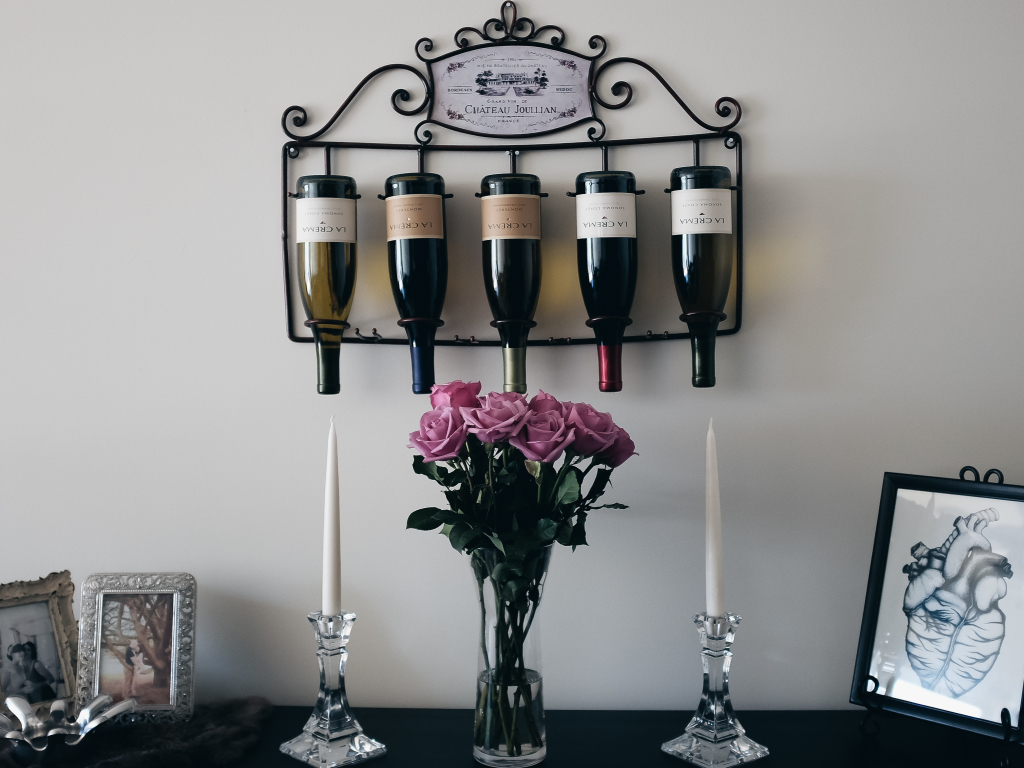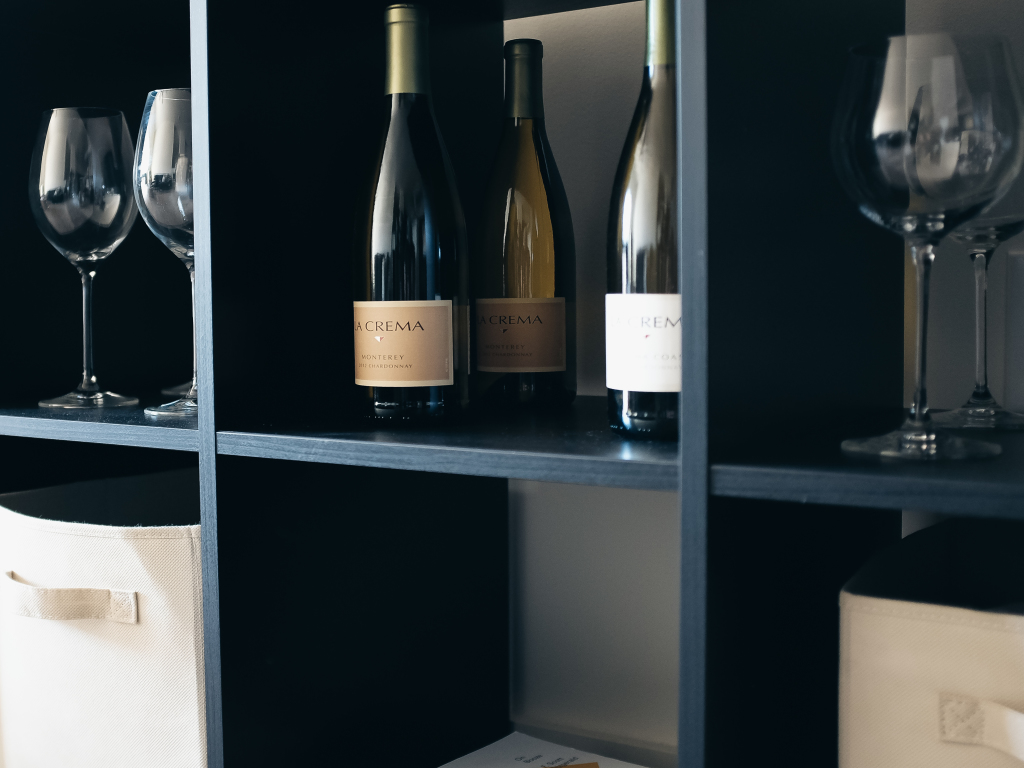 In March I'll be making some x-shelves to further customize this storage unit and make it a little more wine-centered. Can't wait to share the tutorial with you!
What do you do to stay organized and make the most of your space?
Photos by Justin Smith of Basic Wild.