Hosting a Winter Wonderland Party
This winter has been so magical! It's no wonder our dear groundhog Punxsutawney Phil decided we needed six more weeks of winter. I don't know about you, but I sure am not complaining, which is why I planned a Winter Wonderland party. There is nothing better than cozying up by the fire with a faux fur blanket and a glass of La Crema! One of my other favorite parts about winter is the spin on entertaining. In warmer weather you can easily host a soirée outside and in the winter you normally keep your guests inside. But I say, why not try a something a little different when it comes to your winter hostessing plans while we still have this beautiful winter around us!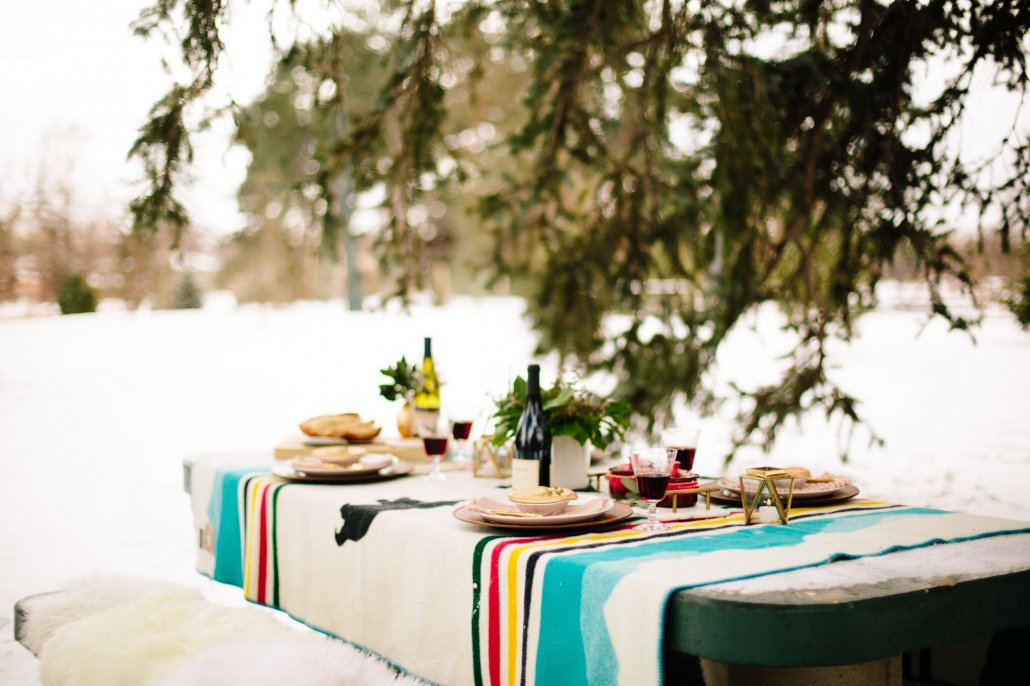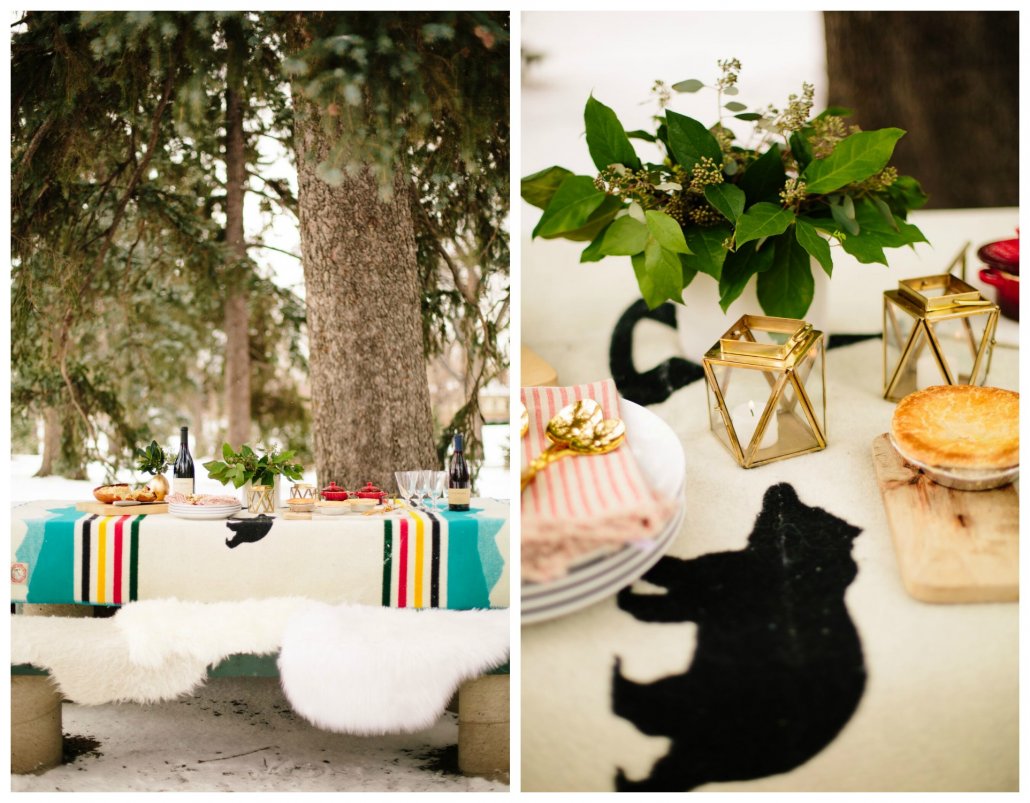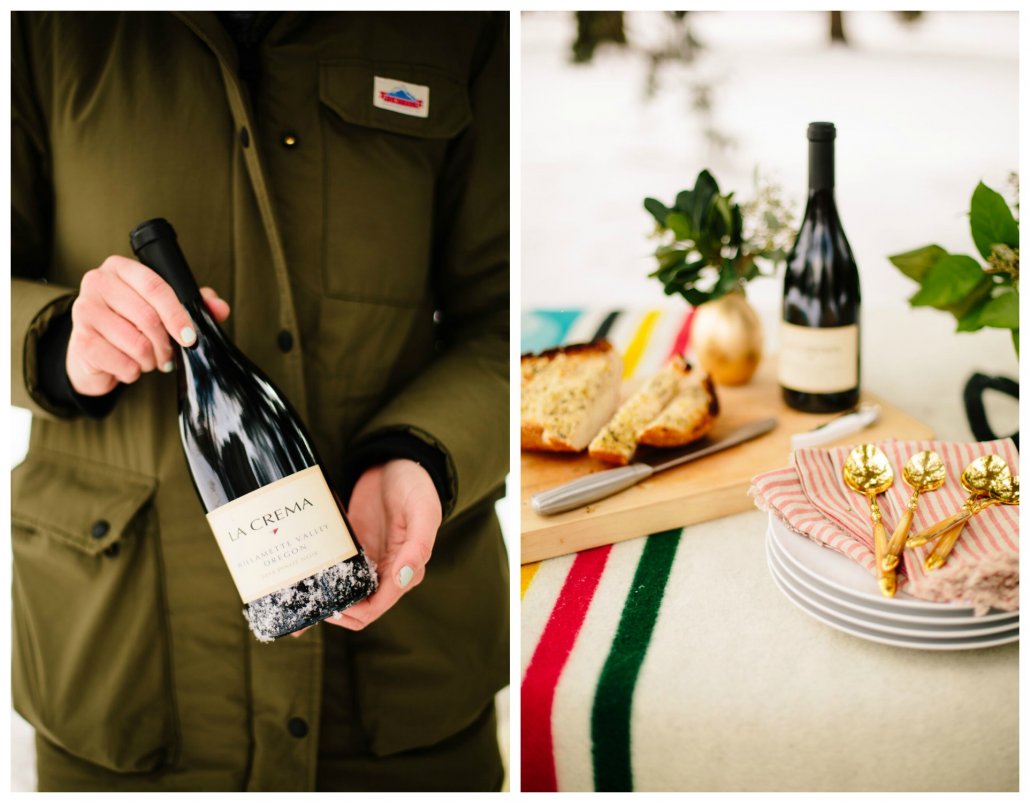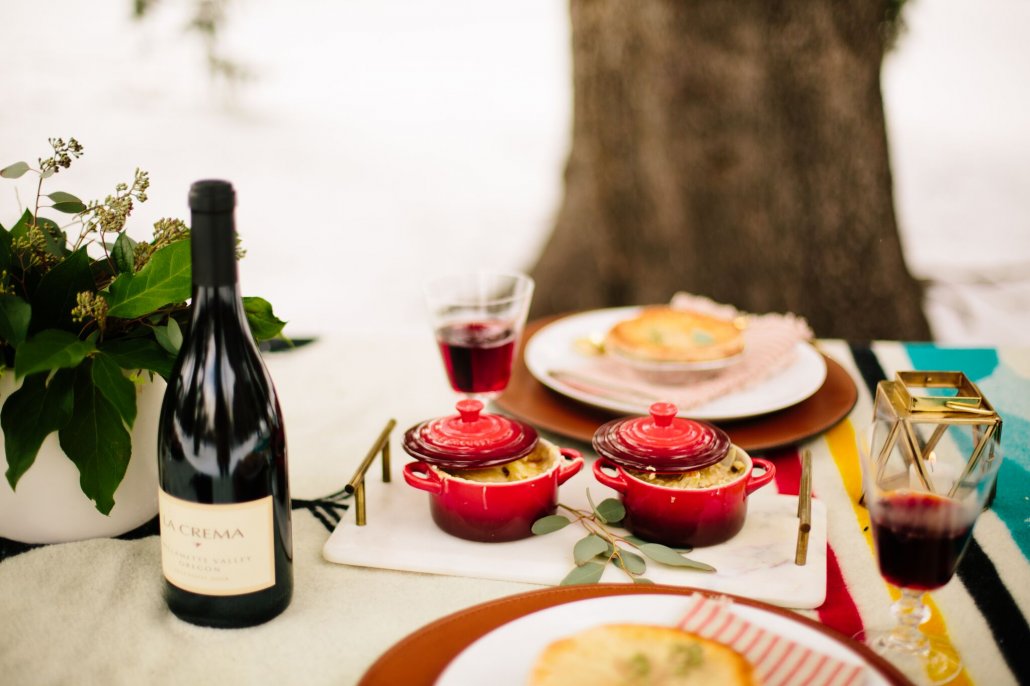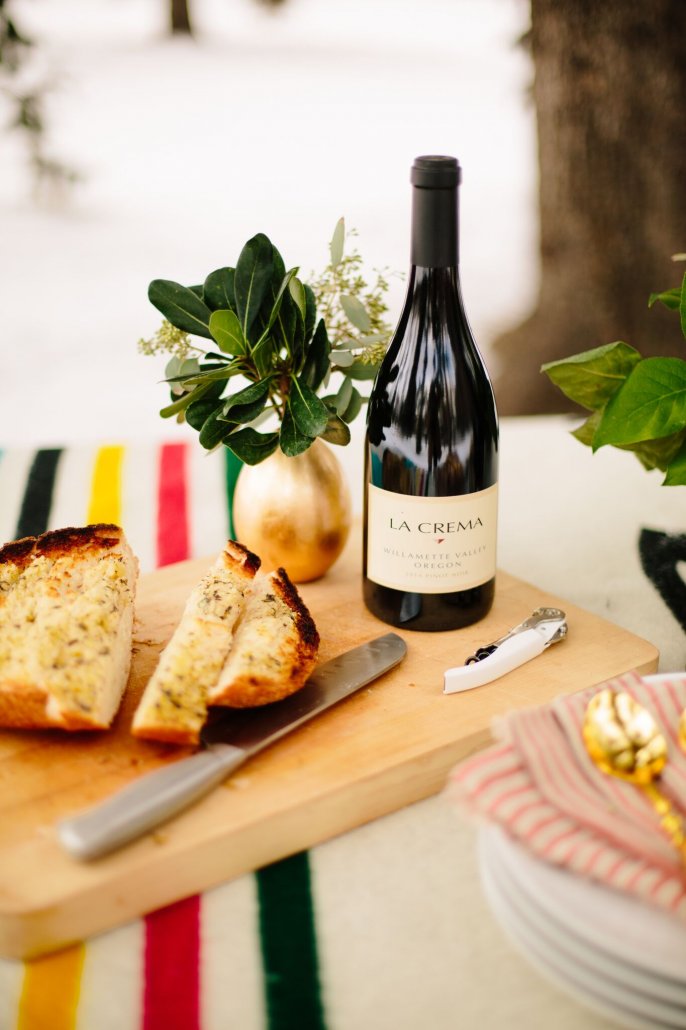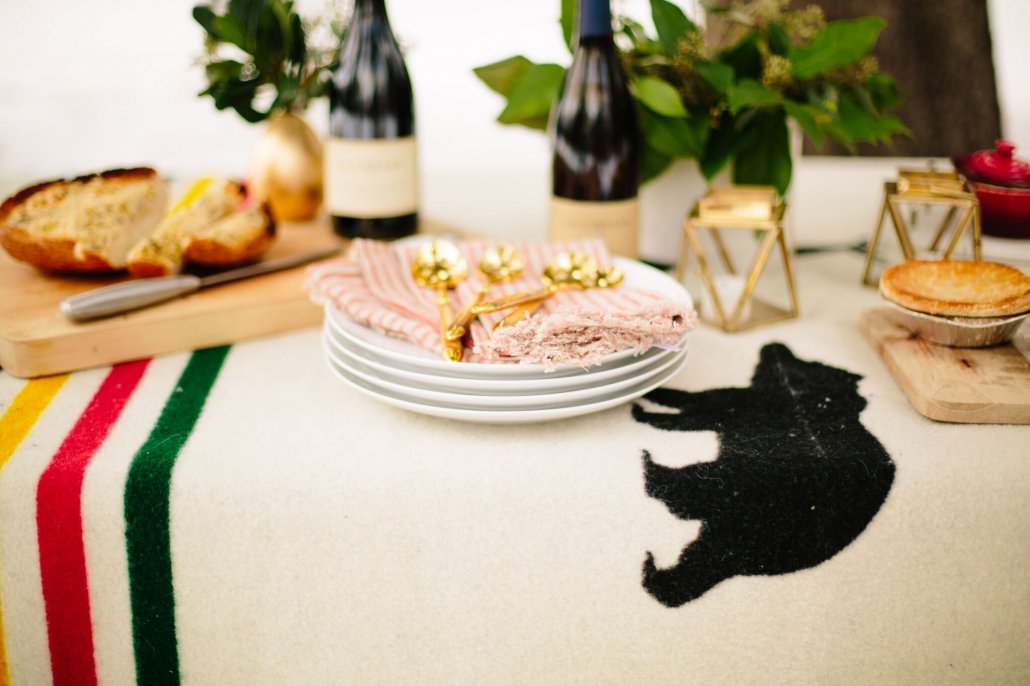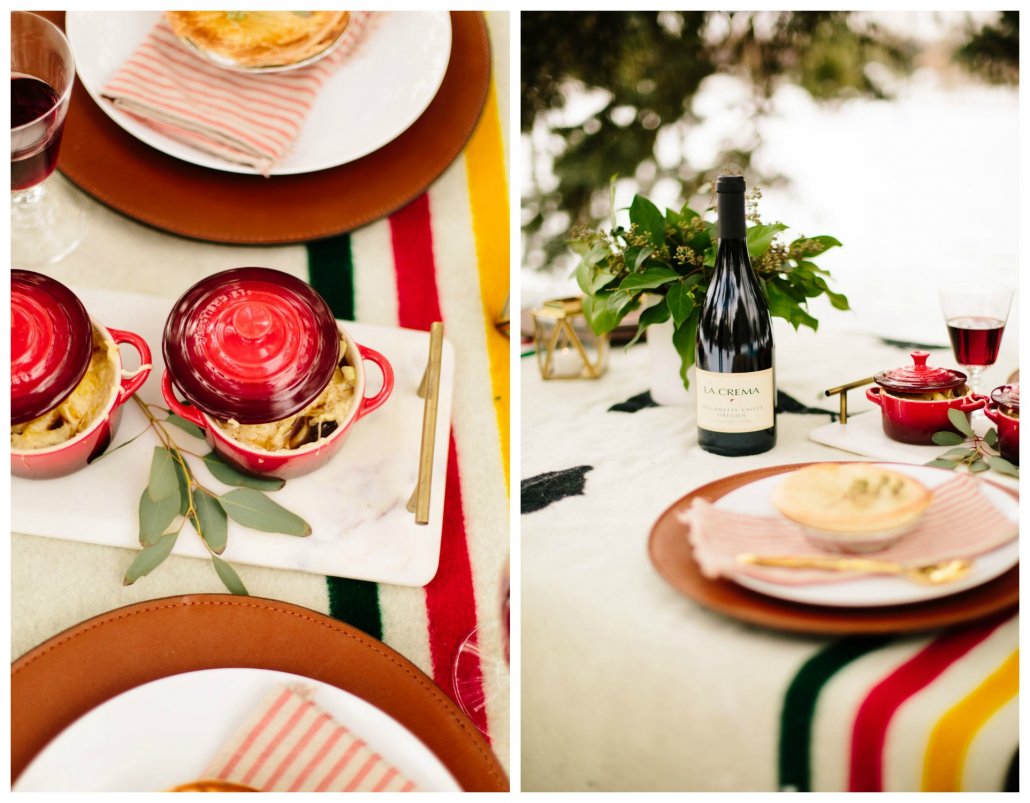 This winter wonderland party is the perfect way to celebrate the winter months, in style! Equipped with delicious bites, La Crema wine and cozy blankets, your guests will be able to enjoy the scenery of a winter wonderland with everything they need. Now, first thing I am sure you are thinking is, my guests are going to freeze! Especially if there happens to be snow on the ground. The key to this party is keeping everyone warm and cozy with these simple tips:
Faux fur blankets are key! Make sure to grab enough for guests to each have their own while also providing a cushion on their chairs with faux fur rugs (which you can easily find at Ikea). This also sets a warm and inviting atmosphere to the setting.
Warm food is a must! Providing delicious and warm bites will keep everyone's belly full and minds off of the cold. A French onion soup, chicken pot pie and cheesy garlic bread are all crowd pleasers in the winter months. Think warm and homey food! Paired with Willamette Valley Pinot Noir and Monterey Pinot Noir, the food spread is enough to entice your guests to join you in this winter wonderland party. Get the recipes below!
Hot chocolate for dessert! A warm drink to end the meal is the perfect way to serve dessert. To easily set up a hot chocolate bar you will need a few key items:
Hot Chocolate Bar Necessities:
Mason jars
Mugs
Thermos filled with hot water
Hot chocolate mix
Marshmallows, whipped cream, chocolate chips and any other toppings.
Set all the items out on a tray for guests to create their own hot chocolate after the meal. You can also pre make the hot chocolate in the thermos, depending on it guests prefer water or milk.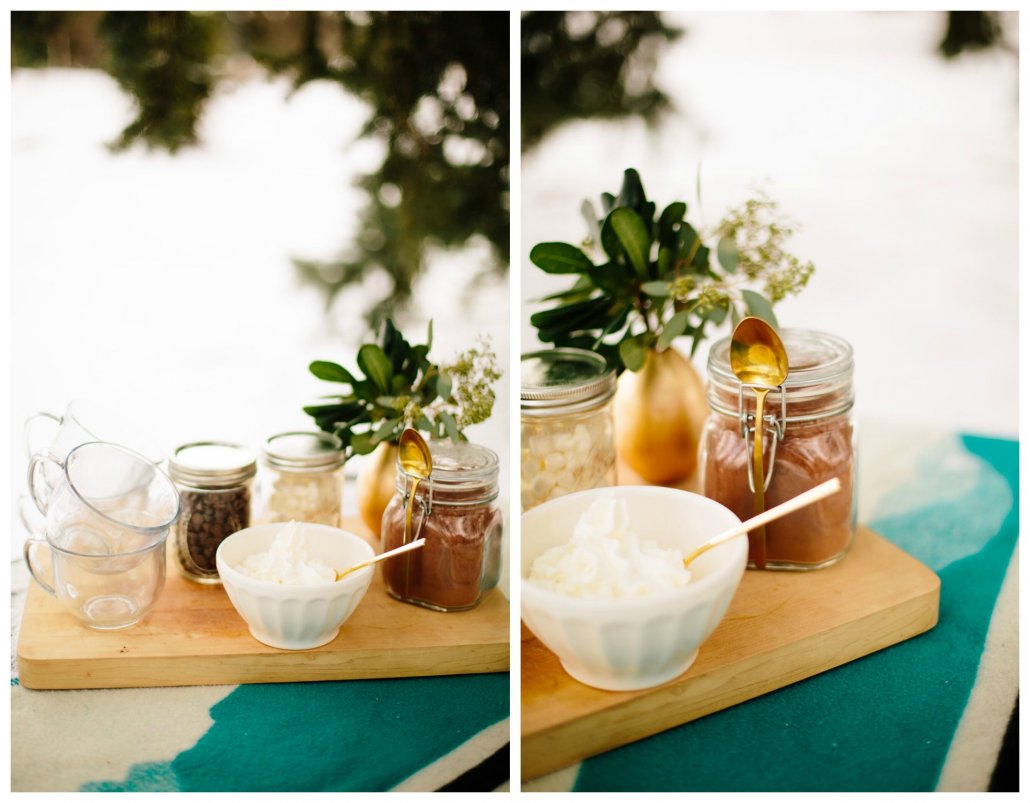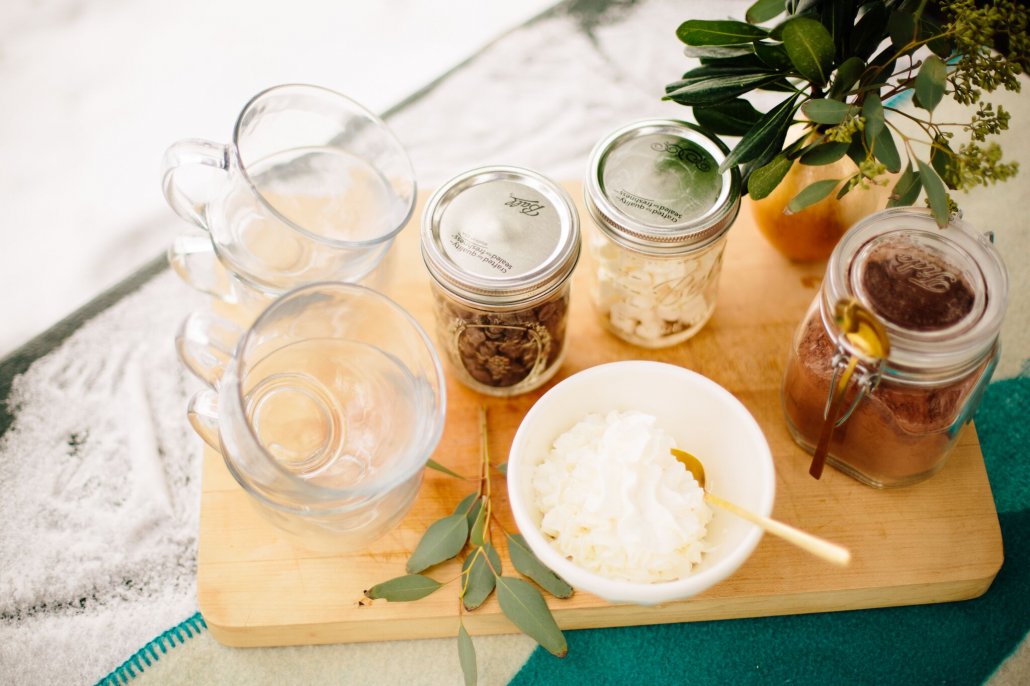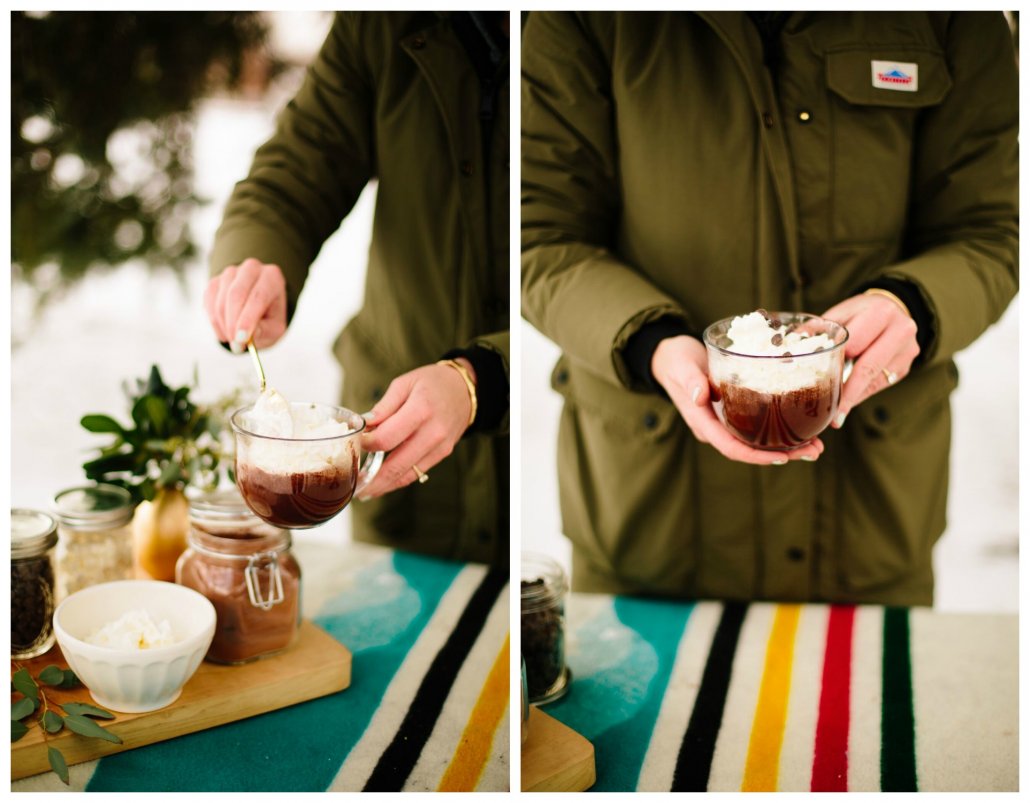 4. Entertainment! While enjoying the meal and making hot chocolate drinks is enough entertainment in itself, there are a few fun "winter" activities you can do to entertain your guests.
Scavenger hunt – get your guests moving around with a scavenger hunt around the woods
Card games
Snowman building competition
Snowshoeing
Roasting s'mores by a fire (the perfect way to stay warm)
5. Lastly, decor! Keep your table setting very simple. I love these Horn Inlay flatware, they make for the perfect winter accessory to the table. You can easily use a blanket as your table cloth, just make sure the glasses are stable on top of it. Simple greenery that you can forage for around the area makes for a pretty centerpiece!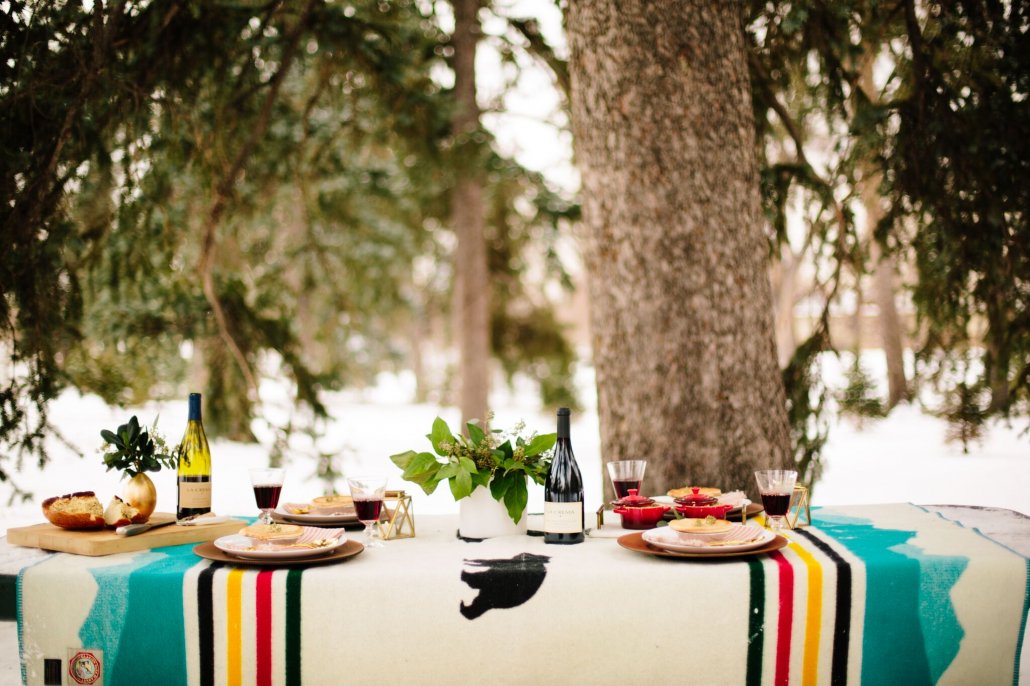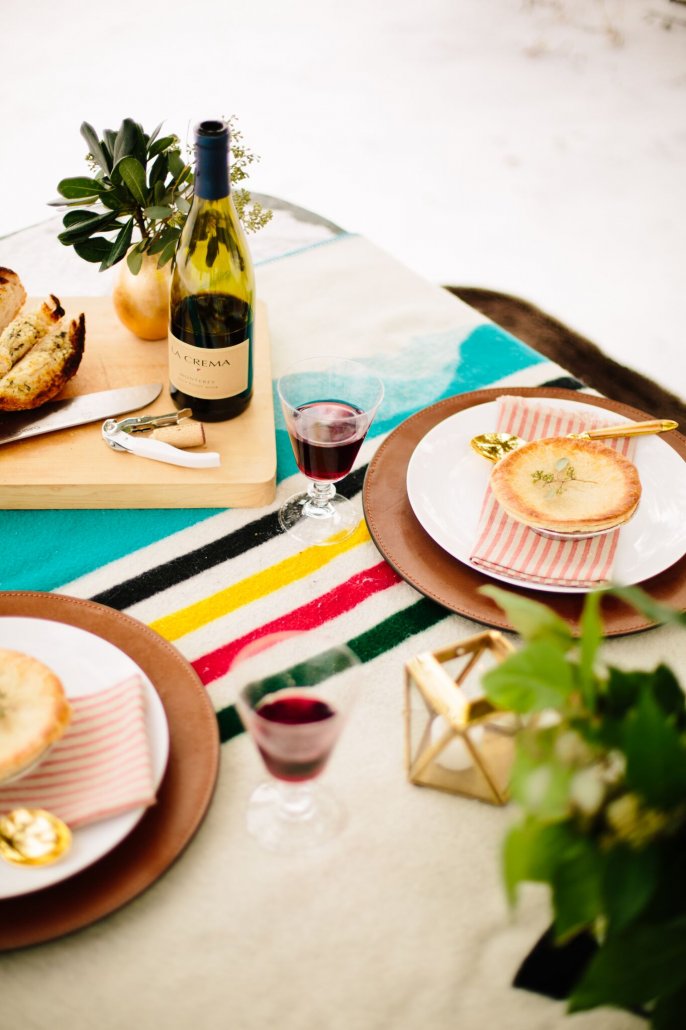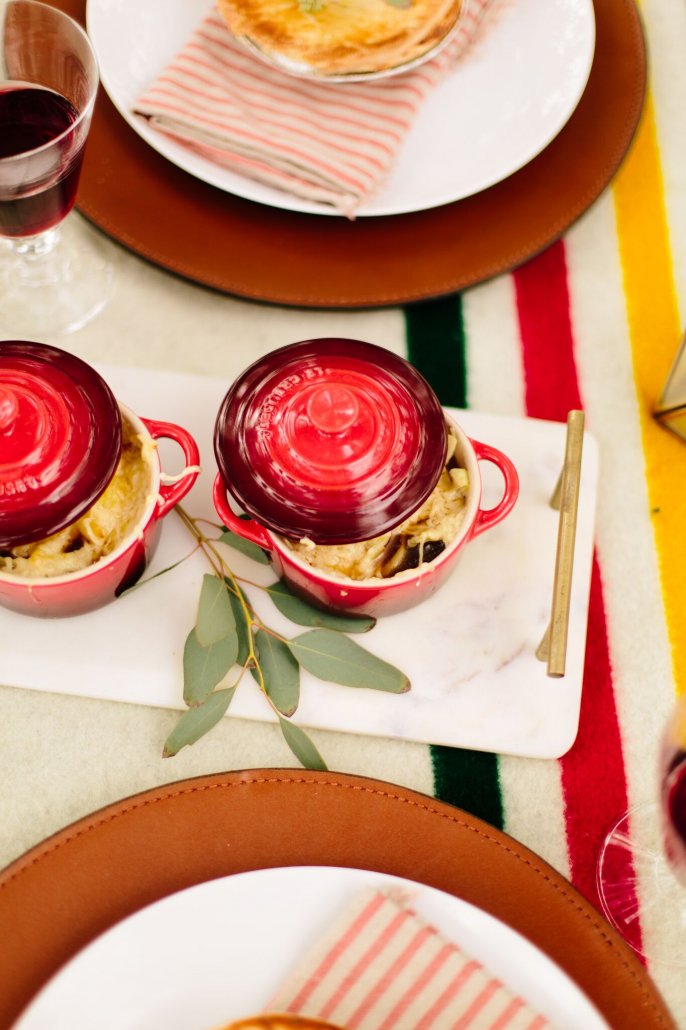 French Onion Soup
Author: Epicurious
Recipe type: Dinner
Prep time:
Cook time:
Total time:
Serves: 6
Ingredients
2 lb medium onions, halved lengthwise, then thinly sliced lengthwise
3 sprigs fresh thyme
2 Turkish bay leaves or 1 California
3/4 teaspoon salt
1/2 stick (1/4 cup) unsalted butter
2 teaspoons all-purpose flour
3/4 cup dry white wine
4 cups reduced-sodium beef broth (32 fl oz)
1 1/2 cups water
1/2 teaspoon black pepper
6 (1/2-inch-thick) diagonal slices of baguette
1 (1/2-lb) piece Gruyère, Comte, or Emmental
2 tablespoons finely grated Parmigiano-Reggiano
Special equipment: 6 (8- to 10-oz) flameproof soup crocks or ramekins; a cheese plane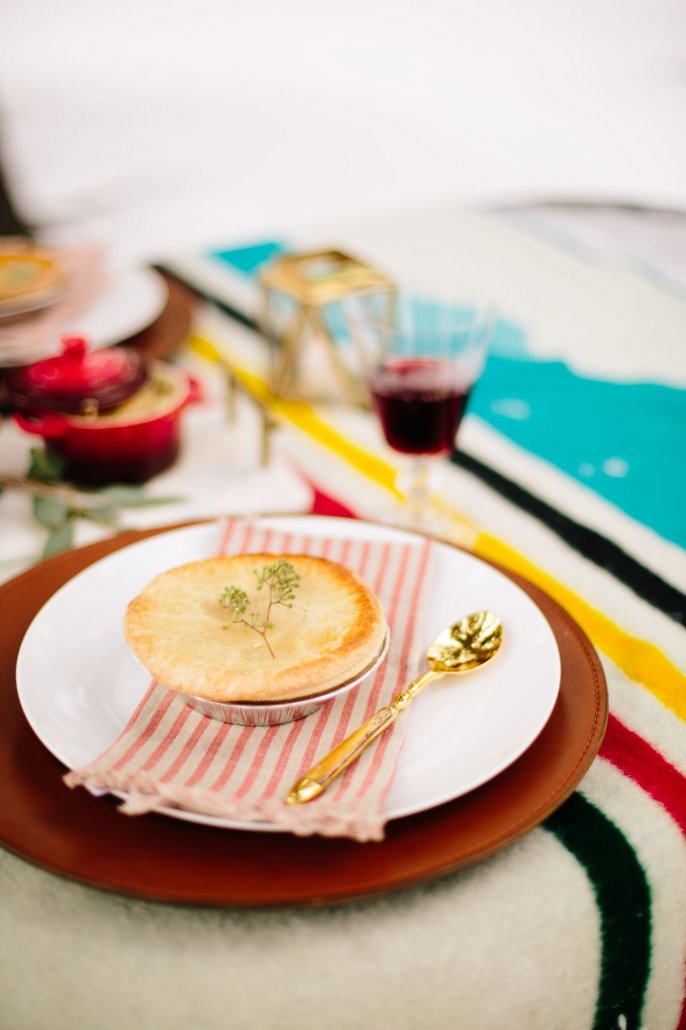 Mini Chicken Pot Pie
Author: Food Network Kitchen
Recipe type: Dinner
Prep time:
Cook time:
Total time:
Serves: 4
Ingredients
Dough:
1 large egg
3 cups whole-wheat pastry flour, plus more for the work surface
10 tablespoons cold unsalted butter, cut into small pieces
3 tablespoons grated Parmesan
1 tablespoon apple cider vinegar
Kosher salt and freshly ground black pepper
Filling:
2 tablespoons olive oil
1/2 medium onion, chopped
2 stalks celery, chopped
1 teaspoon chopped fresh thyme
1/2 pound white mushrooms, sliced
Kosher salt and freshly ground black pepper
4 tablespoons whole-wheat pastry flour
2 cups low-sodium chicken broth
1 cup frozen peas and carrots, thawed 
1/3 cup reduced-fat sour cream
1 cup shredded rotisserie chicken, skin and bones discarded 
1/2 cup loosely-packed fresh parsley leaves, chopped
1 large egg, lightly beaten
Instructions
Special equipment: A 4-inch round cookie cutter
For the dough: Whisk the egg with 3 tablespoons cold water in a small bowl. Pulse the flour, 1/3 of the butter, Parmesan, vinegar, 1/2 teaspoon salt and 1/4 teaspoon pepper in a food processor until the mixture looks like fine meal. Add the remaining butter and pulse until the mixture is in pea-size pieces. Add the egg and pulse until the dough begins to come together.
Divide the dough in half; place each half on a sheet of plastic wrap and pat into a disk. Wrap the disks tightly and refrigerate until firm, at least 1 hour up to overnight, or freeze for up to 2 months.
For the filling: Meanwhile, add the oil to a large Dutch oven or pot over medium-high heat. Add the onion, celery and thyme and cook, stirring, until soft, about 5 minutes. Add the mushrooms, 1 teaspoon salt and a few grinds of pepper and cook, stirring, until soft, about 4 minutes. Add the flour and cook, stirring, 2 minutes. Add the broth, peas and carrots and sour cream. Bring to a boil, then reduce the heat to medium-low and simmer until thick, about 3 minutes. Stir in the chicken and parsley and add salt and pepper to taste. Allow the mixture to cool completely. (The filling can be made a day ahead.)
Preheat the oven to 375 degrees F. Line two baking sheets with parchment.
Roll 1 disk of dough between two sheets of parchment to about 1/8-inch thick. Using a 4-inch round cookie cutter, cut into nine rounds. Gather the scraps, reroll and cut out 3 more rounds. Cover the rounds with a clean, damp towel to prevent the dough from drying out. Repeat with the remaining disk of dough, for a total of 24 rounds. (If the dough gets too warm while you're working with it, chill it until it's easier to work with.)
Place 1 round of dough on a clean, lightly-floured work surface and roll out to about 4 1/2 inches. Place 1/3 cup of filling in the center and brush the edges with beaten egg. Roll another round of dough out to 4 1/2 inches and drape over the filling; seal the edges and crimp with a fork. Brush the entire pot pie with more egg, cut a few slits in the top, sprinkle with some pepper and place on a prepared baking sheet. Repeat with the remaining dough and filling.
Bake the pot pies until they're golden brown and the filling begins to bubble, 20 to 24 minutes. Let cool slightly before serving.
Alternatively, freeze the unbaked pot pies for up to 1 month, then bake, from frozen, in the oven, preheated to 375 degrees F, until they're golden brown and the filling begins to bubble, 20 to 24 minutes. Let cool slightly and serve.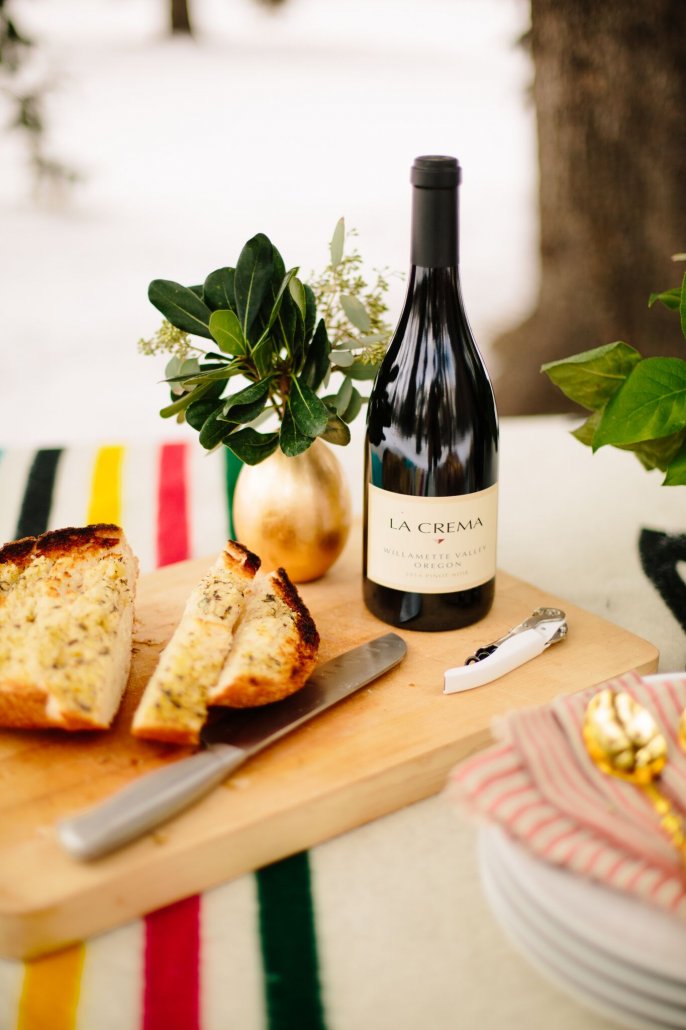 Cheesy Garlic Bread
Author: Cooking Classy
Recipe type: Dinner
Prep time:
Cook time:
Total time:
Serves: 3
Ingredients
1 (14 oz) loaf French or Italian brea
1/4 cup salted butter, softened
2 Tbsp olive oil (not extra virgin)
1 Tbsp minced garlic, or 1 tsp granulated garlic
Salt and freshly ground black pepper, to taste
1 1/4 cups shredded mozzarella cheese
1/3 cup finely shredded parmesan cheese
1 Tbsp finely chopped fresh parsley
Instructions
Preheat oven to 400 degrees. Slice bread in half lengthwise (though height of bread). Cut two sheets of foil about 24-inch long and place side by side letting one slightly overlap the other on a rimmed cookie sheet. Place bread, cut side up, on baking sheet.
In a mixing bowl, using a fork, stir together butter, olive oil, garlic, salt and pepper. Spoon and spread mixture evenly over entire surface of both bread halves (working to coat the edges too so they don't burn). Wrap foil over bread and crimp edges together and roll ends of foil up. Bake 10 minutes.
Remove from oven, open foil and roll foil inward. Sprinkle bread evenly with cheeses. Return to oven, bake uncovered, 5 – 6 minutes longer (broil during last 1 – 2 minutes for a crisper bread and more golden cheese if desired, no need to move rack upward). Sprinkle tops evenly with parsley. Cut into slices and serve warm.
Photos by Pure Lee Photography
Share this idea on Pinterest!