Seafood and Chorizo Paella with Saffron and English Peas
Hearty, yet filled with the flavors of summer. Informal, yet special. The iconic Spanish dish, Paella is an epic meal suitable for any celebration, including Father's Day. Created in the Valencia region of Spain, like so many regional dishes, there is fierce debate over what ingredients should be included and variations exist from town-to-town and region to region.
Serve with: La Crema Pinot Noir Rosé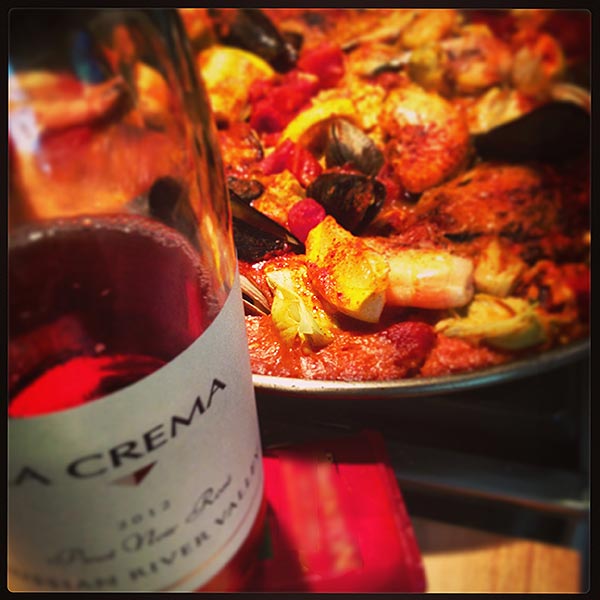 Seafood and Chorizo Paella with Saffron and English Peas
Author: La Crema Culinary Team
Serves: Makes one 14" paella pan (serves 6 to 8)
Ingredients
 1½ Tbsp. extra-virgin olive oil
1 (6 oz.) Spanish chorizo sausage, diced
½ yellow onion, diced
1 red bell pepper, diced
3 garlic cloves, minced
2 tsp. smoked paprika
Pinch of saffron threads
1 can diced tomatoes (8 oz.)
2 cups paella rice (Arborio rice may be substituted)
½ cup white wine, such as Chardonnay
3½ cups chicken broth (or water)
8 to 10 small fresh clams
8 to 10 small fresh mussels
8 to 10 large fresh shrimp, peeled and deveined
½ lb. fresh cod, cut into 1 to 2-inch pieces
½ cups English peas, shucked from the pods (frozen & dethawed peas may be substituted)
¼ tsp. kosher salt, plus more for final seasoning
1 lemon, cut into wedges
1 bunch flat leaf parsley, chopped
Instructions
Heat a large (14") paella pan over medium-high heat and add olive oil.  Once the oil has heated slightly, add chorizo and sauté for 2 minutes.
Add onion and bell pepper and continue cooking for 4 minutes.
Add garlic, paprika, saffron and tomatoes; sauté for 2 minutes more, stirring often.
Add rice and stir to coat.  Cook the rice for 2 minutes, stirring constantly.  Add the wine and allow to boil and cook down until the pan is almost dry.
Meanwhile, in a separate sauce pan, bring the chicken broth to a boil.  Carefully, add the boiling broth to the paella pan and continue to cook over medium-high heat for 5 minutes.  Stir and reduce the heat to low.  Cover the paella and allow to simmer for 8 minutes.
Arrange the clams and mussels around the paella.  Allow the seafood and paella to cook for 4 minutes.
Season the shrimp, cod and peas with salt and add to the pan.  Cover and allow to cook for an additional 6 to 7 minutes.  Once the shrimp and cod are cooked through, the rice should be tender and the clams and mussels should have opened and finished cooking.  Salt to taste.
To garnish, add lemon wedges and sprinkle with chopped parsley.