Spiced Carrot Salad with a Charred Citrus Vinaigrette
The Pacific Northwest has been experiencing really beautiful weather lately, which means everyone in Seattle is getting out of their houses and finding ways to enjoy the sun. I'm sure I'm not alone in saying this, but if the sun is out, you better believe that I'm trying to find a way to spend as much time outside as possible. I realize that isn't always as easy as it sounds, so I try my best to enjoy at least one meal outside, which as of late has been this spiced carrot salad.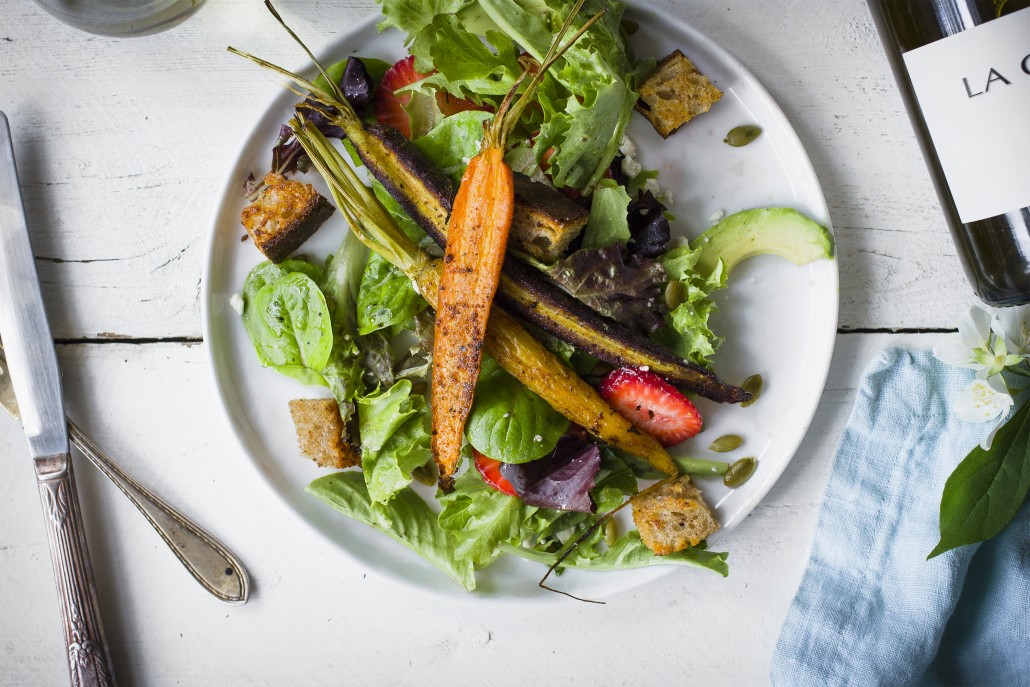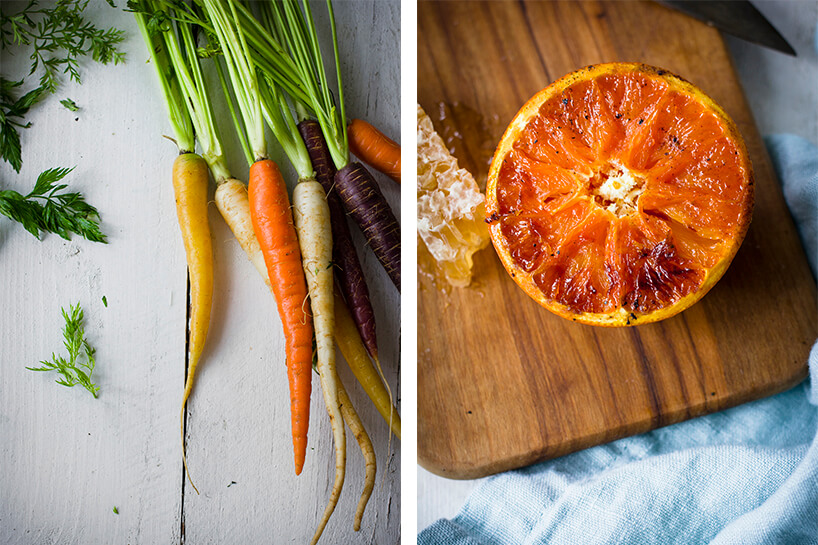 I don't know about you, but my cravings for salads only grow stronger during this time of year. Salads are so versatile, and they have the ability to become a truly satisfying meal. Knowing that the carrots in this recipe are a bit sweet, I coated them with a spiced oil that packs a bit of heat from the addition of cayenne pepper—which can be omitted if you don't like spicy things. The other thing I love about this spiced carrot salad is the charred orange vinaigrette. Charring the orange before using its juice for the vinaigrette is a great way to add even more flavor to this dish, plus it adds a lovely brightness to the whole meal. Now add a glass of refreshing wine into the mix and you have everything you need for a relaxing lunch.
Pairing Tip: La Crema's 2014 Monterey Pinot Gris' bright aromas of asian pear, honeysuckle and spice complement this salad in the most pleasant way. Nothing quite like a crisp, chilled white wine alongside a zestier salad to create a dreamy afternoon.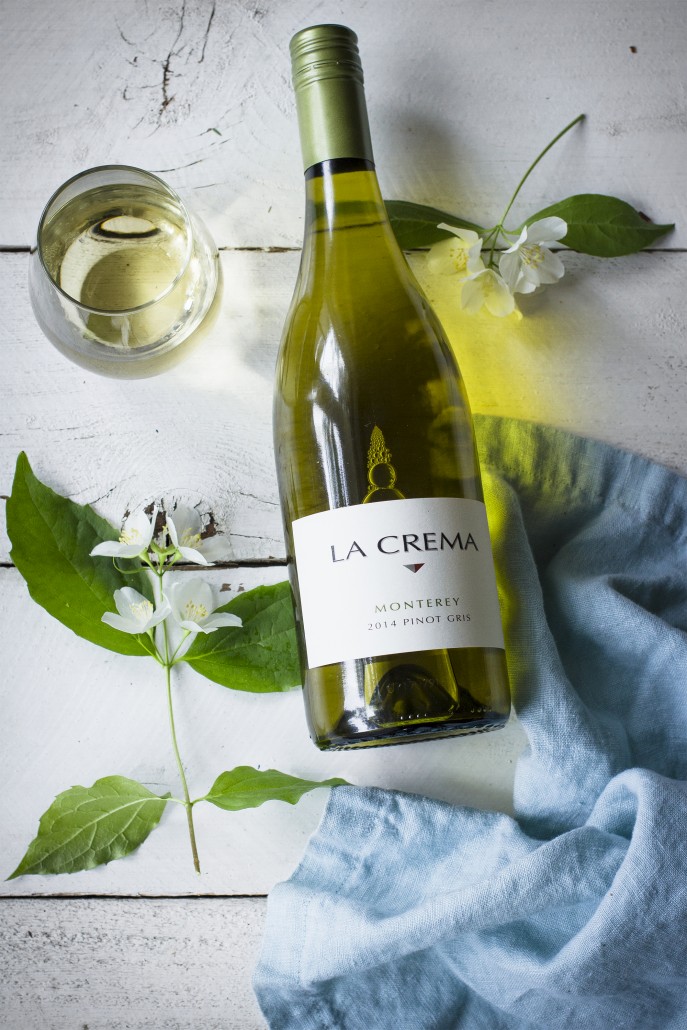 The spiced carrot salad has such a wonderful combination of flavors and textures, which all come together in the most pleasing way. From the flavorful charred citrus vinaigrette, to the welcomed crunch from a batch of homemade garlicky croutons, this salad has it all. To get my recipe for how to make garlicky croutons, make sure to head over to my blog. And no matter where you live, I hope you get to enjoy this salad on a sunny day sometime soon.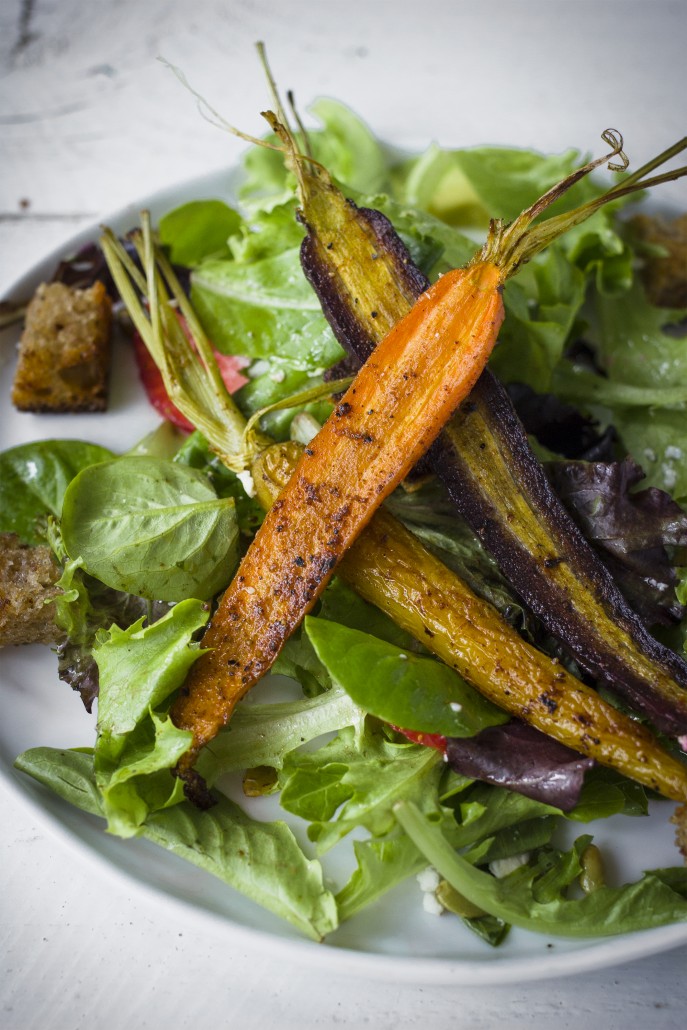 Spiced Carrot Salad with a Charred Citrus Vinaigrette
Author: Kristan Raines
Recipe type: Salad
Serves: 3
Ingredients
1 lb carrots, washed and pat dry
5 tablespoons olive oil, divided
1/4 teaspoon cayenne pepper
1/4 + 1/8 teaspoon cumin
1/8 teaspoon cinnamon
salt and pepper, to taste
1 large cara cara or navel orange
1 tablespoon champagne vinegar
1 teaspoon honey
3 handfuls mixed greens
1 avocado, thinly sliced
4 strawberries, sliced
toasted pepitas, for garnish
feta cheese, for garnish
garlicky breadcrumbs, for garnish
Instructions
Slice each carrot in half from top to bottom, and place on a large baking sheet; set aside. In a small bowl whisk together 2 tablespoons of the olive oil, along with the cayenne pepper, cumin, and cinnamon until combined.
Drizzle the oil mixture over the carrots, tossing to evenly coat the carrots. Season with salt and pepper to taste. Cut the orange in half placing one piece, cut side down onto the baking sheet.
Place the pan into the oven and roast the carrots and the orange for 35-40 minutes, or until tender, and slightly charred, making sure to move the carrots around halfway through their cooking time. Once carrots are done, remove from oven and set aside.
Once the orange is cool enough to handle, add 1 tablespoon of its juice to a small bowl. In the same bowl whisk in 1 tablespoon champagne vinegar, 1 teaspoon honey, and a pinch of salt.
While whisking continually, slowly pour in the remaining 3 tablespoons of olive oil until fully combined. Season dressing with salt and pepper to taste.
To assemble, tossed mixed greens with some of the vinaigrette and some feta cheese; divide between 3 plates. Garnish each salad with remaining ingredients, and top with an even portion of the roasted carrots. Drizzle the top of each salad with a little extra vinaigrette, and a pinch of flaked sea salt if available.