Après Ski Beef and Noodle Stew
Every winter, my family and I spend as much time as we can skiing, sledding, and having fun in the snow. This Après Ski Beef and Noodle Stew is a delicious dish that is great for a crowd—and won't wear you out after a tough day on the slopes.
We love taking long weekends to ski, hang out with friends and family, and gather every night to warm up, drink wine, and eat delicious, comforting foods to refuel from a cold day outside.
We're often incredibly tired from the day, however, and don't feel like cooking up big elaborate dinners. I've tried to come up with delicious, warm and comforting meals to help us refuel after a day on the slopes that we can make ahead of time in a slow cooker, dutch oven or a big stew pot.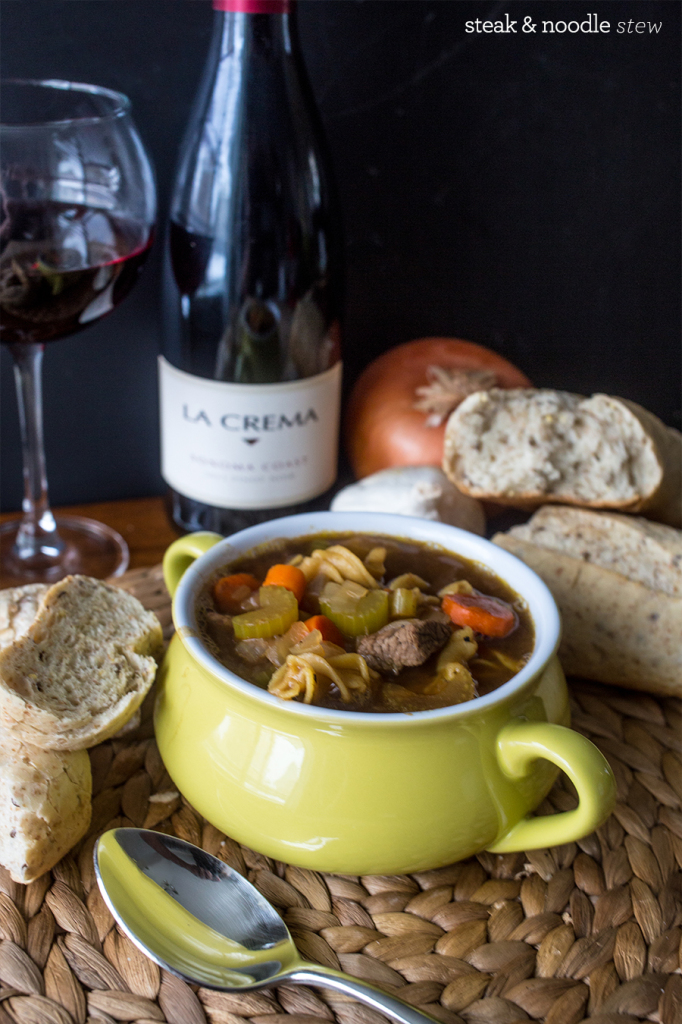 I love to pair Pinot Noir with delicious, hearty stews for a casually elegant dinner after a long day outside in the snow, and this dish is an easy enough dinner to make ahead of time so you won't have to cook when you're already worn out!
I'm also detailing how you can make the entire stew in a crock pot. Just set it, forget it, and hit the slopes. When you get back all you need to do is open a glass of La Crema and ladle out your soup!
If you'd like to check out a delicious, easy bread to serve alongside your stew, check out this homemade seeded herb baguette recipe over on Sweet C's Designs.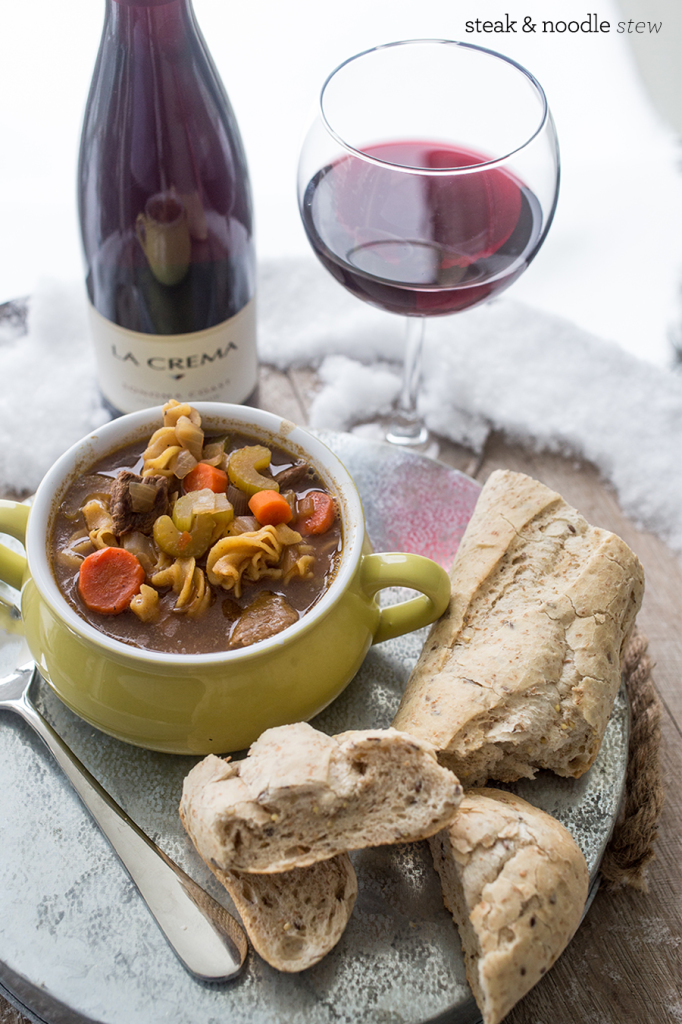 Tips to make the perfect slow cooker stew
The best part of this dish is that you can easily make it in a crockpot in the morning before hitting the slopes and have a delicious, warm and comforting meal ready when you're done!
To make as a crockpot stew, you can either dump all the ingredients in and let cook on high for 4-6 hours (depending on your slow cooker).
Or, brown the beef and then add it to the slow cooker for a little extra flavor without much additional work. I like to brown the beef (and "sweat" the vegetables, if there is time) before making the soup because it gives a delicious caramelized flavor that you just won't get from adding all the ingredients at the same time. But, if there is no time, it will still be a fantastic dish!
I personally like my noodles a little al dente with a bit of bite to them so I add noodles to the soup about 20 minutes before serving. If you want softer, gooey-er noodles, go ahead and add them earlier. You could also sub them out and use barley instead!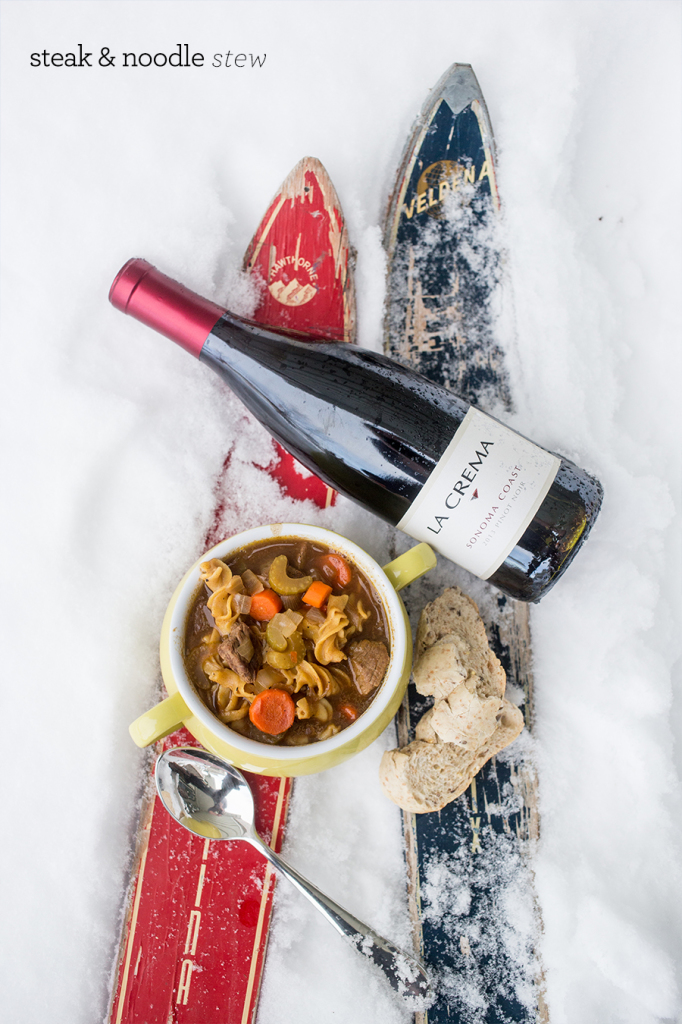 Après Ski Beef Stew
Author: Courtney O'Dell
Recipe type: Main
Cuisine: American
Serves: 8
This rich, warming stew can be made in a crockpot all day while you hit the slopes
Ingredients
1 tbsp olive oil
2 lbs cubed stew meat
1 large white onion, diced
3 large carrots, sliced thin
4 stalks of celery, diced
6 cloves of garlic, peeled and diced
2 16 oz packages of beef stock (I prefer low sodium- I like to add my own salt)
1 package rotini or egg noodles
salt, pepper to taste
Instructions
In a large stock pot, heat olive oil on medium high until shimmery.
Add in 1/2 beef (just enough to cover the bottom of the pan- no more), and brown, tossing occasionally, about 5 minutes. Add salt and pepper.
When beef is browned, remove from pan and set aside. Do not drain off fat.
Add second half of steak cubes into pot and brown as well.
Remove and set aside with other stew meat.
Add diced onions, carrots, celery and garlic in pan, and cook until soft and slightly browned- stirring occasionally- about 8 minutes. Add salt and pepper.
Add beef back in pot, fill with beef stock.
Bring soup to a boil, then back off the heat to low and let simmer 40 minutes.
Minute before serving, add noodles into bowl and let cook until soft.
Serve and enjoy!