Flatbread with Sage & Arugula Pesto, Figs, and Prosciutto
I am a fan of dinner parties, especially long-table dinners, and there's no reason we can't enjoy long dinners both outdoors and by bringing the same feeling indoors. First appy to accomplish this is our Flatbread with Sage & Arugula Pesto, Figs, and Prosciutto.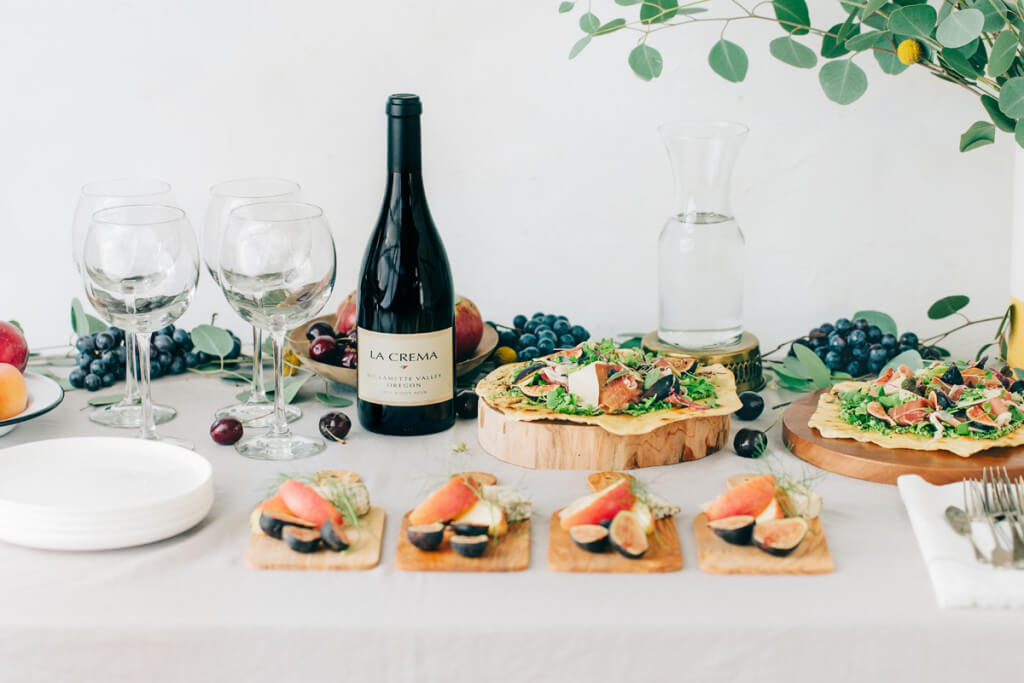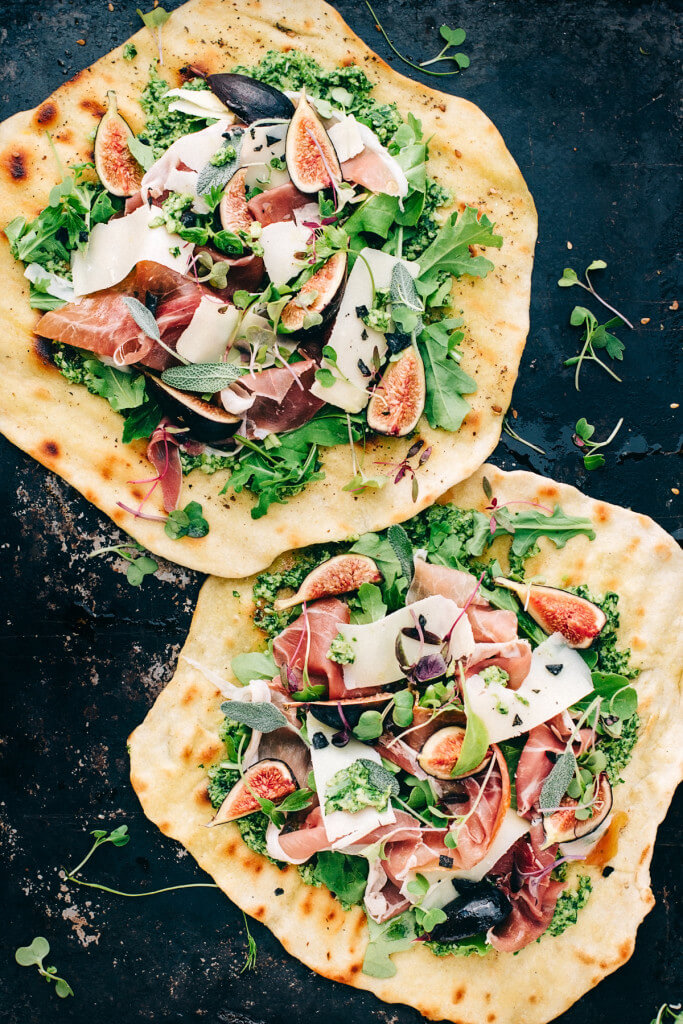 This is my version of a long table dinner, sans the hectic planning and crazy hosting. It's all about chilling with your friends and having a great time…and fantastic food and wine, of course.
This flatbread recipe is great for fall or winter (even summer if you swap some of the ingredients). Figs are all the rage right now, so you definitely have to use some of those. The beauty of making a flatbread is that you can get all the components ready and you can let your guest build their own. Since this recipe has lots of strong flavors (sage, arugula, prosciutto) we need something balanced and subtle, but with a hint of spice and earthy notes. My pick for this dish is the Willamette Pinot Noir. All the fruit notes from the flatbread mingle so well with this wine! Another perk of pairing it with red wine? You put the bottles out on the table and you let your guests pour themselves a glass. This is seriously easy entertaining.
Grab the recipe below, and why not, grab a glass of vino while you're at it!
Flatbread with Sage & Arugula Pesto, Figs, and Prosciutto
Author: Gabriel Cabrera
Serves: 8
Ingredients
For the flatbread:
2 cups all-purpose flour
1 tablespoon baking powder
½ teaspoon salt
½ cup almond milk
¼ cup water
2 tablespoon olive oil
½ teaspoon ground coriander
½ teaspoon ground pepper[br]
For the pesto:
2 ½ cups of arugula
3 sage leaves
¼ cup almonds
1 lemon, juiced
Salt and pepper to taste
2 tablespoons olive oil
For the toppings:
Prosciutto
Fresh figs
Arugula
Parm cheese (optional)
Instructions
Combine all flatbread ingredients and mix in a stand mixer with a hook attachment or mix by hand using a wooden spoon. Mix just until dough comes together, about 5 minutes. The dough should come together nicely, if it's too dry, add an extra tablespoon of water, if it's too gooey add a light dusting of flour.
Take the dough out and knead it on a flat surface using your hands for about 3 minutes, until it gets a bit elastic (don't worry about kneading it a lot, we are not making bread here)
Divide the dough in small balls (you should have 8 to 10).
Heat up a pan or griddle and brush it with oil. While it's heating up, roll out a ball using a rolling pin and form a thin disk, dust with flour if it gets sticky. Place disk in the smoking hot pan and let it cook for 3 minutes until you see bubbles puffing and the bottom side starts to brown. Flip the flatbread and cook for 1 more minute (not more, as it could dry). Repeat the same process with the other dough balls. Cover the flatbreads with a clean kitchen rag so they don't dry.
To make the pesto:
Put all the ingredients in a food processor and pulse until you form a paste. Little bit on the chunky side is better. Place in a bowl with a spoon to serve.
Cut the figs in quarters, place them on a plate and leave them to warm up at room temp for 10 minutes before serving. Shave the cheese and also put it on a plate.
To serve, place the flatbreads on a platter. Have all the toppings and pesto nearby and deck out the table with cutlery and plates, and then let your guest do their magic.
Enjoy!
Gabriel Cabrera, The Artful Desperado