Pasta with Pesto
Growing up, my favorite meal ever was my mom's pasta with pesto. I have such vivid memories of loading heaping piles of spaghetti coated with silky, bright green pesto onto my plate at least once a week. We usually eat it all year long, but it is especially good in the summer, when basil is fresh and abundant from a pot on the deck. There were two things you could always count on in my mom's kitchen, and both were plentiful: pasta with pesto on the stove and La Crema on the wine rack.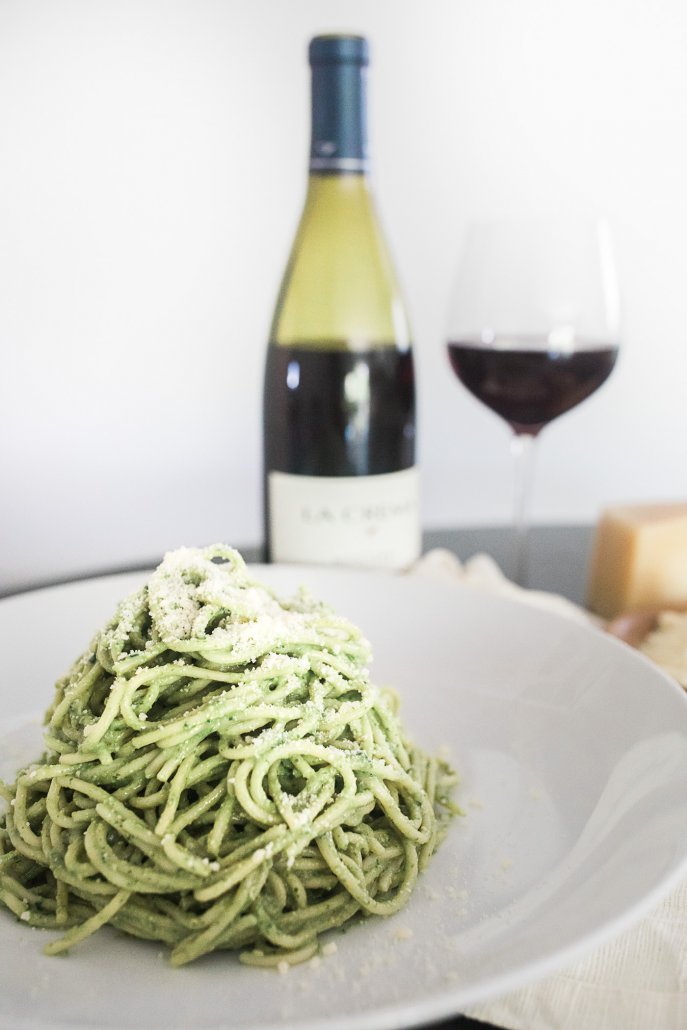 We used to make big batches of pesto and freeze it into smaller portions so it was always ready when the mood struck–my mom would even go so far as to bring a cooler full of it for me and my roommates every time she came to visit me in college. It was always the best meal–easy to throw together but full of flavor, and it always tasted a little bit like home. I don't always keep pesto in my freezer anymore, but I love making it fresh and serving it with lots of Parmesan on top, plus a gorgeous glass or two of La Crema Monterey Pinot Noir.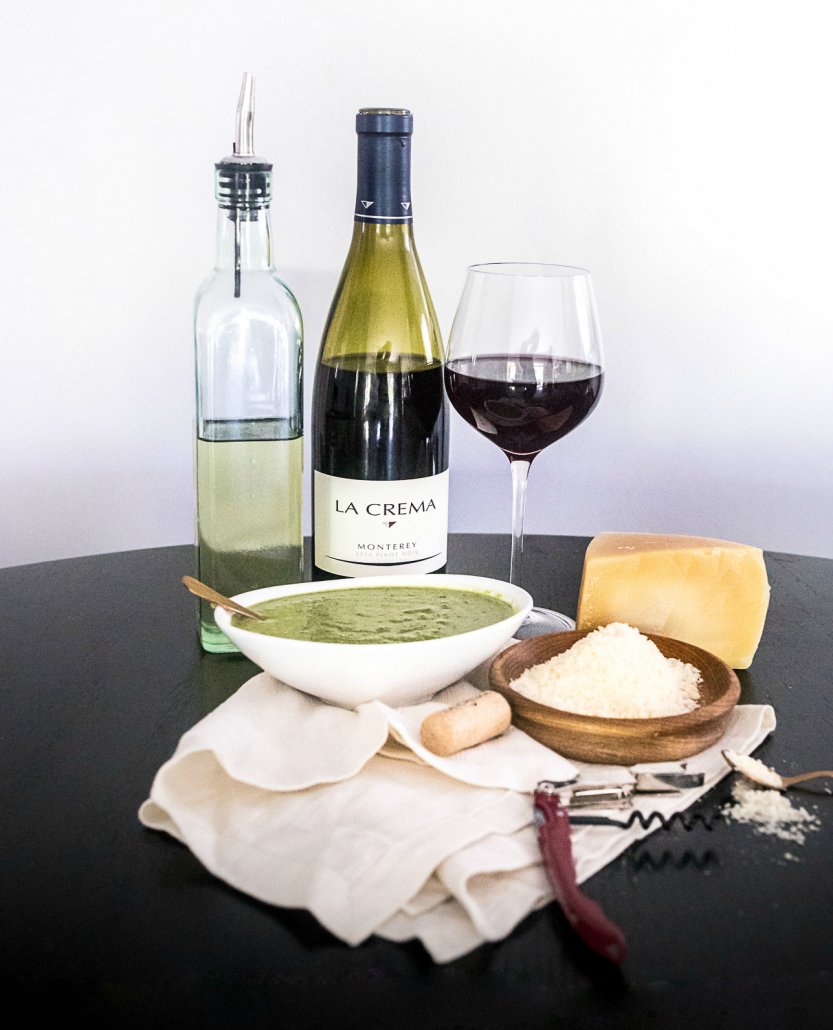 Fresh Basil Pesto
Author: Megan Flynn Peterson
Prep time:
Cook time:
Total time:

Ingredients
2 cups of fresh basil leaves, packed
1/2 cup grated Parmesan cheese
1/3 cup pine nuts
2-3 whole garlic cloves
1/2 cup extra virgin olive oil
Salt, to taste
1 pound of pasta (I usually use spaghetti but you can do whatever you prefer)
Instructions
In a blender or food processor, combine basil, Parmesan, pine nuts, and garlic.
While running the blender, slowly pour in the olive oil. Season with salt.
Cook pasta according to package instructions (make sure you salt the pasta water generously!). Drain and toss in a bowl with pesto. If you aren't in the mood for pasta, you can put the pesto on chicken, spread it on a sandwich, or just freeze it for later!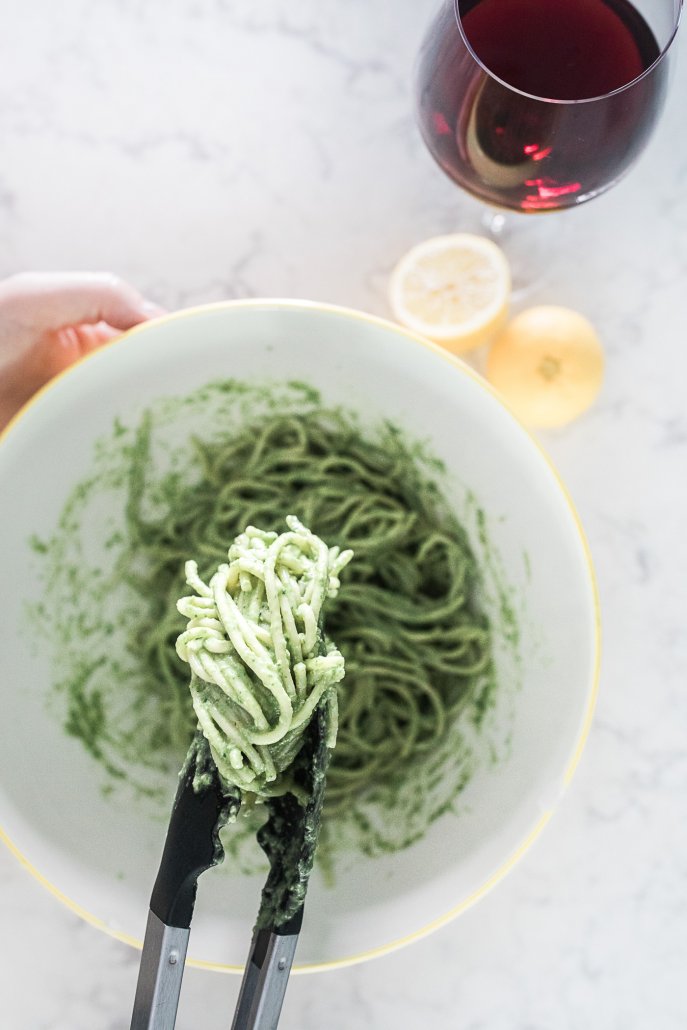 If you aren't a fan of pine nuts, you can always sub walnuts; although I love the toasty goodness that pine nuts lend to this sauce. You could also experiment with other greens and herbs–spinach, kale, even cilantro or parsley. As long as there's basil and garlic and Parmesan, you know it's going to be good!
It's so incredibly flavorful and delicious, and made even better with our smooth and balanced Monterey Pinot Noir. The basil in the pesto is bright, fresh, and herbaceous; while the pine nuts and Parmesan add a delicious, toasted bite of creaminess. With the perfect al dente pasta, t's a simple but luxurious dinner that you can save for a busy weeknight or even a weekend dinner party.
I also can't get enough of the fact that this sauce doesn't require any heat–you just make it in the blender and it's done! It's perfect for a hot summer day when you aren't in the mood to cook. No-cook recipes like this one are always my favorite in the summer. Labor Day may be upon us, but we're still a long way from crock pots and roasts, so until then I'll be enjoying simple, fresh dishes like this one.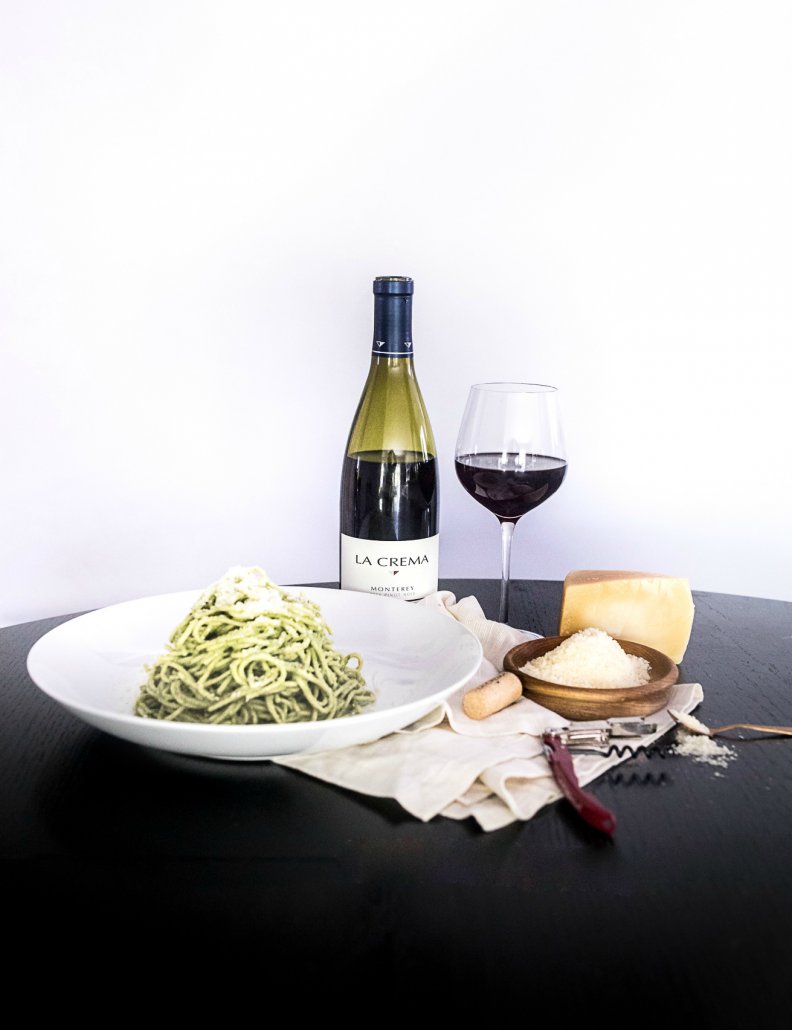 Photos by Cue the Light.