Easy Italian: Cacio e Pepe Pasta
Want to create magic with four ingredients? This recipe for the classic Roman dish, Cacio e Pepe pasta, will amaze you and your guests!
With today's busy lifestyle, it's getting even more difficult for many of us to find the time to create elaborate homemade meals when entertaining for large groups. Mapping out a menu takes a certain amount of creativity, which then leads to a handful of trips to the market, plus the time it takes to prep and cook the actual meal!
For a recent dinner party, I decided to cut out all of the fuss and remembered that one of the easiest, surefire ways to please a crowd is by serving glorious, heaping bowls of hot pasta. As usual, I wanted to bring it back to basics while keeping the meal wholesome, hearty and nourishing. In order to accomplish all of these goals, I decided that nothing could compare to serving Cacio e Pepe pasta.
It's translation is literally — cheese and pepper. Think of a striped down version of mac and cheese that somehow manages to be even easier to cook and more delicious to eat!
Continue reading for the recipe and a few other simple ideas to take your dinner party to a whole new level…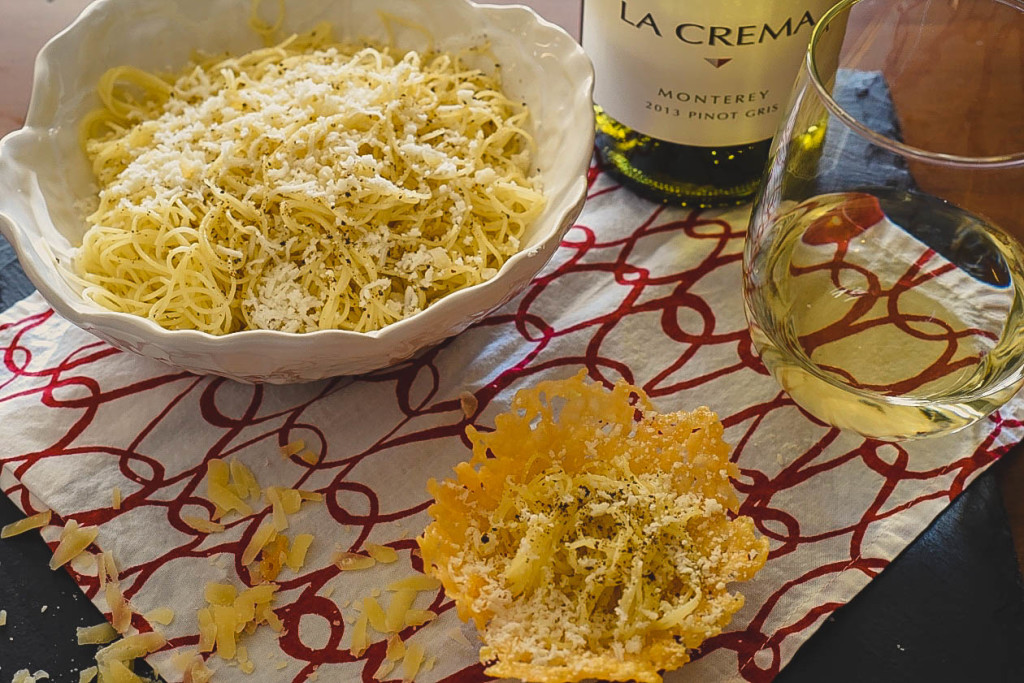 La Crema's chilled Monterey Pinot Gris was the perfect compliment to the hot pasta. It's complex aroma and bright acidity struck the perfect counterbalance to the cheese-rich pasta, while sharing the spotlight with the food itself.
We decided to up our own game by presenting some of the pasta noodles in easy homemade crispy Parmesan cups for a festive, rustic spin to the meal. And, in an effort to keep the entire meal thoughtful, but still simple, we made sure both the pasta and Parmesan cups took less than 30 minutes overall to make!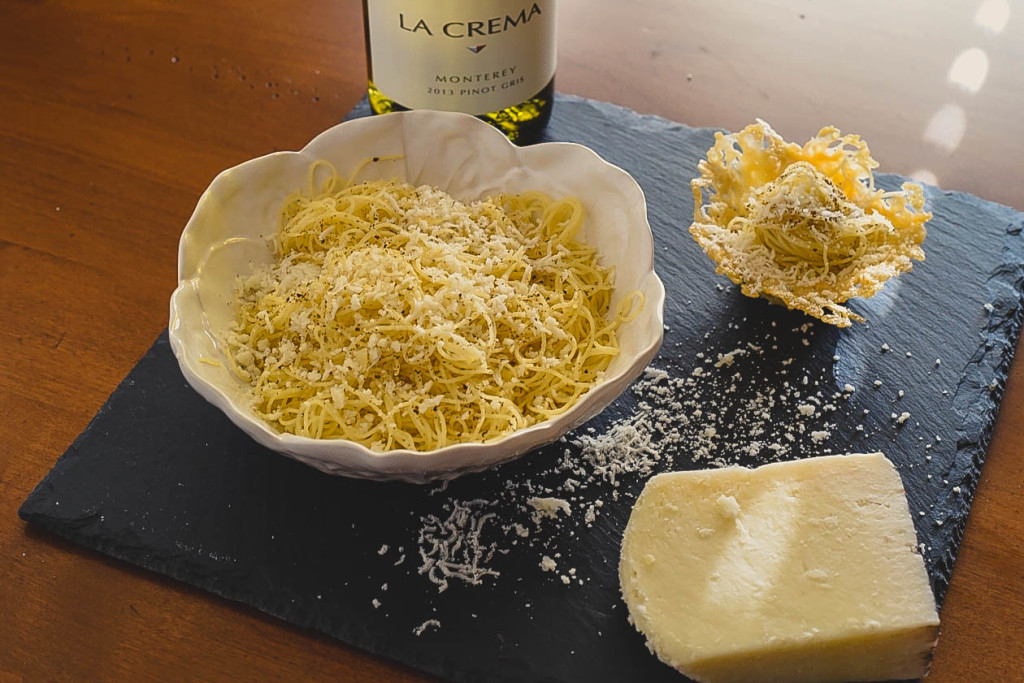 For all of you minimalists out there, this is your ticket to a stress-free dinner! And that alone is worth raising a glass to and saying "Cheers!"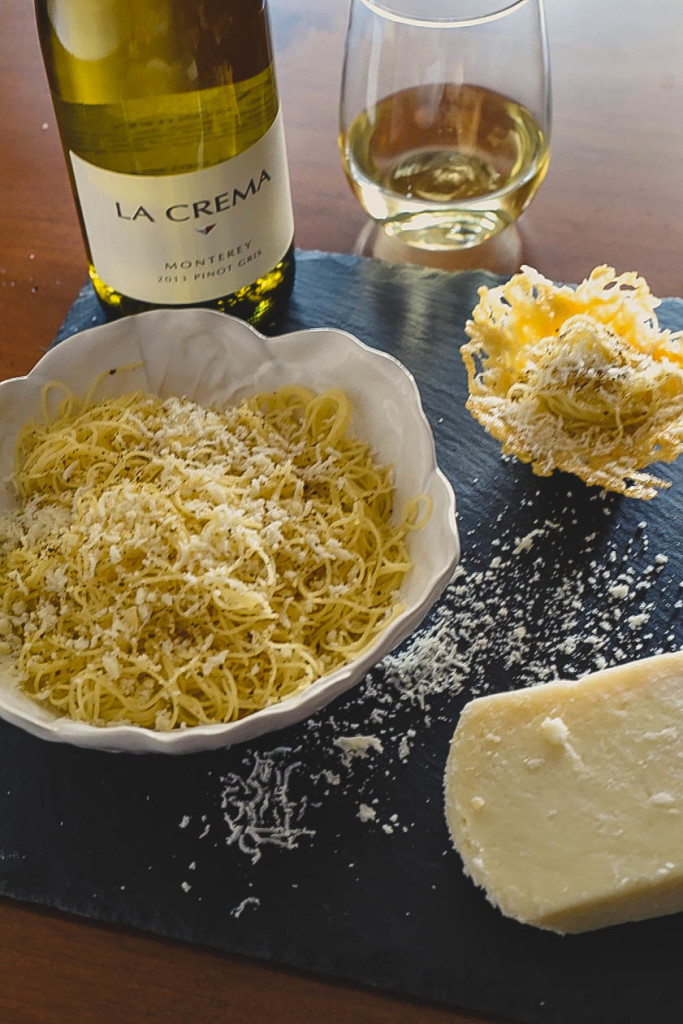 Easy Italian: Cacio e Pepe Pasta
Cuisine: Italian

Simple, basic, cheese and pepper pasta
Ingredients
Kosher salt
6 oz. pasta noodles (such as spaghetti or egg tagliolini)
3 tablespoons unsalted butter, cubed and divided
1 teaspoon freshly cracked black pepper
3/4 cup finely grated Parmesan cheese
1/3 cup finely grated Pecorino cheese
Instructions
Bring 3 quarts water to a boil in a large pot. Season with salt, then add pasta and cook. Stir occasionally (until noodles are al dente.)
Drain, but reserve 3/4 cup of pasta cooking water.
Meanwhile, melt 2 tablespoons butter on medium heat in a large heavy skillet. Add pepper, swirling pan for 1 minute.
Add 1/2 cup reserved pasta water to skillet and bring to a simmer.
Add pasta and remaining butter.
Reduce heat to low and add Parmesan cheese, stirring and tossing until melted.
Remove pan from heat, then add Pecorino, stirring and tossing until cheese melts. (Sauce will coat the pasta.)
Optional: add more pasta water if it's dry.
Transfer pasta to bowls and serve warm.
Top with shaved Parmesan and a sprinkle of black pepper.