Easy Italian: Crispy Parmesan Cups
You know the saying, "Presentation is everything?" Well, I can attest first-hand that there is so much truth to this. Crispy Parmesan Cups are an easy way to turn up the wow factor on pasta, risotto, or even a salad!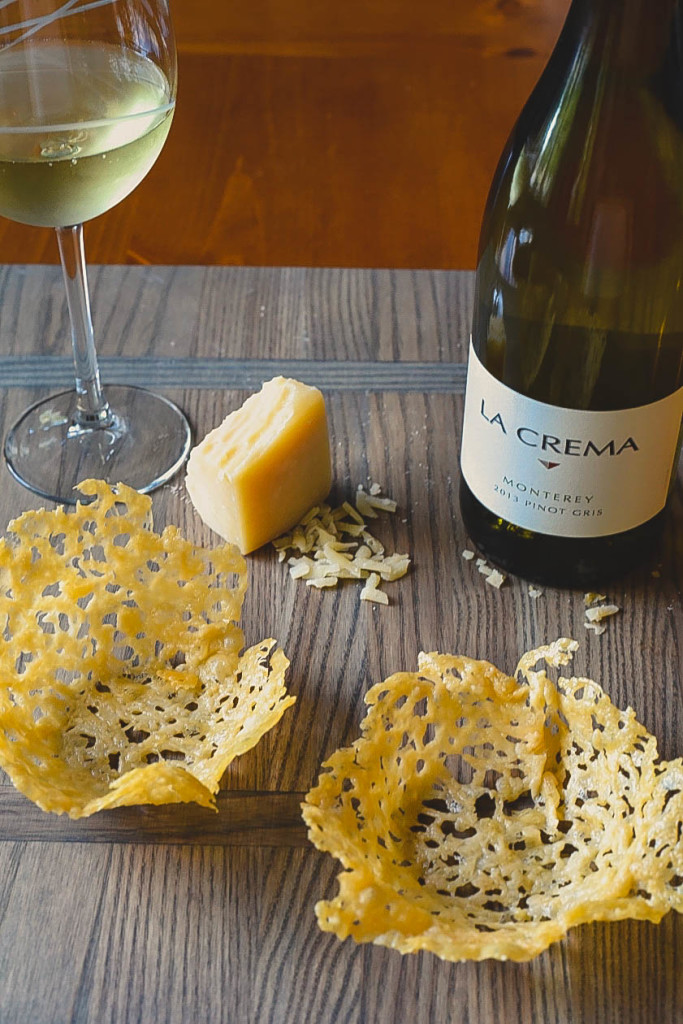 For a big pasta party we recently hosted, we wanted to serve drool-worthy items that would please a large crowd and an extra "something special" that added a wow factor to the meal.
After confirming that pasta would be the perfect entree, we decided a side dish to help elevate it's presentation would make each guests' plate look special. We decided to put our own spin on croutons and crunchy bread sticks by serving individual crispy Parmesan cups that ended up being the hit of the party! Best of all (shhh!) these little crunchy vessels took less than 10 minutes to make! And, let's be honest anything served in bite size portions somehow makes everything extra fun to eat.
Baked until golden brown, these crunchy Parmesan cups added the perfect dose of "festivity" to the party. We put one on each guests' plate and clustered a few extras in groups down the middle of the table. They were the ideal bite sized snack to enjoy alongside La Crema's refreshing Monterey Pinot Gris and, trust me, they were gobbled up before the meal even officially started!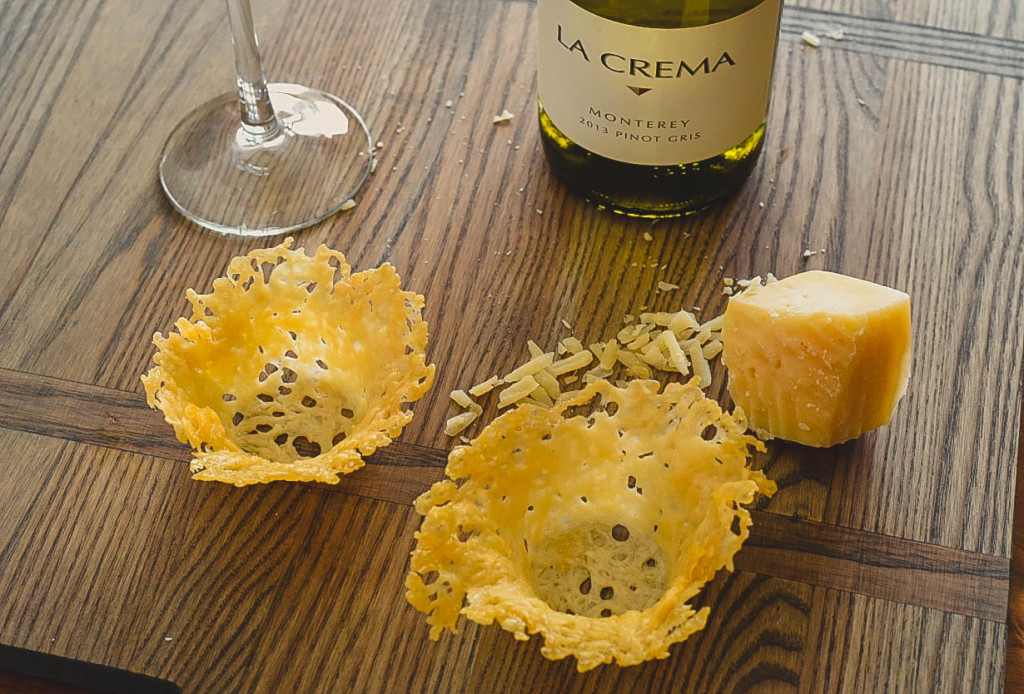 The trick is to transfer them from the silpat mat directly to the muffin tin as quickly as possible, which will result in perfectly shaped little cups. Although we filled them with pasta, they can be filled with anything that compliments the delicious flavor of cheese and wine (which let's be honest, is pretty much anything!) including steamed veggies or even mini salads!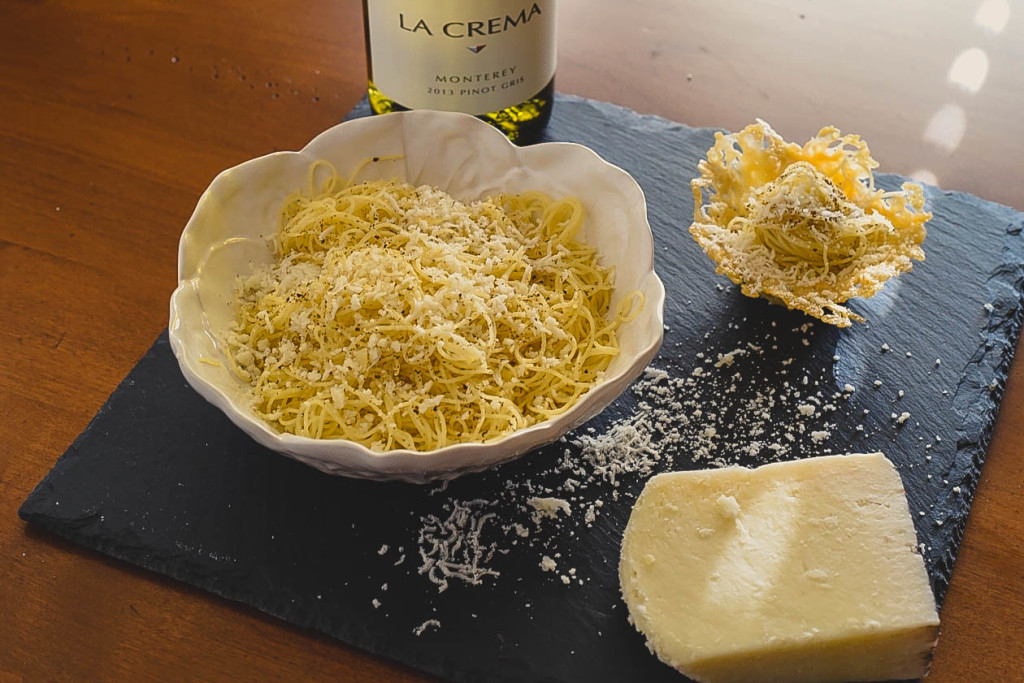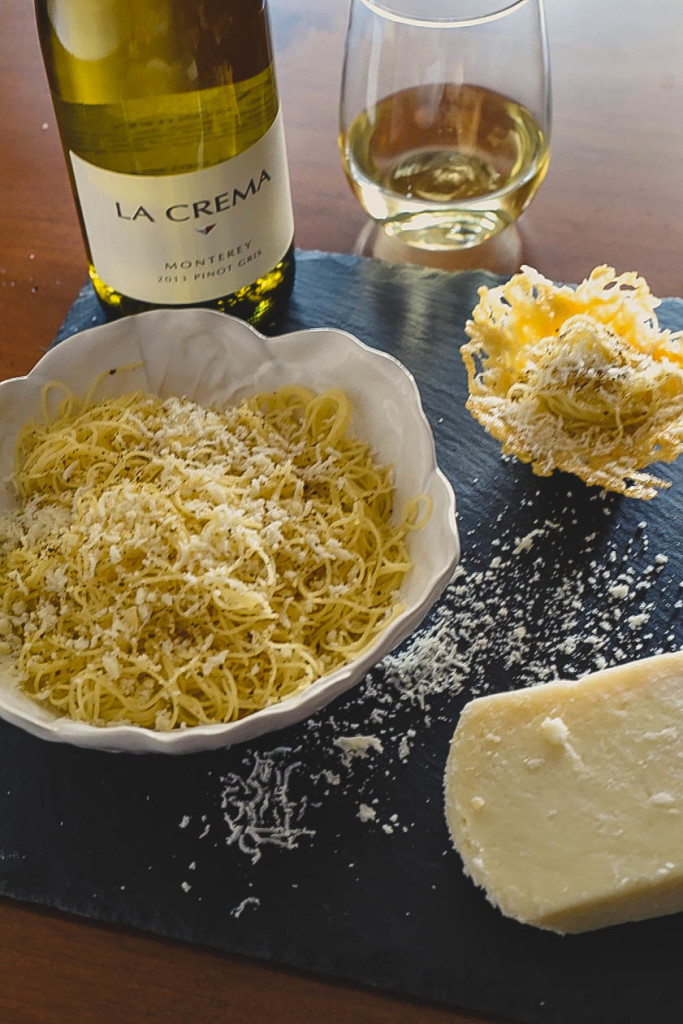 If you like recipes that pack a major punch of fun that also qualify as (embarrassingly) easy – you need to bookmark this recipe stat!
Easy Italian: Parmesan Cups
Cuisine: Italian

Ingredients
At least 2 cups of Parmesan cheese.
*Silpat mat is helpful, muffin / cupcake tin is necessary.
Instructions
Preheat oven to 375 degrees F.
Place a silpat mat on a baking sheet.
Place 6 (1/4 cup) mounds of Parmesan cheese on mat and gently tap down until each mound is flat (approximately 5 inches in diameter.)
Bake until golden and bubbly (approximately 8-10 minutes.)
Quickly use a thin spatula to transfer the Parmesan Cup to a muffin tin.
Gently mold Parmesan Cup to fit the shape of the muffin tin (use a spatula or glass to help if needed.)
Let cool until firm (approximately 5-6 minutes.)
Continue with the remaining Parmesan cheese.