Cioppino: A Christmas Eve Tradition
As you might guess with a blog called Freckled Italian, a good chunk of my family history is rooted in Italy. My grandfather moved from Avezzano to Argentina before starting a family and moving everyone from Buenos Aires to San Francisco, where he made cioppino every Christmas Eve. There's a lot more to that story, of course, but today we're here to talk about the cioppino. I'm not sure if my grandpa Albino knew he was starting a family tradition, but sure enough, here we are, still making it in his memory.
Christmas is right around the corner, and whether you celebrate or not, gathering around a table topped with delicious, steaming bowls of fresh shellfish is the perfect way to enjoy this time of year with the ones you love.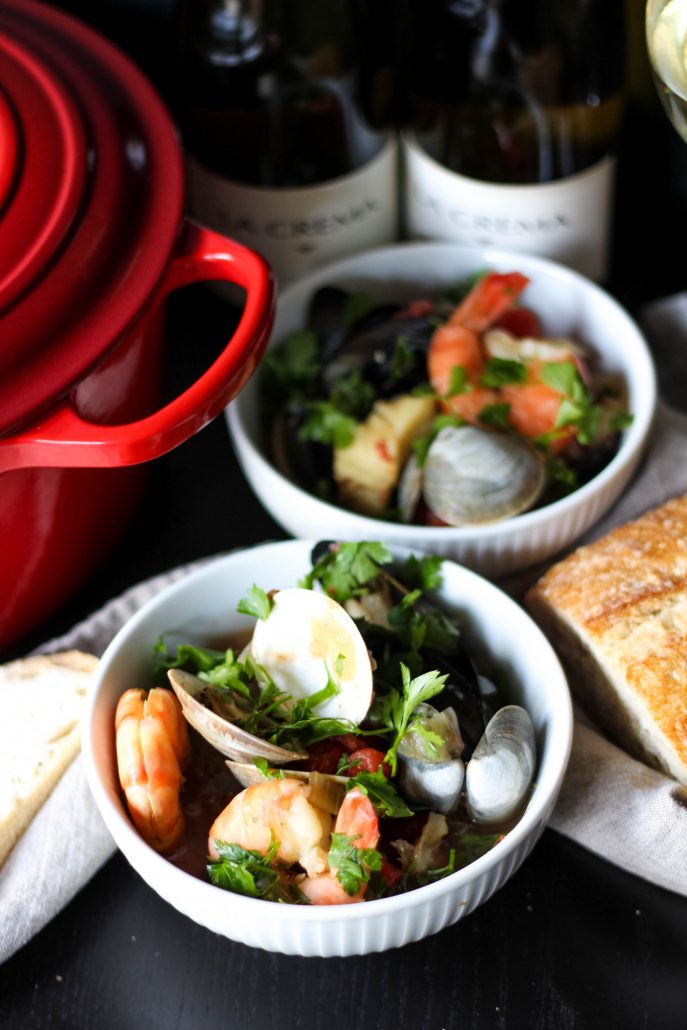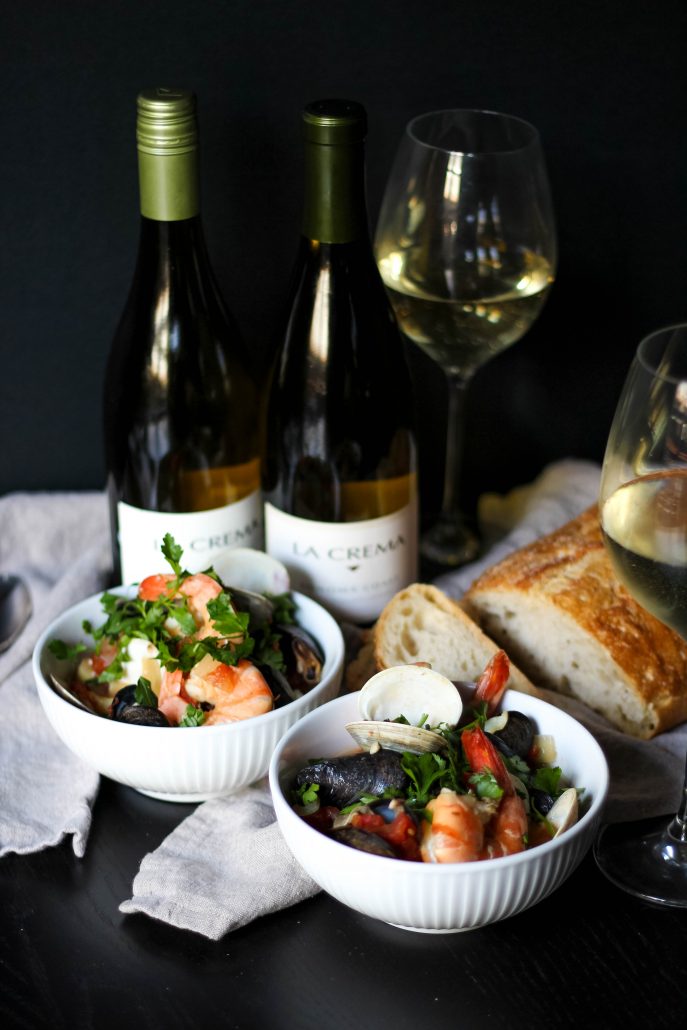 There's something about serving clams and mussels that feels really intimidating, but the truth is, preparing them is pretty straightforward. There are just a few rules: keep them cold, give them a really good rinse, scrub the shells, remove any that are already open; and after cooking, remove any that didn't open. I love cioppino because it's comforting and fancy at the same time–and it's so much easier to make than it looks. Onion, garlic, and tomato come together with fish stock and a splash of white wine (La Crema's Monterey Pinot Gris is perfect for this–and you can pour yourself a glass while you're at it!) to create a succulent broth which poaches the fish and shrimp while it opens the clams and mussels, all coming together to form a light but hearty winter stew.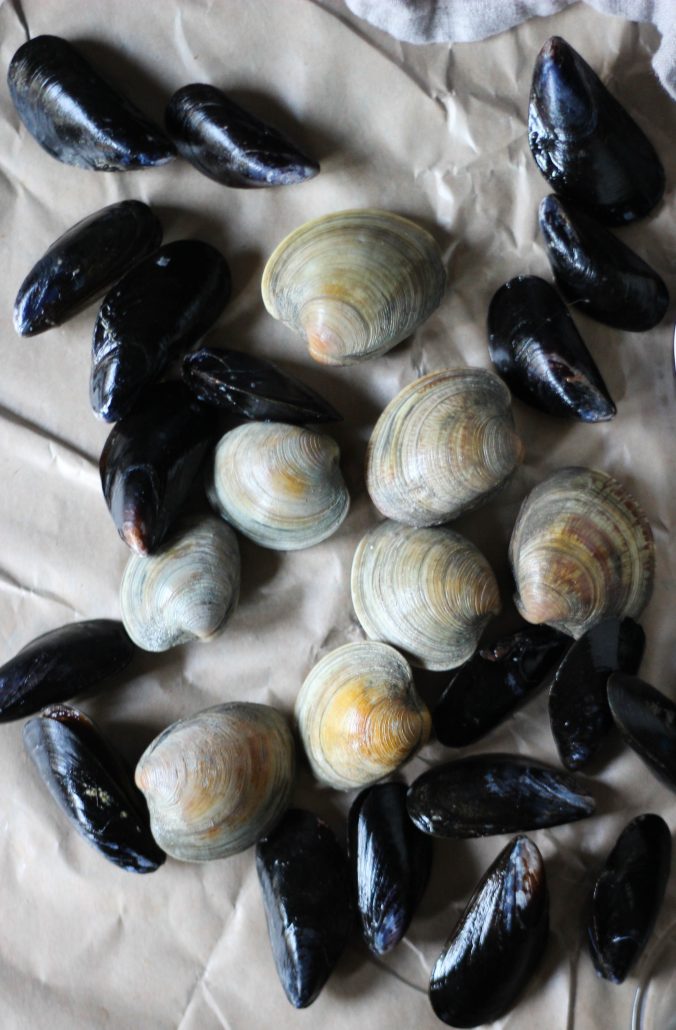 Cioppino
Author: Megan Flynn Peterson
Recipe type: Main
Cuisine: Italian
Prep time:
Cook time:
Total time:
Serves: 4-6
Ingredients
1-2 tablespoons olive oil
1 large onion, chopped
2-3 cloves of garlic, minced
1/2 cup of white wine
1 28-ounce can of diced tomatoes
1/4 teaspoon dried oregano
1/4 teaspoon crushed red pepper
1 bay leaf
1 pound of mussels. scrubbed and debearded if necessary
1 pound of clams, scrubbed
1 pound of firm, white fish (I used cod but halibut, snapper, or bass would be good too), cut into 2-inch chunks
1/2 – 1 pound of shrimp (depends on the size of the shrimp–I like a few really big ones)
Salt and pepper, to taste
Lots of fresh parsley, chopped for garnish
Instructions
In a large pot, sauté onion in olive oil over medium heat. After 2-3 minutes, add the minced garlic. Cook on medium for about 5 more minutes, stirring frequently.
Add the white wine to deglaze the pot. Stir to remove any brown bits that have stuck to the bottom. Add the diced tomatoes and bring the whole thing to a simmer. Add the oregano, red pepper, and bay leaf.
Add the mussels, clams, fish, and shrimp. Stir gently and season with salt and pepper. Continue to stir occasionally until all the clams and mussels have opened (remove any that don't open).
Simmer on low until ready to serve, topped with chopped parsley and some crusty sourdough bread for dipping.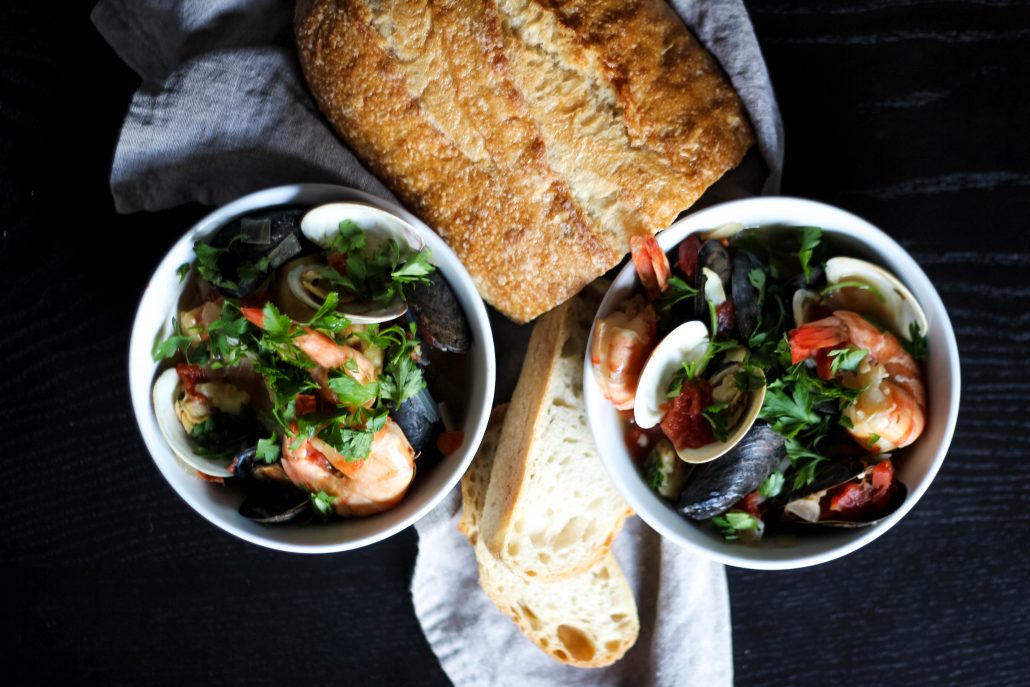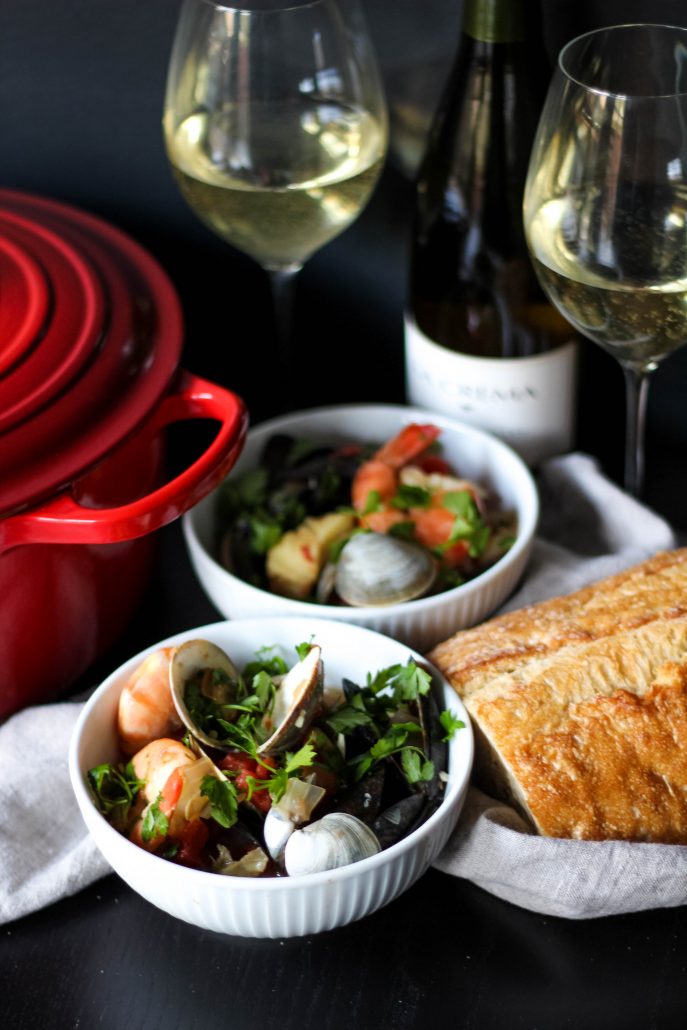 I hope you and your family enjoy this dish as much as me and mine have. It's even better with a glass (or two) of wine–we like it most with the Pinot Gris I mentioned earlier, or the Sonoma Coast Chardonnay. Both complement the rich, buttery flavors of the seafood and add a tad of refreshment to the hot broth. Absolutely delicious!
Happy holidays!