Pea Couscous Risotto with Mascarpone and Basil
There's a certain amount of zen that comes from using fresh peas in a recipe like this Pea Couscous Risotto. It's a labor of love that results in delicious meals. I love setting aside a bit of time to pour myself a glass of wine, turn on some music, and go to work shelling peas. I'm okay spending the time because the fresh peas barely need to be cooked. I find the time of prep balances well with the cooking, like in this pea couscous risotto.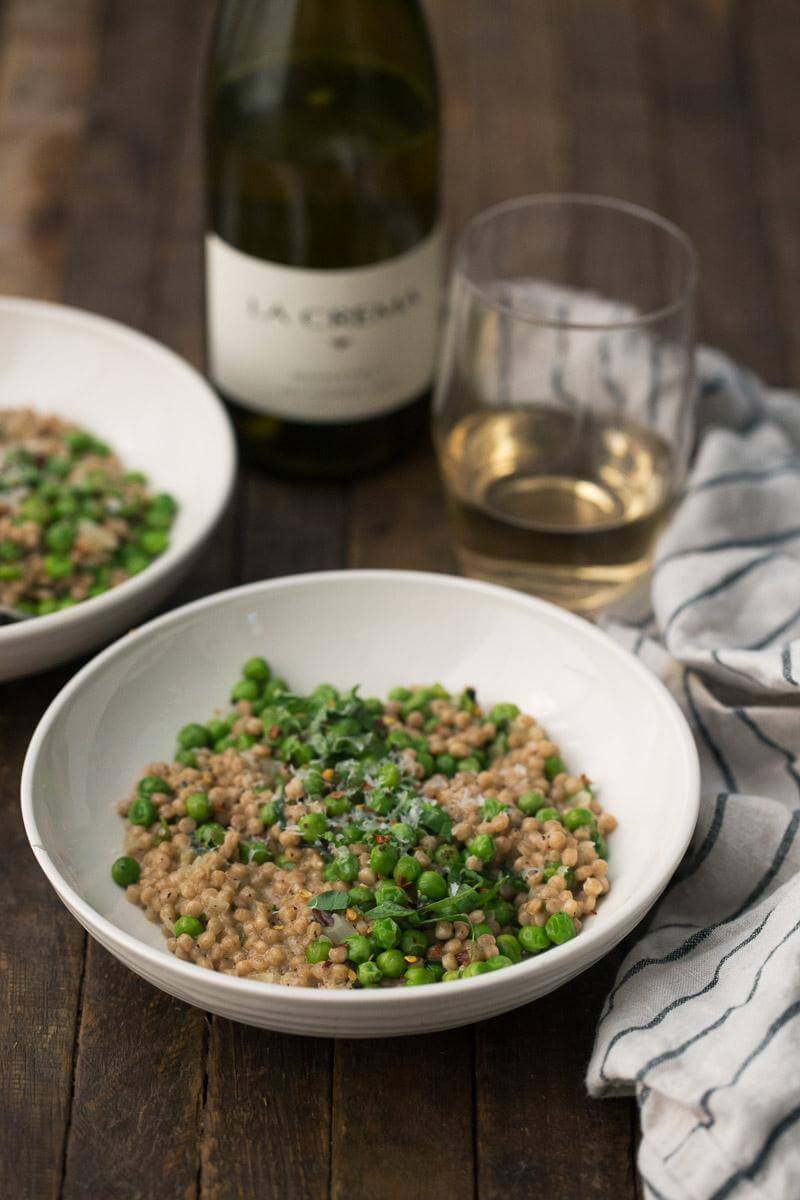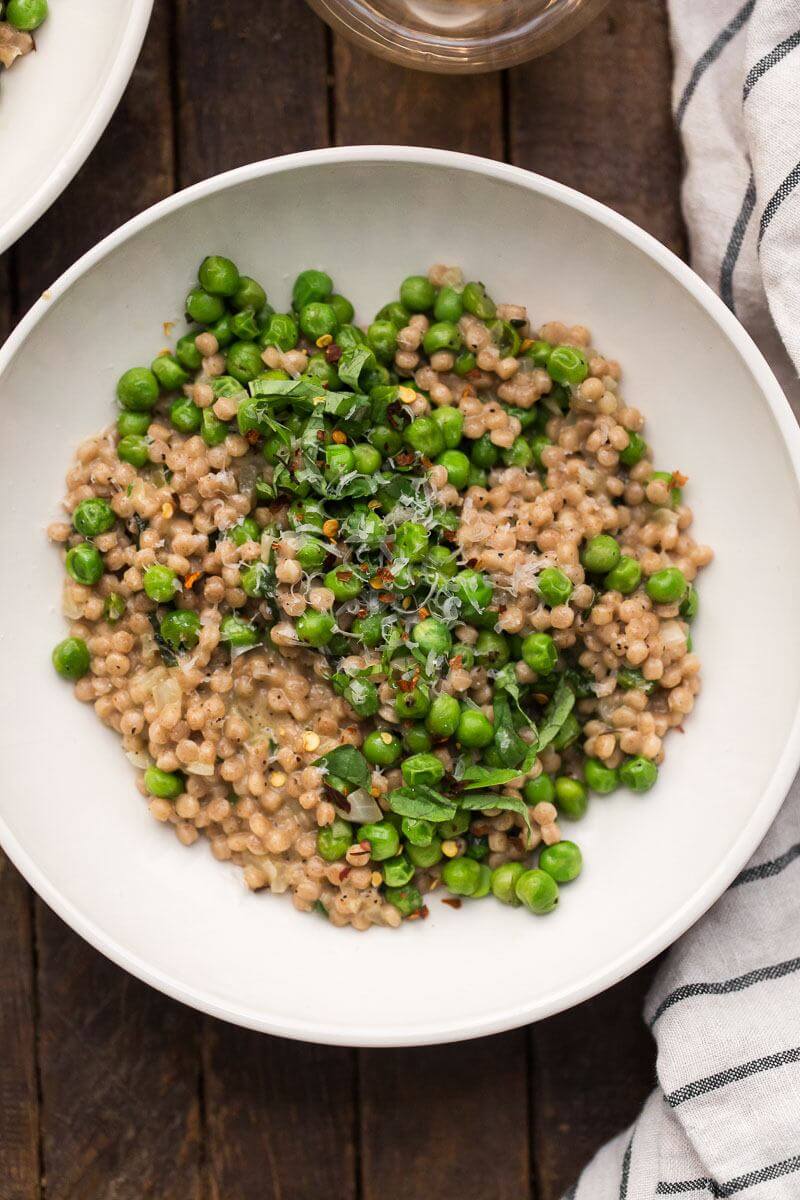 This Pea Couscous Risotto is a bit non-traditional but still results in a creamy and flavorful dish. I prefer using whole wheat pearl couscous but you could easily use regular pearl couscous. The fresh pea flavor shines with the mild mascarpone cheese and small bit of fresh basil. My favorite part? The light, crisp flavor of La Crema's Monterey Pinot Gris bringing everything together for a perfect meal.
The Monterey Pinot Gris is lovely with this couscous risotto because the fruit, bright acidity and floral flavors balance the earthy couscous and slight sweetness of peas. You don't want a wine that's too overpowering to pair with sweet green peas after all. It's the perfect weeknight spring meal.
One note: while I love fresh peas, this dish also works well with frozen peas. Peas are one of the few produce items I don't mind keeping stashed in the freezer. The process of freezing locks in some of the fresh pea flavor. Using frozen is perfect if you don't feel like shelling all those peas!
Spring Pea Couscous Risotto
Author: Erin Alderson
Recipe type: Main Course
Prep time:
Cook time:
Total time:
Serves: 4 servings
Ingredients
Peas
1

tablespoon

unsalted butter

2

cups

shelled sweet peas

¼

teaspoon

salt

¼

teaspoon

black pepper
Risotto
2

teaspoons

olive oil

1

medium

shallot

minced

1

cup

whole wheat pearl couscous

⅓

cup

white wine

1

cup

low-sodium vegetable broth

1

cup

water

Salt

to taste

¼

cup

mascarpone cheese

3

tablespoon

minced fresh basil

Parmesan

for topping

Chili flakes

for topping- if desired
Instructions
Heat a large pan over medium heat. Add the butter, followed by the peas. Cook, stirring occasionally, until peas have softened and turn bright green. Add salt and pepper, then transfer to a bowl and set aside.
Return pan to the stove top over medium-low heat. Add the olive oil followed by the minced shallot. Stir in the couscous and toast for a minute or so. Measure in wine. Cook until most of the wine is gone, 3 to 4 minutes.
Add the broth and water. Bring to a boil, reduce to a simmer, and let cook for 15 minutes or so. The couscous should be tender and most of the liquid absorbed. When there's a small amount of liquid left, reduce the heat to low and add the mascarpone cheese, basil, and cooked peas.
Remove from heat and stir until the mascarpone cheese has melted. Divide into four bowls and top with extra basil and grated parmesan.