30 Minute Fall Naked Cake
This 30 Minute Fall Naked Cake is a stunningly easy and delicious cake that is a perfect centerpiece of any fall fete-and is easily dressed up with fresh, in-season fruit, jams or jellies.
It's hard to believe fall is coming-especially with the warm temperatures we always seem to have late into the year. But with kids starting to trickle back to school and stores readying themselves for an onslaught of too-early-holiday stuff, we're starting to stockpile ideas for our favorite season-fall! It's harvest time, when the air starts to get a little crisp, and leaves put a show on for everyone to see. It's also my absolute favorite time to entertain, and what seems to be the busiest time of year for us.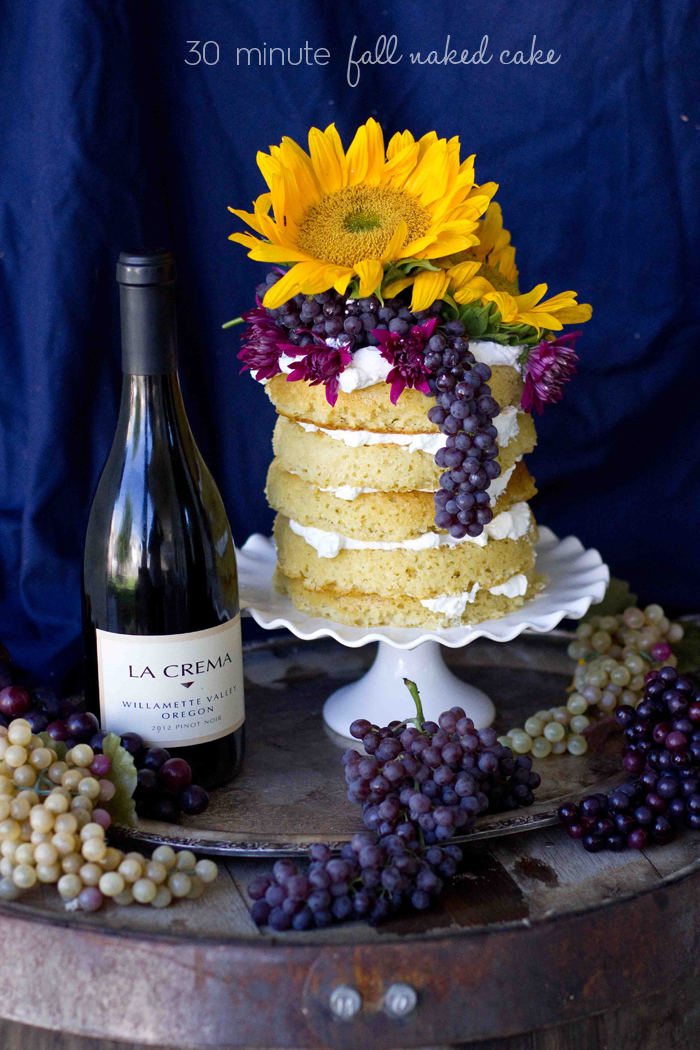 If you haven't seen naked cake on Pinterest yet, they are the next big trend in cake making. And they are one of my favorite trends in a long time! You can make a beautiful, delicious cake in no time. Decorating it is simple, easy, and has an elegantly rustic charm. Just top your cake with your favorite fruits, flowers, or leave it topped with heaps of icing. You can even add fruit, jam, chocolate, candied rose petals, or even different colored icings inside each layer to make your own unique theme!
For this cake, I wrapped a very simple bouquet of mums and sunflowers with floral tape (so they wouldn't leave sap or flower water on the cake) and used them as a simple, beautiful living cake topper. I also spreaded out some grapes on the top to celebrate the impending grape harvest at La Crema this year!
While you can use any of your favorite icings on this cake, my favorite is always a thick, slightly sweet and luscious whipped cream topping. I'm sharing my wine infused whipped topping recipe on my blog which features La Crema's Chardonnay. Another idea is to use some Pinot Noir for a soft and lovely pink icing.
While you could use any cake pan, I like using a pan made just for layering cakes. My favorites are a 6″ diameter and 0.75″ high and sized to use one batch of cake mix (or one box of cake mix) per layer. If you use a larger pan, (many are a 9″ diameter) you will need double the batch, or to only make 2-3 layers.
The larger your cake gets, the less stable it will be- if you'd like to add a little extra strength, you can insert some candy mold sticks (which are food grade and won't leave an odd flavor) to reinforce the cake tower.
30 Minute Fall Naked Cake
Author: Courtney O'Dell
Recipe type: Cake
Cuisine: American
Prep time:
Cook time:
Total time:
Serves: 8
This delicious and light sponge cake comes together perfectly in 30 minutes for an elegant, beautiful fall cake.
Ingredients
8oz butter, softened at room temperature
1 cup + 2 tbsp sugar
4 medium eggs
2 tsp vanilla extract
1 2/3 cup self raising flour
2-3 tbsp milk to make batter slightly more fluid
Instructions
Preheat oven to 350 degrees.
Cream butter and sugar together in a large bowl.
Beat in eggs, one at a time.
Add vanilla.
Fold in flower, a bit at a time.
When completely mixed, add milk slowly until batter is more fluid (it should be slightly pourable- like a thick pancake mixture, instead of bread-like.)
Pour into five greased cake pans (I like the wilton easy layers cake pans- they make five levels with just one cake mix), and bake in a preheated oven at 350 degrees until slightly brown, and a toothpick inserted into the middle comes out clean.
Let cool 10 minutes, and transfer to cooling rack.
Place one cake on cake plate, and top with strawberry jam, clotted or whipped cream, berries- whatever you'd like (or all of the above).
Layer other cake layers on top, and sprinkle powdered sugar on the top.