Blistered Tomato Pasta
Summer does something magical to tomatoes. Their uses are endless! So instead of a fresh salad, I decided to take a spin on spaghetti and opt for a blistered tomato pasta to take advantage of their sweet, fresh flavor.
Tomatoes are like gold to me. Even during these final sunny days you can seriously find me biting into heirloom tomatoes like they're apples and popping cherry tomatoes like they're grapes. Each kind of tomato is so uniquely rich and sweet that lunch might as well be a couple of them sliced in half with a drizzle of oil and a pinch of salt. But, for this recipe, we're going to give them a light char instead.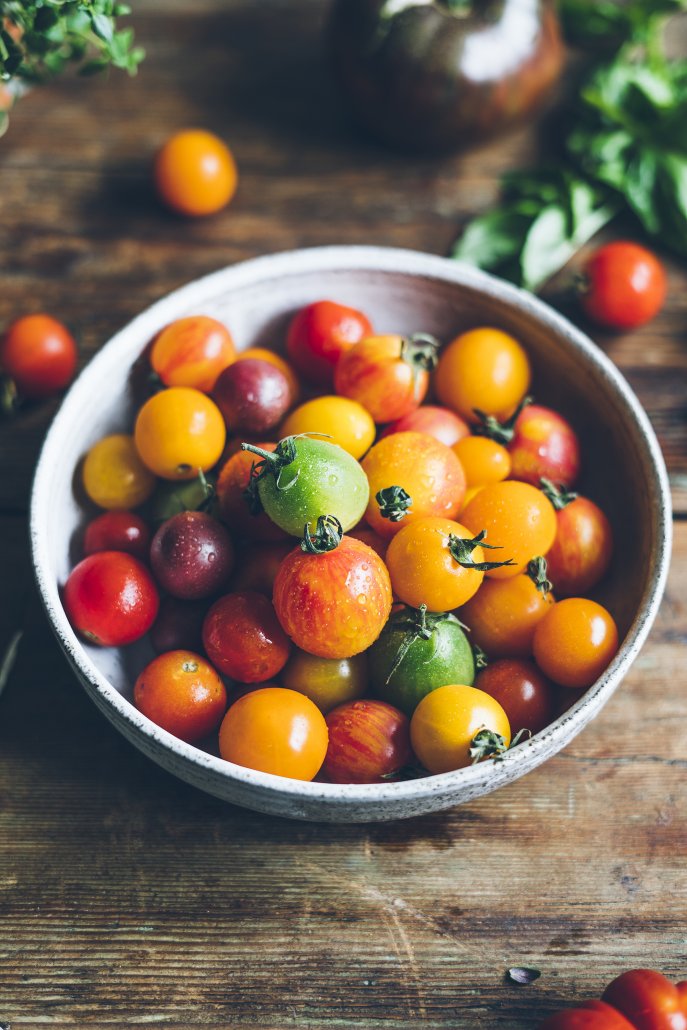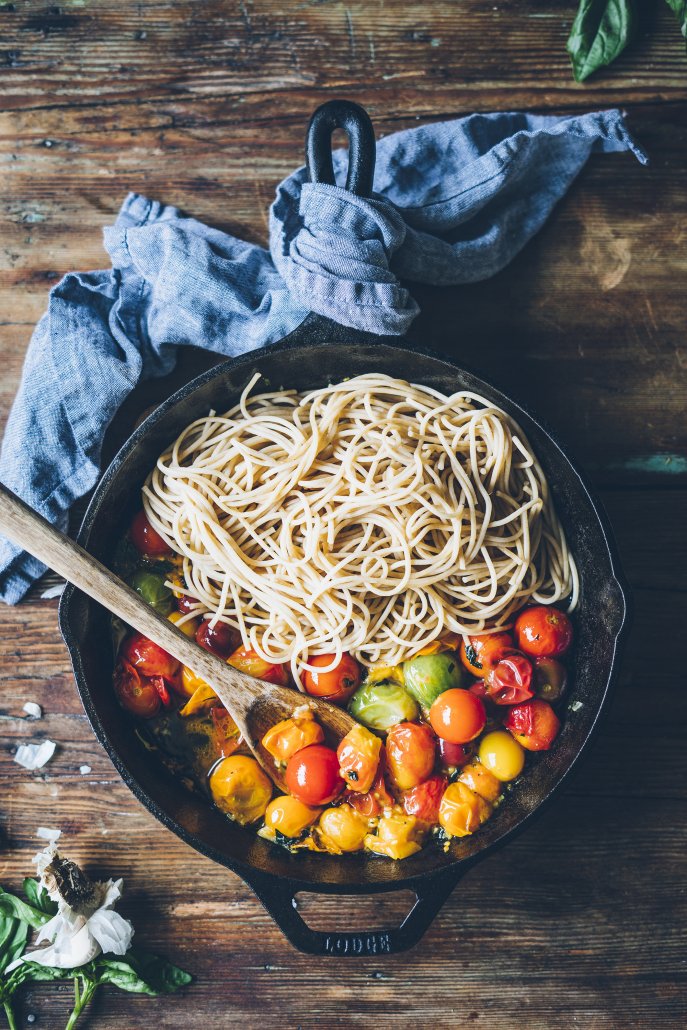 This blistered tomato pasta is straight-forward and classic: a simple preparation that gives the spotlight to ingredients at the peak of their season. Olive oil, chili flakes, and garlic complement the tomatoes to create a blissfully delicious sauce, while Parmigiano Reggiano and basil bring a sharp, nutty, and herbaceous finish. Blistering the tomatoes amplifies their flavor while submerging the dish in their rich juices. The garlic and chili flakes play to the sweetness of the tomatoes with a spicy bite—further reinforced by the garlic and thyme breadcrumbs.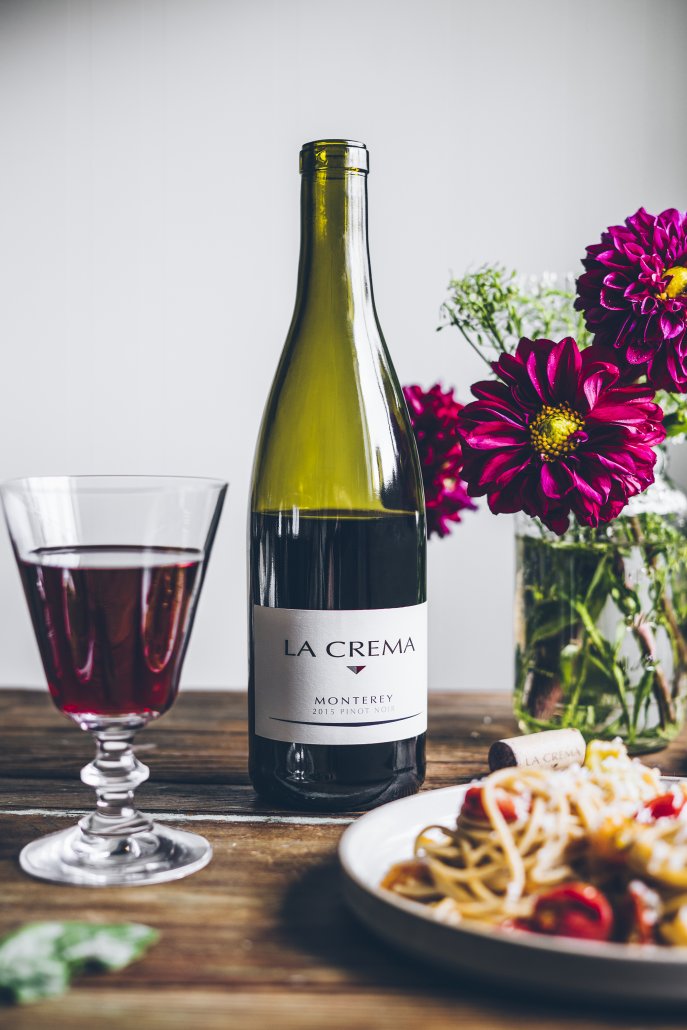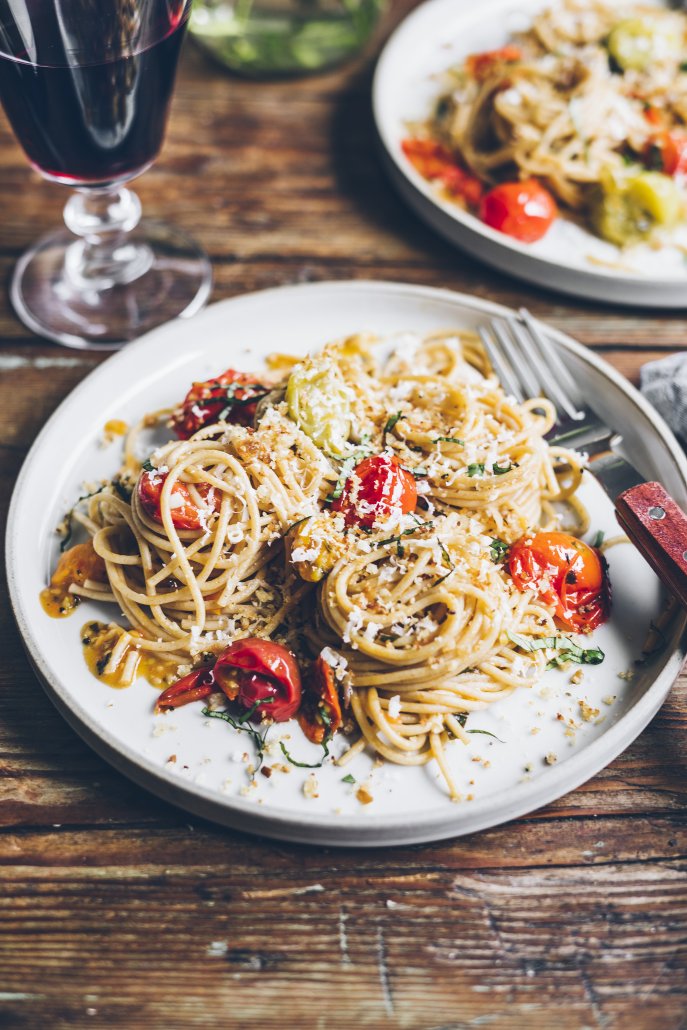 I found La Crema's Monterey Pinot Noir to pair nicely with this dish, because it's fruit-forward with bright acidity and just a hint of earth that really rounds out the palate. Enjoyed alongside the pasta, the contrast created between the tastes plunges one into quite the experience.
Blistered Tomato Pasta
Author: Kristan Raines
Recipe type: Dinner
Cuisine: Italian
Prep time:
Cook time:
Total time:
Serves: 2-3
Ingredients
8 oz whole wheat or regular spaghetti

4 ½ tbs olive oil

1 lb cherry or mini heirloom tomatoes, washed and dried

3 garlic cloves, roughly chopped

¼ tsp chili flakes

½ oz chopped basil (about 2 tbs), plus extra for garnish

¾ tsp sugar

salt and pepper to taste

Parmesan-Reggiano cheese
Garlic and Thyme Bread Crumbs
3 oz sourdough or another type of crusty bread, cut into 1-inch cubes (about 1 1/2 cups)

1 garlic clove

2 tbs unsalted butter

3/4 tsp chopped fresh thyme

salt and pepper, to taste
Instructions
For the breadcrumbs,

place the cubed bread and garlic in a food processor and pulse until fine breadcrumbs form. Melt the butter in a 10-inch skillet (preferably cast iron) over medium heat. Add breadcrumbs and thyme and cook until golden and crisp, about 6 min. Season with salt and pepper to taste, then transfer to a small bowl.

For the pasta

, bring a large pot of well-salted water to a boil and add the pasta. Cook pasta until al dente and drain, reserve 1/2 cup of pasta water, and set aside.

While the pasta is boiling, prepare the tomato sauce. Add the olive oil, garlic, and chili flakes to a large skillet set over medium-low heat. Adjusting the heat as necessary, allow the garlic and chili flakes to cook for about 45 seconds or so. Do not let the garlic brown.

Add the tomatoes, sugar, and a pinch of salt and pepper, and begin to cook, stirring occasionally, for 5-7 minutes or until the tomatoes begin to blister and burst. You can press down on the tomatoes towards the end of cooking if needed. Once the tomatoes are ready, add the pasta and basil and toss everything together. If the pasta seems a little dry, add 1 tbs of water at a time as needed until a smooth sauce forms. Taste the pasta and season with salt and pepper as needed.  

Divide the pasta between 2-3 plates, garnish each serving with the cooled bread crumbs, grated parmesan-reggiano cheese, and fresh basil. Enjoy!