Celeriac and Sweet Potato Pasta with Tarragon Butter Sauce
Pairing a vegetarian dish sans mushrooms with Pinot Noir, or any red, is challenging, but this Celeriac and Sweet Potato Pasta with Tarragon Butter Sauce proved to me it is possible!
When I first started drinking wine, I was drawn to reds. I loved the body of each wine and I felt like I could really dive into the different layers, more-so than whites. Every dinner out I would try a different wine and the pairings seemed endless. This was all before I became a vegetarian.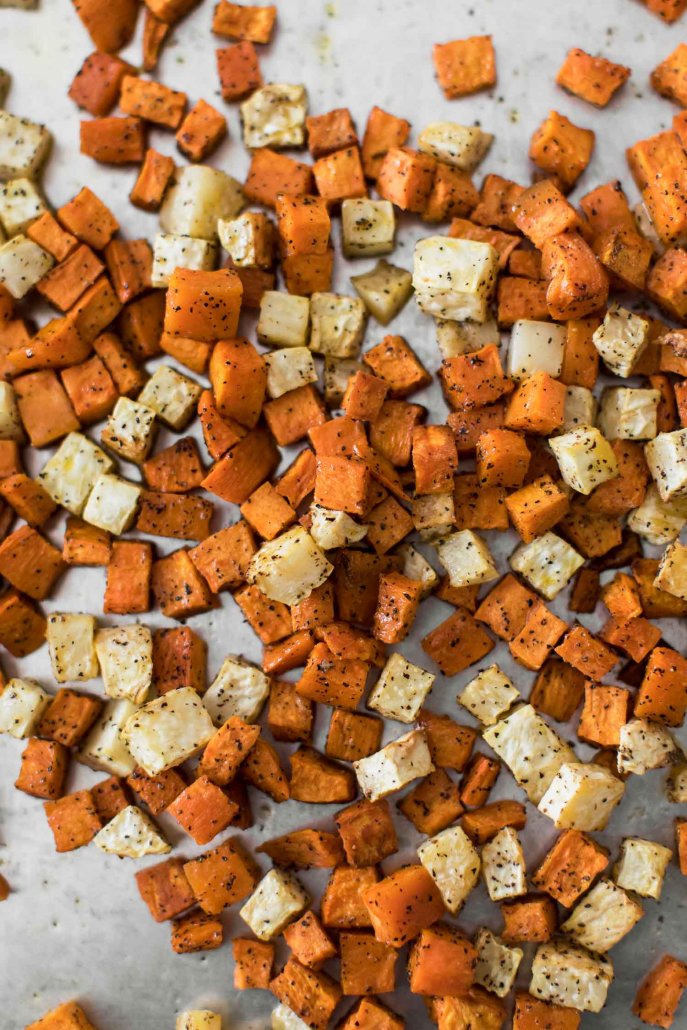 When I dove into the world of vegetarian cooking, I found my taste in wines changed. I think this was partially pushed on me as most restaurants in the Midwest didn't really know how to handle vegetable-heavy meals. I'd ask restaurants for their favorite pairings and they would almost always be whites. I explored on my own and found that I too nearly always ended with whites.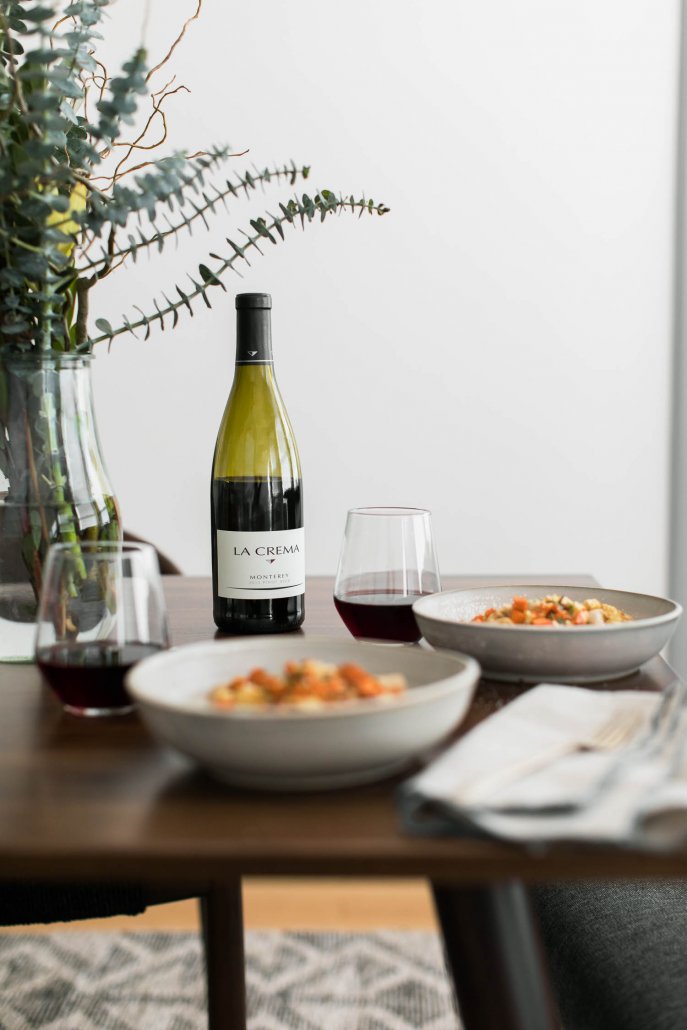 This was in part because I'm not a mushroom fan and I quickly learned that at a restaurant, the only way I was going to get a red pairing was if I ate mushrooms. It's rather obvious since mushrooms are about as earthy as you can get in vegetarian cooking. However, I think this is a shame, there are so many different flavor combinations that work well with reds.
That's where this sweet potato pasta comes in, along with the La Crema Monterey Pinot Noir. Sweet potatoes, by themselves, are a bit too sweet for the pairing in this particular recipe, but the celeriac and tarragon balance the overall dish. Here, the earthy undertones of the celeriac and the stronger bittersweet, anise flavor of the tarragon harmonize with the earthiness in the wine.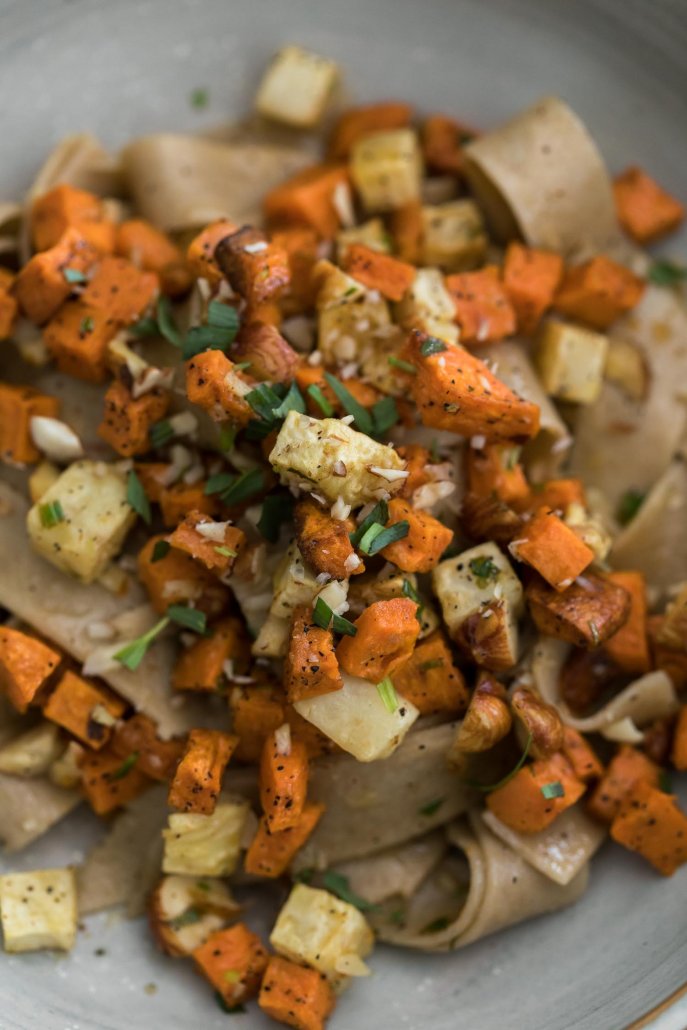 This sweet potato pasta is the perfect late-winter meal. The butter sauce isn't extremely heavy and the ratio of vegetables to pasta is about 50:50. I've also been known to turn this pasta dish into a lovely grain bowl by swapping the pasta out for a hearty grain like farro or spelt. You could also make this combination into a delicious salad. Toss the sweet potatoes/celeriac with kale and use the butter sauce as a dressing (because if you've never used butter as dressing, you're missing out!)
Celeriac and Sweet Potato Pasta with Tarragon Butter Sauce
Author: Erin Alderson
Prep time:
Cook time:
Total time:
Serves: 2 large servings
An sweet and earthy pasta dish that features roasted sweet potatoes and celeriac tossed with pasta and a simple tarragon butter sauce.
Ingredients
Sweet Potatoes/Pasta
1 medium sweet potato (¾ pound)

1/2 medium celeriac (celery root) (¼ pound)

1 tablespoon olive oil

½ teaspoon sea salt

4 ounces whole wheat long pasta (like pappardelle)
Butter Sauce
3 tablespoons unsalted butter

1 clove garlic, minced

¼ cup crushed hazelnuts

2 teaspoons lemon juice

½ teaspoon lemon zest

1 tablespoon freshly minced tarragon

Pinch of Salt
Instructions
Preheat oven to 425˚F. Peel the sweet potato and celeriac then cut into ½" cubes. Toss with the olive oil, salt, and pepper. Spread onto a sheet tray and roast until the vegetables are tender and starting to brown; 30 to 35 minutes.

While the sweet potatoes are roasting, cook the pasta until tender. Drain and reserve ½ cup of pasta water. Set pasta aside.

Return the pan used for pasta back to the stovetop. Over medium-low heat, add the butter and let melt. Add the hazelnuts and cook for a couple minutes, until fragrant. Stir in the garlic and continue to cook for another minute; just long enough for the garlic to become golden. Turn off the heat and stir in the lemon juice, zest, tarragon, and salt.

Add in the roasted sweet potatoes and pasta; tossing until well combined. Add a splash of pasta water as needed to help the butter coat the noodles. This may or may not be needed. Serve with a sprinkle of chopped hazelnuts and minced tarragon if desired.