Cheesecake in a jar with candied rose petals
Date night during summer is always a great time to connect. The air is hot, there are tons of things to do outside, and time seems a bit slower and more relaxing. Finding the perfect dessert for a homemade dinner during hot summer months can be tricky — who wants to heat up the kitchen with an oven?
This delicious dessert is incredibly easy to make — and is completely no-bake. Plus, sharing a delicious no-bake cheesecake in a jar with a bottle of La Crema Pinot Noir Rosé is an incredibly romantic way to spend an evening — especially when topped with freshly picked summer fruit and candied roses.
This dessert takes about 10 minutes of prep, and a few hours refrigeration. And if you can stir with a spoon, you can make this! We're not using hard to find or out of the ordinary ingredients — but this cheesecake sets up into a delicious, creamy, sweet and sumptuous dessert that tastes like it took much longer to create.
This would be the perfect dessert to share some fresh fruit from a u-pick berry farm or farmers market date or trip with some girlfriends this summer without having to slave over a hot stove or oven all afternoon. Or, pack your picnic basket with one for a romantic outdoor date. A little prep time, toss it in the fridge with a bottle of La Crema Pinot Noir Rosé, and you're set for a delicious dessert that is almost too good to share!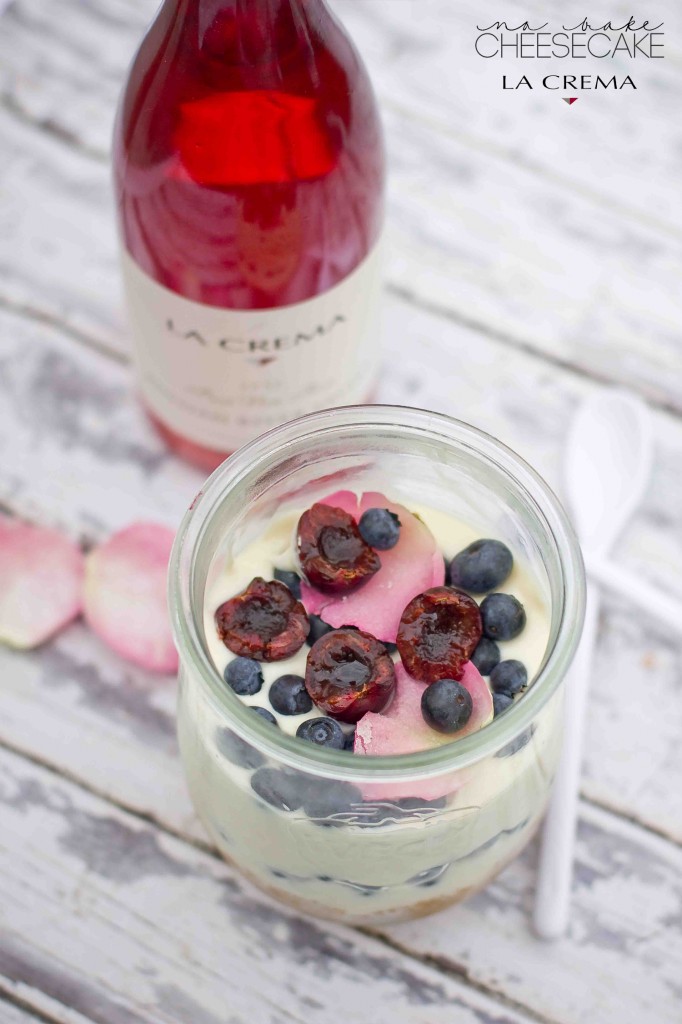 For a cheesecake for two (this is a VERY generous serving for two- serve in a Weck jar so you can easily save leftovers!)
Cheesecake in a jar with candied rose petals
Recipe type: Dessert
Serves: 2
Ingredients
3/4 cup graham cracker crumbs
2 tbsp packed brown sugar
1/2 teaspoon ground cinnamon
1/2 cup butter, melted
1 (8 ounce) package cream cheese
2 teaspoons lemon juice
1 teaspoon vanilla extract
1/2 pint heavy whipping cream
1/4 cup white sugar
1/2 cup fresh berries or cherries, optional
Candied rose petals, to garnish (see below for link to recipe)
Instructions
In a small bowl, stir together the graham cracker crumbs, brown sugar and cinnamon. Add melted butter and mix well. Press into the bottom of a Weck or other wide-bottom jar.
Refrigerate until chilled.
Add fresh fruit to the base, if desired.
In a medium bowl, beat together the cream cheese and lemon juice until soft. Add whipping cream and beat with an electric mixer until batter becomes thick.
Add the sugar and continue to beat until stiff.
Pour into chilled crust. Add a layer of fruit in the middle (parfait-style) if preferred, as pictured.
Chill several hours or overnight, top with candied rose petals or fresh fruit. (See below for link to candied rose petal recipe.)
And don't forget- to top your cheesecake, you can up the romance factor with some deliciously beautiful candied rose petals. Check out the super simple instructions over on Sweet C's Designs! They are incredibly easy to make and pair perfectly with any summer dessert you'd like to dress up- just like a bottle of La Crema Pinot Noir Rose!
Share this on Pinterest!