Corned Beef and Sautéed Cabbage Sandwich
It seems safe to say that no one is willing to turn down a great sandwich. There's something about the right kind of meat, vegetables, and cheese between two slices of the perfect bread that's practically irresistible. It's in this spirit that I've set out to make another great sandwich for us all to enjoy—this corned beef, cabbage-stacked, sauerkraut-laden beauty wrapped in rye.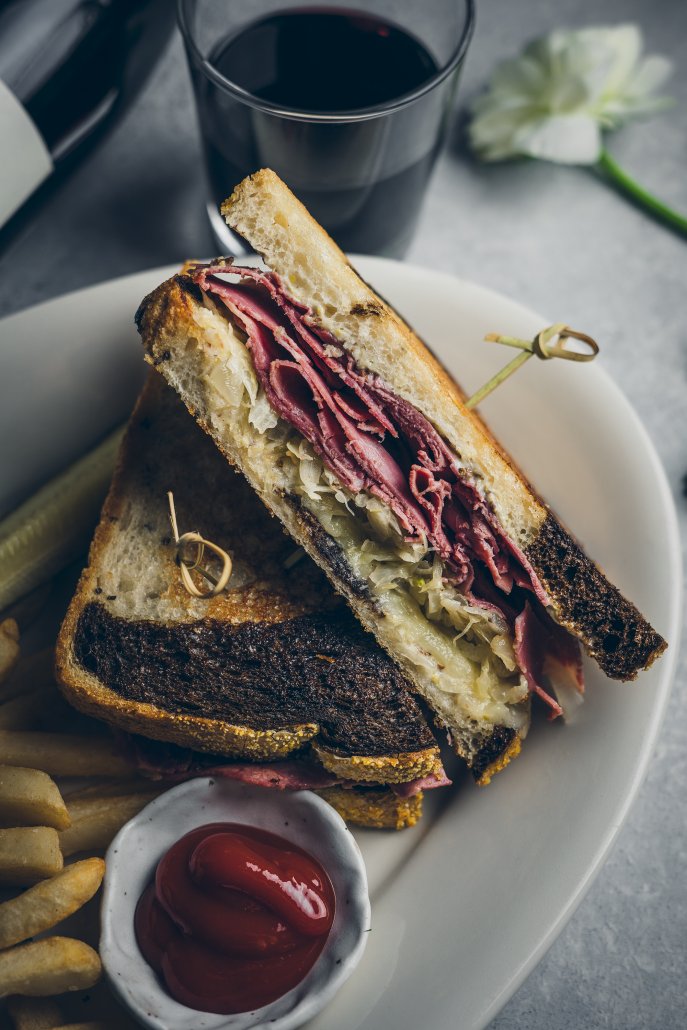 For this recipe, I essentially wanted to nail a classic reuben with a fresh interpretation. The corned beef lends its signature briny and spicy flavors, which ended up being a constant theme for every aspect of this sandwich. The sauerkraut continues this with its fermented, sour contribution. A heap of sautéed cabbage and onions provide some sweetness to play off against the brininess. I also went with a sharp cheddar for a tangy bite that suits well not only with the beef but obviously with the sauerkraut. Lastly, some mustard-mayo-slathered rye completes the overall picture incredibly well with its earthy, full flavor.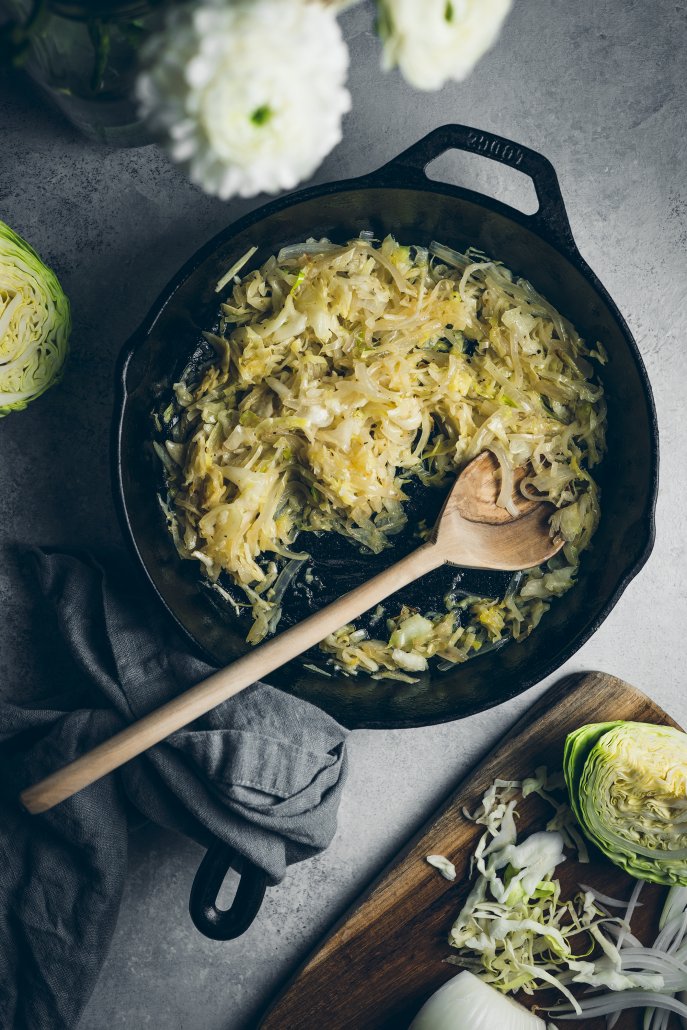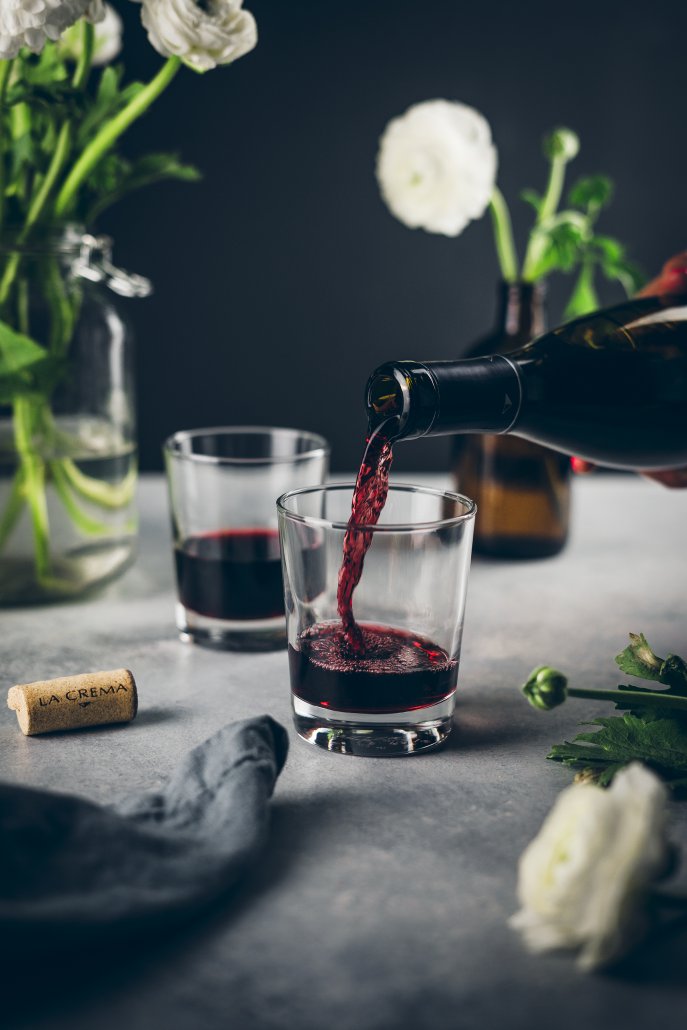 I chose La Crema's Monterey Pinot Noir to pair with this sammy because it's bright and earthy. It might seem a little odd at first to pair wine with a sandwich, but the flavors actually interact in an unexpectedly pleasant way. The Pinot Noir's tangy and tart notes of rhubarb, cherry, and plum play off the briny, sour dynamic of the sandwich. The wine's layer of baking spice notes also blends happily with the brining spices from the beef and onions. All these flavors play off each other in interesting ways, so pick up a bottle La Crema, gather some ingredients, and enjoy this wonderful sandwich.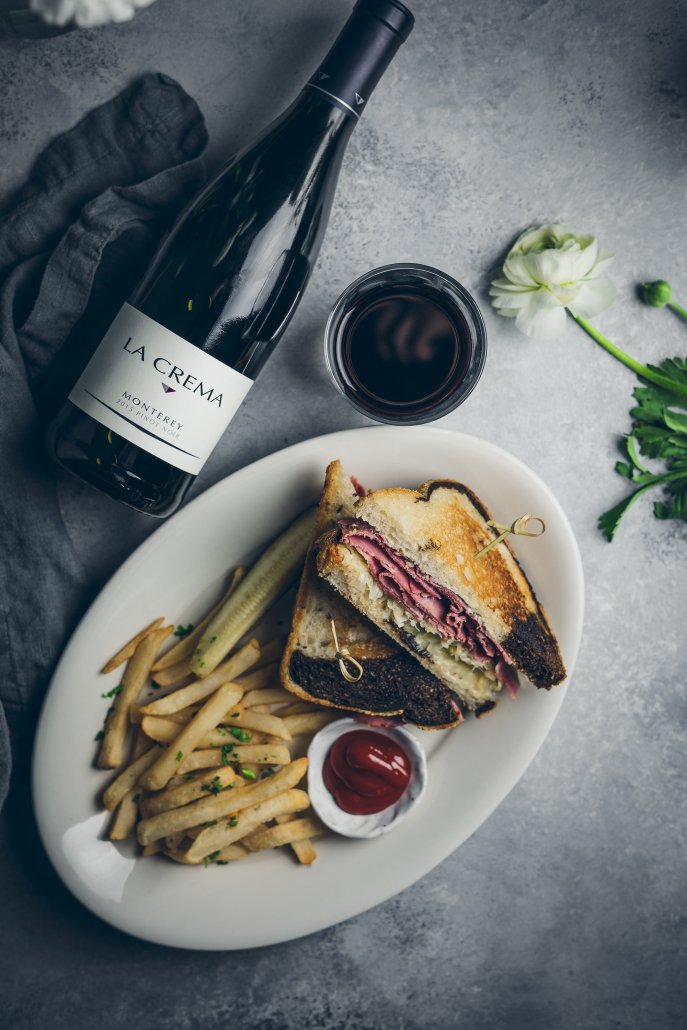 Corned Beef and Sautéed Cabbage Sandwich
Author: Kristan Raines
Recipe type: Lunch
Prep time:
Cook time:
Total time:
Serves: 2 large or 3 small sandwiches
Ingredients
4 large or 6 small slices of marbled rye or normal rye

2 tbs unsalted butter

1/2 a medium white onion, thinly sliced

2 cups thinly shredded green cabbage (excluding the core)

1/4 cup + 2 tbs sauerkraut

1/4 cup + 2 tbs mayo

2 tbs whole grain mustard

1/2 lb deli sliced corned beef

2-3 slices sharp cheddar

neutral oil, or melted butter for brushing
Instructions
Melt 2 tbs butter in a cast iron skillet or heavy-bottomed pot set over medium heat. Once the butter has melted add the onions, a pinch of salt and pepper, and 

saute for about 4-5 minutes, or until tender but not yet browned.

Add the cabbage and season with a bit of salt and pepper and cook for about 10 minutes, stirring occasionally, until the cabbage is tender and has slightly browned.

Add sauerkraut and cook until for another minute, or until warmed through. Taste and add any additional salt as needed, then remove from heat.

In a small dish mix together the mayo and mustard, and set aside.
To assemble the sandwich, spread each piece of bread with the mustard mayo or oil. Then layer each slice with an equal amount of sauteed cabbage, corned beef, and cheese. Brush the outsides of each sandwich with melted butter or neutral oil and place on a hot skillet. Grilled the sandwich on both sides until browned and the cheese has melted.
Cut the sandwich in half and serve immediately with a side of fries, salad, or chips.