DIY Etched Wine Bottle Votive Holder
In the last installment of her three-part series on hosting a fabulous wine tasting party, Ashley Pepitone of Camp Makery shares an easy way to turn those leftover wine bottles into beautiful etched votive holders. The perfect décor for your next wine tasting!
We've all got them lying around. Empty wine bottles with no plan or purpose, other than a trip to the recycling plant. This is an easy way to turn those bottles into something beautiful and useful!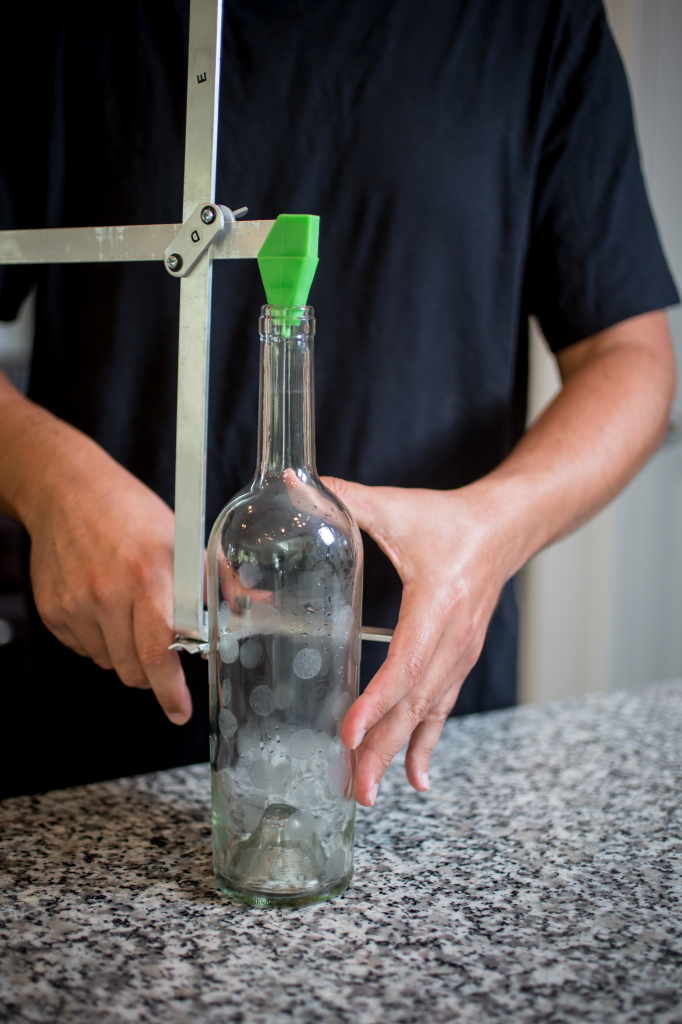 Begin by removing the label from your bottle and scoring it with a special bottle cutter. We used this one. Follow the instructions that come in the packaging, and be sure wear eye protection. I also recommend lining the bottom of your sink with a couple of dish towels. The process involves alternating hot and cold water over the scored glass to break it evenly, and the towels will break its fall so it does not shatter!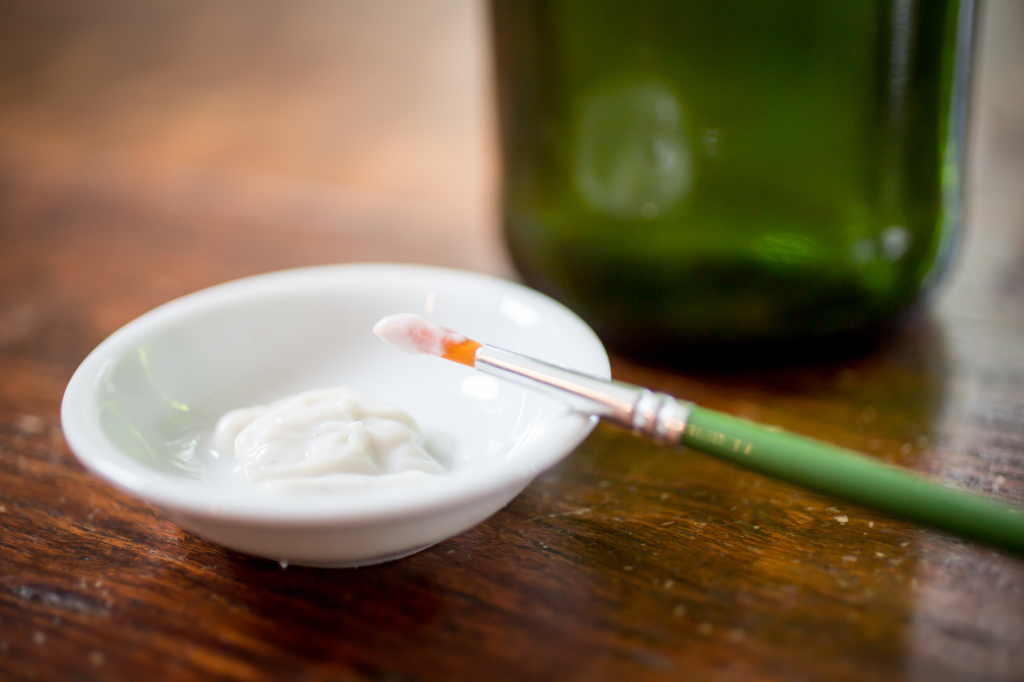 Once your bottle is cut down, set up your "etching" station with a small dish of frost-effect glass paint. I used this one. You could use etching cream, but the paint gives a very similar look without the danger of the extremely caustic acid used in etching cream.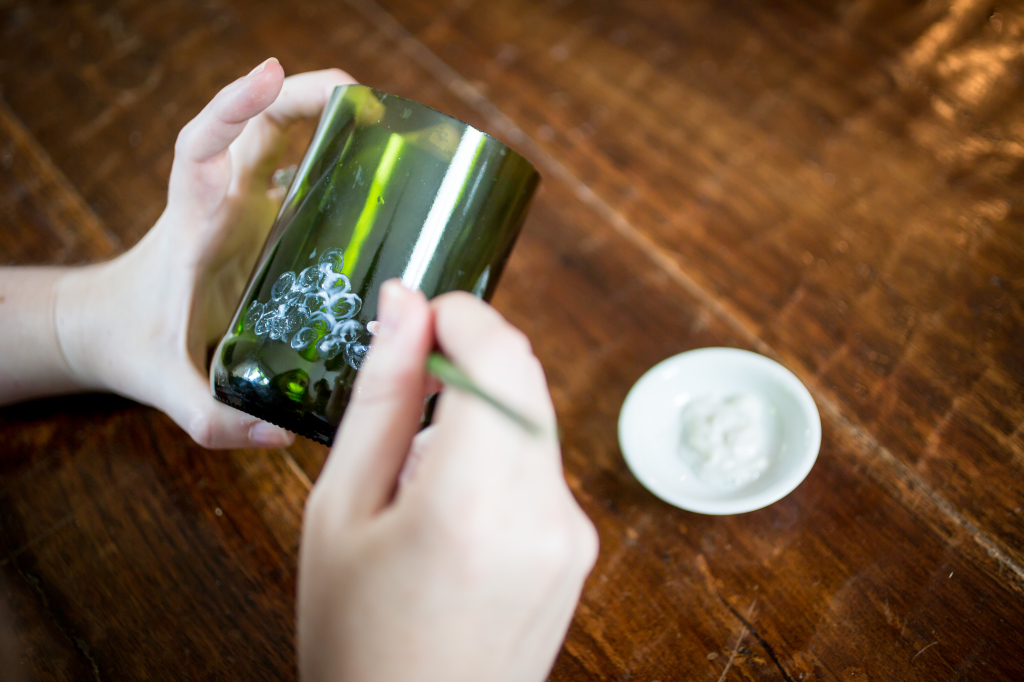 Make sure that your bottle is completely dry and begin to paint on your pattern of choice. I decided to do a cluster of grapes to fit with the wine tasting theme! Allow to dry completely, about 20-30 minutes. Pop in a tealight or votive candle and you are all set!
Nestle your new votive holder among the food, wine, and some fresh blooms for a beautiful and theme-appropriate glow! If you get ambitious, make a bunch of these and like them down the center of your table with empty, un-cut bottles which you can remove the labels from and use as taper candle holders. You can also use both as vases- the possibilities really are endless!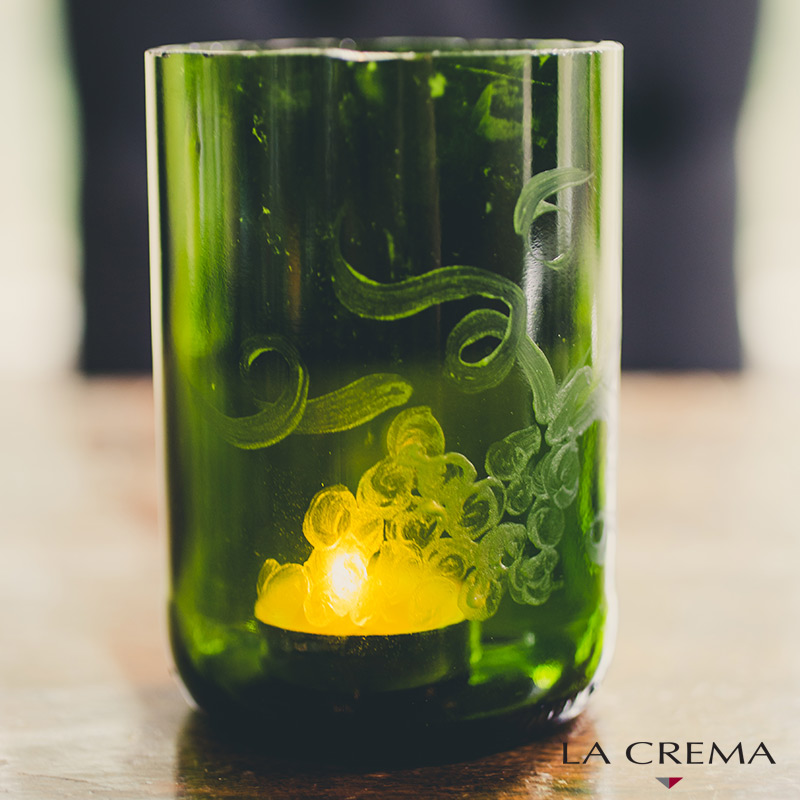 More posts in this series
– Hosting a Successful Wine Tasting Party: The Basics
– Easy, Delicious Stuffed Mushrooms for Your Wine Tasting Party