DIY Etched Wine Glasses
Every year, I struggle with ideas for presents to give to my mom. I like to give nice, homemade presents, but spring tends to be a bit chaotic for intricate DIY projects. These Etched Glasses are a simple, easy craft that mom will love, and it only takes about 10 minutes to make, total!
This method uses a caustic solution (I like the Armour Etch brand, $15 at most craft or home improvement stores) to make a permanent, dishwasher safe etching in glass that won't rub off or fade over time.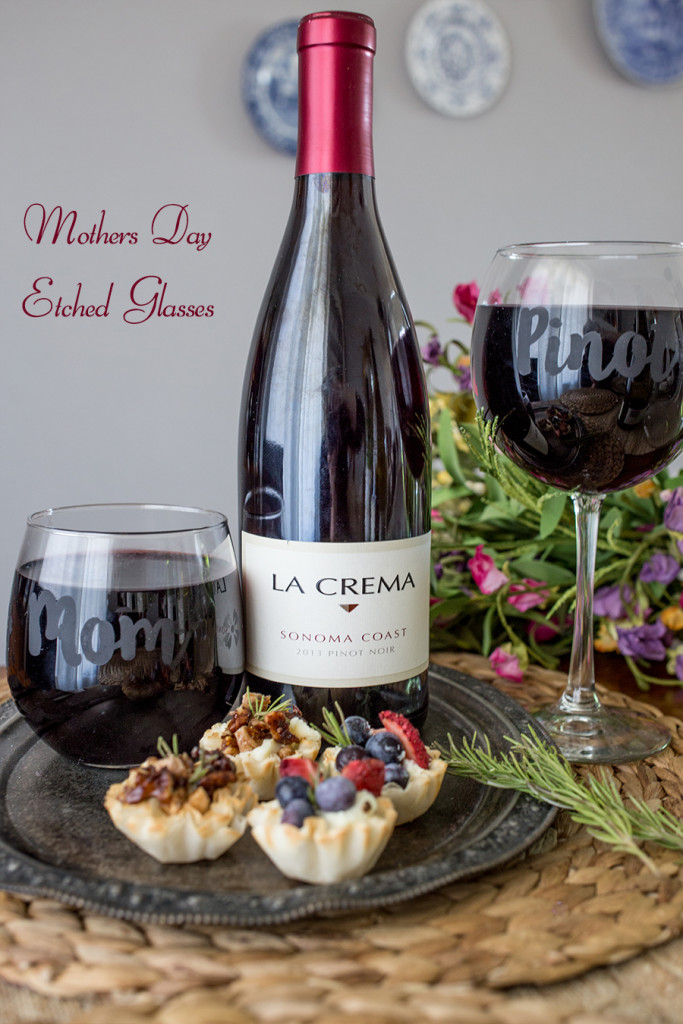 Before we get started, I want to mention that clean glass is key. I like to use rubbing alcohol to be sure any dust or oil from my hands is off the glass, and the surface is extra clean.
Glass Etching Design Options:
With your clean wine glasses and your etching solution, it's time for the fun part: Designing the shape you want to etch. There are a few different methods you can use to get a great, easy design- and all of them work fabulously.
For the artist: If you are good with a paintbrush, you can paint on some Armour Etch in the shape you'd like added to your glass. Be sure to thoroughly clean (or throw out) your brush after using etching cream, as it is caustic.
The easy route: Pre-made, adhesive glass stencils are available. There are a few brands that make these flexible stencils and all you need to do is place it on a wine glass and go! These stencils usually have pretty designs, letters, or phrases and are incredibly easy to use over and over again. I personally love the Martha Stewart brand because they are sturdy and come in great designs.
If you're a non-conformist and want to use a flexible stencil that isn't specifically made for glass, buy stencil adhesive and seal the area to eliminate leaking.
If you're a DIYer: Create your own stencil! One option is to freehand or print a design onto a sheet of washi tape, duct tape, or vinyl and cut it with an Exacto knife. Most craft stores and even big box stores now carry printable tapes that come in paper-sized sheets.
And if you're lucky enough to own a home die-cut machine, like a Cricut or a Silhouette, you can do what I did, and use it to to all the hard work.
I used my Cricut to make a stencil of the words "Mom" and "Pinot" onto vinyl, through the Cricut Design Space software that is available at cricut.com. I just uploaded the words "mom" and "pinot" that I wrote out in word, and sized them to 4″ in cricut craft room, pressed cut, and it made a vinyl stencil for me! Then just remove the vinyl outline and adhere to glass.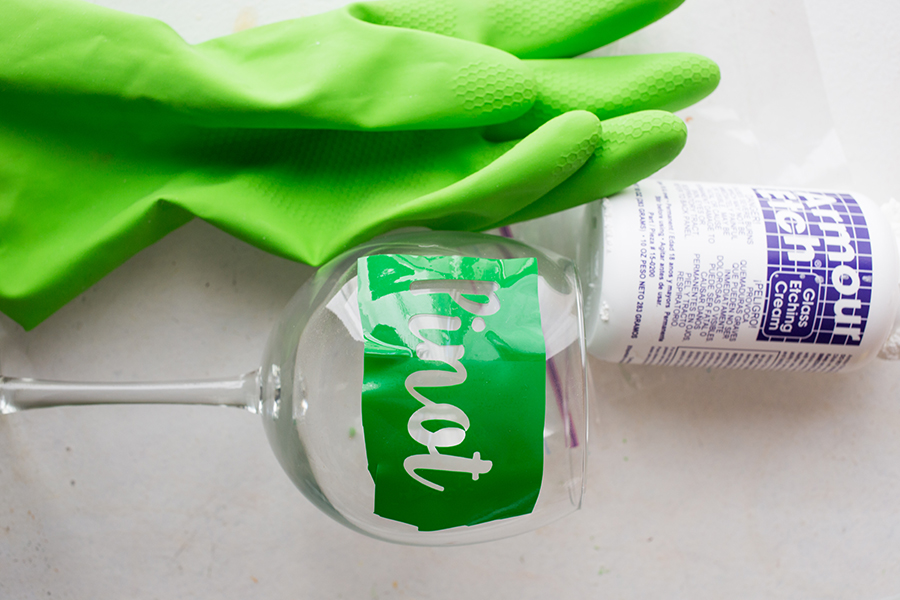 When positioning your stencil, you might have some lumps, but as long as it is flat and sealed where you'll be adding the etching cream, you don't need to worry.
After positioning your stencil, put on a pair of dishwashing gloves and dab a thick amount of etching cream on the glass. Take care not to spill the solution over your stencil's area.
Let the etching cream sit for 5-10 minutes (I personally like to wait 10 minutes for a darker etch- but 5 is sufficient).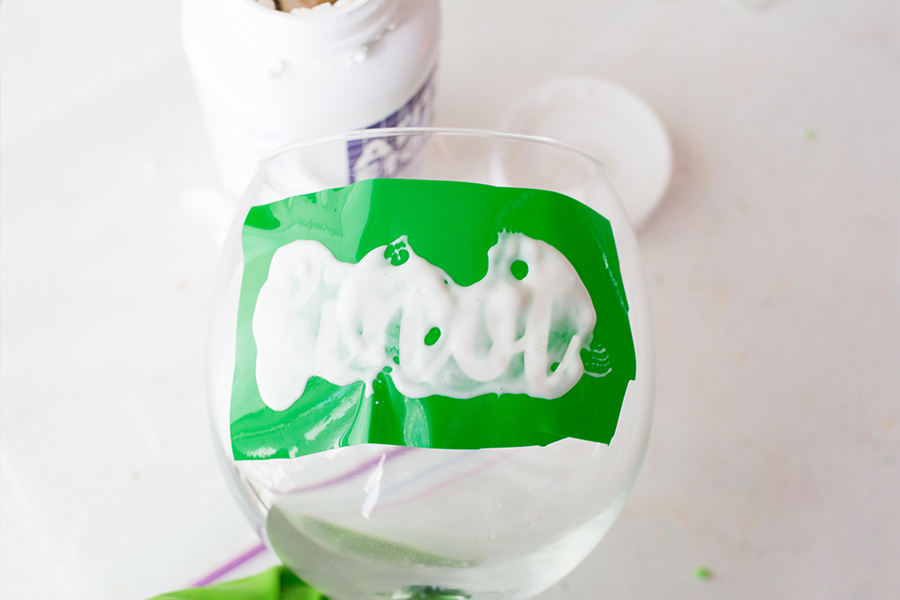 After the 10 minutes, remove the stencil and wash the glass in warm water, rubbing the etching cream off. Have your gloves on while you wash off the etching cream to prevent contact with your skin just like when applying the cream.
Wash with dish soap to be sure all etching cream is off, and then your gift is ready!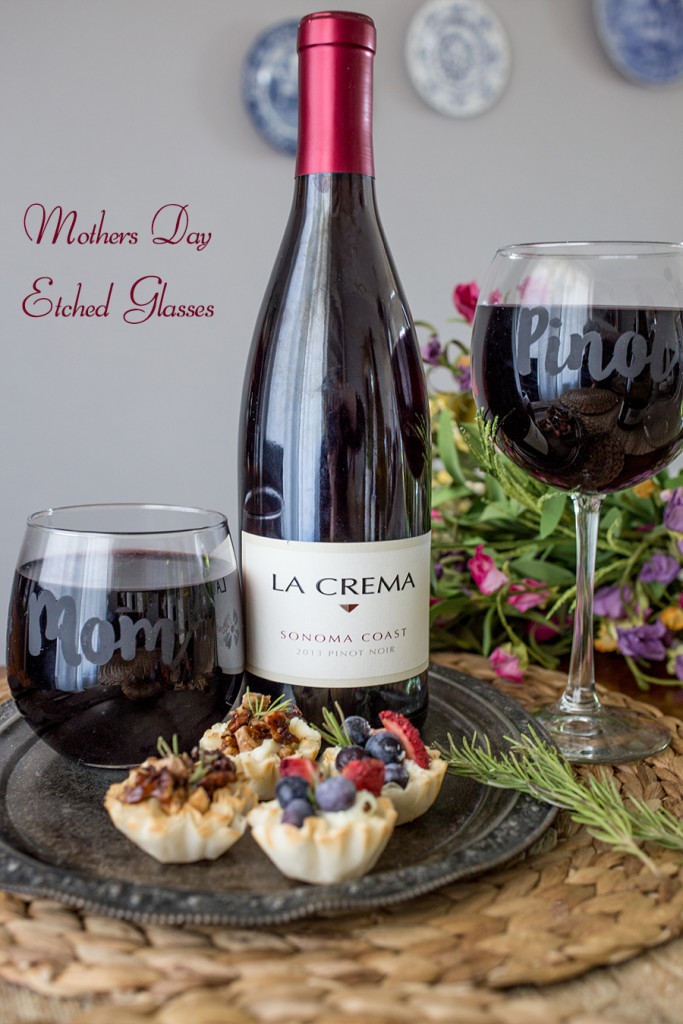 I'm also sharing some easy and delicious goat cheese tarts that make perfect Mothers Day brunch snacks or hors d'oeuvres that look as great as they taste!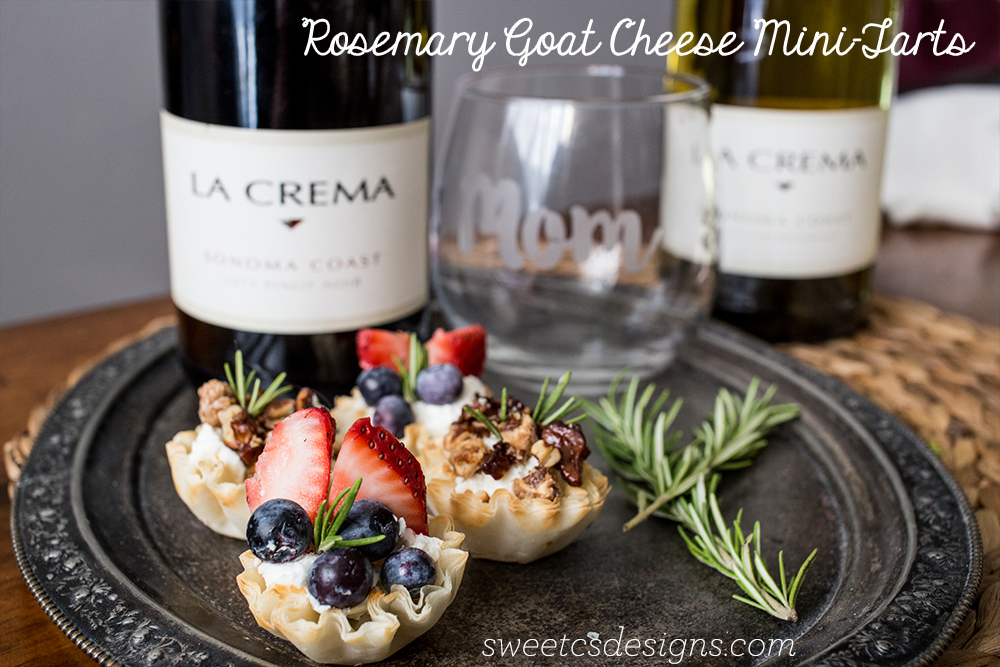 Be sure to head to Sweet C's Designs for the recipe, as well as other delicious Mothers Day wine brunch ideas!