Homemade Albondigas Soup
I have a serious soft spot for Mexican food, one of which I am freshly reminded each year as the winter breeze appears. Now's the time I crave my mother's classic dishes, a selection of authentic Jaliscan cuisine that nourished my family each evening while I was growing up. One of my favorites is Albondigas Soup, which my mother taught me how to make early on.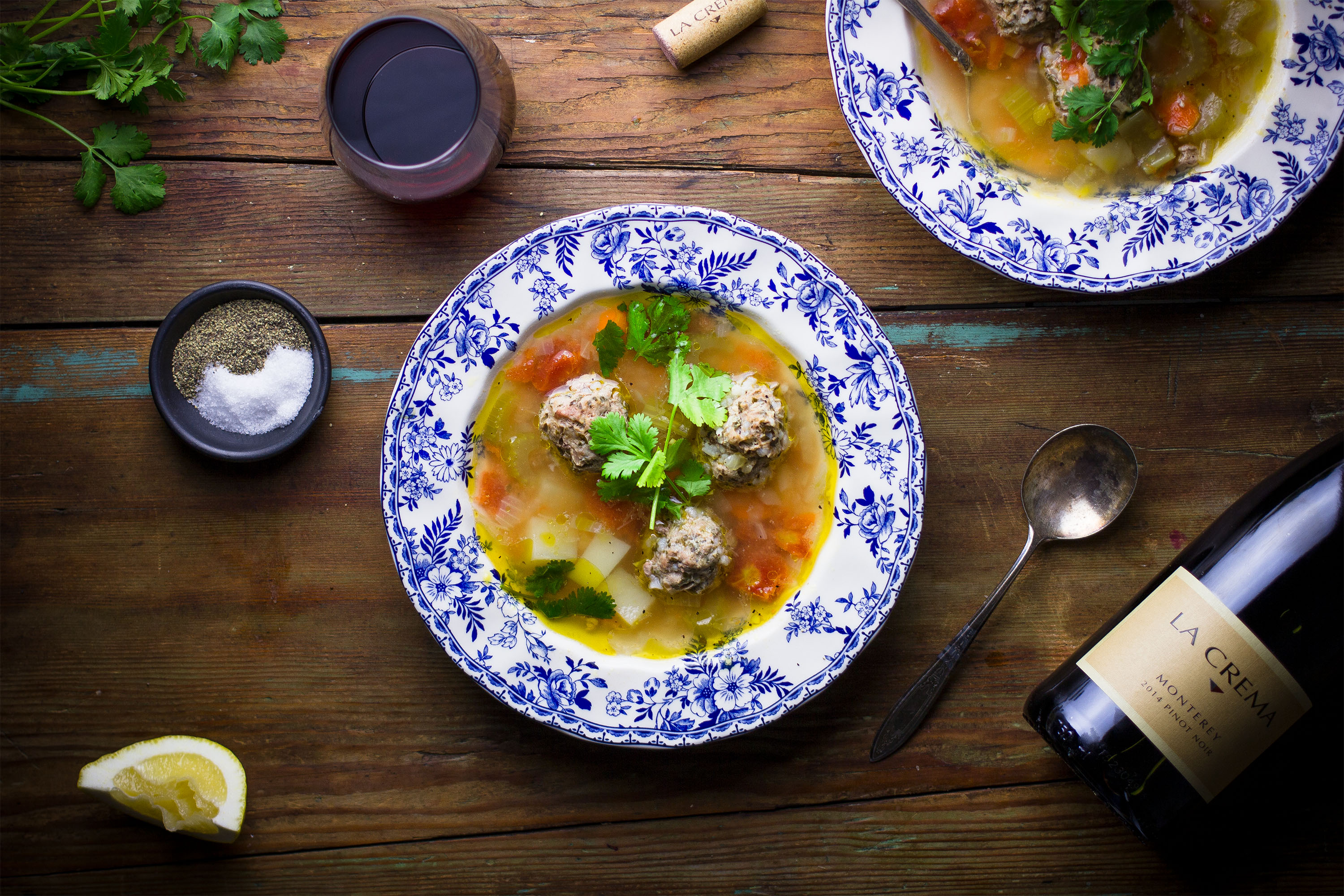 Albondigas soup ("meatballs soup" in Spanish) is wonderfully fragrant and very filling—which makes it perfect for this time of year. The meatballs are made up of a unique mixture of ground beef, fresh herbs, minced garlic, and, most importantly, a little bit of uncooked white rice. Add some broth and veggies and you're well on your way to crafting a satisfying meal.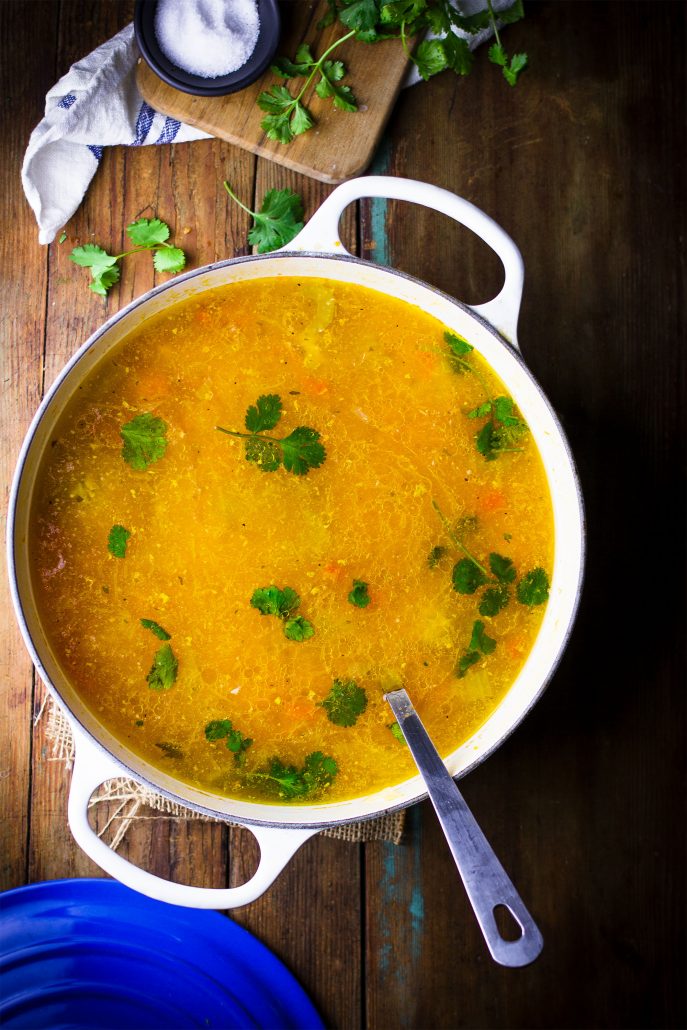 A great thing about this recipe is that it's flexible, so go ahead and experiment with different kinds of veggies for your own soup. Or, if you're a fan of a little heat, another fun modification is to substitute 1/2 lb of ground beef for ground spicy Italian sausage. No matter how you approach this recipe, the key to making a memorable batch of albondigas soup is to use really fresh ingredients, from the selection of meats even to the type of broth. Doing this will guarantee a delicious final product.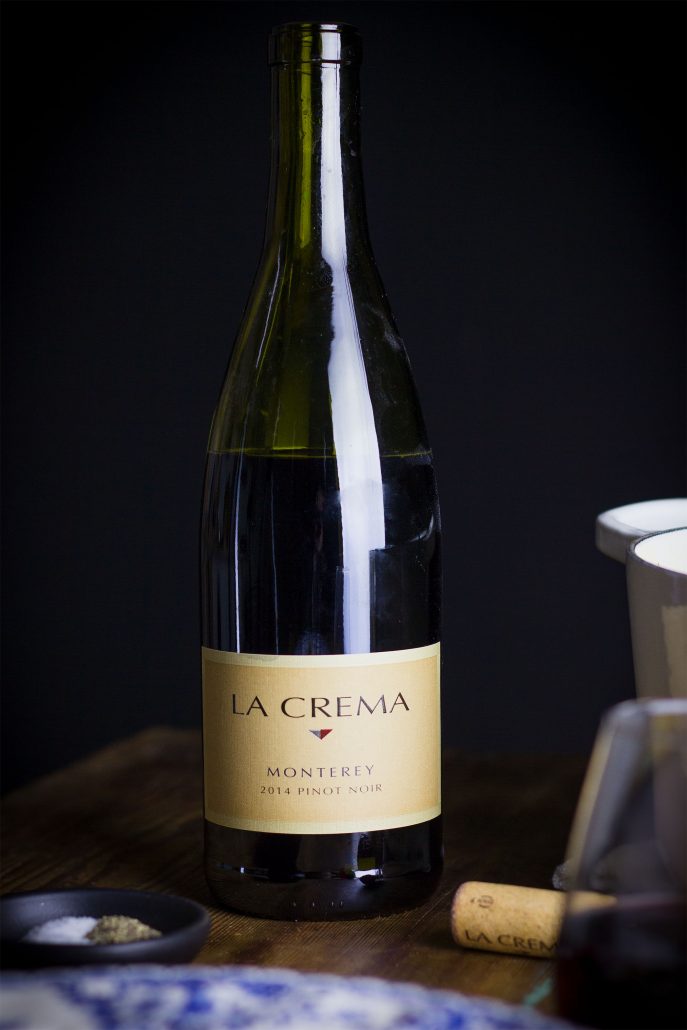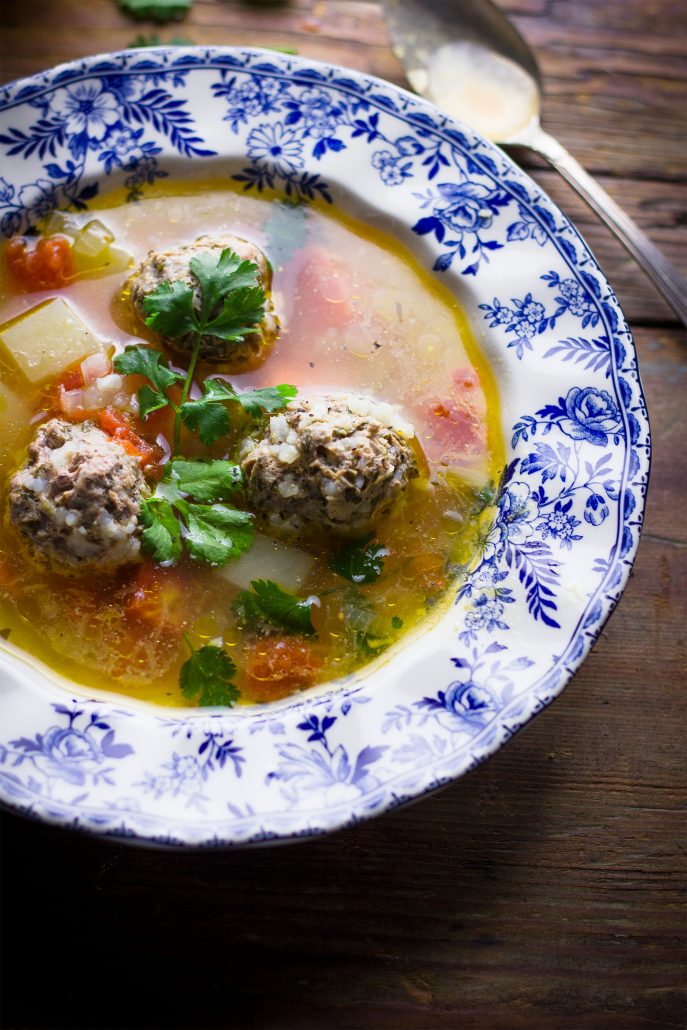 Another great thing about this recipe is that it's mostly prep work, so once that's done all you need to do is wait for your meatballs to cook through and you'll have yourself a delightfully flavorful experience.
Albondigas Soup
Author: Kristan Raines
Recipe type: Dinner
Prep time:
Cook time:
Total time:
Serves: serve 4-6
Ingredients
For the broth
2 tablespoons olive oil
1 1/2 cups diced yellow onion
2 garlic cloves, minced
2 bay leaves
1, 14.5 oz can diced tomatoes
2 celery stalks, chopped
1 large carrot (or 2 medium), chopped
1 large russet potato, peeled and cut into 1" cubes
4 cups chicken stock
5 cups water
salt and pepper, to taste
1 bunch cilantro
For the Meatballs
1 lb ground beef, or 1/2 lb beef & 1/2 lb spicy sausage
 

1/4 cup finely chopped parsley

2 tbs chopped oregano

1 clove minced garlic

1/4 cup uncooked short grain white rice

1 large egg, lightly beaten

1 1/2 tsp table salt

1/4 tsp ground pepper, or 7 cracks of fresh pepper
Instructions
Heat two tablespoons of olive oil in a large pot, add the diced onions, and cook over medium heat until translucent. Add the minced garlic and the bay leaves and cook for an additional minute. Next, add the can of diced tomatoes to the pot along with the celery, carrots, potatoes, water and the chicken stock. Increase heat slightly and slowly bring up to a boil.
While the broth is working its way up to a boil, prepare the meatballs. Add the ground beef, parsley, oregano, garlic, rice, salt, pepper, and the whisked egg to a medium bowl and gently massage with your hands until everything is combined.
Roll the meatball mixture into small, golf ball sized balls (about 16-18) and set aside. Once the broth has come up to a boil gently add the meatballs to the pot along with a few sprigs of cilantro. Reduce the heat and and let the soup simmer with the lid on for 30 minutes, or until the meatball are cooked through.
Once the meatballs are cooked through, taste the soup and any extra salt or pepper that may be needed. Serve the while hot with a garnish of fresh cilantro and a wedge of lemon.
To complete this meal I have paired it with La Crema's Monterey Pinot Noir. I tend to lean towards red wine during the colder seasons, so I was especially excited to open this bottle. This Pinot Noir has the loveliest notes of red cherry that combine with an overall subtle minerality which really complements the flavors in this soup.