Korean Gochujang Wings
The biggest football day of the year is coming up. And although I'm not much of a football fan myself, I live in Boston, where ambivalence about sports during playoff season is practically a crime.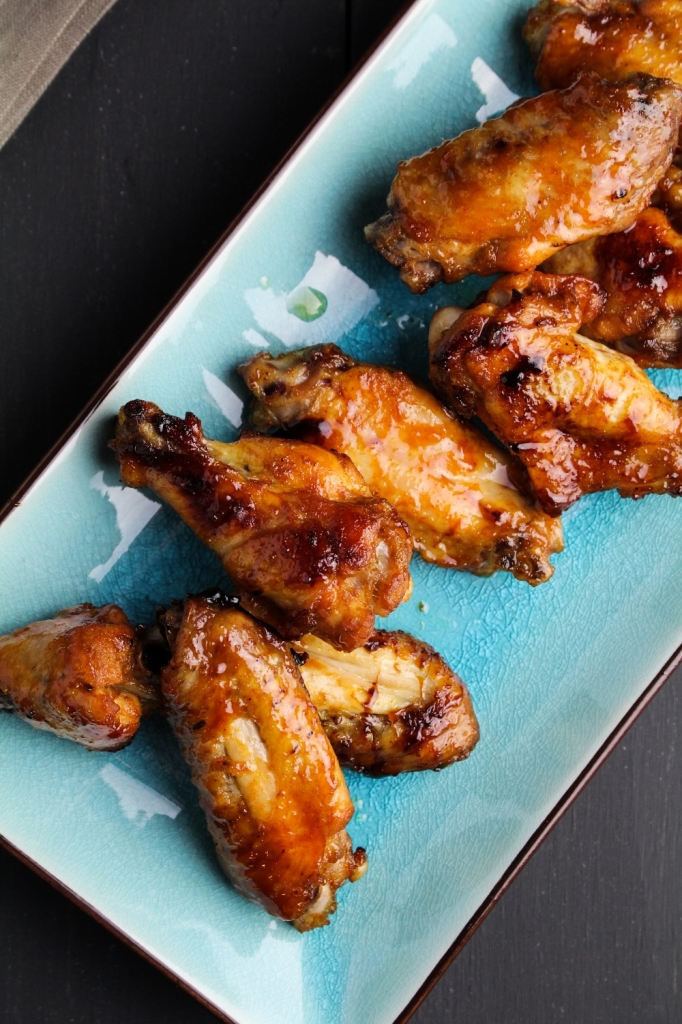 I may not have strong feelings about what's happening on the TV, but I do feel strongly about what's on the table during the game. Chili, guacamole, cornbread, pizza, loaded nachos, and wings abound—it's like junk food heaven. But just because we associate these foods with stadiums, huge crowds, and fryolators doesn't mean they have to be tired, or even unhealthy.
Take wings, for example: If you marinate them in an exciting, Asian-inspired sauce, then bake them instead of frying them, you could almost consider them gourmet.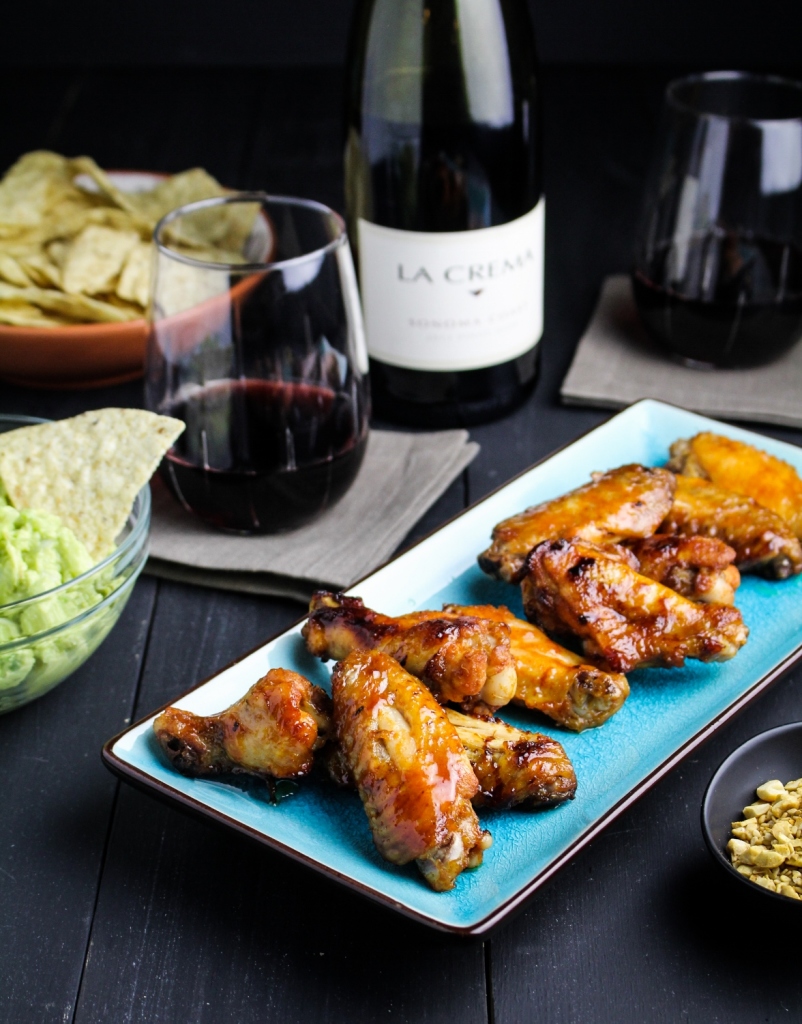 This recipe does just that, and takes its inspiration from Korean flavors. The sauce is primarily a mixture of gochujang—a spicy Korean red pepper paste—and pomegranate molasses, which adds tang and depth of flavor in addition to sticky sweetness. A few other strong flavors: Fresh ginger, honey, and umeboshi plum vinegar round out the intense sauce for a balanced, spicy-sweet chicken wing.
Tossing the sticky wings in toasted sesame seeds and chopped cashews after baking gives them a bit more crunch, and adds another element of flavor.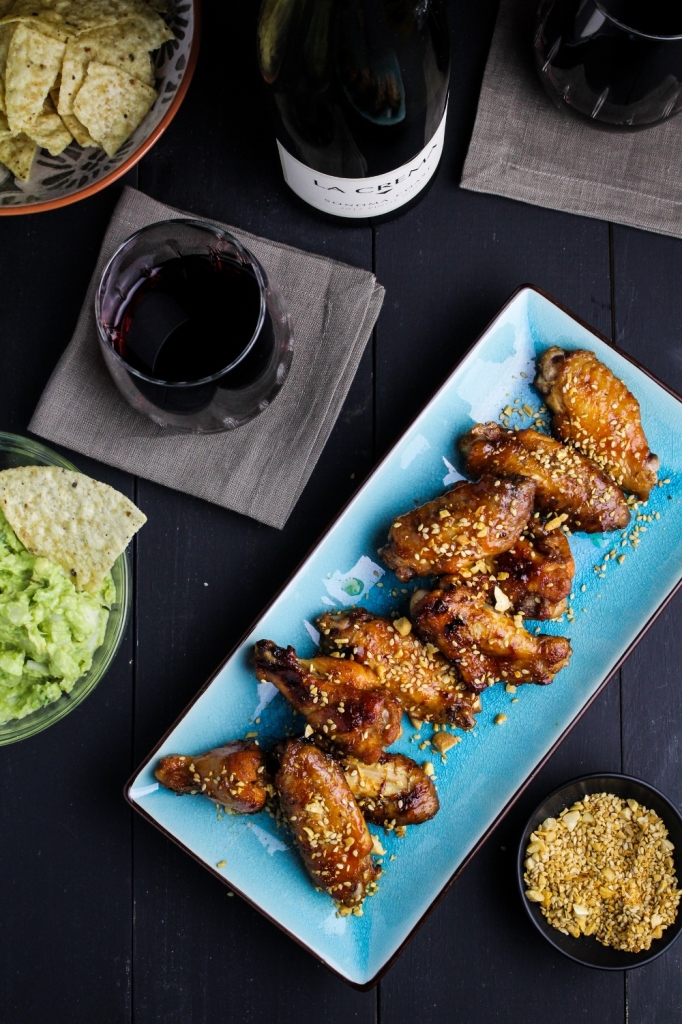 One other thing? The Big Game doesn't have to be all about beer, either. In fact, the sight of a few nice bottles of wine set out amongst the cans and beer bottles will almost certainly be a relief to a few of your fellow game-watchers (it always is for me!).
If you're serving these wings, the La Crema Sonoma Coast Pinot Noir is a great pairing. The pomegranate notes in both the wine and the wing sauce will complement one another, and the Pinot Noir's relatively light body makes it a good choice for serving with spicy food.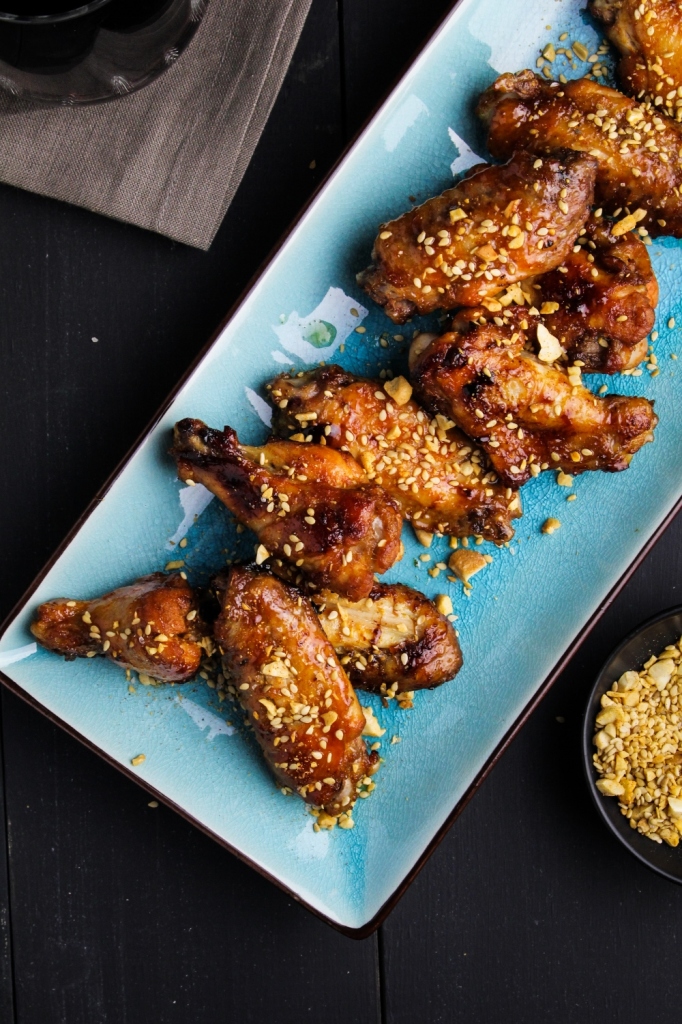 Korean Gochujang Wings
Author: Katie Morris of Katie at the Kitchen Door
Prep time:
Cook time:
Total time:
Serves: 8-12
Sweet and spicy Korean-flavored wings, sticky and perfect for snacking.
Ingredients
1 TBS grated fresh ginger
2 TBS gochujang (Korean red pepper paste)
1/4 cup of pomegranate molasses
2 TBS honey
1 TBS umeboshi plum vinegar
4 lbs. chicken wings, drumstick and middle separated, wing tip cut off and discarded
1 c. finely chopped roasted salted cashews
1/2 c. toasted sesame seeds
1/2 tsp paprika
salt and pepper to taste
Instructions
Make the wing marinade: mix the ginger, gochujang, pomegranate molasses, honey, and plum vinegar together in a bowl until smooth. Taste and adjust seasoning (sweetness, spiciness) if desired. Set aside 1/3 cup of the paste for basting.
Toss the sauce with the prepared wings in a large zippable plastic bag, shaking the bag to fully coat the wings with the sauce. Let marinate for 30 minutes.
Preheat the oven to 400°F. Grease two baking sheets with canola oil or cooking spray. Spread the marinated wings out evenly on the baking sheets. Bake until wings are browned and crispy on the outside and fully cooked through in the middle, about 30-35 minutes. At the halfway point (about 15 minutes), flip the wings using tongs and brush with the 1/3 cup of marinade that you set aside. Remove the cooked wings from the oven and set aside.
In a medium bowl, stir together the cashews, sesame seeds, and paprika. Taste and season with salt and pepper if desired. Serve the wings sprinkled with the nut mixture, or roll the wings individually in the nuts before serving. Serve immediately.