The La Crema Grilled Cheese Project: Sweet, Soft and Smoky
The humble grilled cheese has been the subject of recent culinary curiosity. The sandwich of our youth, now elevated to haute cuisine with careful selection of it's limited ingredient list.
At La Crema, we love the playful innovation found between the two slices of toasty goodness. And it's why we asked La Crema Chef, Tracey Shepos to create one-of-a-kind gourmet grilled cheeses to pair with our wines.
Before we dive in, here are our ground rules:
Each grilled cheese can consist of no more than 5 items
Bread and cheese are the star.
Meat and other fillings are there to enhance the harmony between the bread, cheese and wine. (We ain't making paninis here.)
With that out of the way, here's our first pairing:
Sweet, Soft and Smoky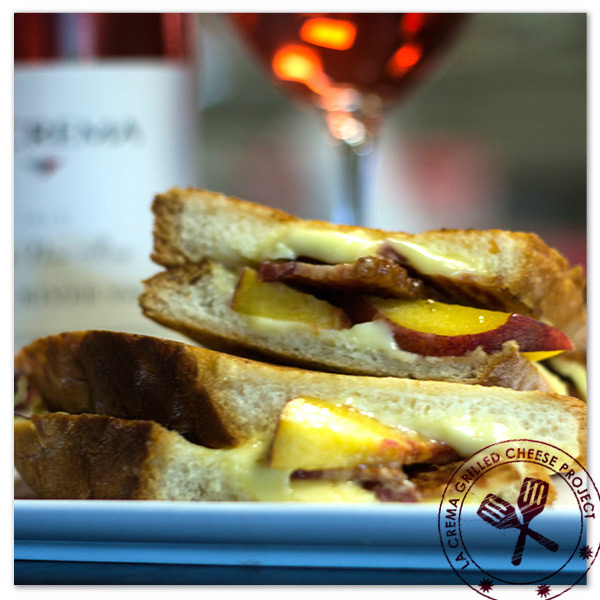 This grilled cheese creation features mild, delicate Crescenza cheese with smoked platter bacon and ripe peaches.
The name 'Crescenza' is derived from the Italian word 'stracca' which means 'tired' in English. It is called so as the cheese is made from the tired cows whose milk is used to make the cheese. It is said that the cows get tired by going up and coming down the alpine pastures and as a result, the cheese becomes richer in fats and more acidic in nature.
Pair with our Pinot Noir Rosé
Sweet, Soft and Smoky
Serves: 1
Ingredients
2 Slices crusty Artisan bread (we used Ciabatta)
3-4 oz. of Crescenza cheese
2 Strips thick-sliced smoked bacon (cooked)
1 Ripe peach, sliced and coarsely chopped/mashed. (Think of the consistency of a chunky marmalade)
Butter or oil for grilling
Instructions
Layer sandwich with Crescenza cheese, bacon, peaches and another layer of Crescenza cheese.
Heat oil or butter in pan or griddle over medium-low heat.
Place sandwich in pan and cook for 3-5 minutes, turning often to ensure the bread doesn't burn. If the bread is cooking too fast, reduce the heat so the cheese has time to melt.
Remove from pan, cut in half and enjoy!