How to Use Leftover Wine Corks to Woo Your Valentine
Here's a fun DIY project to upcycle your used La Crema corks into a crafting tool for handmade Valentine's Day greeting cards.

February is upon us, and to most couples, it's a special time of year to celebrate each other's love over wine and chocolate. To me, this month carries extra meaning because it's also the anniversary of when my soon-to-be husband and I started our crazy journey together.
Why so crazy? We've been together seven years, two of which were spent in different time zones. Over the years, we've moved a total of nine times combined and recently became the happy parents of two awesome children. Some would say we're doing things a little backward, since we're now just getting around to tying the knot in November. We like to think we're living life on our own terms.
I'm not normally the mushy type—because when you've got a toddler and a newborn, time for romance is hard to come by. But still, I like to think my gifts are thoughtful and heartfelt. So this Valentine's Day, instead of giving gifts, I'm getting nostalgic. Oh, there's sure to be wine and chocolate and a delicious home-cooked meal involved, but I'm also writing an old-fashioned letter to my Valentine. Sealed with a kiss, marked with a custom postage stamp and dropped in the mail, this letter is not just about how much I love the guy—it's an invitation to recreate one of our favorite dates.
Since we became a family, there has been little time to go out on real dates, and when we do, they typically involve a movie or late-night dinner. But before the kids arrived, dates were always a big deal. We often spent Sunday evenings at a local park watching the sunset over the lake sipping on wine and snacking on cheese. Our adult picnics became a beloved tradition, but sadly, we haven't been back in a few years since the hard-to-reach spot isn't exactly kid-friendly.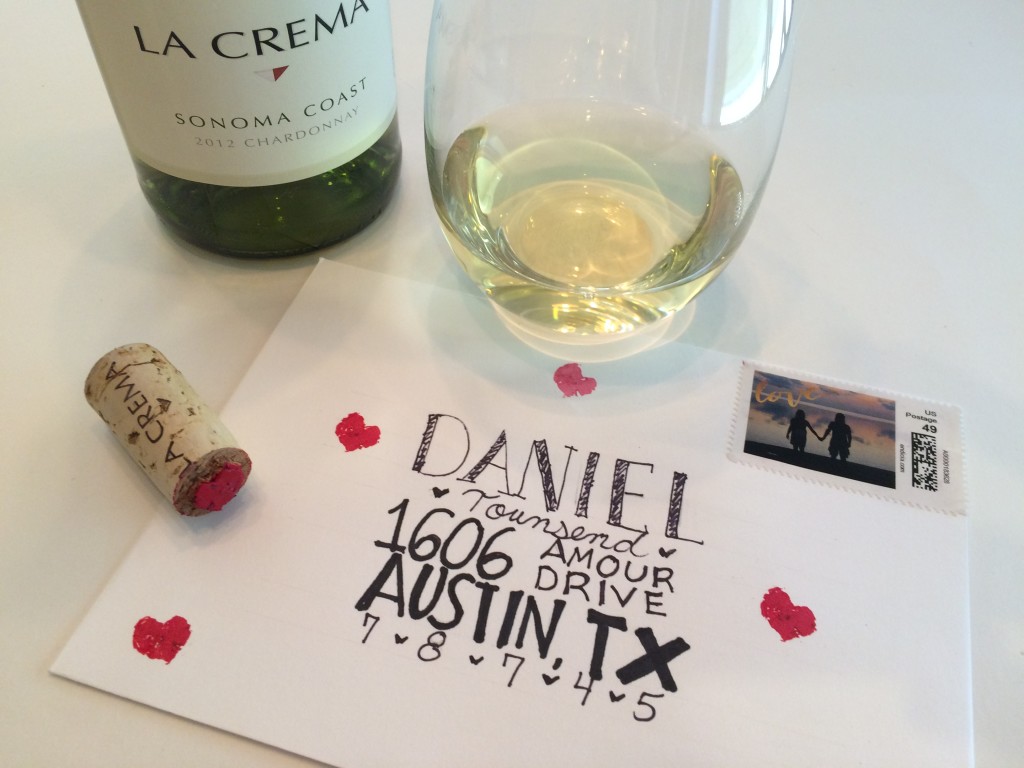 When I sat down to write this letter, I felt it appropriate to recreate those picnics. So I popped open a bottle of Chardonnay to get my creativity flowing. It's hard putting love into words! When I was finished, I sealed it up with cute washi tape, decorated it with stamps made from wine corks and added the custom postage.
This Valentine's Day, if you're stuck and can't think of a great gift for your partner, knock their socks off with a heartfelt love letter. Just follow these simple instructions to create stamps from your old wine corks to give it that special finishing touch.
DIY Valentine Wine Cork Stamp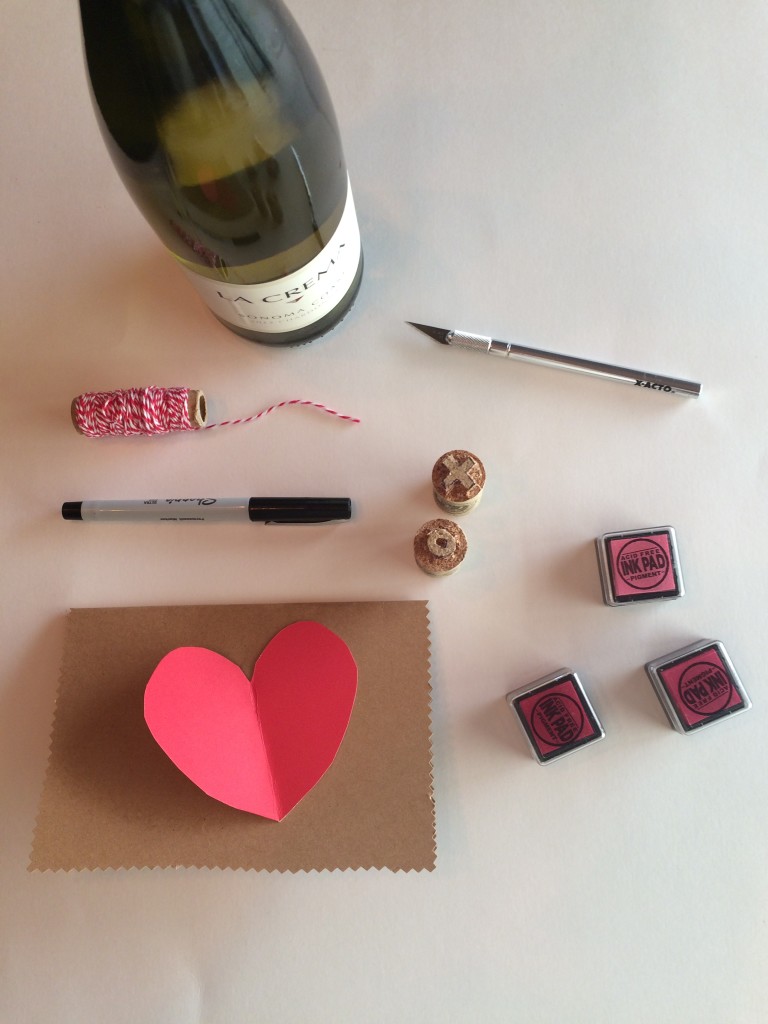 Materials
Wine corks
Exacto knife or sharp blade
Inkpad
Marker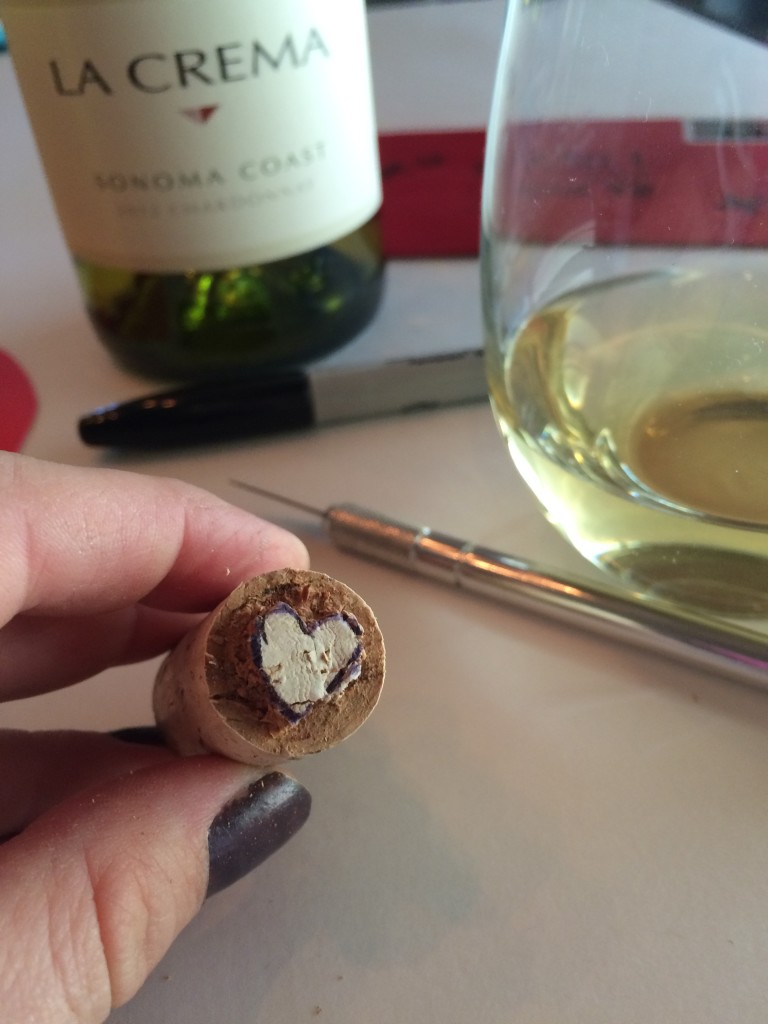 Instructions
Thoroughly wash your corks and give them time to dry. You don't want your love letter to smell like wine (or do you?)!
Decide on a design to carve. It should be something small and not too intricate, since there isn't a ton of surface area to work with. For this Valentine's-themed project, I chose various sized hearts, X's and O's. Note: If you want to make a larger stamp, you can also cut the cork lengthwise and use that as your starting canvas.
Use a marker to sketch out the shape or design.
Take your blade and carefully cut down around the cork about ⅛ inch from the surface. Then chisel out your shape.
Press the stamps onto an inkpad and start decorating your homemade valentine.