Pulled Pork with Blackberry Pinot BBQ Sauce
Well, summer is officially over (well, not officially-officially, but you know), with Labor Day come and gone. I have to admit though, that it doesn't feel like it yet. And grilling season, well that's certainly not over.
In fact, you could argue that we're getting into one of the best times for grilling — it's a little bit cooler and pleasant to spend time outside, there's an incredible abundance of produce available that benefits from a slight charring (think peppers, corn, peaches, eggplant…), and when does a nice piece of steak or rack of ribs not sound appealing?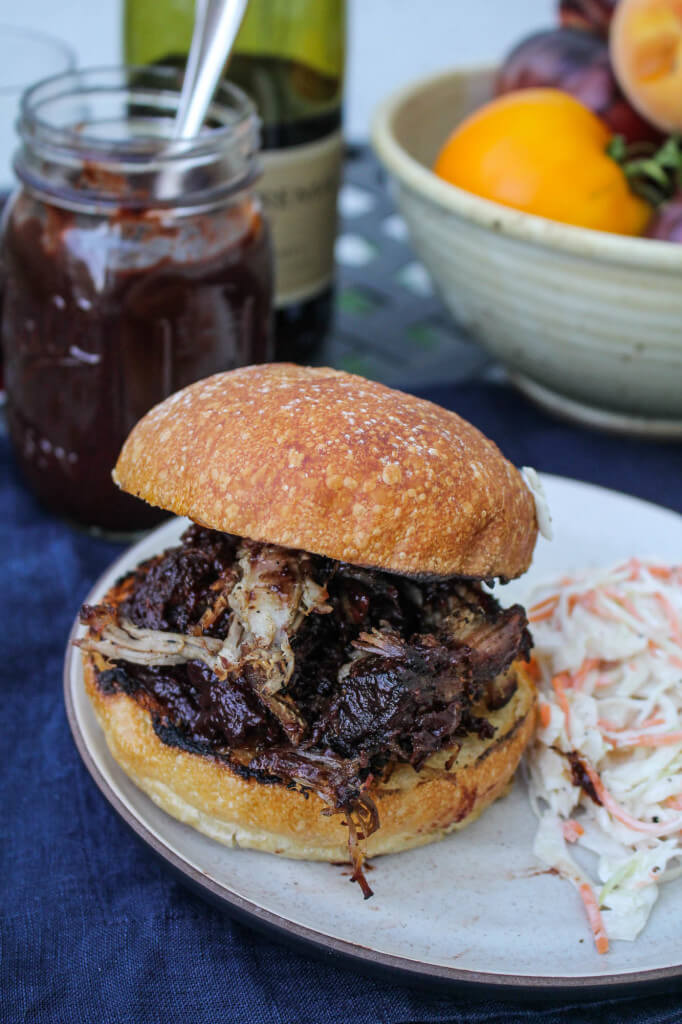 For the last installment of my summer Pork and Pinot collaboration with La Crema, we headed out to the grill, for what is arguably America's favorite form of pork — barbecue. We are no strangers to pulled pork in our house, as it's one of our favorite things to grill when we have a little extra time on our hands. In fact, an earlier version of this recipe was the star of my birthday festivities this year — after 5 hours on the grill, we put trays of this pork in front of our guests and 10 pounds of pork was gone in about 15 minutes. It's good stuff.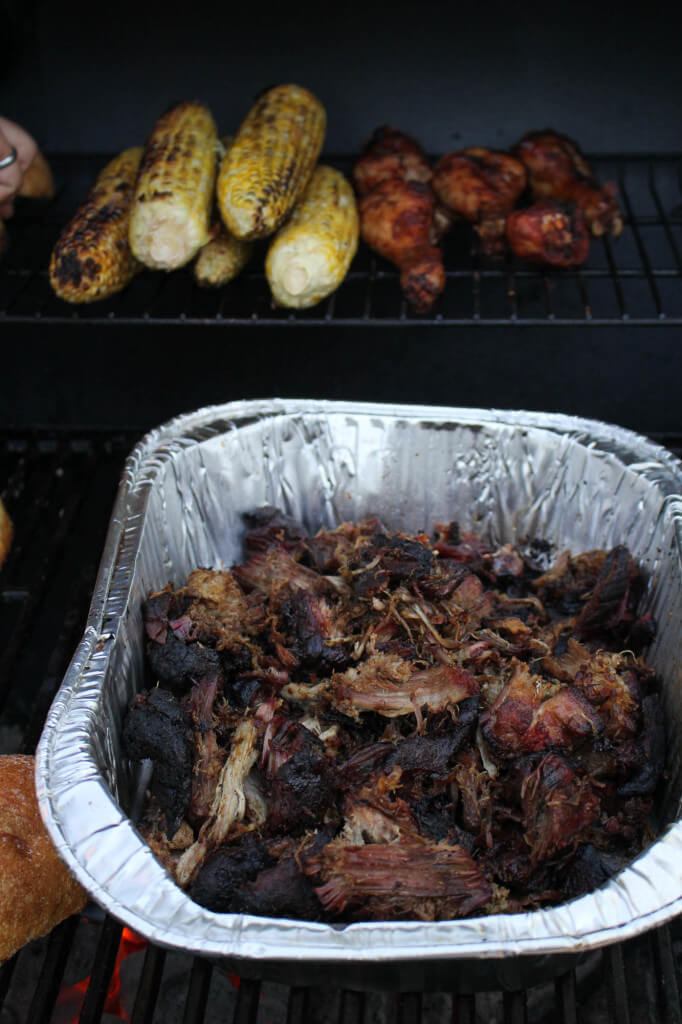 The two keys to delicious pulled pork – whether you cook it on the stovetop, in the oven, in a slow-cooker, or on a grill – are long, slow heat, and a delicious rub or sauce (or both) to flavor the meat. Of course, having a nice fatty cut of pork is also important, and Boston butt does the trick perfectly. It's also a relatively affordable cut of meat, and a good way to feed a crowd.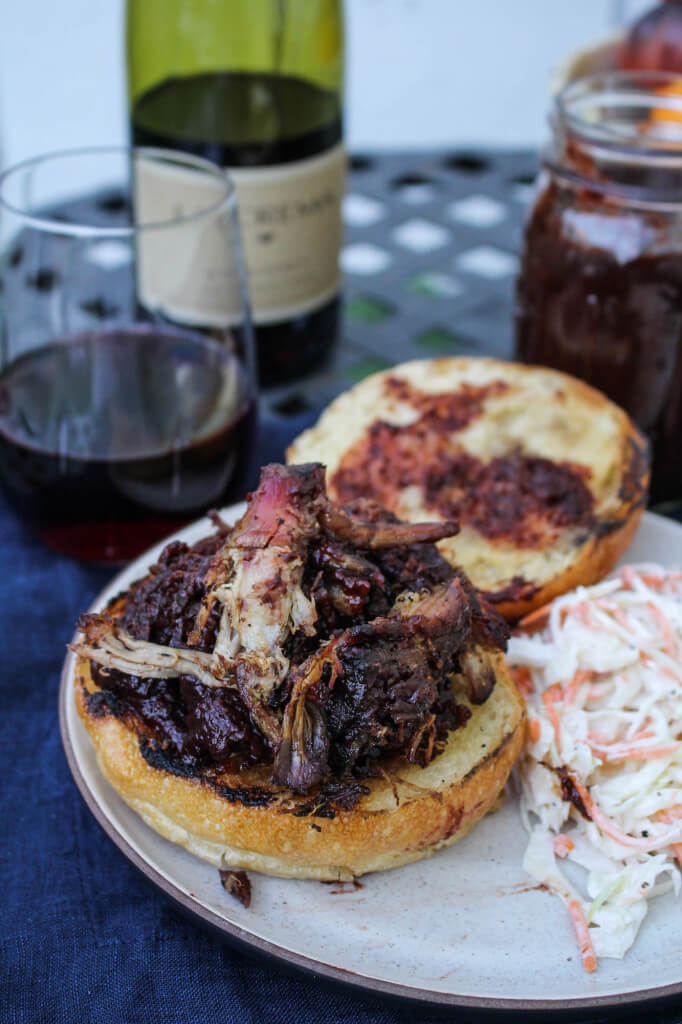 A homemade BBQ sauce, while not essential to enjoying a good pulled pork sandwich, is a really nice touch, especially if you're cooking for guests. It's super simple to make and it's easy to tweak the flavors exactly to your liking. For this recipe, I made a Blackberry Pinot BBQ sauce, inspired in part by this Food & Wine recipe. It has fruitiness from the blackberries, sweetness from molasses and brown sugar, smoky heat from chipotle peppers, and the Pinot Noir adds a depth that ties the flavors together and mellows things out a bit.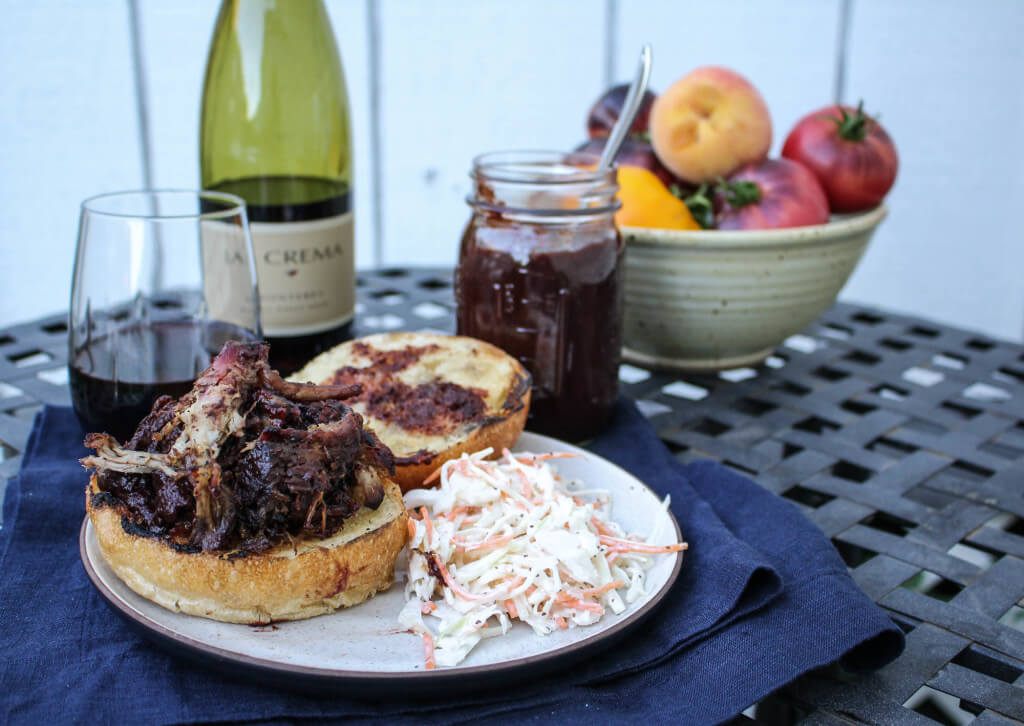 Beer may be the traditional choice for an outdoor BBQ session, but juicy Pinot Noir is a great match for smoky slow-cooked pork, especially when it's coated with a slightly fruity blackberry-based BBQ sauce. Plus, even though I drink red wine all summer long, there's something extra appealing about opening a bottle on a blustery early fall night before sitting down to savor the last of summer's best eating. So grab a bottle of La Crema Monterey Pinot Noir, your grilling tongs, and your favorite grilling partner and go enjoy these end-of-summer days the best way there is — eating and drinking outdoors!
Pulled Pork with Blackberry Pinot BBQ Sauce
Author:
Prep time:
Cook time:
Total time:
Ingredients
For the pork:
4-5 lb Boston butt (pork shoulder)
2 tbsp brown sugar
1 tbsp kosher salt
1 tsp sweet paprika
1 tsp smoked paprika
1 tsp mustard powder
1 tsp black pepper
1/2 tsp garlic powder
1/4 tsp cayenne powder
For the BBQ sauce:
1 tbsp canola oil
1 small onion, finely chopped
2 cloves garlic, diced
10 oz. fresh or frozen blackberries
6 oz. tomato paste
1/2 c. brown sugar
1/4 c. molasses
3/4 c. La Crema Pinot Noir
1/2 c. apple cider vinegar
1 chipotle in adobo, chopped finely, plus 1 tbsp adobo liquid
1/2 tsp vanilla extract
Instructions
Mix all of the rub ingredients together (brown sugar through cayenne powder) in a small bowl until evenly combined. Rub all over the pork butt to thoroughly coat. Place in a non-reactive dish, cover with plastic wrap, and let sit in the fridge overnight.
Preheat a gas or charcoal grill to about 300F. Cook the pork directly on the grill, checking and rotating every 10 or so minutes to keep from burning, until pork is browned all over, about 45 minutes to 1 hour. At this point, place the pork in disposable aluminum pan that can go directly on the grill grates. Cover the pan with tinfoil. Place the pan on the grill, preferably not directly over the heat. Turn the pork every 10-15 minutes. Once it begins to become tender, shred the pork in the pan to the extent that you can, and continue to grill, checking and shredding more every 10-15 minutes. Do this until the pork is completely tender and fully shredded, another 2 to 3 hours.
To prepare the sauce, heat the canola oil in a medium saucepan over medium heat. Add the onion and garlic and saute until transparent and fragrant, about 5 minutes. Add the remaining ingredients (blackberries through vanilla) and cook on medium heat until blackberries have dissolved and sauce has an even consistency, about 15 minutes. Taste the sauce and adjust the seasoning as desired. Transfer the sauce to a blender and blend for 20-30 seconds or until smooth. (Use caution when blending hot liquids). Set sauce aside.
Serve pork hot on rolls with BBQ sauce.