Red Wine Caramelized Pork Belly
It's time for more pork! This time, we're making a deliciously fatty, savory pork belly —the cut of meat used to make bacon. Pork belly is incredibly tasty (in small doses, only, please) and a bit of a food darling in a lot of major restaurants right now, especially given it's importance in Asian and Latin cuisines. It takes a bit of time both to source and to cook at home, but the end result is completely worth it.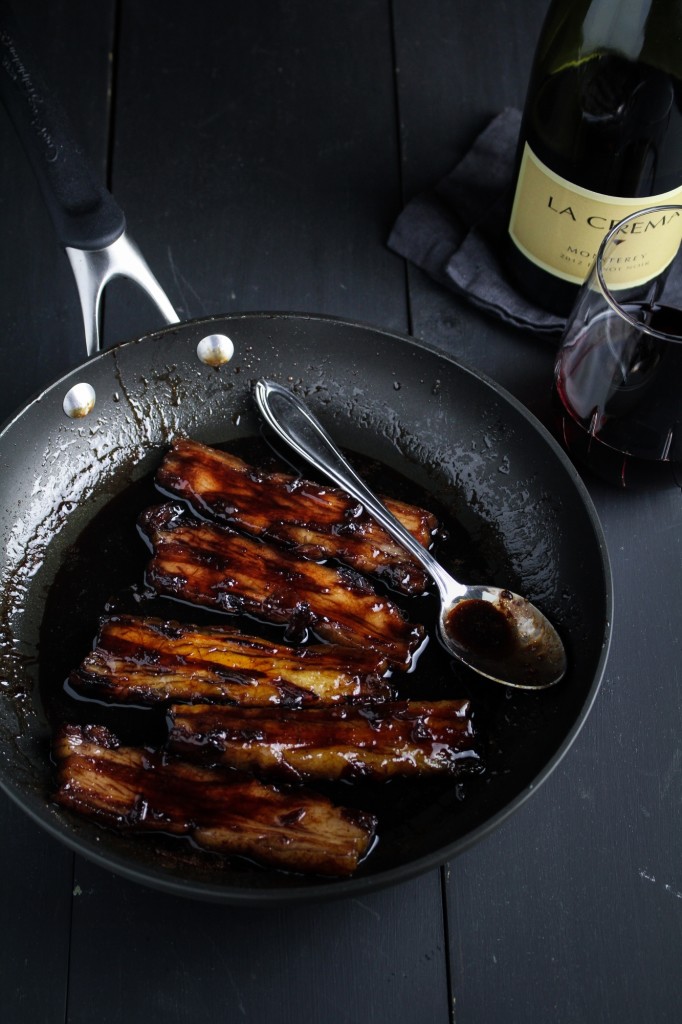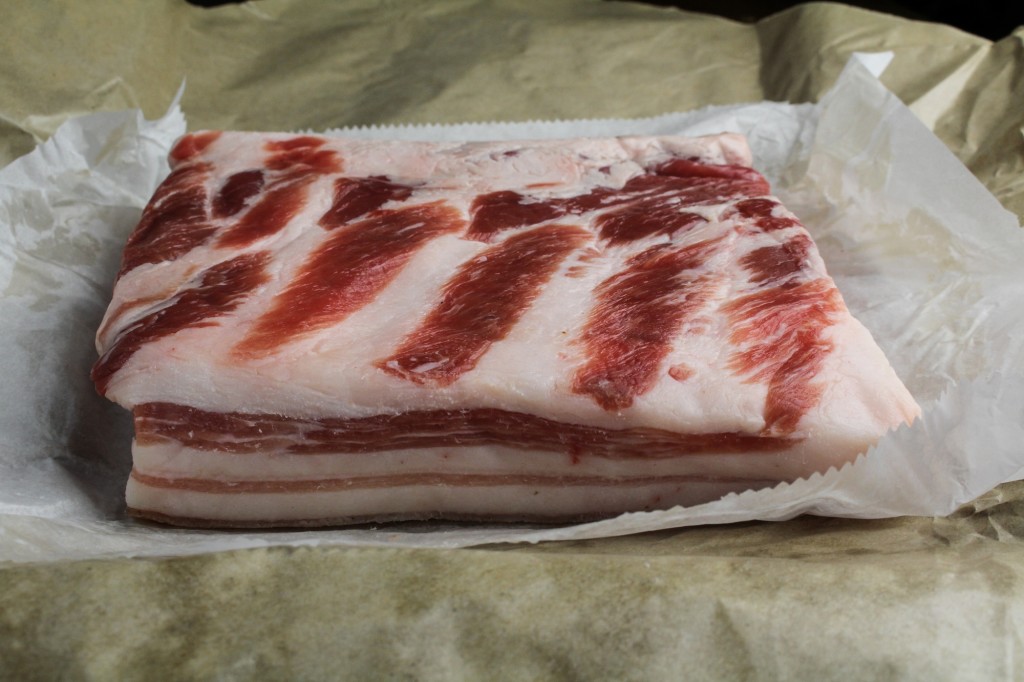 I'm lucky to live in a part of the country where I can get almost anything within a half mile's walk. Pig trotters? Around the corner. 'Nduja? At the wine store across the street.
So for me, finding fresh, uncured pork belly was a matter of walking 45 steps around the corner to my local butcher and handing over $12 for a gorgeous, 2 lb. slab of heritage pig. But I know it's not that easy for everyone.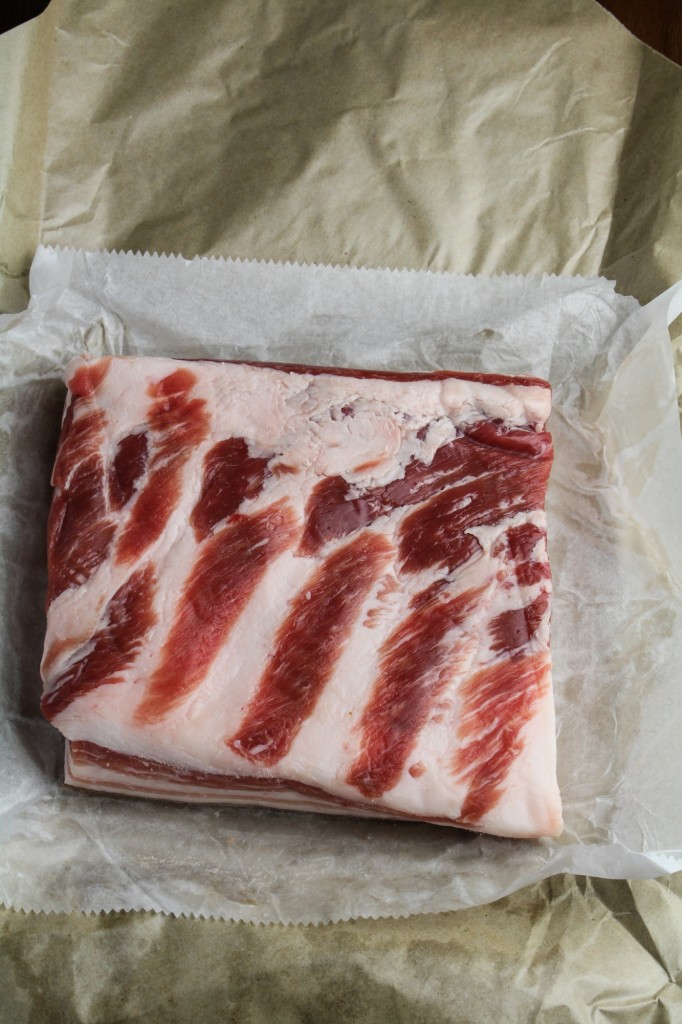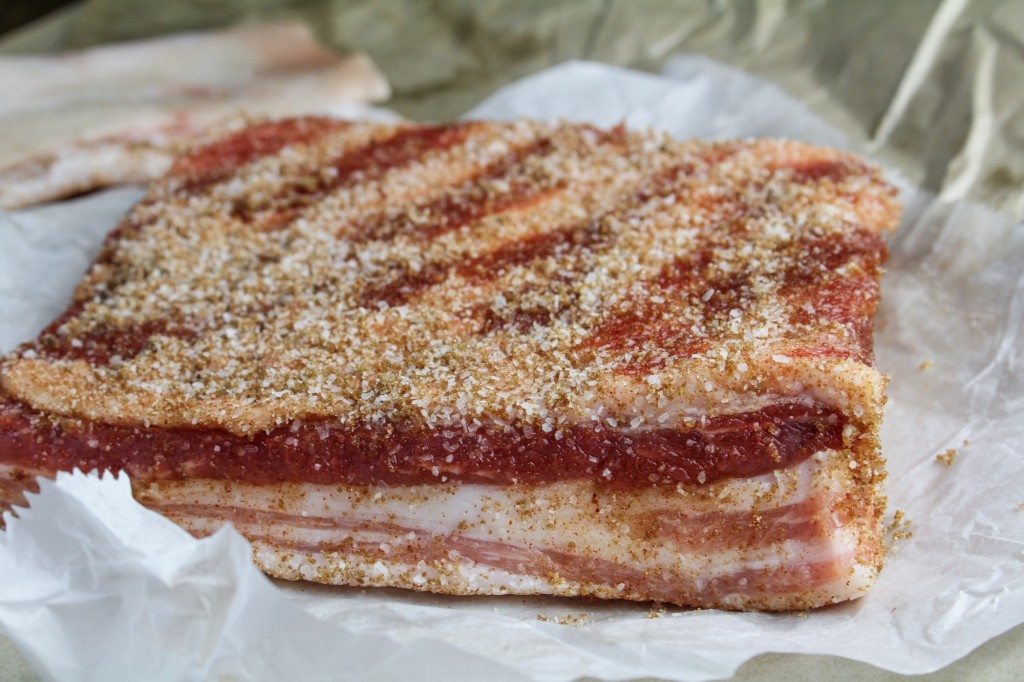 Even if your local store doesn't regularly carry pork belly, you can inquire at the butcher counter and ask if they would be willing to order it for you. A good local butcher should also be able to get if for you fairly easily. Another option might be to check any local Latin or Asian markets, as pork belly is used more frequently in those cuisines.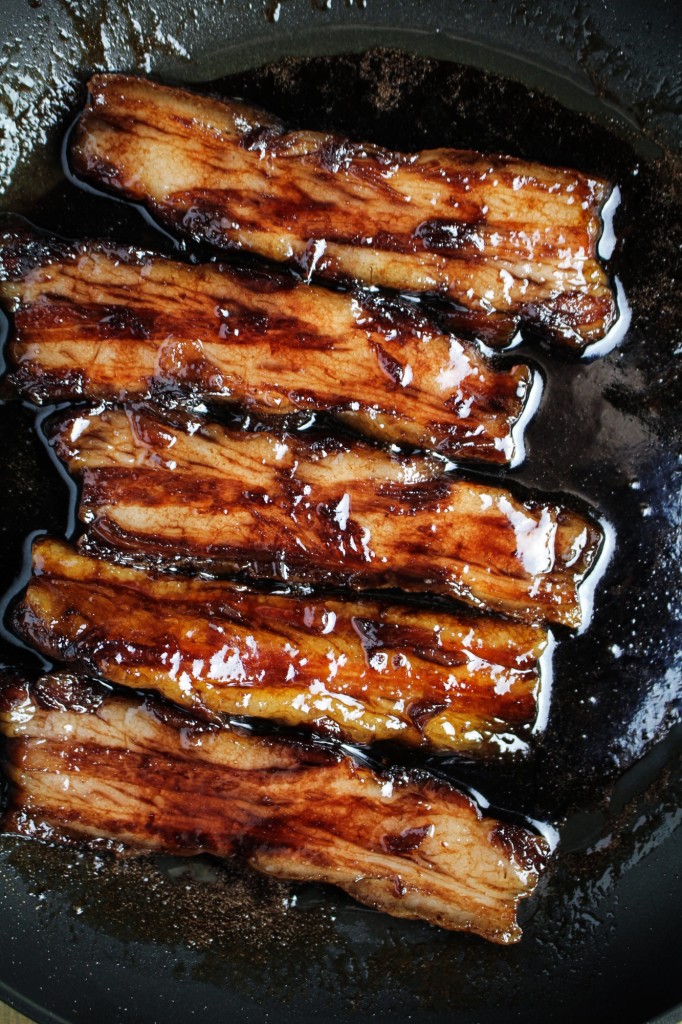 Once you have your pork belly, it's time to figure out how to cook it. It turns out there are a lot of different ways to prepare pork belly, taking anywhere from 30 minutes to 5 days. There are also a lot of different ways it can turn out: roasted whole until it's falling apart, sandwich-sized slabs with shatteringly crispy skin, small caramelized pieces with a candy-like coating… or as bacon, of course.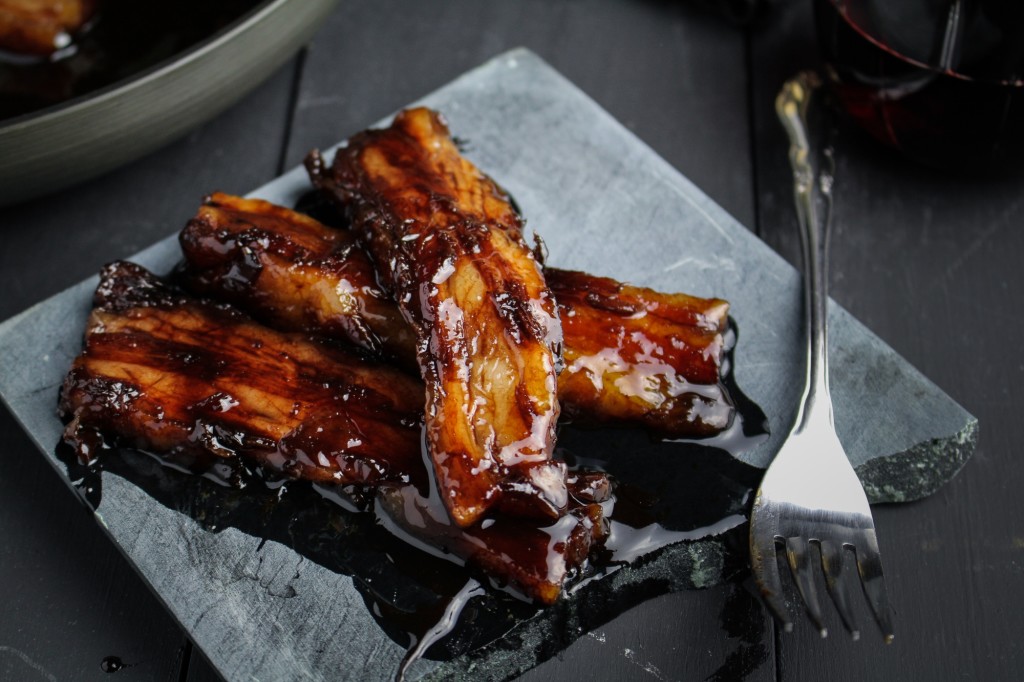 The ultimate use of my pork belly was going to be in Banh Mi sandwiches, so I narrowed my research primarily to Vietnamese preparations of pork belly, which rely on sweet-savory flavors and a caramel-based sauce to pack their punch.
The recipes I saw for the Vietnamese-style caramelized pork basically used one of two methods: 1) Marinate, roast belly whole for a long time at a slowly decreasing temperature, chill, cut into pieces, then sear in caramel or 2) Make caramel, braise pieces of belly in caramel for an hour.
The second method is obviously faster, but I did my research and decided to take the long way, in order to render out a lot of the fat and make sure the meat itself was super tender. It also meant that, after roasting and chilling, I could divide my pork belly in two and make two recipes instead of one… giving me the opportunity to use the half of the pork belly that was not destined for Banh Mi to make the thick slices of red-wine candied pork belly you see here.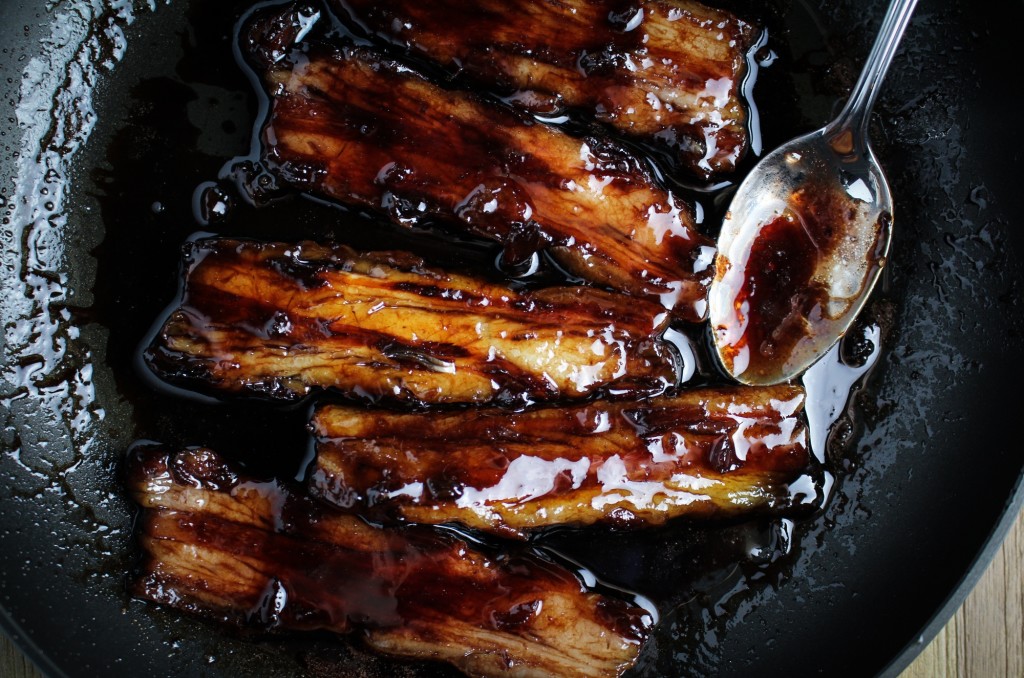 You can find full instructions in the recipe below, but here's an overview of how to prepare pork belly in this way.
First, you'll need to remove the skin if you're belly came with one. The skin is smooth, peach colored, and often has a few hairs remaining in it.
Some preparations of pork belly ask you to leave the skin on to get that crisp crackling on the outside, but I prefer it without crackling.
Next, use a knife to lightly score the fattier side of the pork, and rub with a seasoning mixture of your choice (I used brown sugar, salt, smoked paprika, and cayenne).
Cover and let "marinate" in the fridge overnight. Next you roast the belly, starting at a higher temperature for a shorter time to crisp the fat, then reducing the temperature for a longer time to tenderize the meat.
Once the belly is roasted, chill it thoroughly to make it possible to cut it. At this stage, you can use your belly in a number of different preparations, or divide it into portions and freeze some for later. After this stage, you'll need to follow the instructions for whatever preparation you're making, whether it's Vietnamese-caramel pork belly for Banh Mi or the Red Wine Caramelized Pork Belly you see here.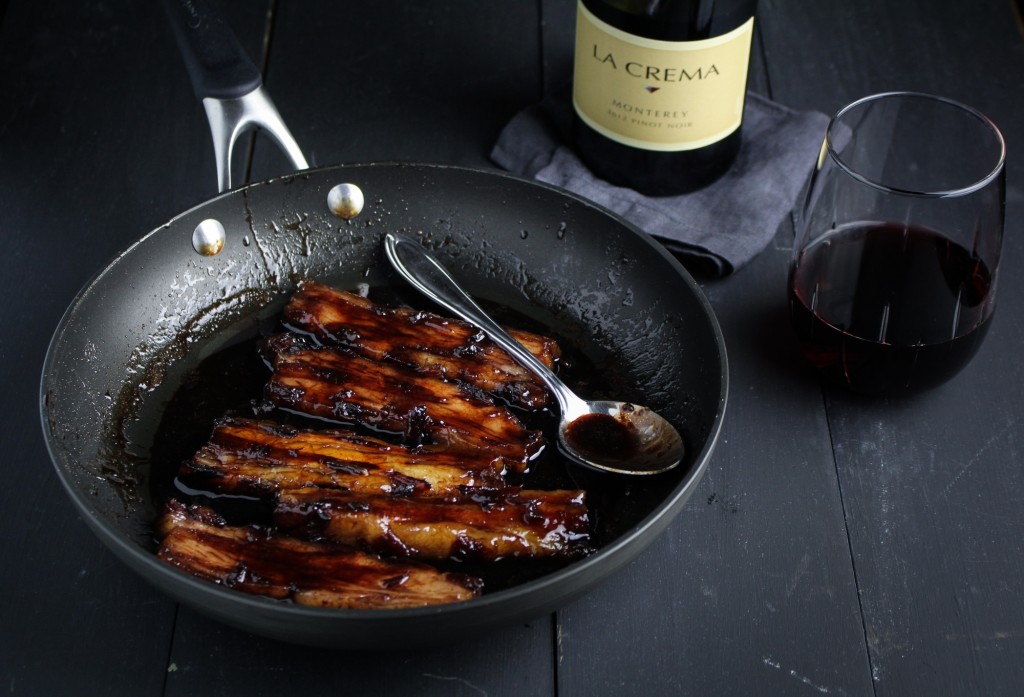 To go the Red Wine Caramelized Pork Belly route, all you'll need to do is make a quick caramel sauce from equal parts reduced Pinot Noir and sugar, and then toss the slices of pork belly in the caramel until they are thoroughly coated with the sticky caramel. I served these alone, as a simple and indulgent appetizer with a glass of La Crema Monterey Pinot Noir. Using the wine in the caramel itself makes the pairing perfect. All the flavors of the Pinot Noir are  echoed in the pork belly, and amplified by the rich, umami flavors of the belly itself.
I used several of the following resources in figuring out the best way to prepare my pork belly… take a look for more tips and ideas!
How to Cook Pork Belly – Deadspin
Vietnamese Caramelized Pork Belly Pasta – I am a food blog.
Vietnamese Caramel Braised Pork Belly – White on Rice Couple
Caramel-Lacquered Pork Belly – Food and Wine
This is a sponsored conversation written by me on behalf of La Crema. The opinions and text are all mine.
Red Wine Caramelized Pork Belly
Author: Katie Morris of Katie at the Kitchen Door
Prep time:
Cook time:
Total time:
Serves: 8
Pork Belly recipe adapted from Food & Wine and other sources mentioned in the post.
Ingredients
2 lb. fresh pork belly, skin removed
1/4 c. kosher salt
1/4 c. brown sugar
1/4 c. white sugar
1 tsp smoked paprika
1/4 tsp cayenne
1 c. orange juice
3/4 c. La Crema Pinot Noir
3/4 c. sugar
Instructions
Prepare the pork belly by scoring the fattier side lightly with a knife in a crosshatch pattern. Mix the salt, brown sugar, white sugar, smoked paprika, and cayenne together in a small bowl, then rub all over the pork belly, taking your time to get the rub embedded in the fat. Wrap the pork belly tightly with plastic wrap and refrigerate overnight.
Preheat the oven to 400 degrees F. Unwrap the pork belly, rinse it, and pat it dry. Place the pork belly in a small glass baking dish, and add the orange juice to the bottom of the pan. Roast the pork belly for 45 minutes at 400 degrees, then reduce the temperature to 325 degrees F and continue roasting for another 45 minutes to 1 hour until the meat is very tender. Remove the pork belly from the oven and let cool to room temperature, then cover and chill until firm, at least 3 hours.
Remove the chilled pork belly and cut into thick slices. Set slices aside on a plate. Add the Pinot Noir to a saucepan and reduce by half over medium heat for about 10 minutes. Place the 3/4 c. sugar in a large, non-stick frying pan in an even layer. Heat dry sugar over medium heat, watching carefully but not disturbing it (don't stir or shake). When the sugar starts to melt in places, slowly use a heatproof spatula to drag the dry sugar into the liquid sugar, until the entire pan is melted. At this point, let sugar cook until golden brown, then slowly add the hot, reduced red wine. Be careful, the sugar will bubble violently. If the sugar seizes into a clump, don't worry – return the pan to the heat and slowly melt the sugar back into the wine. Cook the caramel until thick, then add the pork belly slices and cook, basting with the caramel and flipping the slices occasionally, until they are fully coated with the caramel. Serve the pork belly immediately.