Refrigerator Pickled Vegetables
Here's a delicious project to bring to the Father's Day BBQ, or any other time you need to thank dad for getting you out of a pickle. Pair with a bottle of our Pinot Noir, Pinot Gris, or Chardonnay for a thoughtful and delicious gift idea.
Special thanks to our friend Alexis Murphy of the blog, Jac o' Lynn Murphy for this awesome post!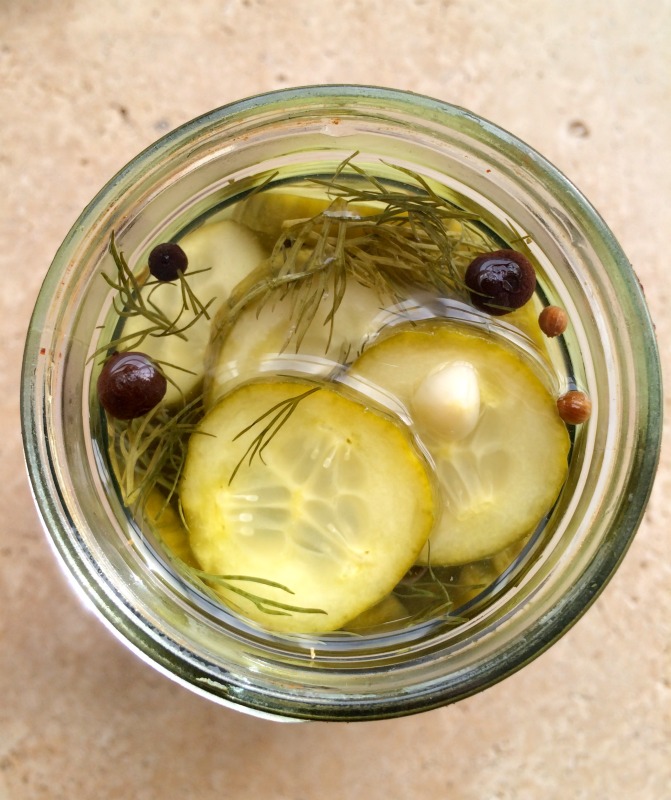 Refrigerator Pickled Vegetables
Brine to fill 3, pint mason jars:
2 cups white distilled vinegar
5 cups water
1/4 cup pickling salt
1 Tablespoon sugar
Combine, vinegar, water, salt and sugar in sauce pan.  Stirring occasionally, bring to a boil until salt and sugar dissolve.  Cool to room temperature.
Assembly for each of the 3 mason jars:
1. Fill with fresh vegetables of your choice (we used sliced Persian Cucumbers and trimmed Green Beans) but feel free to try green beans, carrot sticks or spicy peppers, too!
2. Avoid overfilling to allow room for brine.
3. Add 4 to 5 fresh peeled, thinly sliced garlic cloves
4. Add the following ingredients:
 1 Tablespoon fresh dill (whole leaves, don't chop)
1 tsp pickling spice
1 tsp mustard seed
Dash of celery seed
Dash of red pepper flakes (optional)
5. Pour brine in each jar to cover vegetables. Close jar with lid and place in the refrigerator 48 hours.
Each jar will keep about 3 weeks in refrigerator.
These snacks make a great nosh or side for casual outdoor dining. If your Father's Day celebration includes firing up the grill, make sure to take a look at our Father's Day Grilling guide!
 Share this on Pinterest!