Romantic Cheese Fondue for Two
Valentine's Day approaches each year and after 20+ years of marriage, I no longer yearn for a dinner out on the town. Now don't get me wrong, every woman loves to get away for a romantic dinner with her husband, but just how romantic is it really when the entire world seems to be out on the same night with us?
We have both decided that we will no longer fight the crowds on February 14th, but instead create an intimate, relaxing, and deliciously decadent evening together at home. This year part of our Valentine's menu will be a Romantic Cheese Fondue for Two!
We both grew up in California in the 1970's as kids and fondue was simply part of the daily culture of the time. Thankfully we've both graduated from the avocado green shag rugs and polyester bell bottoms, but our love for fondue and its engaging and yet laid back vibe still draws us in. Pair this rich cheese fondue with a La Crema Sonoma Coast Chardonnay and this meal is immediately catapulted into the 21st century.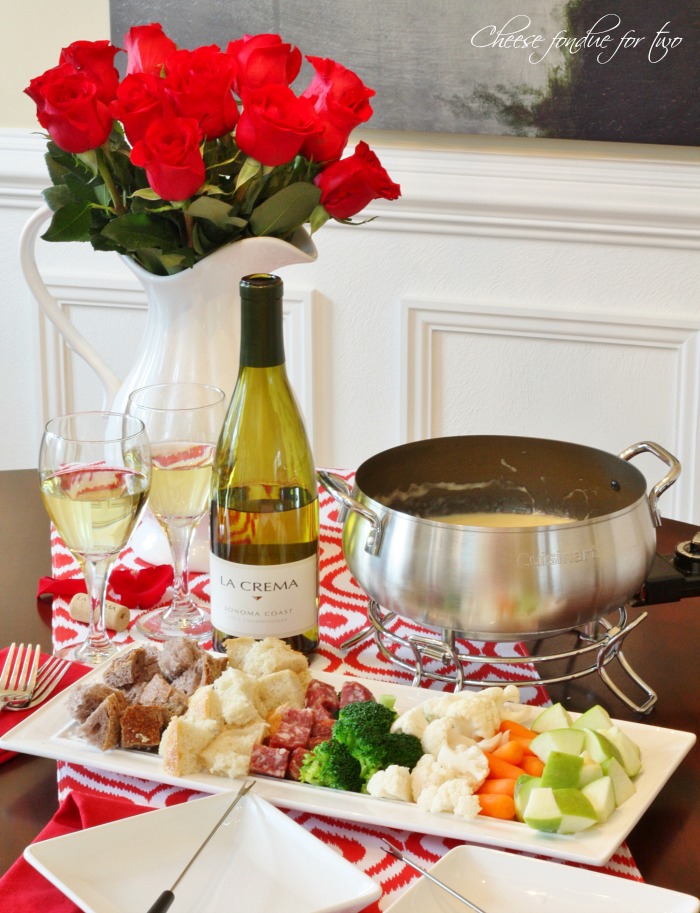 Shall we start cooking up some cheesy goodness now? Ok! (Note: I've provided a printable recipe below for you, but I'll walk you through it, step by step).
How to Make a Perfect Cheese Fondue
Step 1) We will start by grating cheese. Don't skimp on pre-grated/packaged cheese. Spend a bit more and purchase good quality gruyere, baby swiss, and brie. Yes, I add brie. It adds the ultimate decadence of melty, smooth, buttery flavors. Grate 8oz. each of gruyere, baby swiss, and cut the rind off 4oz of brie (don't bother grating the brie). After grating, sprinkle cheese with 1 tablespoon of cornstarch and mix together well.
Tip of the Day: Freeze the cheese for approximately 20 minutes for easier grating.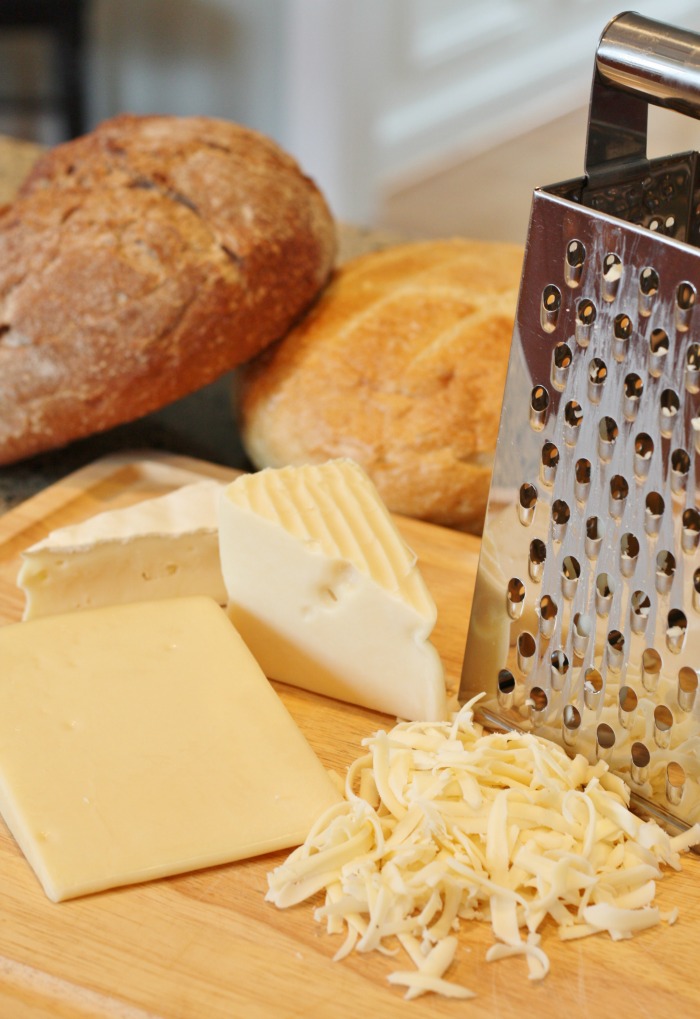 Step 2) Set your fondue pot to medium (if electric). Add 1 small garlic clove (minced) to the fondue pot. Next pour in 1 cup of dry white wine, 1 tablespoon of freshly squeezed lemon juice, and 1/2 teaspoon Dijon mustard. Allow to come to a gentle simmer.
Step 3) Reduce heat to semi-low and place handfuls of grated cheese, one at a time, into the simmering wine. Stir contantly with a wooden spoon until melted before adding the next handful.
Step 4) Add in the brie and stir until combined. Pour in 1 tablespoon of kirch (cherry brandy) if desired, and a pinch of nutmeg, still stirring until smooth. Note: the alcohol content of the wine and brandy is reduced to almost nil during the simmering and cooking process.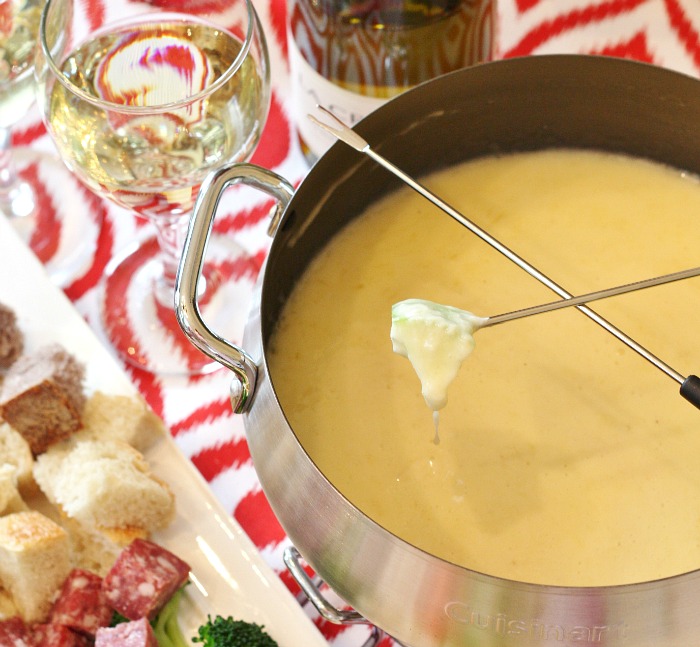 Step 5) Serve the cheese fondue with a platter of blanched veggies like broccoli, califlower, and carrots. Serve it also with tart and sweet granny smith apple chunks, crusty French or Italian bread and a brown bread like pumpernickel or a dark wheat merlot boule as I did. If this is going to be your main dish for the night vs. an appetizer then I recommend adding a meat or two onto the platter. I added an Italian sausage called Soppressata. The addition of pre-cooked meats like sausage or shrimp add a heartiness most men appreciate.
Be sure to cut everything into managable bite sized pieces! Nothing says "un-romantic" as much a cheese dipped, over sized bite of broccoli!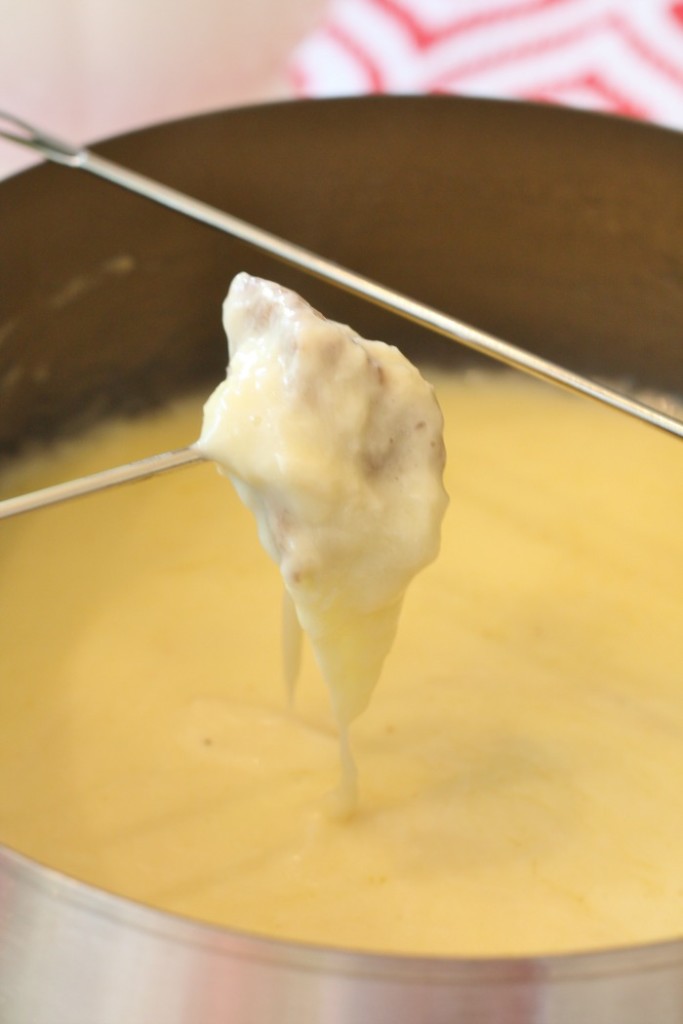 Fondue etiquette for cheese or desserts requests that you spear your desired food item with your fondue fork, then dip it into the cheese and swirl in a figure eight formation, and then place onto your small appetizer plate. Remove the item from your fondue spear and pick up the item with a salad sized fork for proper eating.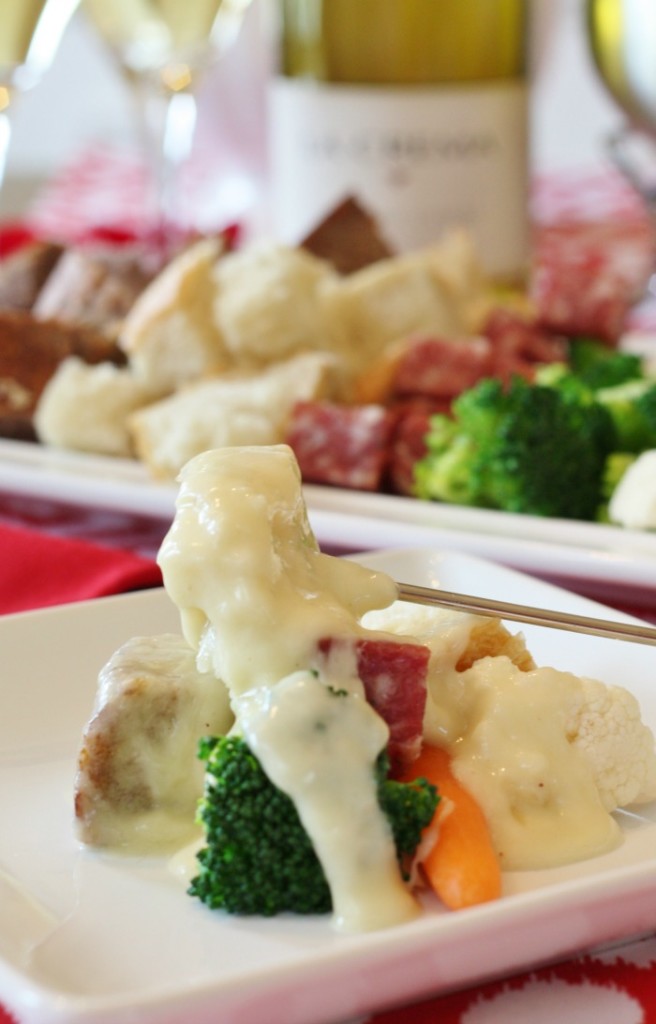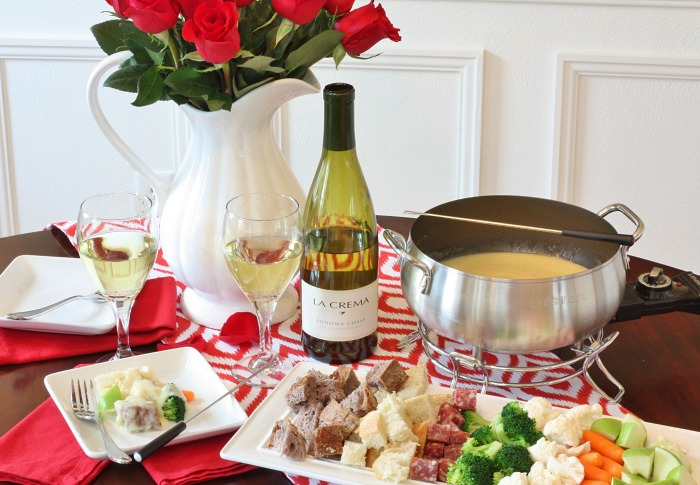 Romantic Cheese Fondue For Two
Author: Kim Wilson - Sand & Sisal
Recipe type: Appetizer, Main
Serves: 2-4
Ingredients
8 oz. Gruyere cheese
5 oz. Baby Swiss cheese
3 oz. Brie cheese
1 tablespoon cornstarch
1 cup dry white wine
1 clove of garlic
1 tablespoon fresh squeezed lemon juice
1/2 teaspoon Dijon mustard
Pinch of nutmeg
Bite sized granny smith apples, carrots, blanched brocolli bites, califlower, French or Italian bread cubes, Pumpernickel or brown bread cubes, Italian or summer sausage
Instructions
Freeze the Gruyere and swiss cheese for 20 minutes before grating.
After grating the cheese, sprinkle the flour over the top and mix well.
Set electric fondue pot to medium heat.
Add 1 small clove of garlic, finely minced, to the fondue pot.
Pour 1 cup of white wine, dijon and lemon juice into pot and bring to a simmer.
Reduce heat to low.
Gradually stir cheese into the simmering liquid until smooth and creamy.
Stir in nutmeg.
Serve with bite sized veggies, apples, bread, and sausage.
Dip, swirl and enjoy!
If you want to really ramp up the romance on Valentine's night then you will want to try this decadent Chocolate Fondue for Two recipe over on Sand & Sisal. Because the key to a man's heart is through his stomach and yet the key to every woman's heart is with chocolate (oh…. and diamonds wouldn't hurt either)!
Wishing you all a very relaxed, romantic, and happy Valentine's Day!
~KIM
Save this on Pinterest!