Rustic Vegan Pasta with Arugula and Mushroom
This healthful pasta recipe is filled with colorful vegetables that bring big flavors. With all the peppery arugula, earthy mushrooms and fresh cherry tomatoes to delight your taste buds, you won't miss the meat.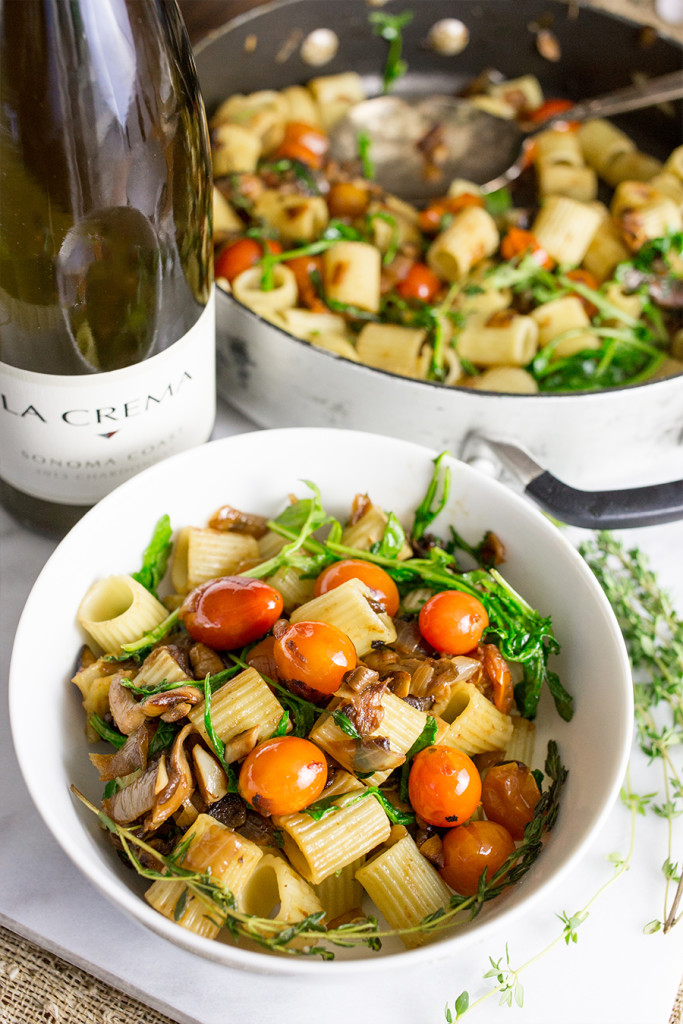 Now that spring is finally starting to show up, I'm focused on finding creative, delicious, and easy meals that are full of bright colors and fresh flavors without being overly heavy or time-intensive.
This rustic arugula and mushroom pasta is full of rich meaty flavor even though it is completely vegan. Filling without being overbearing, it takes under 30 minutes to make.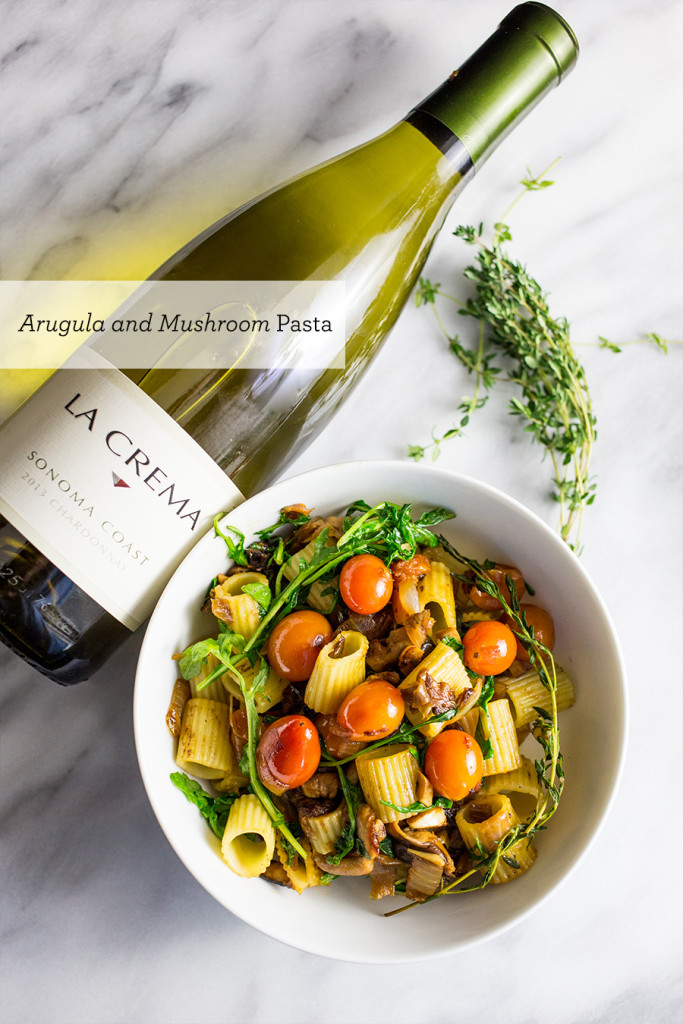 This veggie-packed pasta is anchored by a light sauce flavored with La Crema Sonoma County Chardonnay, tying the whole dish together. Save the rest of the bottle to enjoy with this simple-but-sumptuous supper.
And it's a deceptively impressive dinner—most people don't realize how easy a lightly-sauced pasta can be with the right technique.
If you have someone who insists on getting some animal protein, whip up these insanely easy pan seared scallops that take under five minutes to cook.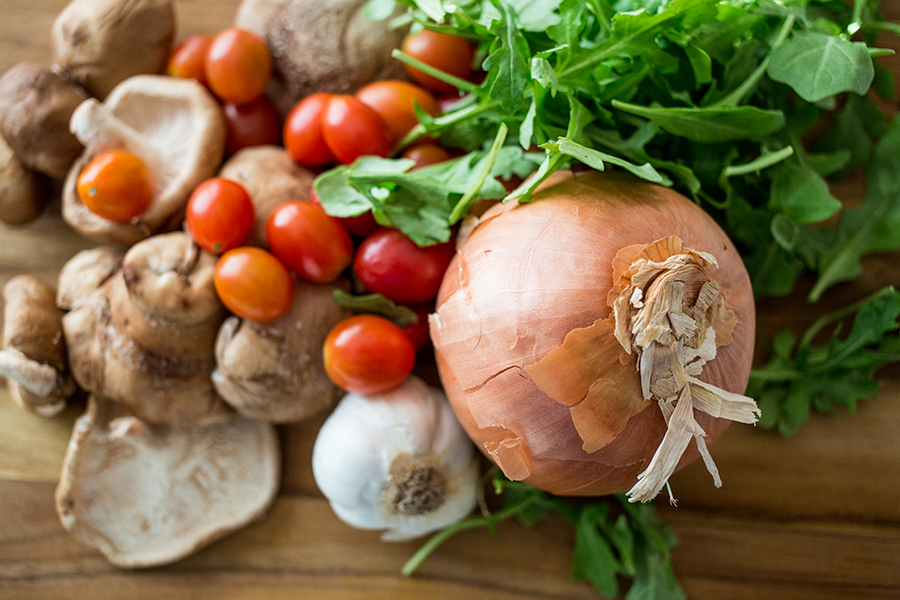 For this pasta, we're really relying on breaking down the flavors of our mushrooms, onion, garlic and tomatoes by taking time to saute them. Don't rush this process. In the time it takes you to boil a large pot of water for the pasta, you'll have an incredibly seductive smell filling up your whole house as your vegetables brown in the pan.
This allows you to build flavor without adding a lot of extra ingredients. By the time we finish this dish with the arugula and Chardonnay, it goes to a whole other level!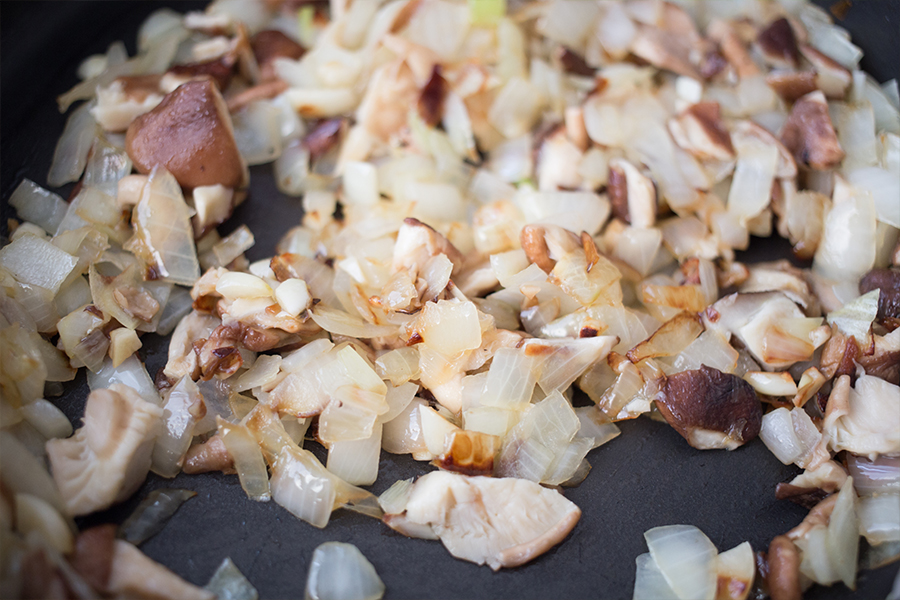 For red gravy style pasta sauce, I tend to use dried herbs. Since this dish is made up of fresh components, I feel fresh herbs are best. If you only have dried herbs on hand, they will work, but if you're aiming to impress, a few springs of fresh thyme will do the trick!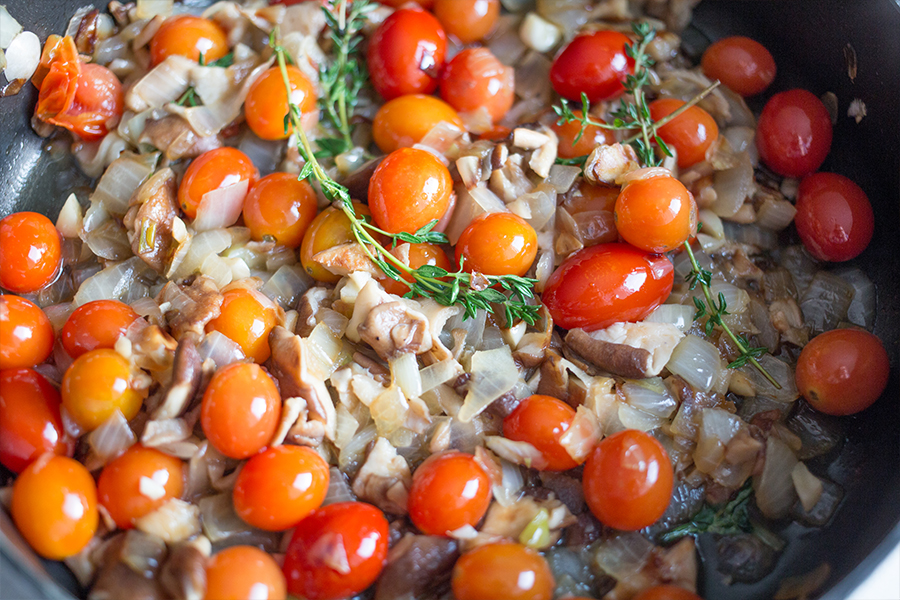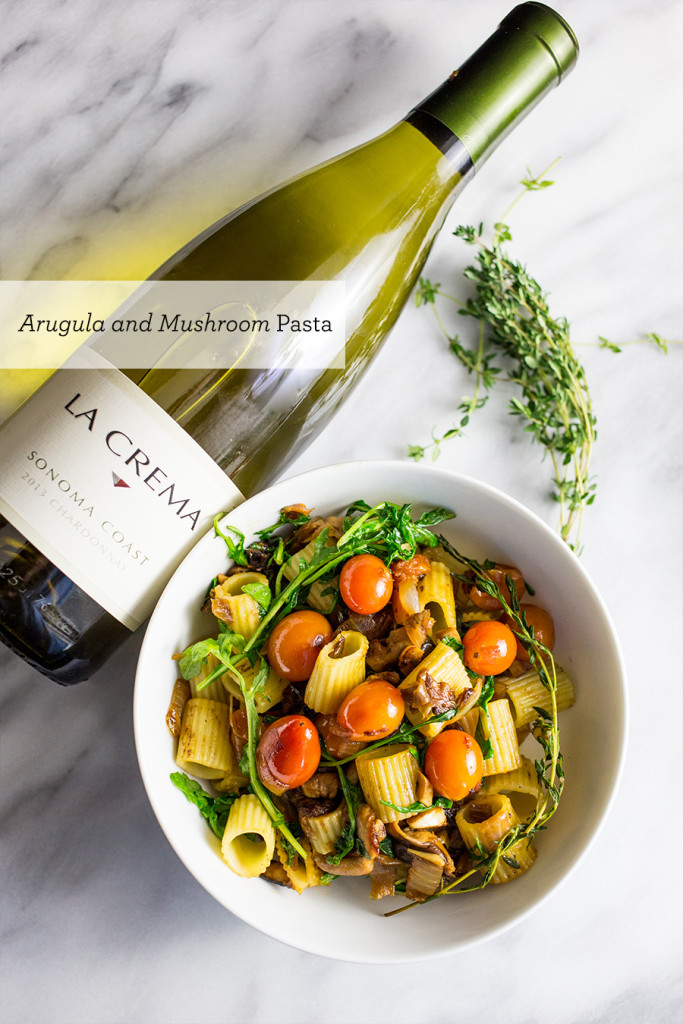 Be sure to head to the Sweet C's Designs Blog to find the recipe for the perfect pan seared scallops!
Arugula and Mushroom Rustic Pasta
Author: Courtney O'Dell
Recipe type: Side Dish
Cuisine: Italian
Serves: 4-6
A light, delicious and rich pasta full of mushrooms, garlic, onions, arugula, and tomatoes with a buttery chardonnay sauce.
Ingredients
2 tbsp olive oil
1 large onion, diced
4 cloves garlic, diced
8 oz oyster or crimini mushrooms
1 cup fresh cherry tomatoes
1/2 cup la crema chardonnay
3 cups fresh arugula, washed and dried
1 package rotini
Instructions
Fill a large stock pot with water to boil rotini.
In a large, heavy pan, melt butter on medium (or heat oil until shimmery).
Add diced onion, let soften and slightly brown- about five minutes.
Add mushrooms and garlic.
Stir occasionally until mushrooms start to slightly brown- another 5 minutes.
Add in tomatoes, keep stirring every few minutes so vegetables don't burn or stick- but let them take time to brown to a deep caramel color and to allow tomatoes to burst.
Add pasta to boiling water in the stock pot and cook to al dente.
When vegetables are a deep brown color, add wine and stir.
Let wine reduce until sauce becomes thick.
When pasta is done, drain well and add to the pan with the vegetables and sauce.
Add arugula and toss until arugula is wilted and sauce is evenly distributed.
Serve immediately with chilled Chardonnay.