Skillet Baked Chipotle Enchiladas
These skillet baked chipotle enchiladas are inspired by the days when my mother and grandmother, both from Mexico, would spend hours in the kitchen creating meals that I long for to this day. Enchiladas are one of those dishes I find myself craving most often, and after a few attempts of making my own I soon realized that a can of pre-made enchilada sauce couldn't recreate the meal I was used to. So I started making my own sauce and I've never looked back. The sauce in my opinion is the best part of this whole dish and while you could go to the store and buy something that tastes so-so, why not set aside an extra 15 minutes and make your own, flavorful enchilada sauce right at home?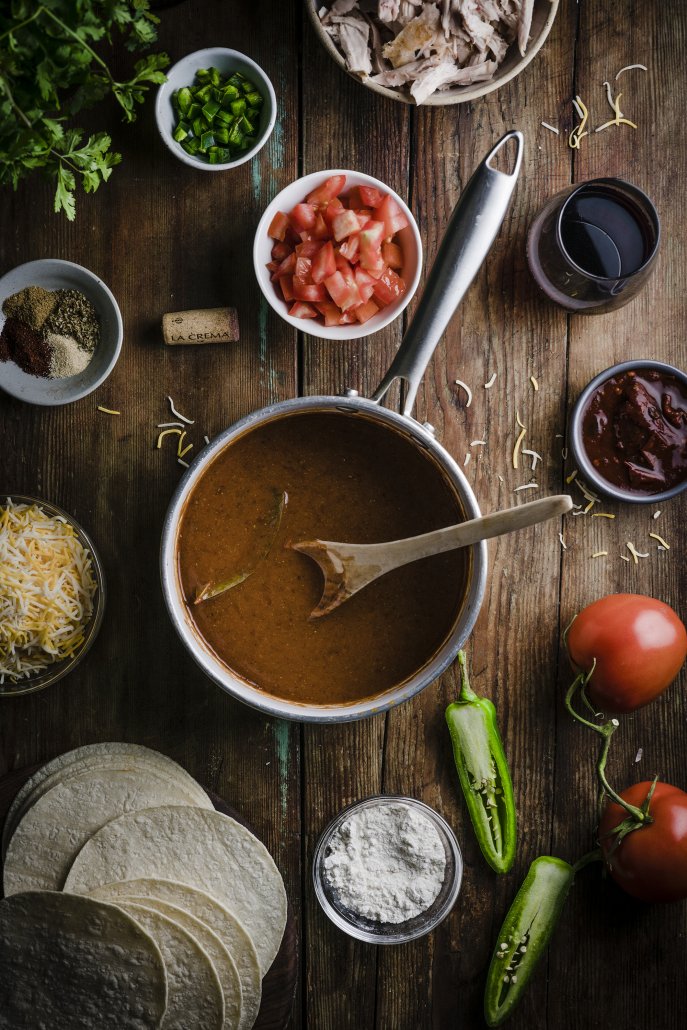 The concept of enchiladas is quite simple: tortillas, filled with meat and cheese, are covered with a delicious, intensely flavorful sauce that ties it all together. Traditionally, enchiladas are lightly fried, filled, rolled, and served individually, but I wanted to change it up a bit and venture into a deconstructed chipotle enchilada route, so I used a cast iron skillet, layered all of my ingredients, and baked it in the oven until hot and scrumptious. I'll admit that taking this approach isn't very traditional, but I assure you that the end result is a skillet filled with a delicious batch of chipotle enchiladas that everyone will enjoy.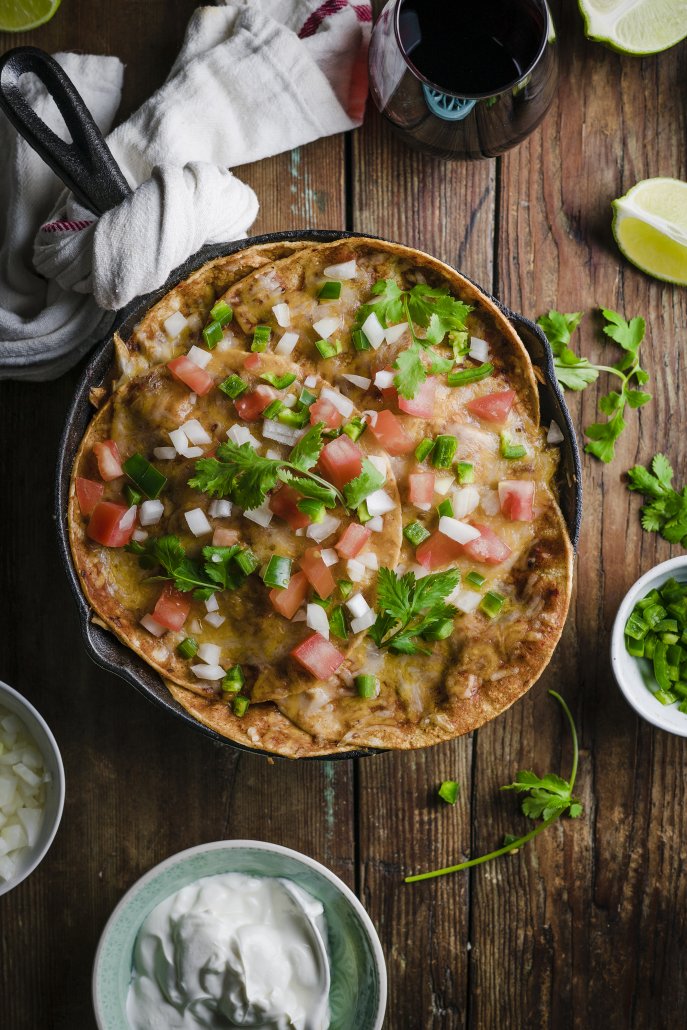 Now I wanted to create a flavorful sauce that packed a mild yet present amount of heat, so I thought adding chopped chipotle peppers would do the trick. Their smoky-spicy flavor give these enchiladas a slow rolling heat that pairs perfectly with La Crema's Monterey Pinot Noir. The wine's dark fruit notes and peppery finish come along side of the spiciness of this dish in the most pleasant of ways.
Skillet Baked Chipotle Enchiladas
Author: Kristan Raines
Recipe type: Dinner
Prep time:
Cook time:
Total time:
Serves: Serves 3-4
Ingredients
2 tbs vegetable or canola oil                                                                                      

2 tbsp all-purpose flour

1/2 tsp cumin

                

1/2 tsp garlic powder

      

1 ½ tsp ancho chili powder

 

    

      

3/4 tsp oregano

1/4 tsp kosher salt
2 cups chicken or vegetable stock
3 tbs tomato paste

2 1/2 tablespoons chopped chipotle peppers  

 

       

1 1/2 tsp adobo sauce from can

freshly cracked pepper
1 bay leaf

½ tsp white wine vinegar

3/4 tsp sugar

9 corn tortillas

1 1/2 heaping cup shredded rotisserie chicken

¾ cup diced onion, divided

1 cup Shredded cheese, divided
Optional toppings
2 jalapeños, de-seeded, de-veined, and diced
1 large diced tomato, diced
1 avocado, cubed
sour cream
fresh cilantro
Instructions
Heat oven to 350 F°

Add the oil to a small saucepan and set over medium-high heat. Once the oil is hot, add the flour and whisk constantly for one minute. Stir in the remaining dry ingredients: cumin, garlic powder, ancho chili powder, oregano, and salt. Stir for an additional 45 seconds.
While whisking, gradually pour in one cup of the stock. Add the tomato paste, chopped chipotle peppers, sauce from the can, a crack or two of fresh pepper, and the bay leaf. While whisking, add the remaining stock and continue to whisk until the mixture becomes smooth.
Lower the heat slightly and allow the sauce to simmer until slightly thickened, about 10 minutes. Remove the saucepan from the heat and mix in the sugar and vinegar. Taste the sauce and add more chopped chipotle peppers if a spicier sauce is desired, and add additional salt and pepper as needed.

Spread about 3 tablespoons of the sauce on the bottom of an 8-inch skillet. Carefully dip 3 corn tortillas into the sauce and place in the skillet. Arrange them in a circle so that they totally cover the bottom of the skillet.

Sprinkle ¾ cup of shredded chicken, ¼ cup of diced onions, and 3-4 tablespoons of shredded cheese over the tortillas, followed by a little extra drizzle of sauce (1-2 tablespoons).

Repeat this process one more time, creating a second layer. Top the second layer of chicken, cheese, and onions with the three remaining tortillas once they have been dipped. Sprinkle the top with cheese and place in the oven for 20 minutes, or until warmed through.

Garnish enchiladas with desired topping like chopped tomato, onions, fresh cilantro, sour cream, avocado, or cilantro.*If any sauce remains, simply warm it up and serve it with your enchiladas.

 Enjoy!