Farmers Market Soba Noodles with Spicy Chimichurri and Crispy Kale
The farmers market is bursting at the seams with beautiful produce and this soba noodles dish is the best way to take advantage of it. It has loads of veggies and it's so tasty it's almost obscene. A definite go-to dish when I have to entertain or when I want to dazzle a date (or myself! ha).
Since there's a lot of spice going on in these noodles, you should drink something bold that will stand up to such zig-a-zig-za, cue La Crema Monterey Pinot Noir. I know lots of peeps love having white wine during summer months, but try mixing things up with a red, it's cozy and totally suitable for sunsets at the beach!
Ok, let's get this pasta going, shall we?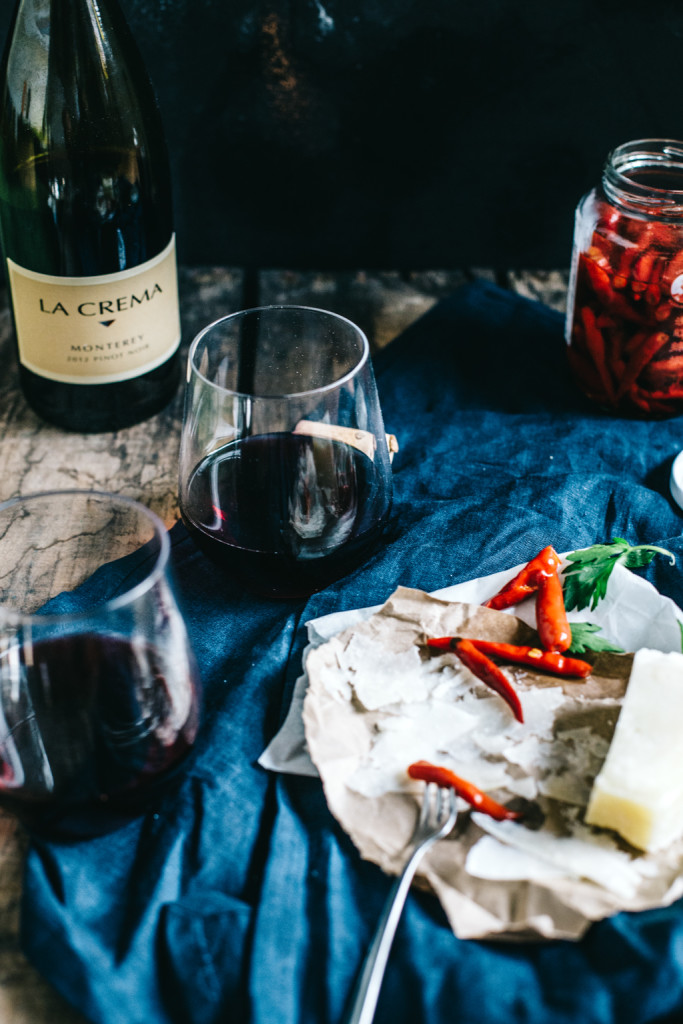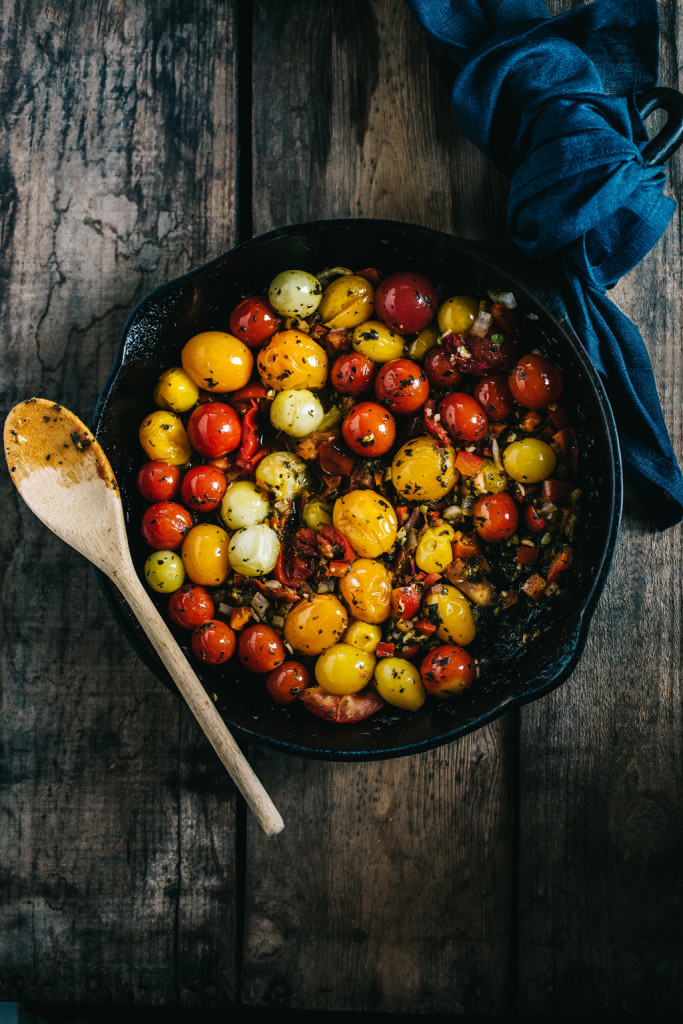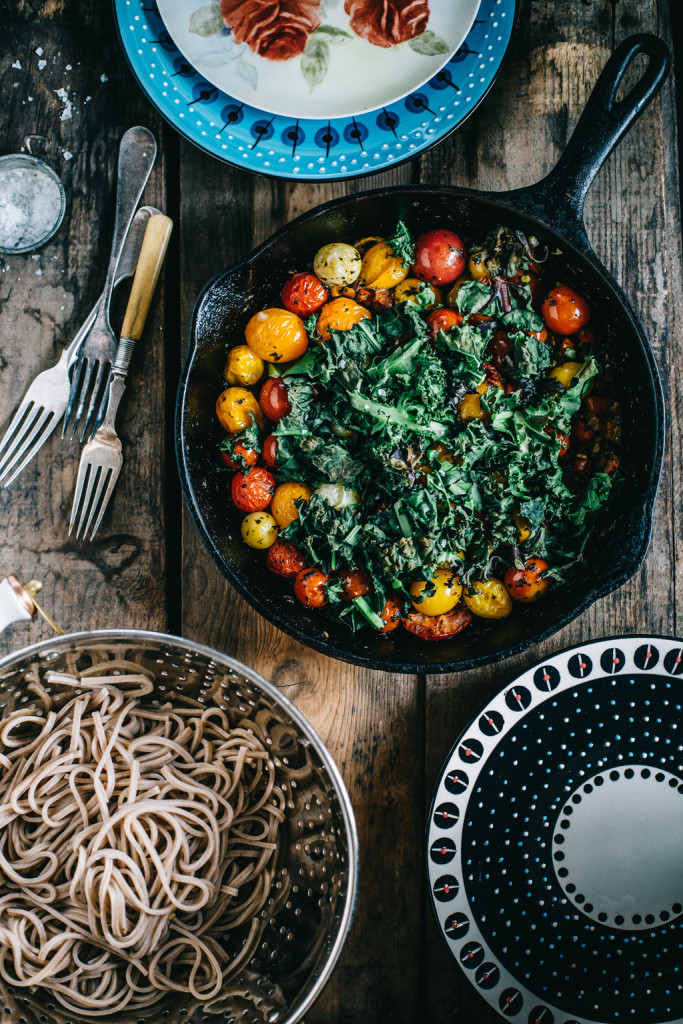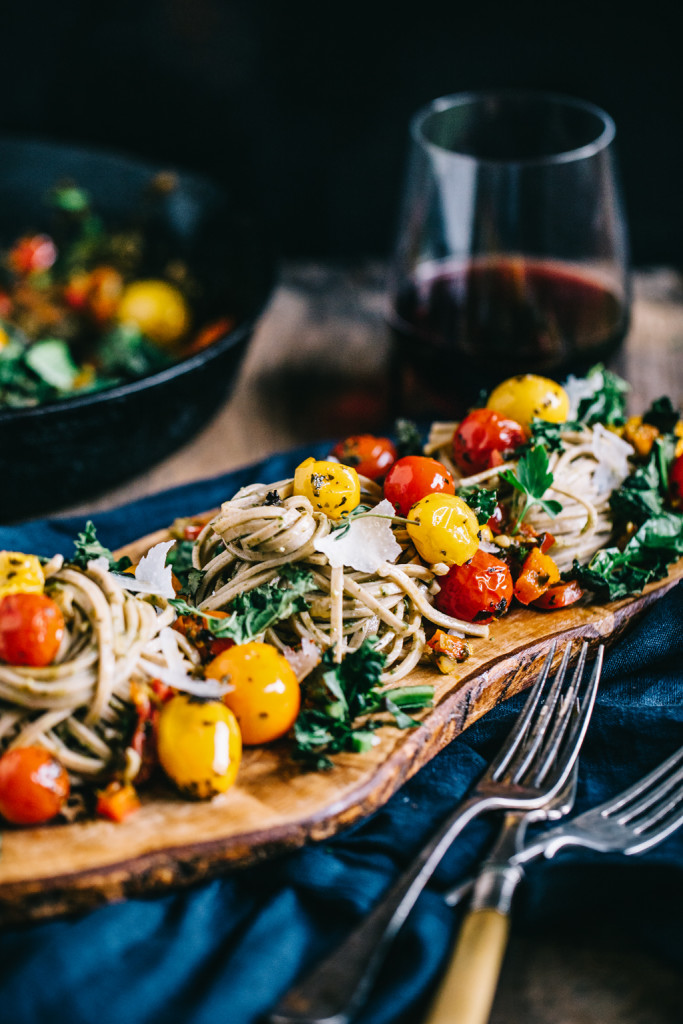 Farmers Market Soba Noodles with Spicy Chimichurri and Crispy Kale
Author: La Crema Culinary Team
Recipe type: Main
Cuisine: Asian-Fusion
Serves: 4
Ingredients
1 package soba noodles (about 250g)
1 handful parsley, fresh
1 handful oregano, fresh
1 sprig of thyme, leaves pulled
1 lemon, juiced
1 small jalapeño, seeded (optional: leave seeds in for extra hot touch)
Olive oil
Salt and pepper
1 small onion, chopped
1 garlic clove, chopped
1 pint assorted cherry tomatoes (grape tomatoes or any kind of small tommy tom works)
1 bunch kale
Pecorino cheese
Instructions
Get a big pot, fill it with water, add some salt and bring it to a boil. Cook pasta according to package instructions (usually boil until tender), rinse pasta, drizzle with a tiny bit of olive oil (so it doesn't stick) and set aside.
Make the chimichurri: In a food processor or blender place the parsley, oregano, thyme, lemon juice, and jalapeno pepper, pulse a few times, then add a drizzle of olive oil and pulse again. Repeat this (alternate drizzle of olive oil + pulse) until you get a paste (kind of like pesto, but less oily). Season with salt and pepper and set aside.
Place the onion and garlic in a hot pan that's oven safe (a skillet works perfect) with some oil and sautee until translucent and fragrant. Add the tomatoes on top and kale, sprinkle with salt and pepper and place under your broiler for 5-7 minutes – until kale turns to chips and tomatoes are nice and squishy.
Grab the pasta put it in a bowl and toss with the chimichurri, plate on a large platter and top with the skillet mix of tomatoes, onions, and crispy kale. Add shavings of cheese and you're set! (the more cheese the better, of course).
Enjoy with La Crema Monterey Pinot Noir!