Southern California Shrimp Tacos
I have a serious love of Mexican food. I could eat it morning, noon and night and never get sick of it. Especially tacos – I love a good taco. For me, a taco is all about well-seasoned filling and lots of garnishes. Traditionally the meat in tacos has been braised or can take a while to cook, but my shrimp tacos can be ready in under 10 minutes, which might make it the world's perfect taco.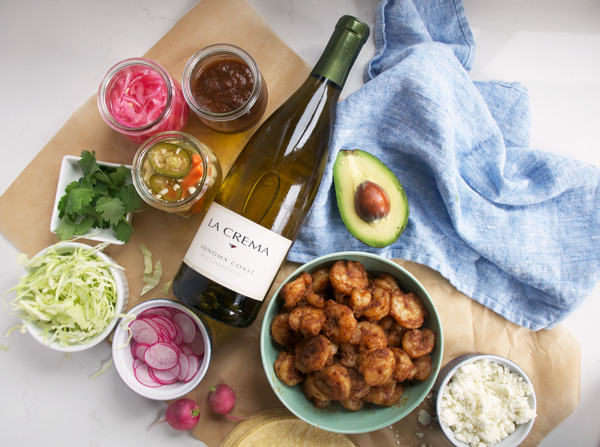 The key to my shrimp tacos is the spice rub, as well as good quality corn tortillas. For the spice rub, the recipe below will give you more than you will need, but save it with your other spices and use it the next time you make these tacos or any type of fish or chicken. Think of it as a magical flavor dust with all its tasty seasoning.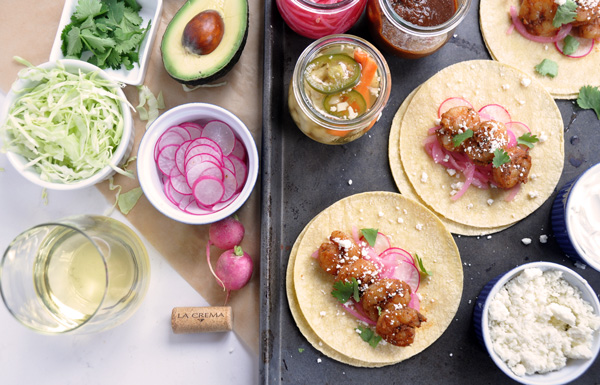 The best part of all, these tacos are seriously healthy. Gluten-free because I found all corn tortillas, as well as pan seared the shrimp. Paired with a full bodied La Crema Chardonnay, you have a well rounded delicious meal. They are so good, it is totally ok to eat two, three, or four at a time. Because honestly, who can eat just one taco?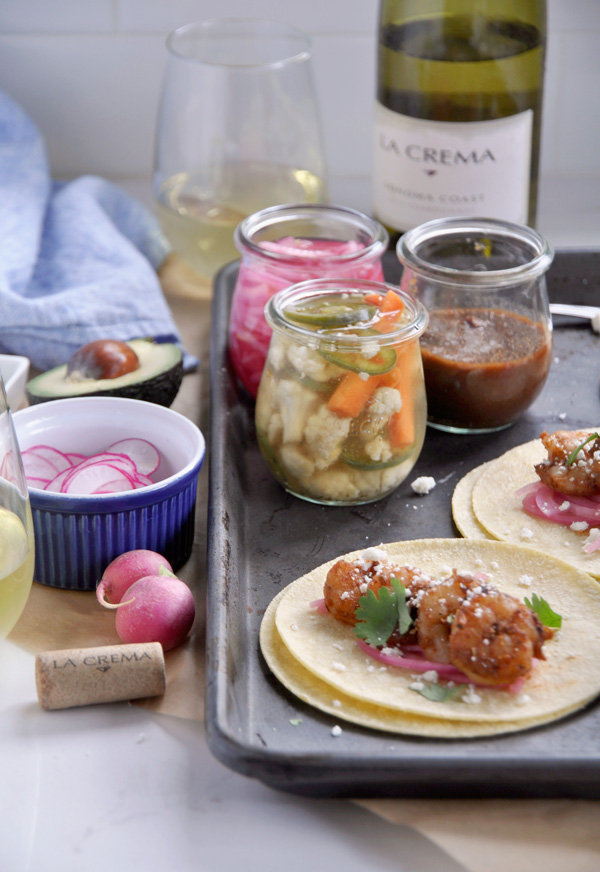 If you don't like shrimp, feel free to swap in a flaky white fish like cod or use chicken. Store bought garnishes make these tacos even easier.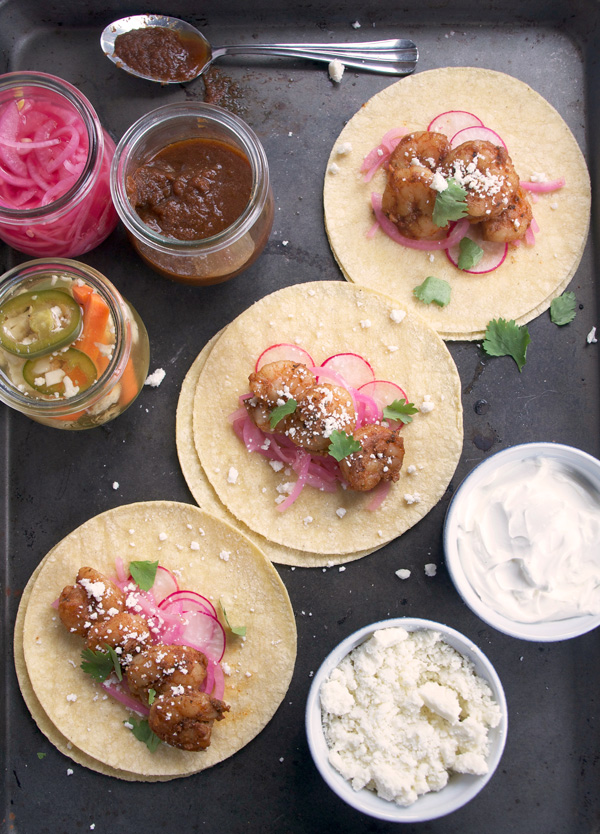 So with Cinco de Mayo coming up right around the corner, it might be the perfect time to try out these shrimp tacos.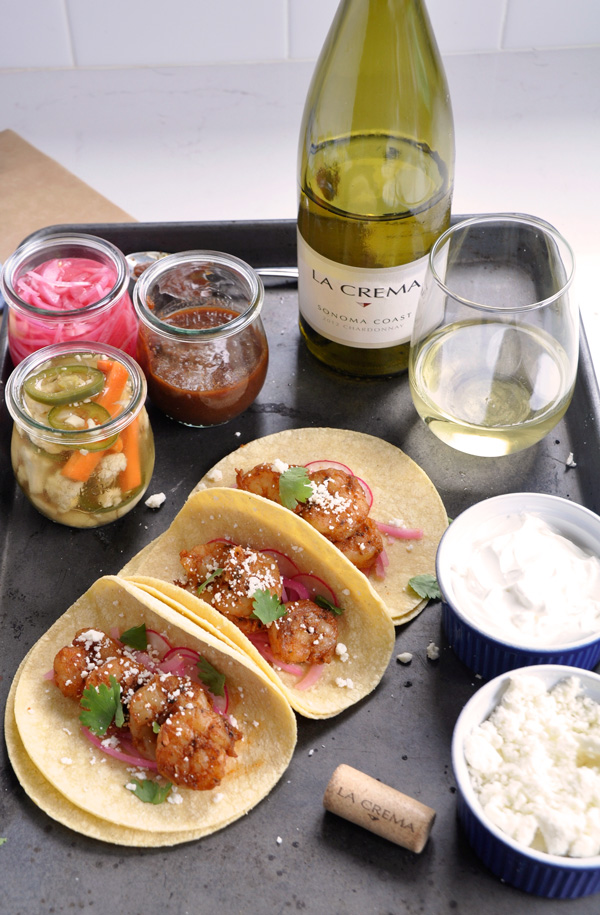 Shrimp Tacos
Serves: 4
Ingredients
1 Tbs. paprika
1/2 Tbs. cumin
1 tsp. garlic powder
1 tsp. onion powder
1 tsp. dried oregano
1 tsp. dried thyme
1 tsp. kosher salt
1/2 tsp. freshly ground black pepper
1/4 tsp. cayenne pepper
1 lb shrimp, peeled and deveined
8 6″ corn tortillas, warmed
Garnish: lime wedges, pickled vegetables, radish, Cotija cheese, sour cream and cilantro.
Serve with your favorite hot sauce.
Instructions
Combine the first 9 ingredients in a small bowl. Toss 2 to 3 tablespoons of the spice mixture with shrimp and coat shrimp well. Reserve any remaining spice mixture for another use.
In a large sauté pan, preferably non-stick, sauté the shrimp for about 2 to 3 minutes or until shrimp is pink and firm to touch . While you are sautéing the shrimp place the corn tortillas, wrapped in a damp paper towel, in a warm oven for a minute or two to soften.
When shrimp are done, fill tortillas. Garnish with pickled vegetables, Cotija cheese, sour cream, radish and cilantro. Squeeze fresh lime wedges over tacos and serve with favorite hot sauce.
 Share this on Pinterest!