Seven Tips for Hosting a Movie Award Party
The biggest movie awards show in the world is on Sunday and over a billion people around the planet will watch as the stars come out to honor their own. It's also the perfect occasion to throw a fun, themed extravaganza. We asked Hollywood event designer Troy Williams of Simply Troy Lifestyle + Events to provide ideas and inspiration to make your Academy film-fete an award-winning affair!
As an event designer in Tinseltown, I've seen it all when it comes to throwing incredible celebrations. And while I know we're only a handful of days away, I'm here to tell you, it's not too late to plan your own party! Here are 7 steps toward your own red carpet success.
1. Invitations Set the Stage
Kick it off with fun invitations + party decor that is film-themed. You can base your décor on the actual movies nominated this year or keep it more general film-centric inspiration like a director's chair or movie reel or a film slate like the invitation below.
You can have a blast adding those fun touches of signage, banners or wine glass tags throughout your party for guests to appreciate the details.
Check out all the fun customizable film-related invitations + party décor that can be ordered from Minted to decorate your viewing party.
No time to mail order? Consider electronic invitations like these fun award party designs from Evite.
You can even get extra creative + over-the-top with the location of your viewing party and see if there are any local screening rooms or movie theaters available for rent that have the digital capabilities to project the live show for all of your guests. (Like the brand new one we used for this post at The London West Hollywood.)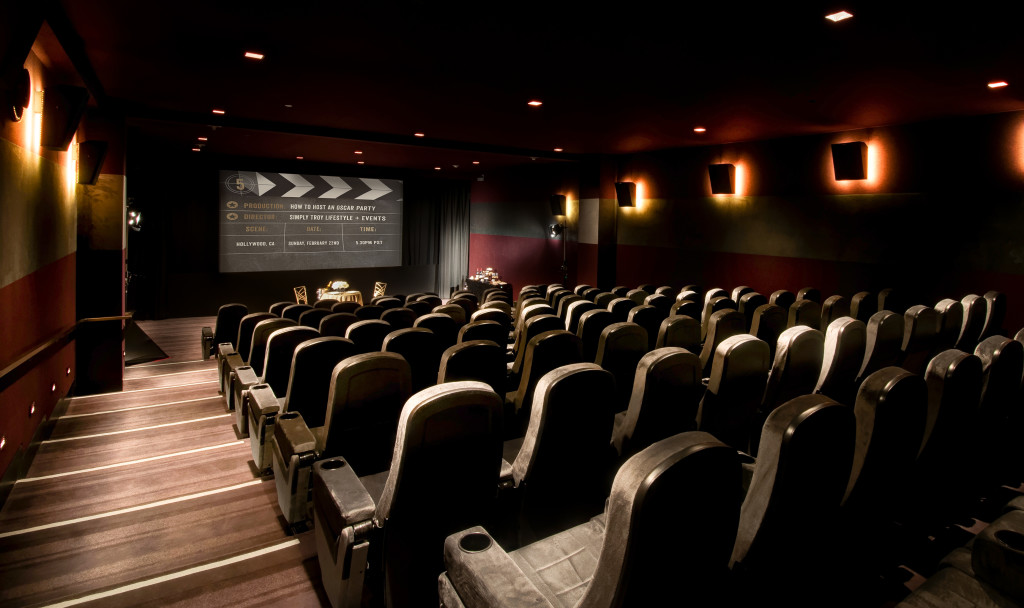 2. And the Award for Best Table Décor Goes to …
WOW your guests when they come over for your viewing party by styling your dining table in fabulous black or gold linens. Giving them that extra splash of sparkly Hollywood glamour will instantly set the mood.
You can rent stunning linens from companies like La Tavola Fine Linen Rental.  They can ship anywhere in the U.S.
Since it's a special occasion, you can break out your own china or rent some beautiful Carrington Bone Gold Pattern china place settings with gold rims.
Golden flatware is always fun to add to the awards mix—try gold or black chargers as dessert displays to dress up any table. You can rent all of these from companies like Classic Party Rentals.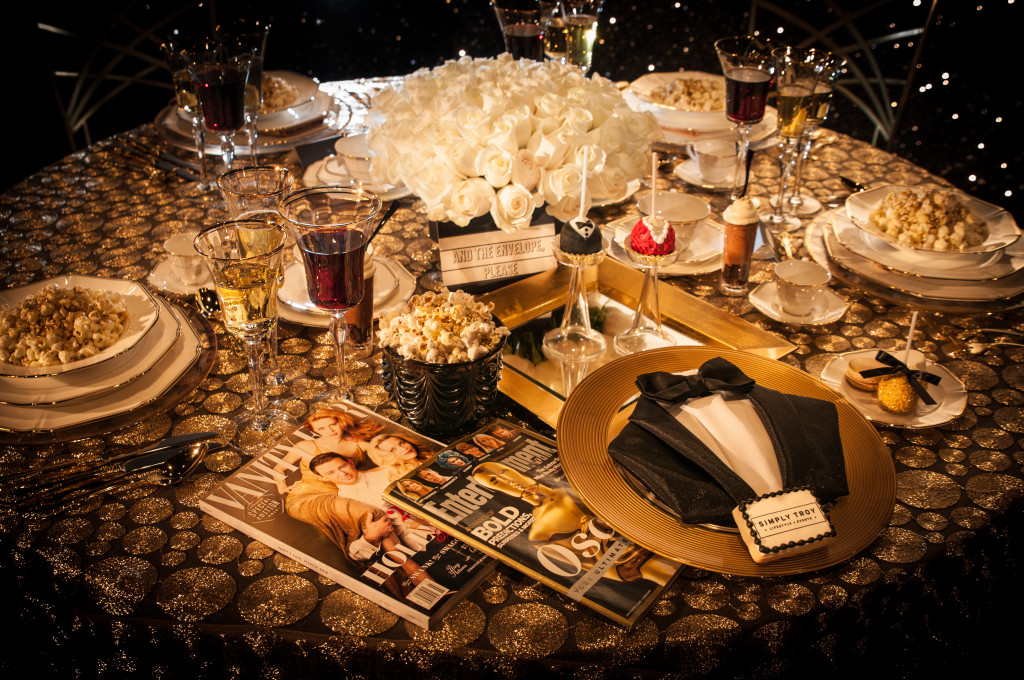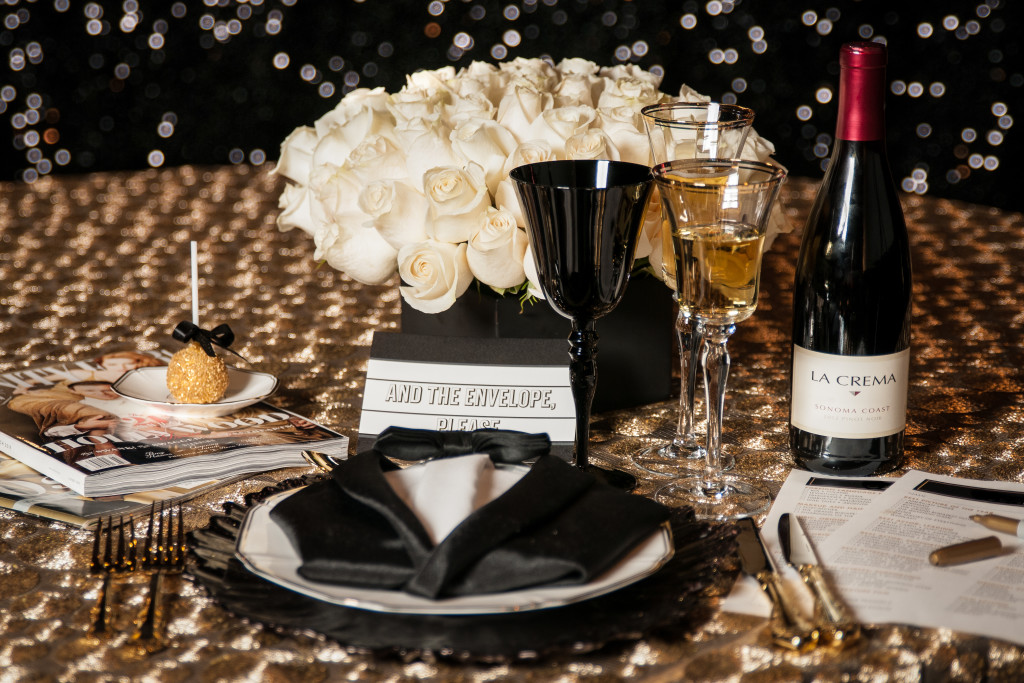 3. Wine Plays a Role
Just as in the movies, sometimes the supporting players steal the show. So don't forget to have your guests drinking in major awards season style with beautiful crystal glassware with gold rims or the super stylish solid black glassware for your La Crema Sonoma Coast Pinot Noir. It's the perfect way to celebrate each win of the night.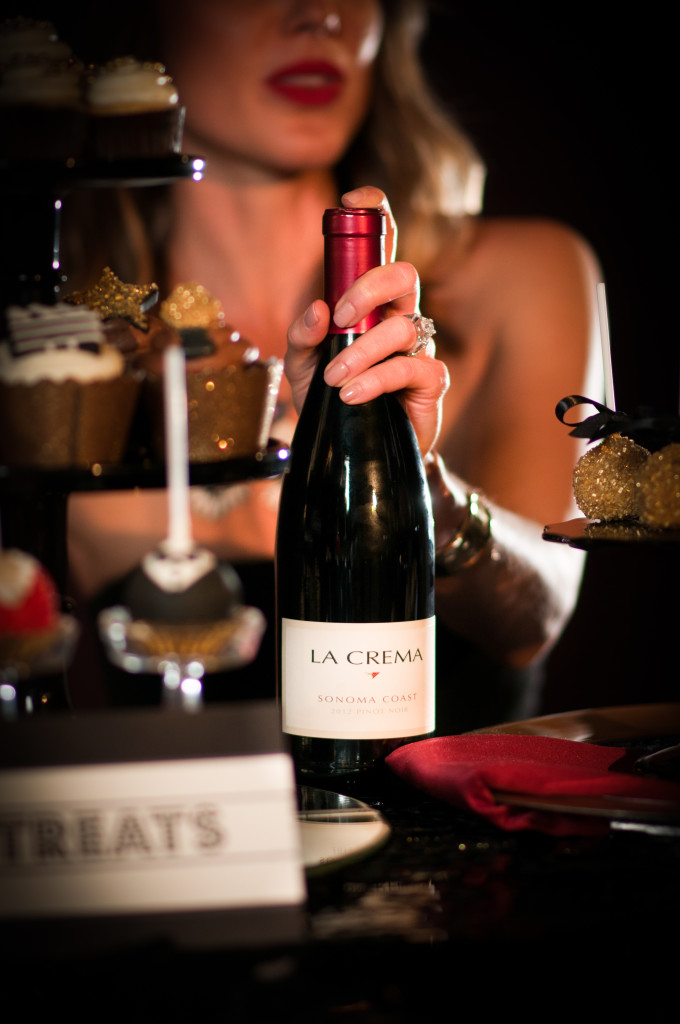 4. Don't forget the Props
Picking up VANITY FAIR + ENTERTAINMENT WEEKLY Hollywood awards issues will look great on your coffee or dining tables as additional décor and can also give you an extra dose of visual inspiration for your planning.
Want to really impress your guests and add some super fun whimsy to any of your table settings? Then check out the book Luigi's Language of Napkin Folding . We created a fun tuxedo napkin place setting out of one black linen and one white linen by following the easy instructions in his book.
Adding the tuxedo bow tie to it makes it award show worthy for your table.
5. Visual effects
An award show party isn't complete without stunning florals. Create a major centerpiece to all the table décor in either white or red florals.
Keep it clean in design and monochromatic in color to not compete with the other glamorous table décor elements. Maggie Jensen Floral Event Design used almost 100 beautiful white English Garden Roses to create the look for our table. You'll be able to enjoy your centerpiece the week following the award show festivities so do it up right!
6. Two 'Imitation' Games
We've created two FREE printable games to keep the evening lively. Download our AND THE AWARD GOES TO… Nominations Ballot and GOLDEN BINGO game here.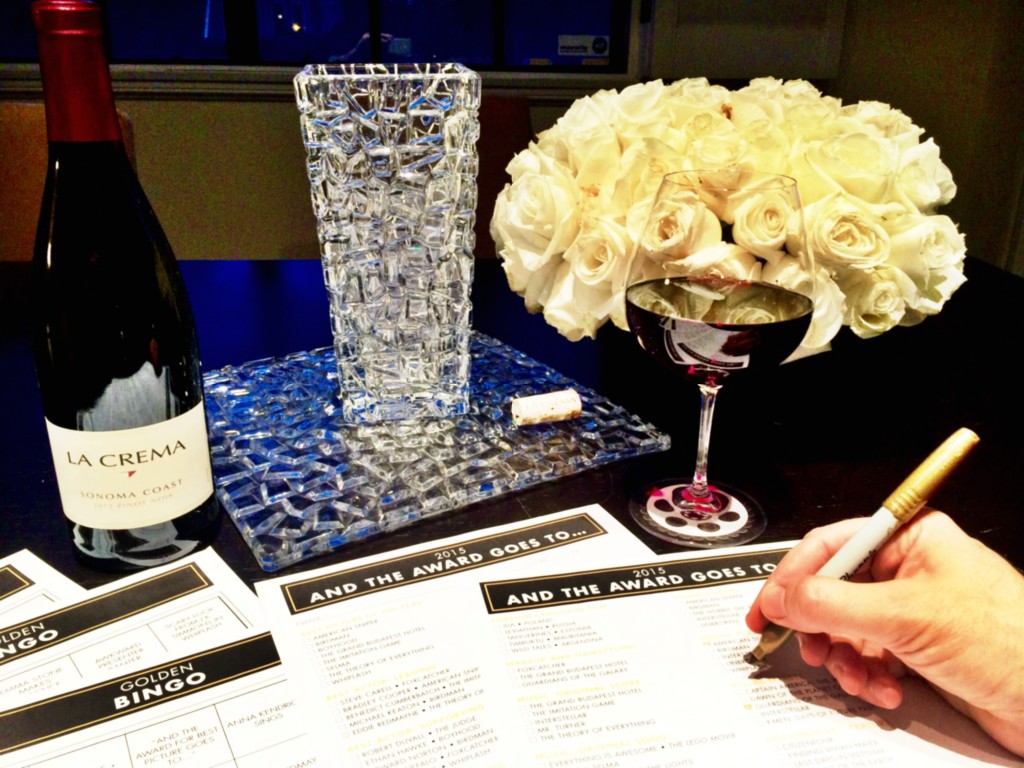 7. There's Still Time to Visit the Snack Bar …
Delicious + eye-catching desserts will make each of your guests feel like a winner at your party! Create a stunning dessert table with various treats displayed on it. Sweet E's Bake Shop created a dazzling display for us that you can showcase at your own party.
Check back tomorrow when we go into further depth on the creative desserts and give you instructions on How to Create Your Own Cake Pops and see how simple it is to create Edible "Golden" Popcorn for your award show party.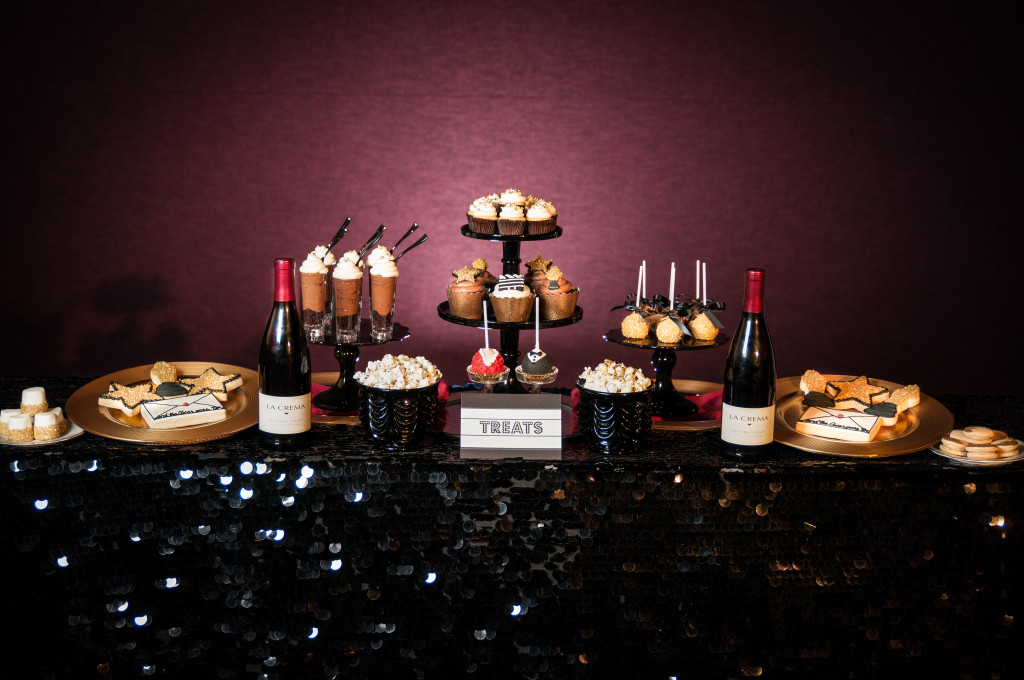 Have a great time celebrating in style with all of your guests and be sure to toast the winners with La Crema wines this Sunday night!
WEBSITES:
SIMPLY TROY LIFESTYLE + EVENTS ~ (http://simplytroy.com)
CLASSIC PARTY RENTALS ~ (https://classicpartyrentals.com)
LA TAVOLA FINE LINEN RENTAL ~ (http://linens.latavolalinen.com)
SWEET E'S BAKE SHOP ~ (http://www.sweetesbakeshop.com)
MINTED ~ (http://www.minted.com)
THE LONDON WEST HOLLLYWOOD ~ (http://www.thelondonwesthollywood.com)
FLORALS PROVIDED BY "MAGGIE JENSEN FLORAL EVENT DESIGN"
AWARDS BALLOT + GOLDEN BINGO CREATED BY "FROM RAIN TO SHINE DESIGN" ~ (http://fromraintoshine.com)
PHOTO CREDIT: CLINT EASLEY – PEAK PHOTOGRAPHY   (http://www.peakphotography.biz)