Cumin Spiced Cauliflower Steaks
Few of us would cite cauliflower as an exciting veggie to eat—some would say it's basically just bland, vegetative substance. But that's just not really the right way to think about it. Cauliflower is your basic canvas. Being plain and bland in this case is a benefit instead of a drawback. And, since this is the case, you can start with cauliflower and quickly dive into a diverse realm of culinary opportunities. Dishes that are spicy or sour, sweet or savory, or simple or complex, can all be achieved from starting with this versatile vegetable, like this recipe for cumin spiced cauliflower steaks.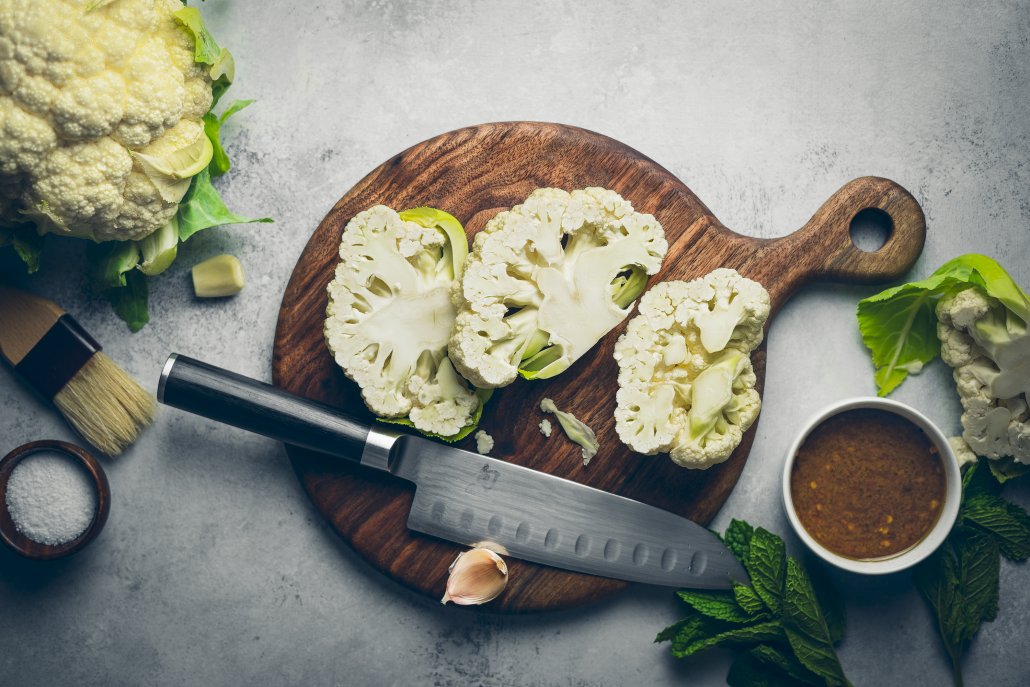 I decided to take a spicy, Mediterranean route with my cauliflower steaks, and boy did it turn out well. I added olive oil and lemon, which provides a buttery texture and piercing acidity that cuts through for refreshment. Chili flakes and a few cracks of black pepper give this dish a kick, while garlic and kosher salt provide a flavorful bite. Cumin and coriander lend their signature, pungent aromas that come neatly alongside a mint-laced Greek yogurt sauce. I finished with some parsley and pine nuts for an added layer of herbs and textured toastiness.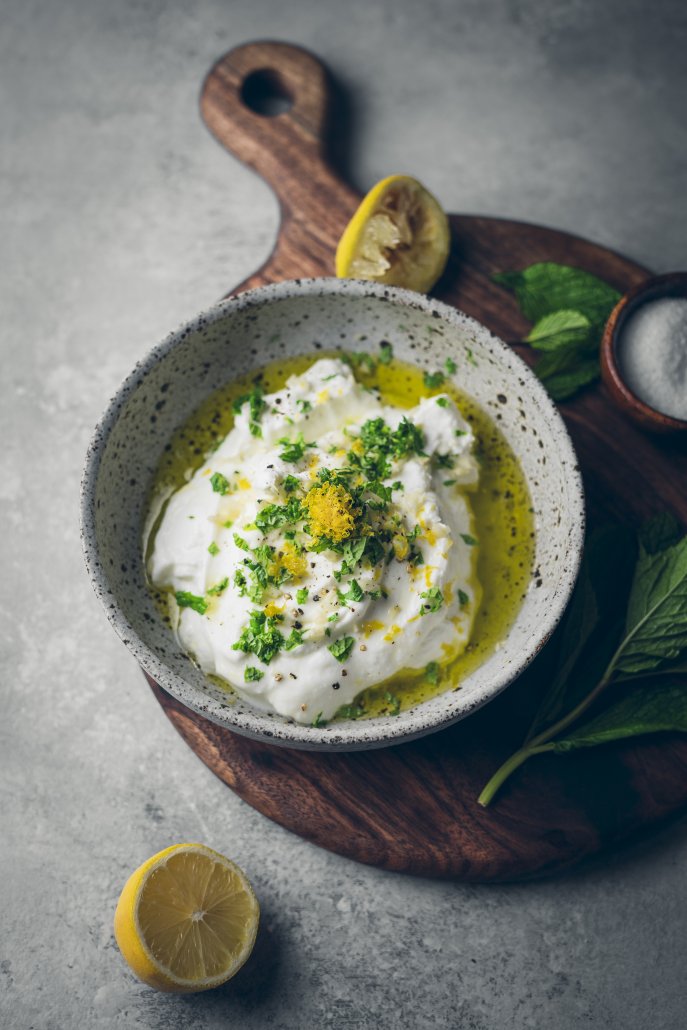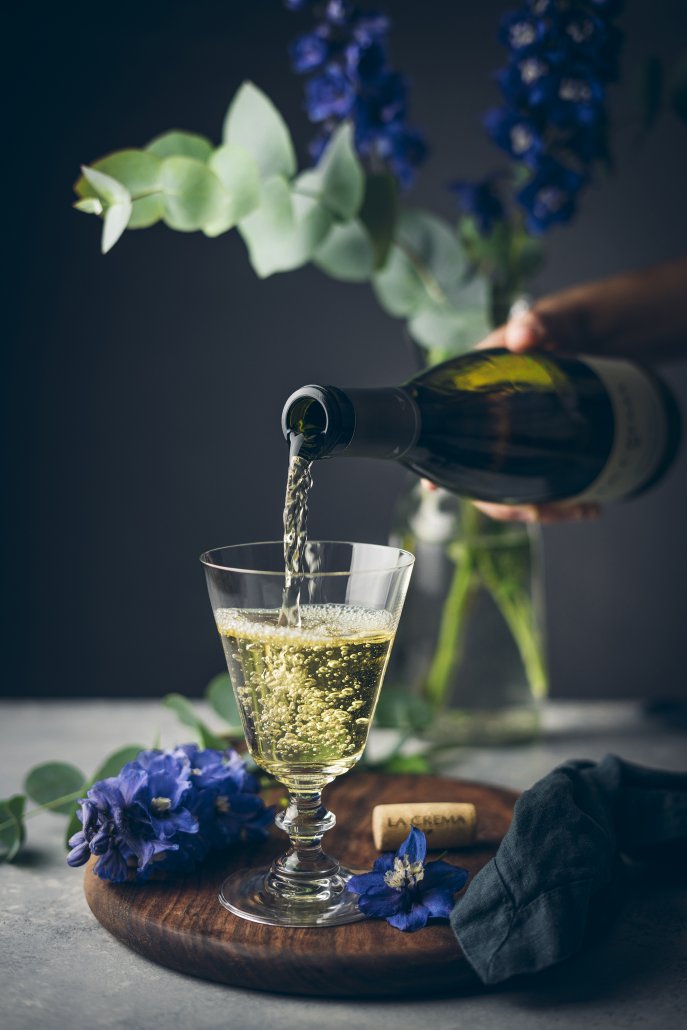 I paired this dish with La Crema's Monterey Chardonnay, where its bright and buttery citrus notes thread together quite well with this recipe's Mediterranean flavors. The wine features some punchy tropical papaya and pineapple on the palate, ending with a soft pleasant oak notes. So whether you're looking for an exciting dinner for two or for an enticing side dish at Thanksgiving dinner, this recipe for cauliflower steaks should certainly deliver.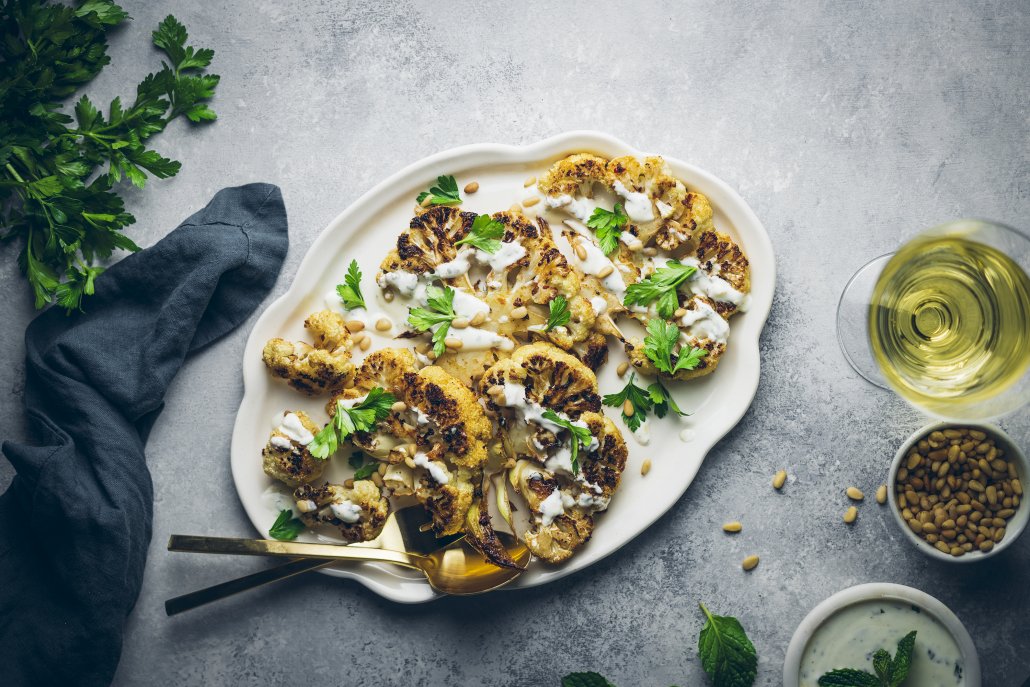 Roasted Cauliflower Steaks
Author: Kristan Raines
Recipe type: Appetizer/Main
Cook time:
Total time:
Serves: 2-4 Servings
Ingredients
Cauliflower Steaks
1 large head of cauliflower, rinsed and dried
3 tbs olive oil
1 1/2 garlic cloves, minced
½ tsp kosher salt
1 ¼ tsp cumin
1 tsp coriander
1/4 tsp chili flakes
2 1/2 tsp lemon juice
Few cracks fresh pepper
Toasted pine nuts, for garnish
Freshly chopped parsley, for garnish
Mint-Yogurt Sauce
1/2 cup Greek yogurt
1 heaping tsp freshly chopped mint
1 tsp lemon juice
2 tsp olive oil
1 tbs water
1/2 a lemon, zested
1 garlic clove, minced
Salt and pepper, to taste
Instructions
Heat oven to 425°F and line a baking sheet with a piece of parchment paper.
In a small bowl whisk together the olive oil, garlic, salt, cumin, coriander, chili flakes, lemon juice, and pepper.
Prepare the cauliflower by removing its leaves, and by cutting its stem to create a flat base. Cut the cauliflower from top to bottom into about 4,  3/4 to 1 inch thick steaks.
Brush both sides of the steaks with the cumin-oil mixture and place on the prepared baking sheet. Don't worry if some of the steaks fall apart, simply keep them together the best you can. Roast the cauliflower and any pieces that may have broken for about 20 minutes, then carefully flip, and cook until golden and slightly charred, 15-20 min.
While the cauliflower is roasting, make the mint-yogurt sauce. In a small bowl, mix the yogurt, mint, lemon, juice, olive oil, water, lemon zest, and garlic together until combined. Season with salt and pepper to taste, and set aside. *If a thinner sauce is preferred simply whisk in a little extra water.
Once the cauliflower is ready, remove from oven and enjoy it right away as either a side dish for four or as a main for two. Before serving, garnish the cauliflower with some of the mint yogurt sauce, fresh parsley, and toasted pine nuts.