Chardonnay Churros with Mexican Chocolate Ganache
Lighter, fresher and more-flavor-packed than the ones you find at food stands, you've gotta try making these cinnamon-sugar tubes of awesome at home.
Churros are one of my all time favorite treats. The are slightly salty, sweet, crunchy and intensely delicious. I never tried making churros at home because it seemed difficult, but these delicious treats are actually quite easy to prepare, and perfect for an elevated dinner date to celebrate Cinco de Mayo, or any time you crave some South-of-the-Border sweetness.
I'm putting a twist on these traditional Mexican classics to add La Crema Chardonnay directly to the dough. Adding Chardonnay in the dough makes it a bit more developed and nuanced and a touch sweeter. It gives the churros an unbelievably addictive flavor!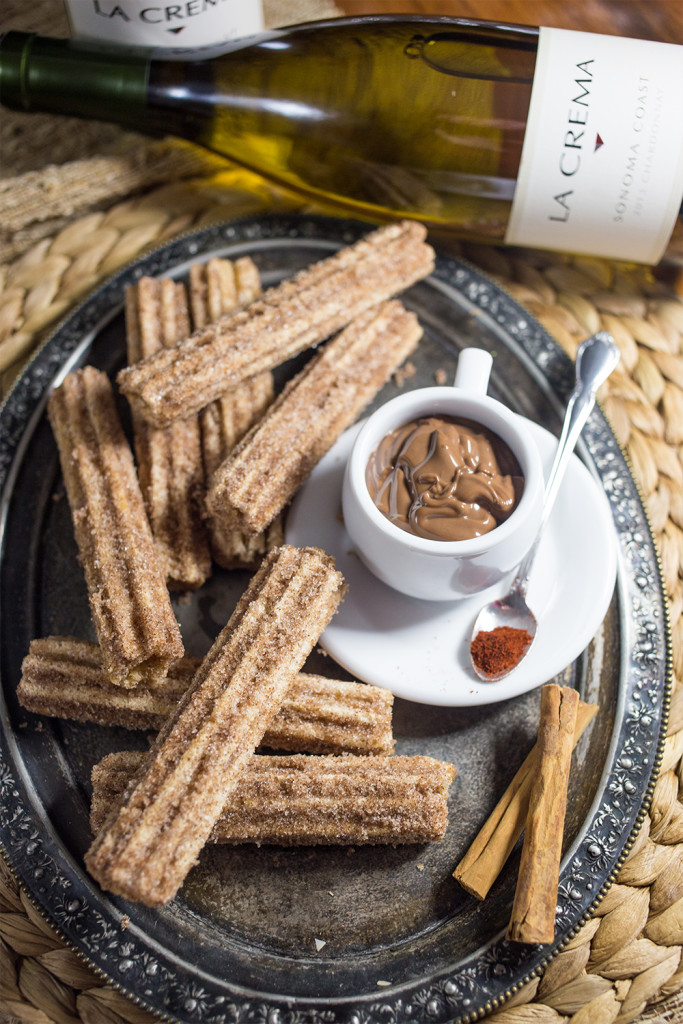 Churro Making Tips:
This recipe needs to be piped into hot oil. Be sure to tie back all hair and wear loose clothing that might come in contact.
I highly recommend using a piping bag with a star piping tip. But in a pinch you can try parchment paper shaped into a cone shape and hand-position the piping tip.
Chardonnay Churros
Author: Courtney O'Dell
Recipe type: Dessert
Cuisine: Mexican
Prep time:
Cook time:
Total time:
Serves: 24 churros
Ingredients
1 cup La Crema Chardonnay
1 tablespoon butter
1/2 teaspoon salt
1 1/4 cup all-purpose flour
2 eggs
1/2 cup sugar
1 1/2 teaspoons cinnamon
Canola oil for frying
Instructions
In a medium saucepan over medium heat, combine the water, salt, and butter and bring to a boil.
Using a wooden spoon, stir the flour into the water-butter mixture to make a dough.
Cook the dough until it pulls away from the sides of the pan and forms a ball, making sure that you stir it constantly.
Remove dough and add it to a stand mixture with a paddle attachment, and beat on medium speed to let the steam wear off- about 5 minutes.
Increase speed to high and add eggs, letting them stiffen after each addition.
Turn off the mixer and set aside the dough.
In a separate bowl, combine the sugar and cinnamon and set aside.
Add about 2″ of oil to a tall, heavy pan and heat to 350 degrees. It is really helpful to let the oil sit and adjust it so it doesn't overheat- give it a minute or two at temperature.
Add dough into a piping bag, a cone formed out of parchment paper, or a ziploc bag and fit it with a star tip and coupler. (If you don't have a star tip, don't worry. You can make these by piping them out plain- they won't have the ridges, but they will still be pretty good.)
Fry for about 5 minutes, until the churros are a golden brown.
Remove from heat and immediately roll in sugar and cinnamon mixture to coat.
Let cool slightly on cooling rack, and enjoy!
For a delicious, spicy and luxurious chocolate dipping sauce, please see this recipe for a Mexican Chocolate Ganache that is heavenly with churros and a glass of wine!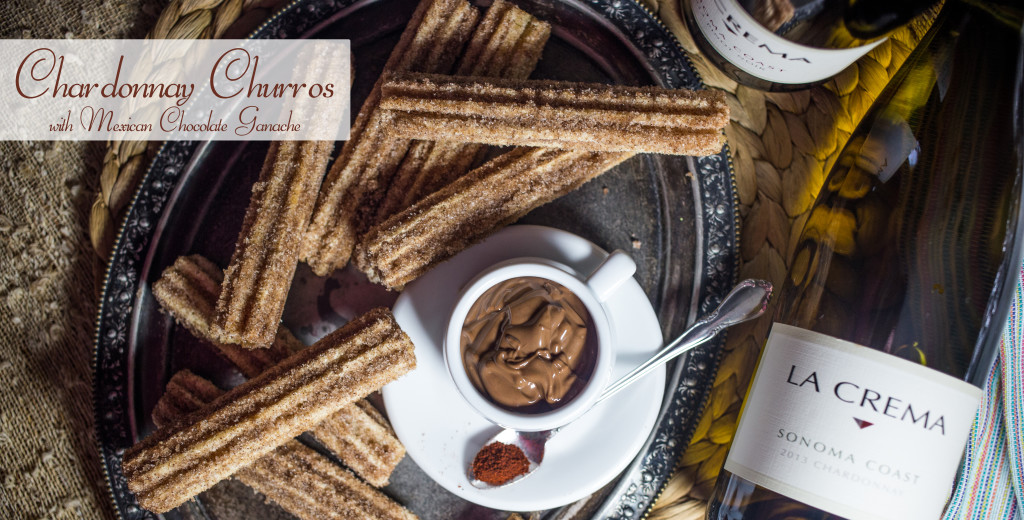 Share This on Pinterest!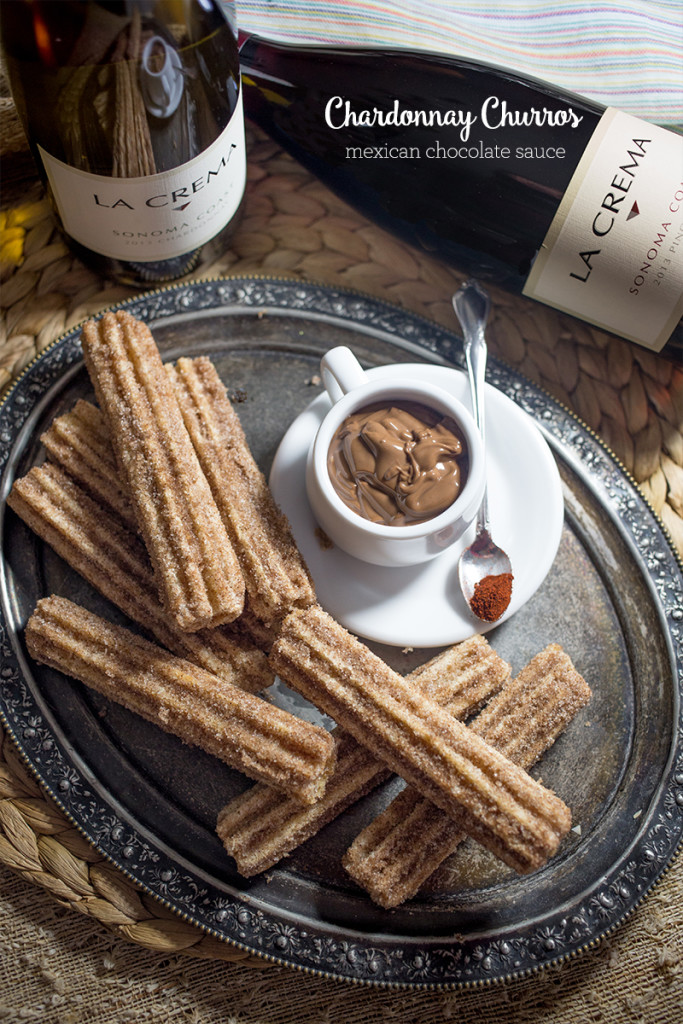 Cinco de Mayo Dinner Ideas
Southern California Shrimp Tacos. This decidedly California creation is one of our favorite ways to do Taco Tuesday, or Taco Wednesday, or any other day of the week you need to get your seafood or Mexican food fix.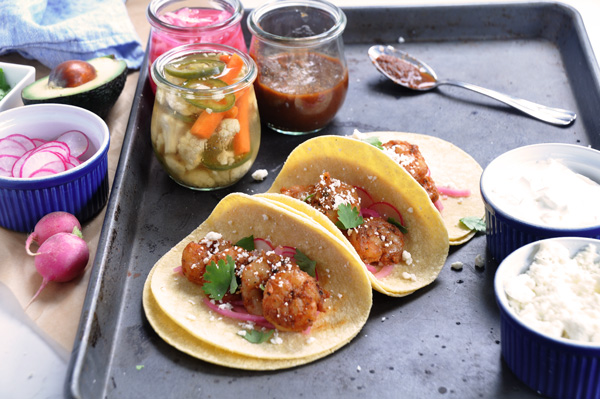 Or, I am on the Sweet C's Designs blog sharing this vegan stuffed pepper recipe that is spicy, filling, and so delicious!