Chipotle Butternut Squash Crepes
Crepes are one of my staple recipes I use weekly. I make up a big batch of 8″ crepes and stash them in the freezer to use in savory dinners, sweet desserts, and peanut butter roll-ups for my family. Crepes work for every meal. I switch up the types of flour I use depending on what I might have on hand. I've yet to go wrong with using different flours. They are ever adaptable and can be filled with just about every type of vegetable and/or legume. These butternut squash crepes are the perfect example.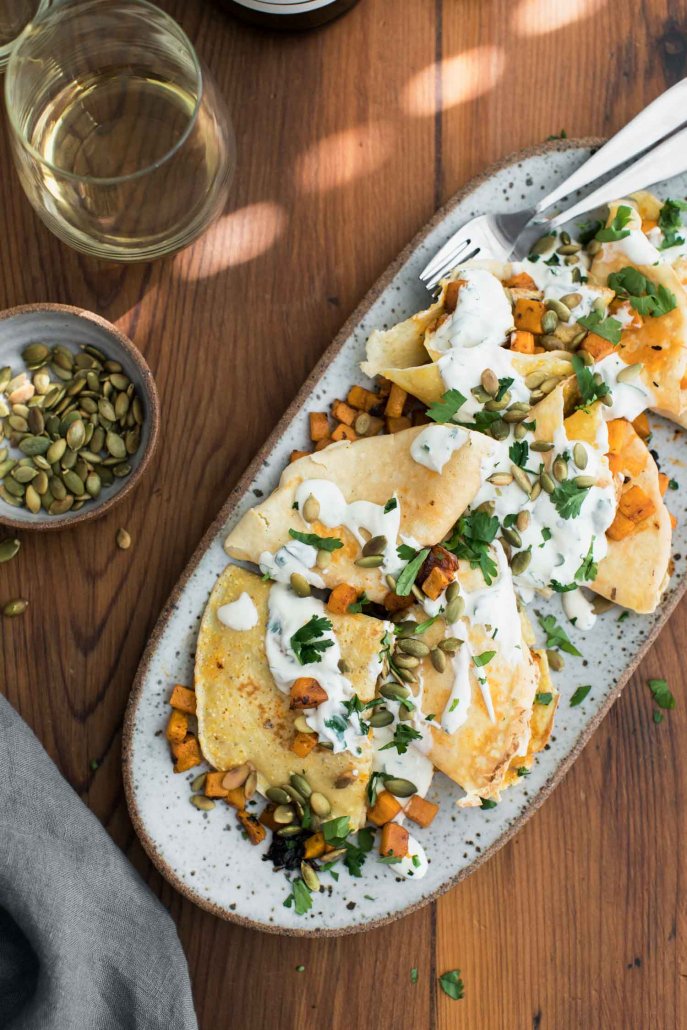 Butternut squash crepes are a major tell of my cold-weather comfort food. Sure, I'll eat heavy pasta dishes and my fair-share of soups, but when I really need a comforting meal, I turn to spice. Open my refrigerator and you will find numerous chili pastes and almost always a small jar of chipotles in adobo sauce. If you're unsure of the heat-level, start small and add more as desired. It's better to not have as much heat as you might like!
The flavor of the chipotles is a wonderful companion for the sweetness of the butternut squash and the the tanginess from the cilantro crema. Best of all, it's the perfect pair for La Crema's Monterey Chardonnay. Pairing with the Chardonnay is one of the reasons I leave the lime juice as a side and not a must-have. The citrusy notes of the wine tie together all the flavor of these crepes, so the lime isn't 100% necessary, but still a nice addition.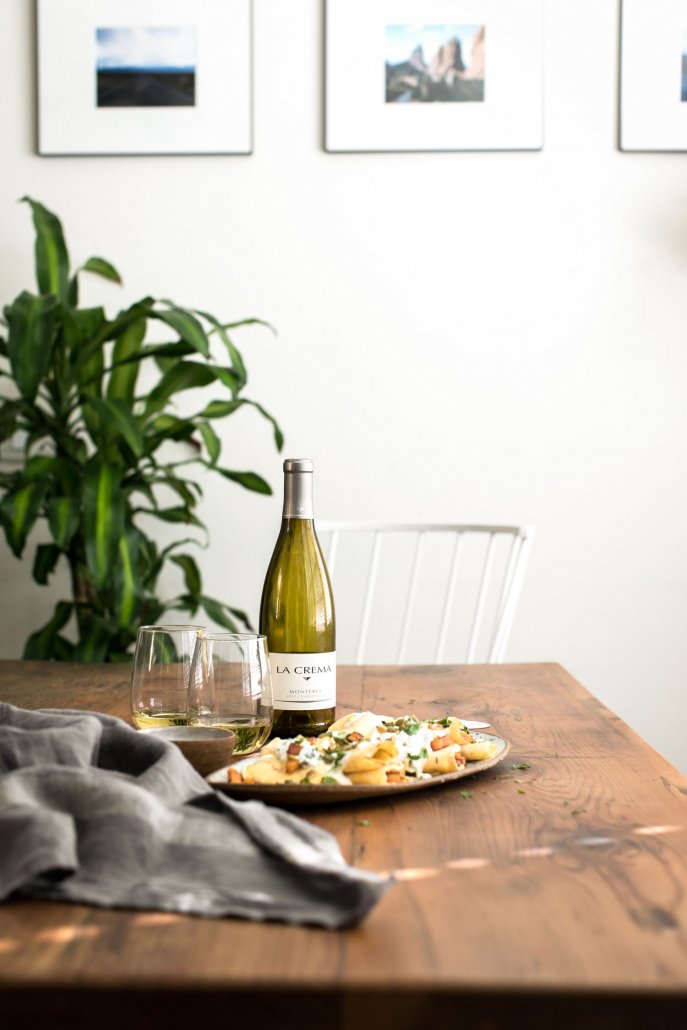 One note about the Mexican crema: if you can find it at your grocery store, use it in place of the sour cream/heavy cream mixture. The sour cream mixture is a solid substitute, but it doesn't quite match the balance in the crema. Look for crema near the sour cream–most grocery stores carry one or two brands.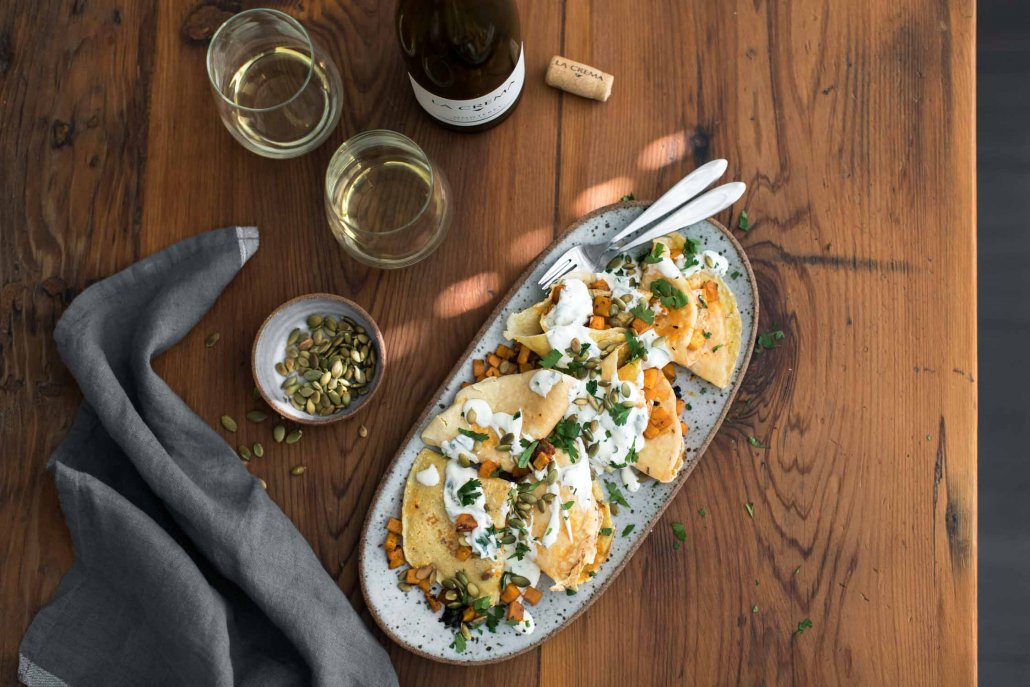 Chipotle Butternut Squash Crepes with Cilantro Crema
Author: Erin Alderson
Recipe type: Main Course
Prep time:
Cook time:
Total time:
Serves: 4 servings
Ingredients
Butternut Squash
2 cups ¼" cubed butternut squash
½ chipotle pepper, crushed
2 tablespoons adobo sauce
1 clove garlic, minced
1 tablespoon olive oil
½ teaspoon ground cumin
¼ teaspoon sea salt
Crepes
1/4 cup fine-ground cornmeal
1/4 cup white wheat flour
1/4 teaspoon sea salt
2 large eggs
1/2 cup whole milk
1 tablespoon melted butter
Topping
1/3 cup sour cream
1/3 cup heavy cream or half/half
3 tablespoons minced cilantro
Pinch of Salt
Toasted Pepitas
Lime wedges, for serving
Instructions
Preheat oven to 425˚F. Place the cubed butternut squash in a roasting pan and toss with the crushed chipotle pepper, adobo sauce, garlic, olive oil, cumin, and salt. Squash should be well coated. Roast until tender, 30 to 40 minutes.
While the squash is roasting, make the crepes. In a medium bowl, whisk together ingredients for the crepes. Heat 8″ skillet and lightly grease with oil. Place a scant ¼ cup of batter in pan. Tilt the pan so that the batter covers the entire pan and cook for about 60 seconds or so, until golden. Flip and cook for another 30 seconds. Layer done crepes, slightly overlapping, on a plate.
Assemble the crema by whisking together the sour cream, heavy cream, cilantro, and salt. When the squash is done. Take a crepe and fold in half then half again. Stuff the butternut squash inside each crepe and place on a plate, repeating for each crepe. Drizzle with the cilantro crema and top with toasted pepitas. Serve with lime wedges.