Chocolate Cake with Homemade Marshmallow Ghosts
October is one of my favorite months. Not just because the weather has turned cooler and the leaves are changing, but because I love Halloween (love). I will take any excuse to get dressed up, act silly and of course have a party. Since no party is complete without dessert in my opinion, this chocolate cake with homemade marshmallow ghosts is guaranteed to make even the scariest of ghouls that show up to your Halloween party scream with delight.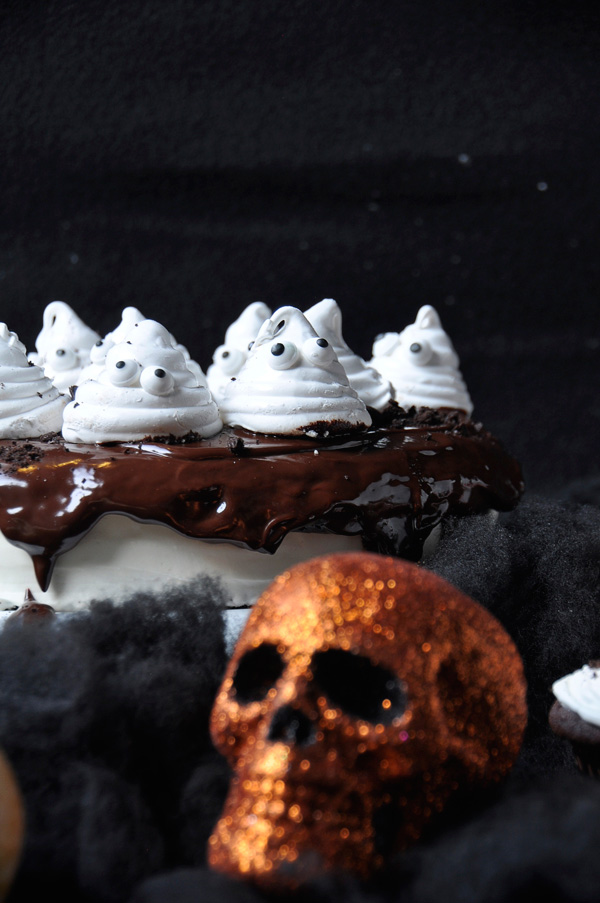 This cake would make a great centerpiece to a dessert bar:  Cream cheese frosting,  poured chocolate ganache, and finally topped with marshmallow ghosts. It is a total crowd pleaser. Aside from its deliciousness, it is also not too scary for young kids and I promise no adult can pass up a ghost marshmallow. Plus this cake would be delicious paired with a glass of La Crema Pinot Noir.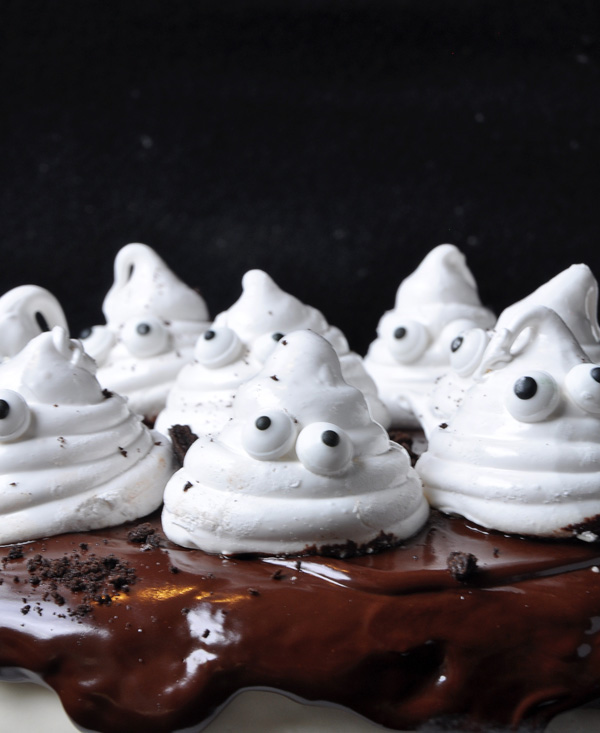 Any chocolate cake recipe will work for this cake, I used one that was inspired by an Ina Garten fail-safe recipe, but you can use which ever one you want, as long as it makes two 8″- 9″ cake rounds.
Also, these ghost marshmallows are delicious but be sure to work quickly when piping them out because marshmallow sets up quickly. It also has to be the world's stickiest food so be careful not to get it everywhere (like I did).
However, the end result it worth it. If you don't want to pipe out marshmallows, these Marshmallow Ghost Peeps would be a suitable alternative. Just stick a toothpick in the bottom and press onto the cake.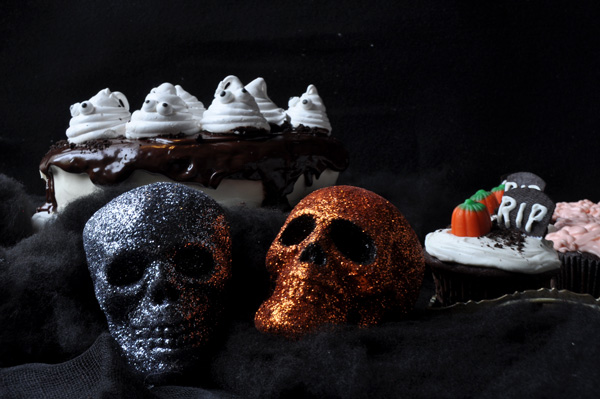 So as you are starting to think about your Halloween costume, make sure you start to think about a Halloween party as well.  Because we only get one night a year to dress up and eat sweets all night long.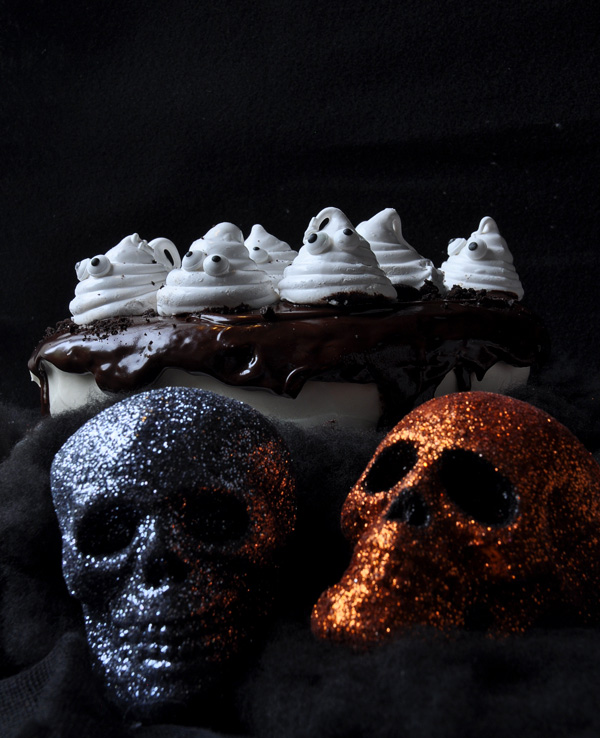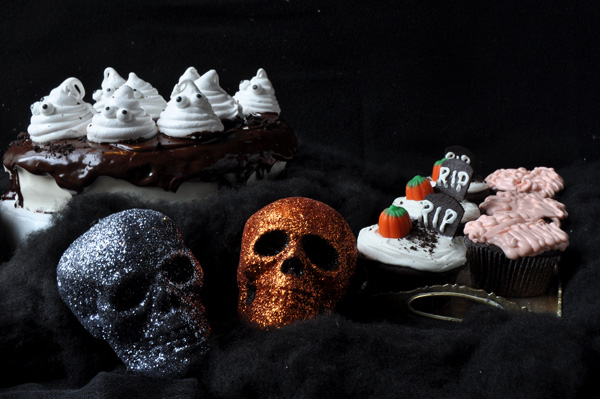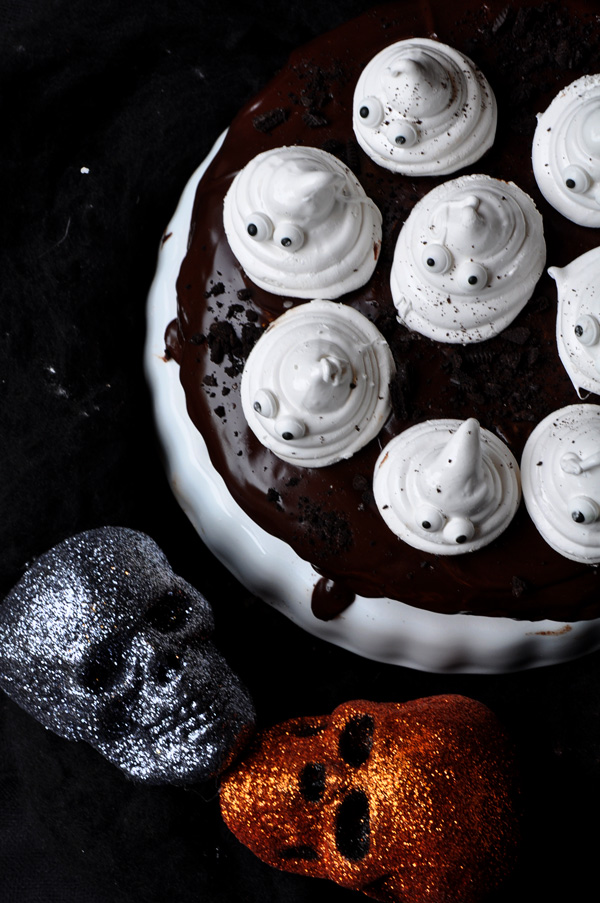 Happy Halloween!
Chocolate Cake with Marshmallow Ghosts
Serves: 8-10
Ingredients
1 3/4 cups cake flour, plus more for pans
1 1/2 cups sugar
3/4 cup cocoa powder
2 tsp baking soda
1 tsp. baking powder
1 tsp. salt salt
1 cup buttermilk, shaken
1/2 cup vegetable oil
2 extra-large eggs, at room temperature
1 1/2 tsp. pure vanilla extract
1 cup freshly brewed hot coffee
8 oz cream cheese, at room temperature
1 stick butter, at room temperature
2 cups powdered sugar
1 tsp. vanilla extract
pinch of salt
8 oz chocolate, preferably semi-sweet but any type is fine
1 cup heavy cream
3 1/2 tsp. unflavored gelatin (from 2 gelatin packets)
3/4 cups granulated sugar
1/2 cup light corn syrup
pinch of salt
1/2 tablespoon pure vanilla extract
Powdered' sugar for dusting
Crushed Oreos
Instructions
To make the cake
Preheat the oven to 350 degrees F. Butter two 8 or 9 inch round cake pans and line with parchment paper.
Sift the flour, sugar, cocoa, baking soda, baking powder, and salt into the bowl of an electric mixer fitted with a paddle attachment and mix on low speed until combined. In another bowl, combine the buttermilk, oil, eggs, and vanilla. With the mixer on low speed, slowly add the wet ingredients to the dry. With mixer still on low, add the coffee and stir to combine. Pour the batter into the prepared pans and bake for 35 to 40 minutes, or until a cake tester comes out clean. Set aside to cool.
While the cake is baking, make the marshmallow ghosts: combine the gelatin and 1/4 cup of cold water in the bowl of an electric mixer fitted with the whisk attachment and allow to sit while you make the syrup.
Combine the sugar, corn syrup, salt, and 1/4 cup water in a small saucepan and cook over medium heat until the sugar dissolves. Raise the heat to high and cook until the syrup reaches 240 degrees on a candy thermometer. Remove from the heat.
With the mixer on low speed, slowly pour the sugar syrup into the dissolved gelatin. Put the mixer on high speed and whip until the mixture is very thick, about 5-7 minutes. Add the vanilla and mix thoroughly.
Put marshmallow mixture into a pipping bag with fitted with a 1/2″ tip. Quickly pipe ghost shapes onto a parchment lined baking sheet that has been dusted with powdered sugar. Let marshmallows dry, about 2 hours. After 1 hour, stick eyes or any decorations onto the marshmallows.
Make the cream cheese frosting
In the bowl of a stand mixer, combining the cream cheese, butter, sugar and salt on high until mixture is light and fluffy. Add vanilla extract. Refrigerate until ready to use.
Make the ganache
In a double boiler, heat the chocolate and cream and gently stir until chocolate is melted and ganache is shiny and smooth.
Assemble the cake by placing one cake round on a cake stand. Cover top with cream cheese frosting then gently top with remaining cake round. Frost the entire cake with remaining cream cheese frosting. Gently pour ganache over top of cake then top with marshmallow ghosts. Optional – sprinkle with crushed oreos.