Crumbled Halloumi Salad with Chorizo & Sumac Oregano Dressing
Is it me or did spring just totally show up without notice? It seems like it! Over here in Vancouver, Canada it was like winter, winter…BAM! Flowers everywhere, sunshine and the works. Regardless of how it showed up, I'm pretty happy we can now transition to fresh food with lots of beautiful greens and delicious salads like this Crumbled Halloumi Salad with Chorizo & Sumac Oregano Dressing.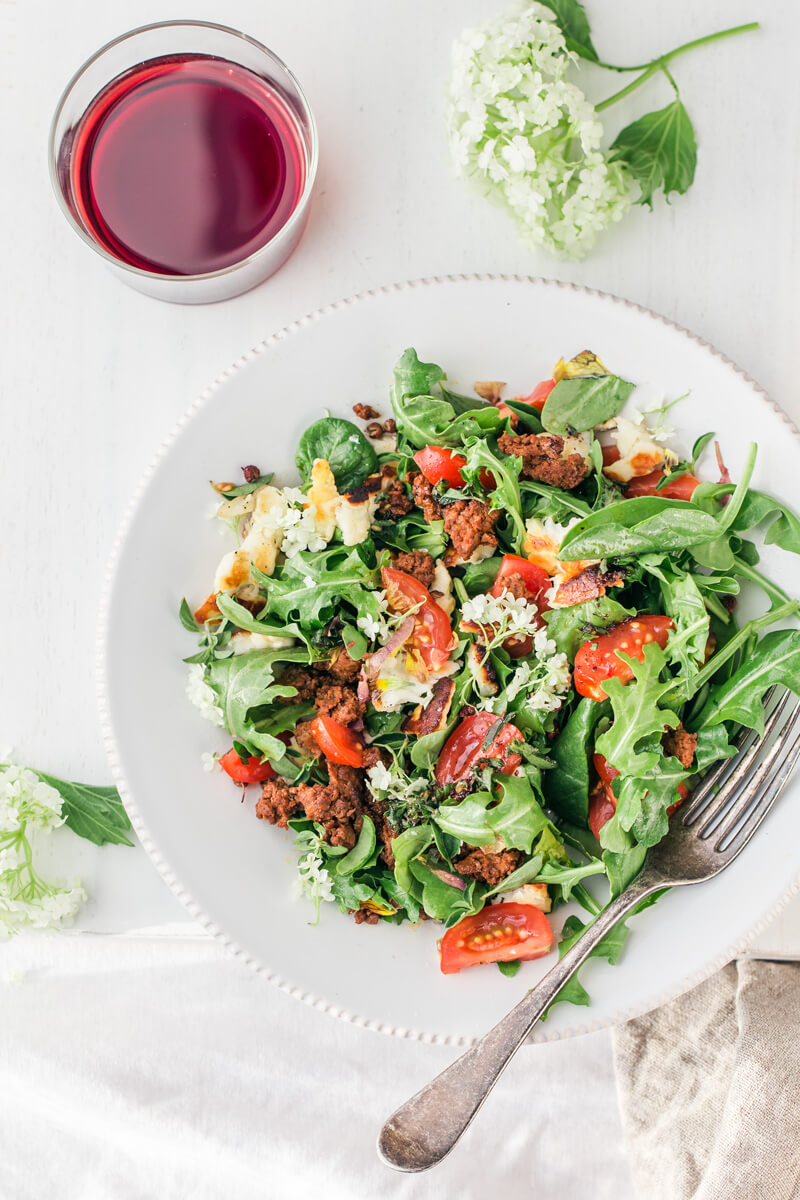 Now, since spring weather can be pretty moody, I didn't go full-on-spring with this salad and left a few "cozy" elements in it, such as warm crumbled halloumi cheese and some chorizo. The spring/summer touch comes via the sumac and oregano dressing which makes everything taste super fresh and herby. All the flavor notes go incredibly well with the Willamette Valley Pinot Noir which has a nice spicy finish that gets along really well with all the other elements in this dish.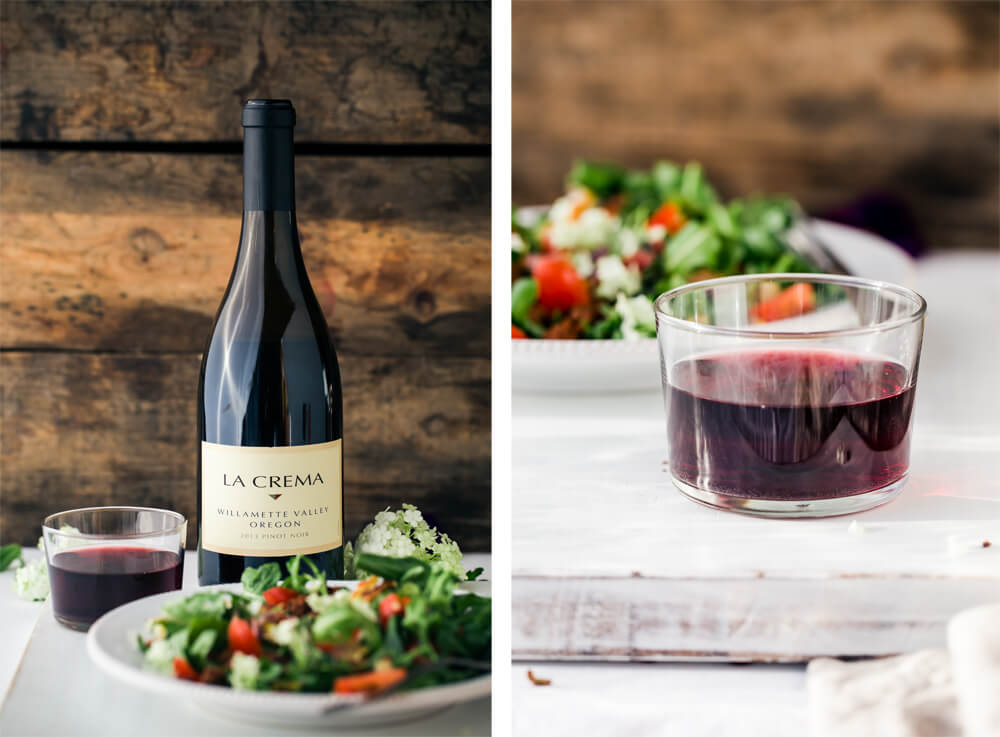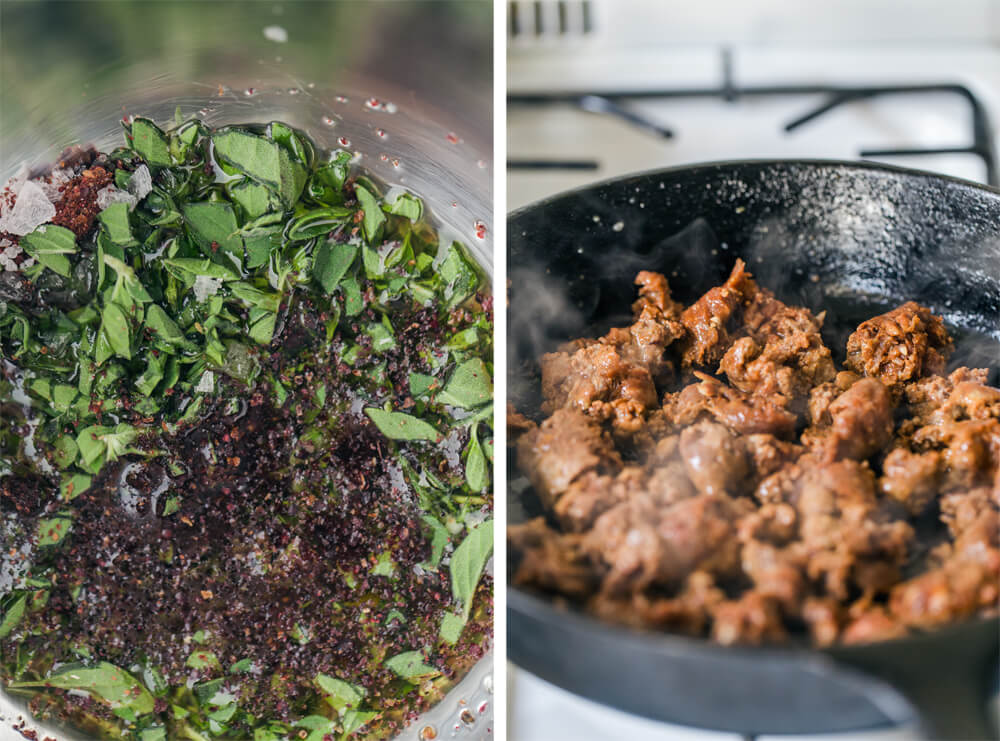 You can swap the greens for any greens of your liking, or whatever is already available at the farmer's market. Make sure you don't skip on the halloumi and chorizo though, they totally make this salad!
Ok, let's go make a big batch!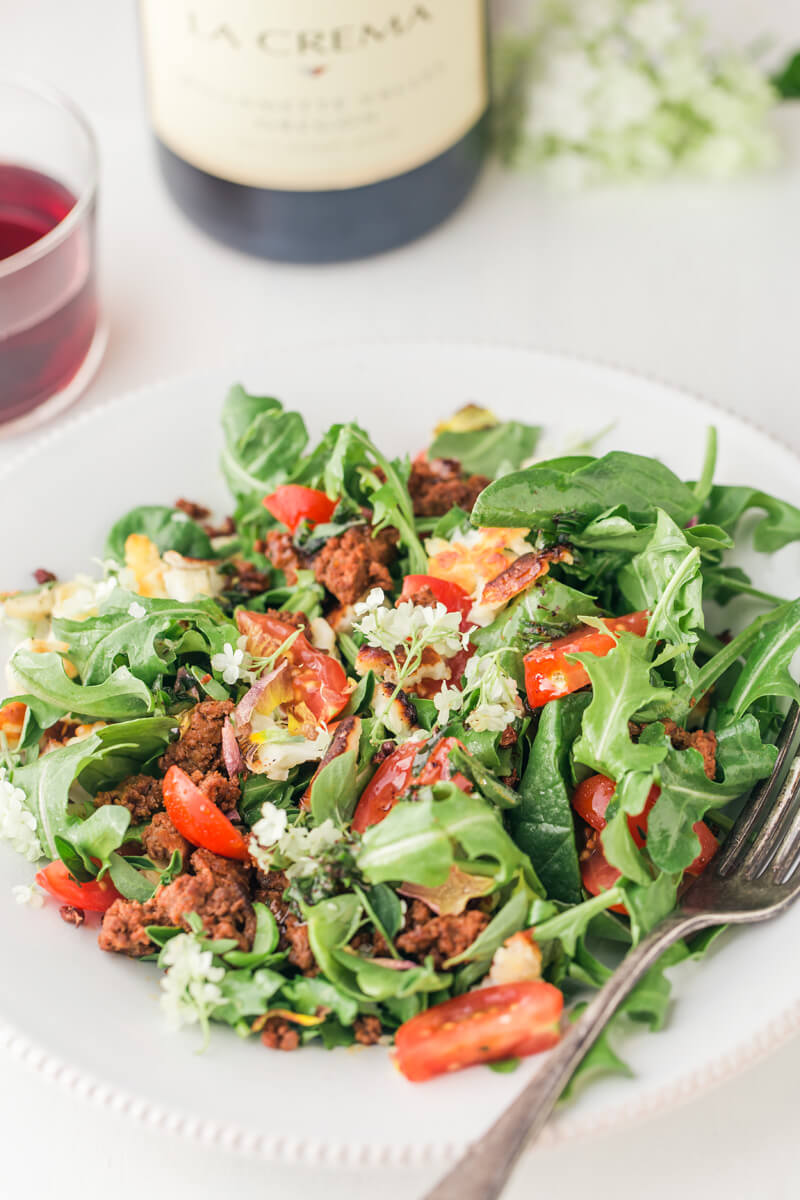 Crumbled Halloumi Salad with Chorizo & Sumac Oregano Dressing
Author: Gabriel Cabrera
Serves: 1 to 4
Ingredients
Greens of your choice (I used baby arugula)
1 cup cherry tomatoes, cut in half
2 spicy chorizo sausages (you can use beef or chicken)
1 small pack halloumi cheese (which is about 300g)
1/4 cup olive oil
2 tablespoons apple cider vinegar
2 tablespoons lemon juice
1 tablespoon fresh oregano, chopped
1 teaspoon sumac
salt and pepper to taste
Optional: edible flowers to garnish
Instructions
Remove the casing from the chorizo sausage (I used fresh chorizo sausage, not the dry kind). Cook on a pan with a bit of oil and break it down with a spatula to make it into crumbles. I always like to overcook my chorizo a bit so that it's crispy. Remove from heat and set aside.
Now fry the halloumi: cut the cheese in slices (about 1/4 inch thick), place them in a pan with some olive oil and fry over medium heat until golden brown and crispy. Remove from the pan and let the cheese cool down a bit, then using your fingers, crumble it up (break it apart).
Make the dressing: in a blender or food processor combine the olive oil, apple cider vinegar, lemon juice, oregano, sumac, salt and pepper. Pulse a few times and taste for seasoning.
To assemble: place a couple big handfuls of greens on a plate, add tomatoes, crumbled chorizo and halloumi, and drizzle generously with the sumac oregano dressing.
You can also serve this salad with a few slices of rustic bread (such as country sourdough bread) and some butter. Yum! Hope you enjoy this simple but super tasty early-spring dish.
Until next time!