All-Natural Gifts: Super Easy DIY Coffee Mint Body Scrub
Your beauty regime (and your best friend's) is about to go up a notch. A super all-natural notch, actually, with this DIY Coffee Mint Body Scrub.
Winter may be praised for being sweater weather and for the wonderful holiday parties, but it takes its toll on our skin, leaving it quite rough at times. A.K.A. cardboard face.I've tried several scrubs and most of them have way too much artificial crap, and I end up tossing them after one use. Time and time again I go back to all natural, and you should too!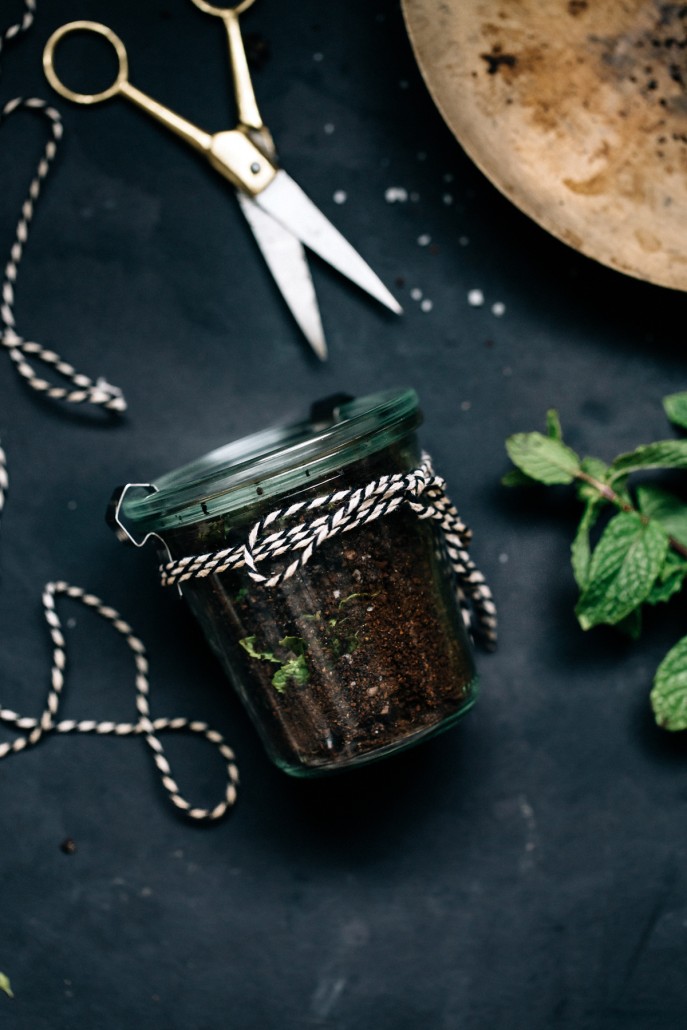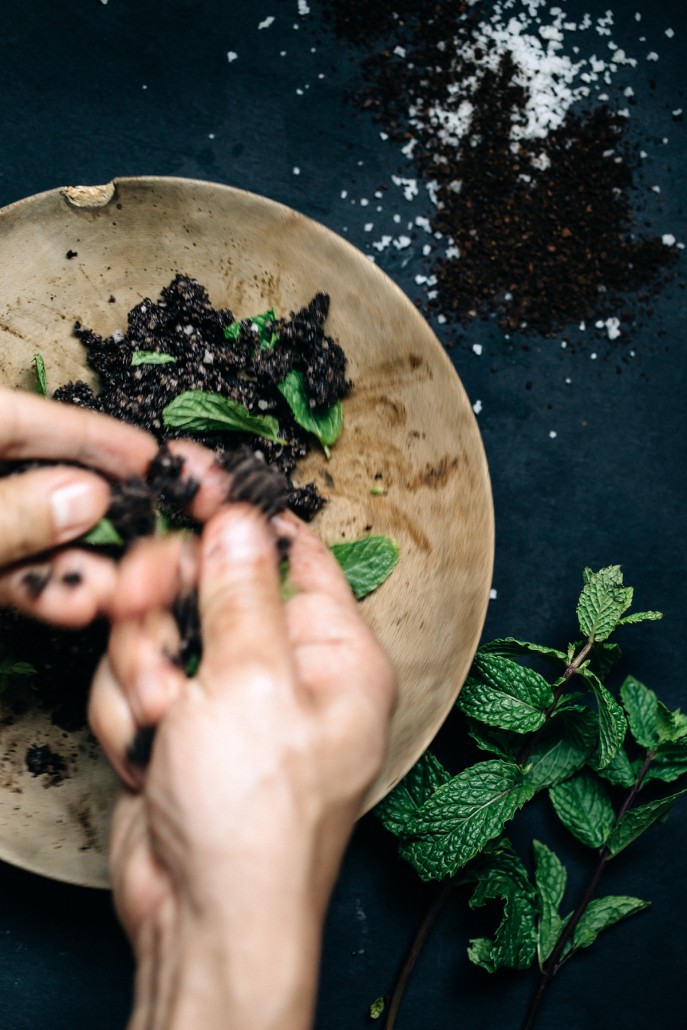 This easy-to-make DIY Coffee Mint Body Scrub is exactly what your skin needs to glow during Christmas dinner AND it's also a great option to include as a stocking stuffer. This item is perishable, so your friends will need to use it soon after they received it, but that's a good thing! It's basically a guarantee that they will make time to pamper themselves – and hey maybe you can book some pampering time together, with some wine?
I love the look of this scrub because it reminds me of fresh dirt, ha! I know, kinda weird, but kinda awesome and definitely healthy looking. The coarse coffee grounds in this scrub are a powerful exfoliant that, along with the sea salt or sugar, will get rid of dull skin patches, the mint and coconut oil will both nourish and cool your tired skin. And if you end up tasting a bit of it, no biggie! It's all-natural (it might not taste so pleasing to the palate, but hey, no harm in there).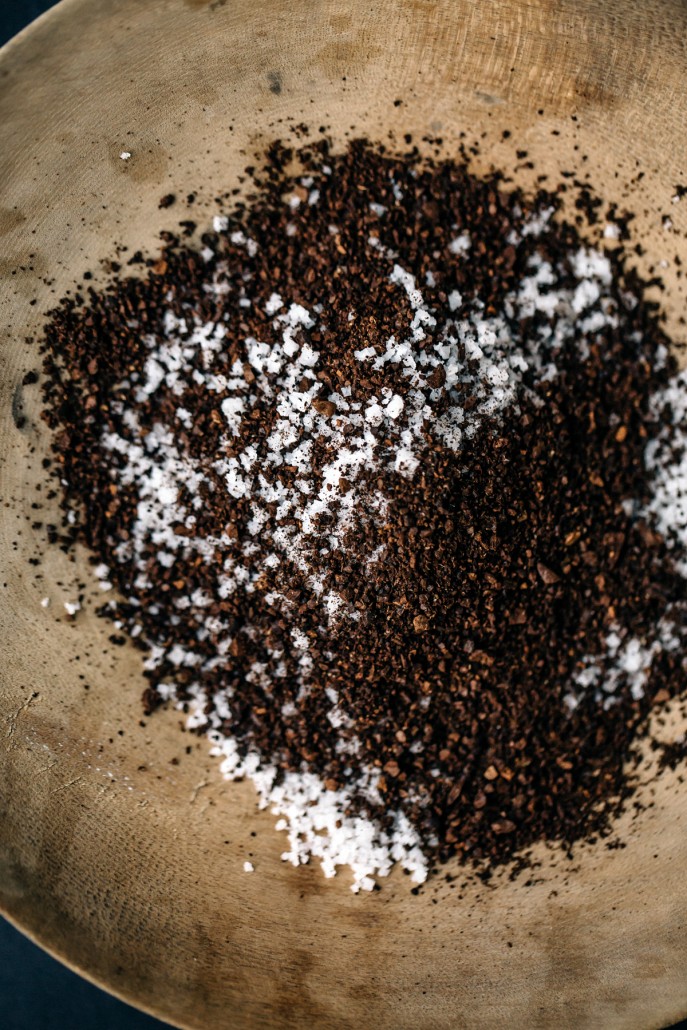 Get the recipe in here:
All-Natural Gifts: Super Easy DIY Coffee Mint Body Scrub
Ingredients
1 cup coffee grounds, coarse (you can use regular coffee or caffeine free)
1/3 cup coarse sea salt or fine sugar (sea salt for a foot/body scrub, fine sugar for a face scrub)
1/4 cup fresh mint leaves
1/3 cup coconut oil, melted
1 lemon, juiced (optional. Use if you want the scrub to be extra astringent)
Instructions
Place all ingredients in a bowl and mix until combines. Rub the leaves with the coffee grounds using your hands to release those nice smelling minty oils. Make sure the ingredients are coated in coconut oil, if needed add a touch extra oil. Leave ingredients at room temperature for a couple minutes so coconut oil solidifies a bit (easier to scoop and pack).
Place scrub in a jar with a lid. Seal, and wrap.
3.2.2708
If you make the scrub in advance, keep it in the fridge until you are ready to give it to your friends. It will keep for about a week.
Need more ideas for all-natural gifts? Here are some extras:
Aloe vera tonic: use mineral water, fresh aloe vera (puree it and mix it), lemon juice, and a splash of avocado oil. Place in a spray bottle (shake before each use).
Honey cocoa mask: blend some oatmeal, mix it with a generous amount of honey and about 1 tablespoon of all-natural cocoa (don't use hot chocolate mix! You don't want people to lick your face). Mix well and apply directly on face.
Rosemary mint bath salts: you will need some epson salts, a handful of himalayan salt, lots of fresh mint and rosemary sprigs. Mix all ingredients making sure to smash the mint and rosemary. Let it sit for at least a couple hours to infuse the salts, remove the sprigs and any mushy leaves and use in your bathtub with hot water.
Disclaimer: as with any other beauty products, you should test these recipes on your skin before using them. Everyone's different and some people have sensitive skin – be gentle and make sure it works for you.
Cheers to a good looking season!
Looking for other DIY-in-a-jar tips? Check out our instructions for assembling Edible Gifts! A fun, tasty and unique gift that's great for those head-scratching, tricky to gift, friends.