DIY Recipe Kit for Valentine's Day
Valentine's Day is one of my favorite holidays to celebrate. And one of my favorite gift ideas to give is something DIY (do-it-yourself), even better, a DIY recipe kit.
Whether you are in a relationship or single, I am a firm believer there is always a reason to celebrate on Valentine's Day. Everyone feels love for at least someone in their lives, and what perfect day to celebrate that! I always find the gifts around Valentine's Day so charming and fun. Little heart cards and candies, boxes of chocolate and lots of pink and red — the gift ideas are endless!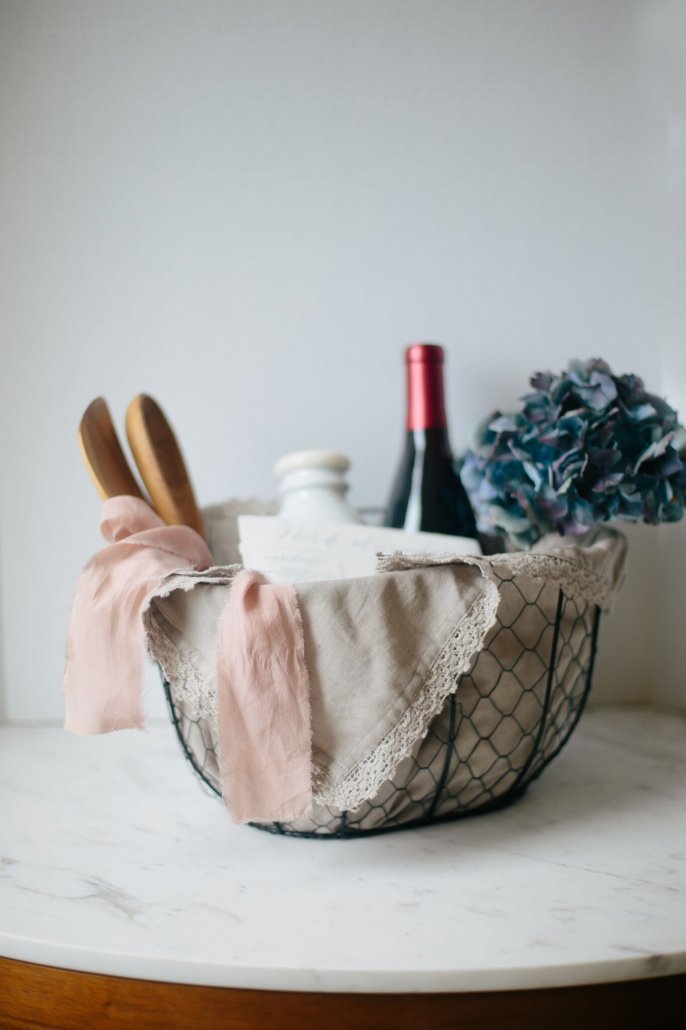 Today, I'm sharing a super cute and fun Valentine's Day activity: a DIY recipe kit for Fleur De Sel Caramels. Simple to put together and oh so delicious. My wedding planners of Greenwood Events, gave us these homemade Fleur De Sel Caramels for Christmas along with the recipe card in a basket filled with other goodies. It was such a wonderful gift and I kid you not, the caramels are the most incredible thing I have ever tasted! They didn't even last a day in our house.
The recipe is super simple to make too, so putting together the "kit"is fairly easy (though feel free to get creative!). I'm a firm believer that every DIY gift should come with a bottle of wine, my favorite option being La Crema's Sonoma Coast Pinot Noir. Whatever else you put in this DIY recipe kit are completely up to you! The thing to focus on is giving the recipient a few items to get them started with their recipe. You definitely do not have to get them all the ingredients, especially the items people most likely already have in their kitchen. Add in little Valentine touches such as flowers and beautiful tea towel to line the basket with. Lastly, don't forget the recipe card! I love this one that Jessica Lee Calligraphy made for this recipe.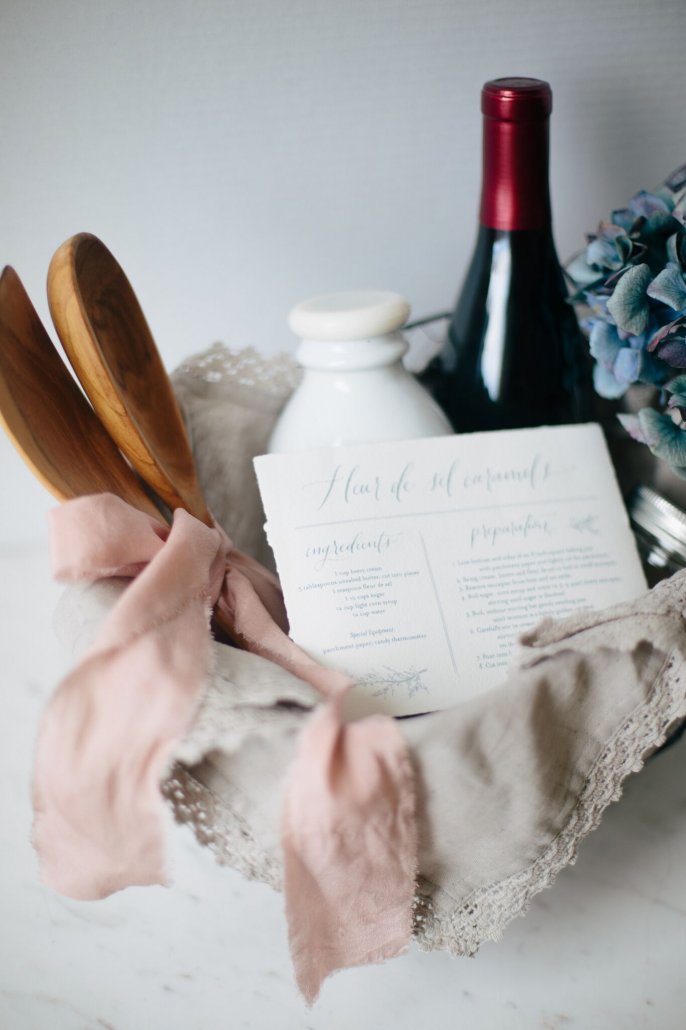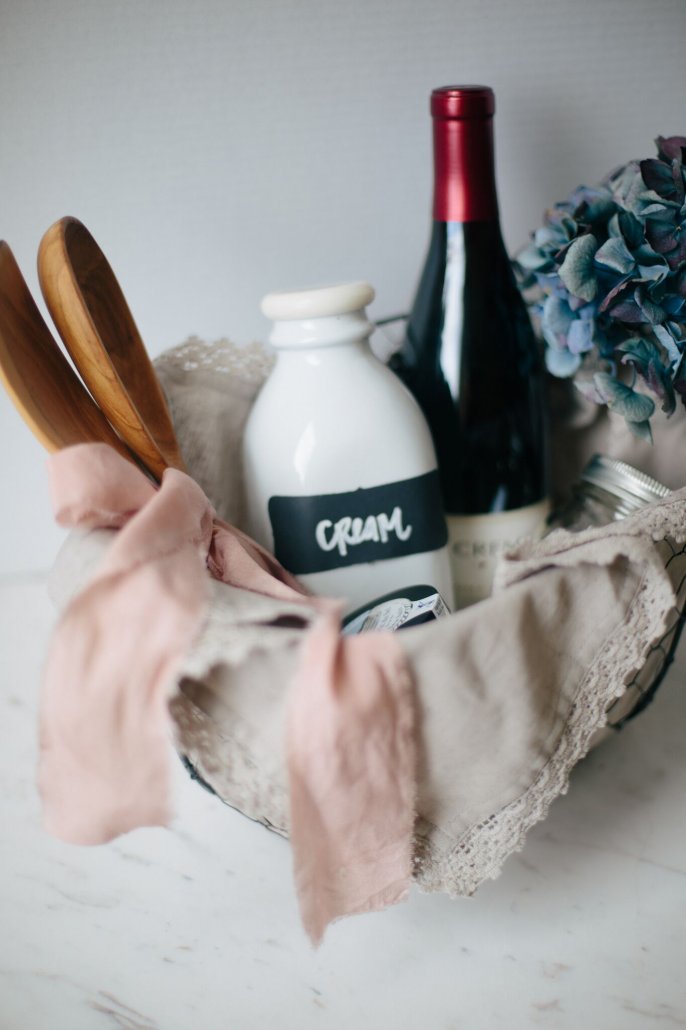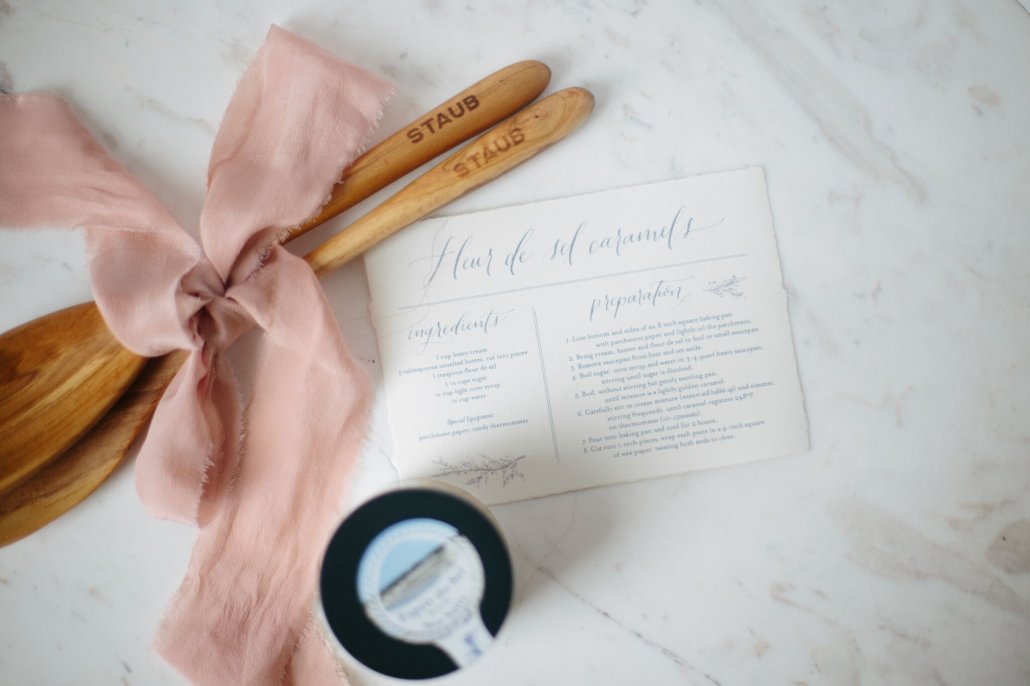 What You'll Need:
A basket
Tea Towel to put in the bottom of the basket
Milk bottle (filled with 1 cup heavy cream)
Mason jar (filled with 1 1/2 cup sugar)
Recipe card
Fleur de sel (I love this one!)
A bottle of La Crema Sonoma Coast Pinot Noir
Flowers
Additional: Cooking tools!
To assemble the DIY recipe kit, first put the tea towel down to cover the bottom of the basket. Arrange all the items into the basket to your liking. Make sure to put the recipe card on top for the recipient to see!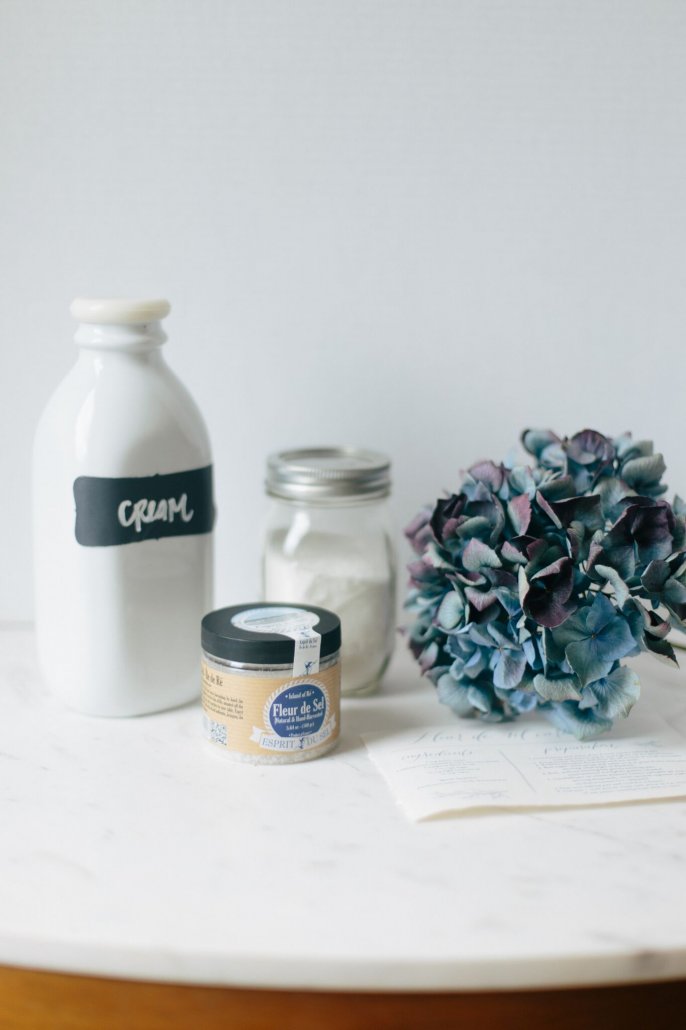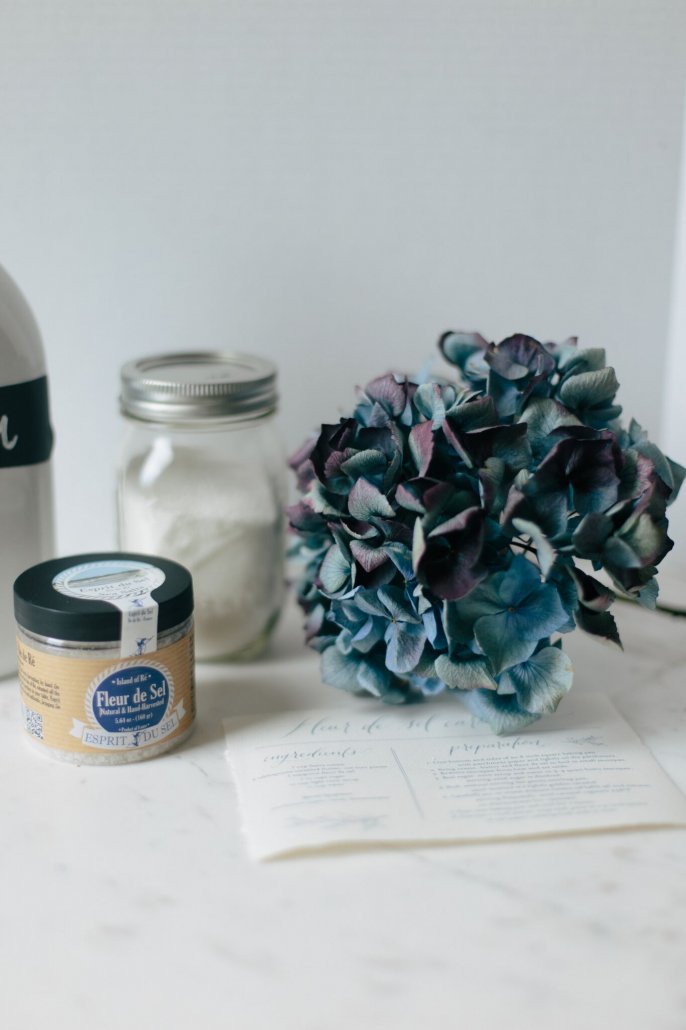 Fleur De Sel Caramels
Author: Epicurious
Recipe type: Dessert
Prep time:
Cook time:
Total time:
Serves: 40
Ingredients
1 cup heavy cream
5 tablespoons unsalted butter, cut into pieces
1 teaspoon fleur de sel*
1 1/2 cups sugar
1/4 cup light corn syrup
1/4 cup water
Special equipment: parchment paper; a deep-fat thermometer
Instructions
Line bottom and sides of an 8-inch square baking pan with parchment paper, then lightly oil parchment.
Bring cream, butter, and fleur de sel to a boil in a small saucepan, then remove from heat and set aside.
Boil sugar, corn syrup, and water in a 3- to 4-quart heavy saucepan, stirring until sugar is dissolved. Boil, without stirring but gently swirling pan, until mixture is a light golden caramel.
Carefully stir in cream mixture (mixture will bubble up) and simmer, stirring frequently, until caramel registers 248°F on thermometer, 10 to 15 minutes. Pour into baking pan and cool 2 hours. Cut into 1-inch pieces, then wrap each piece in a 4-inch square of wax paper, twisting 2 ends to close.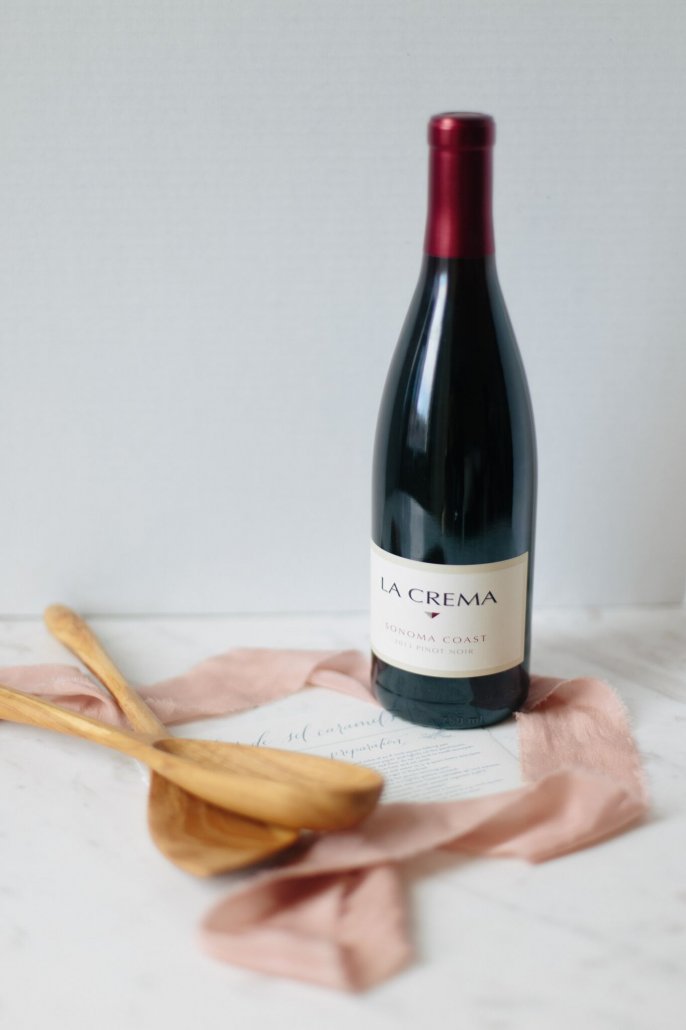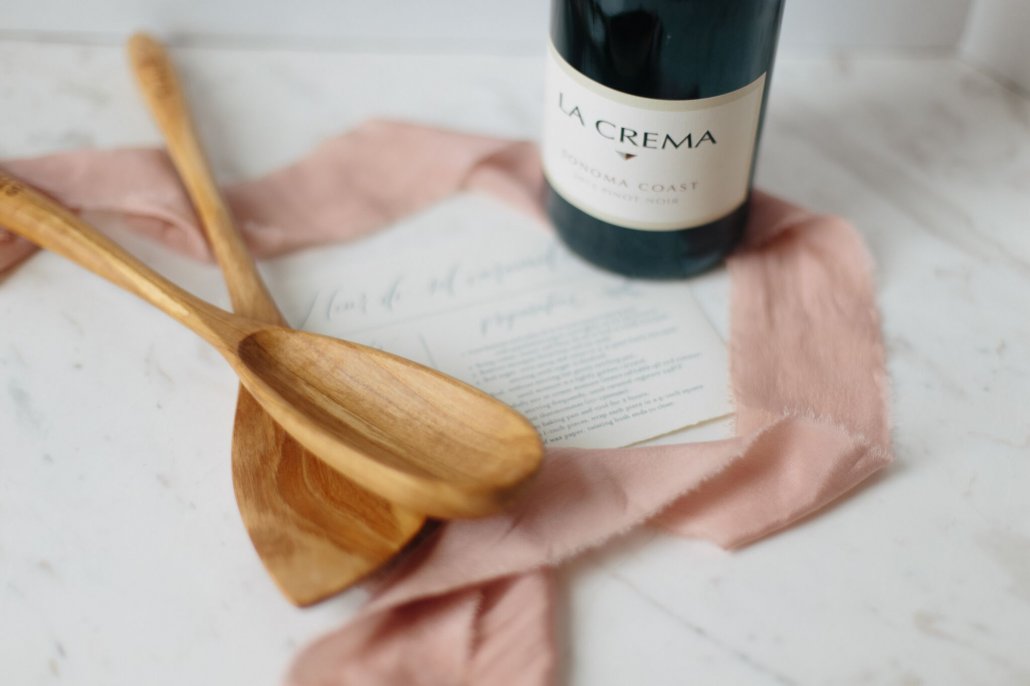 Recipe Card Calligraphy by Jessica Lee Calligraphy
Photos by Pure Lee Photography