Edible Gifts: Butternut Squash, Ginger, and Coconut Soup
You guys! The holiday season is in full swing, and there's no going back. If you – like me – stress out about gifts and whatnot, then you know the pain of going through your list and not having a clue where to start. To be honest, I don't like giving things just because, so I came up with a better idea for this year (instead of "here's..a…chocolate..bar?" kind of situation): edible gifts!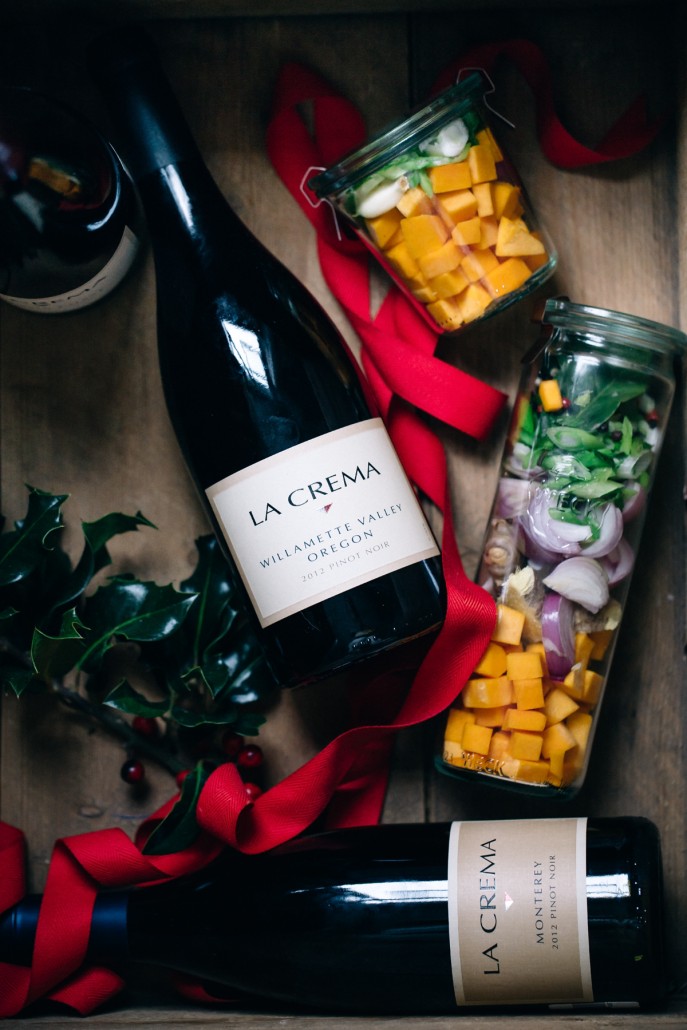 I know they have been done before, but the gifts I've seen so far are some sort of brownie in a jar or cookie mix, which, most times is forgotten in the back of the cupboard until you do spring cleaning the year after. The edible gift I present you is perishable. You may think "Wait what? So, it's gonna go bad?" and the answer is YES, that's the point!
You see, if you give a perishable gift to a friend there's a sense of urgency and they have to use it asap. You can make it a cute thing, such as "here's this jar of all-ready-to-go soup, just add stock!" or "here are all the ingredients for a pasta sauce, just add pasta!" Basically you are making dinner for your friends. Trust me, they'll appreciate the extra help in the kitchen.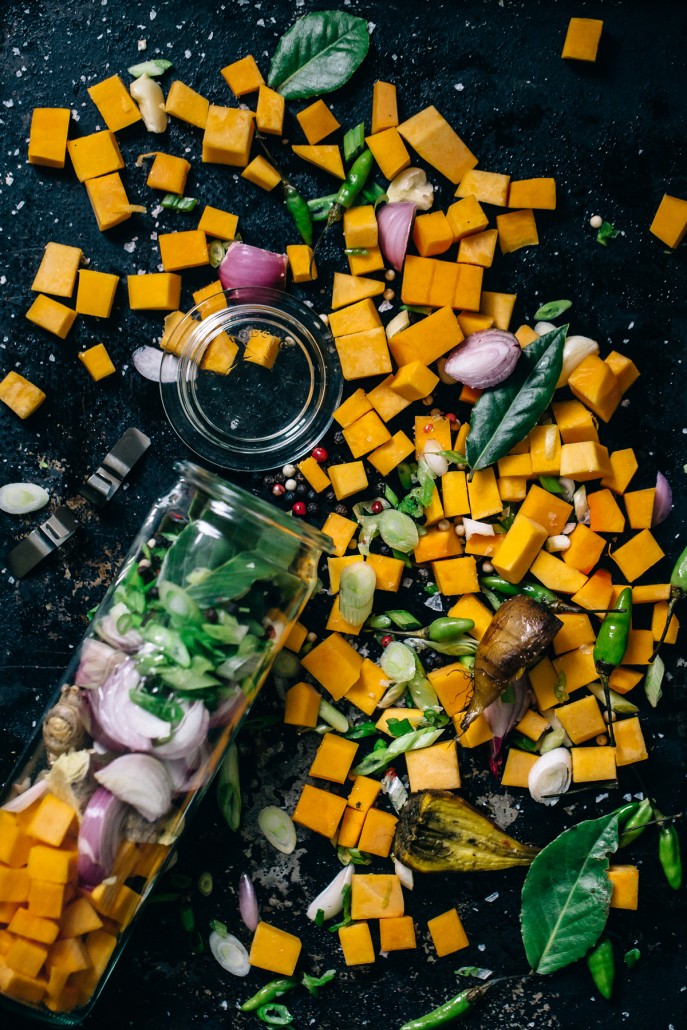 This recipe for a butternut squash, ginger, and coconut soup is super flavorful and just needs a few steps to get done. OH. And you'll definitely score bonus points with your buds if you create a "gift crate" with wine included, you know what I mean? *wink wink* Just choose your favorite white or red and you're set!
Edible Gifts: Butternut Squash, Ginger, and Coconut Soup
Author: Gabriel Cabrera

Ingredients
1 kg butternut squash, peeled, seeded, and cubed
5 shallots, peeled, and diced
2 garlic cloves, whole
6 spring onions, sliced
1/2 teaspoon peppercorns, crushed or whole
1 teaspoon sea salt
1 teaspoon curry powder
1 tablespoon ginger, rough chop
Supplies: glass jar (with lid), ribbon to wrap, printed recipe
Your friends will need: 1 can coconut milk (400mL) and 1 1/2 cups veggie or chicken stock
Instructions
Get your glass jar cleaned up with hot water.
Start layering the ingredients for the soup with the squash at the bottom as it is the heaviest. After that you can arrange in any way you want. If you don't have a big enough jar for the whole recipe, you can divide all the ingredients equally into 2 or more jars (each jar would make a portion).
What your friends need to do: When they get the jar they need to: empty the content on a baking sheet and bake the whole thing at 350F for 30 min. Once the ingredients are nice and roasted, they'll need to dump it in a blender with the coconut milk and the stock and blend until smooth. Pour the contents on a pot and simmer for 10 minutes or until nice and thick. Adjust seasoning and you're done.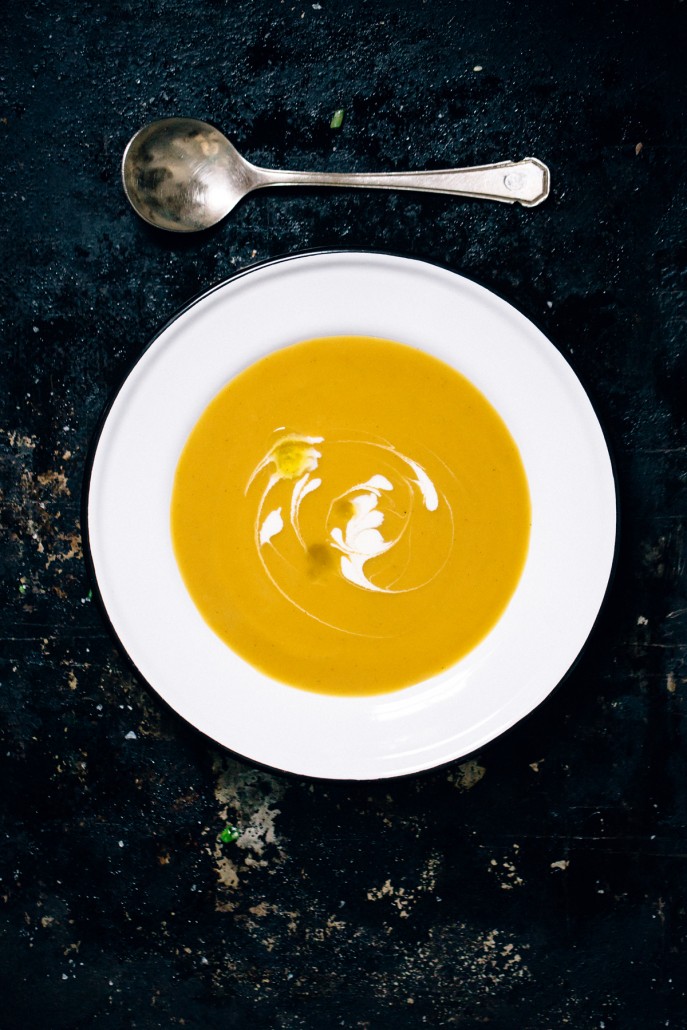 Don't forget to include additional cooking tips in the recipe in case your friend is a total kitchen fail. You can apply this same idea to almost any recipe! Here are some additional suggestions:
Puttanesca sauce for pasta: add tomatoes, garlic, red chillies, anchovies, black olives, and basil. Your friend will have to roast the ingredients and blend and voila! Fresh pasta sauce!
Quinoa, roasted veg, and kale salad: add cooked quinoa, roasted veggies of your choice, chopped kale. Your friend will only need to pour the contents in a bowl and add their favourite dressing (or you could include one for them). Super cute idea for lunch for your office buddies!
Granola: add oats, nuts, dates, sesame seeds, ground cinnamon, and maple syrup. Your buds will need to bake it and ba-da-boom! Breaky ready to go.
Not in the food mood? Don't worry, I whipped up some tips for assembling a scrub-tuous DIY Coffee Mint Body Scrub in a glass jar too.
Enjoy!