Fresh Spring Rolls with Peanut Sauce
One thing I really love about spring is how it provides such a wonderful context for simple, healthy meals like these fresh spring rolls. Ingredients that thrive in spring come together for quick and colorful dishes which impart a lightness and vitality in contrast to the rich, comforting dishes of winter.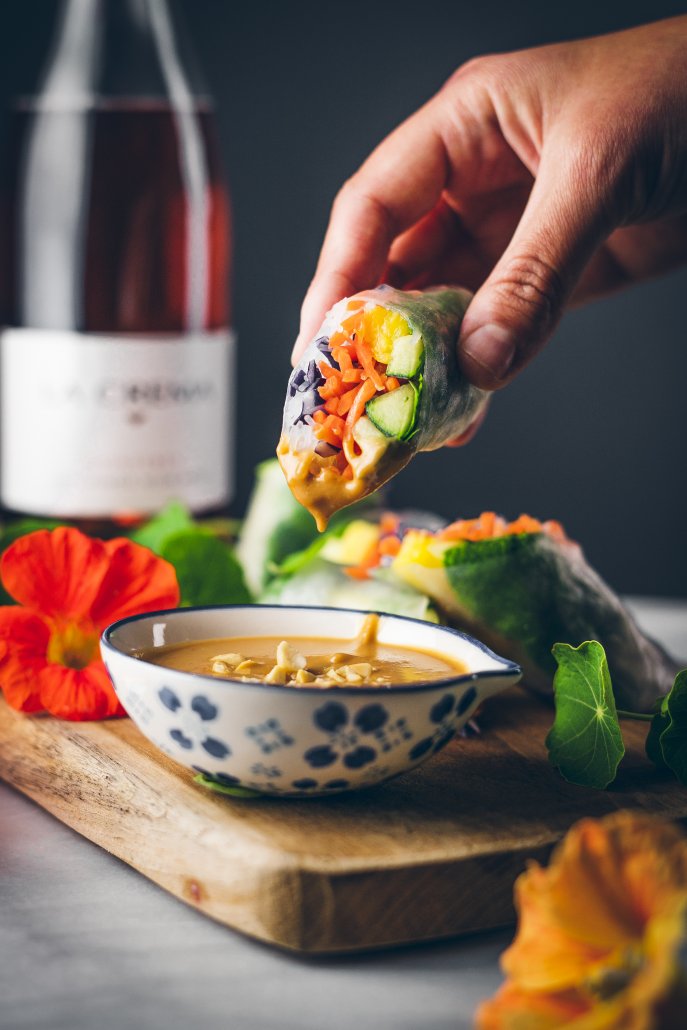 Fresh spring rolls are versatile and enlivening. They can be constructed out of all sorts of noodles, vegetables, fruits, and herbs, and go along well with a variety of sauces and dressings. For this recipe, I chose to start off with vermicelli noodles for their fine, chewy texture. Cucumber, cabbage, and carrots lend a delightful crunch, while pineapple injects a delicious sweetness. Mint and cilantro tie things together with a piercing yet cohesive herbal quality, and this sets everything up for the final touch—the peanut sauce.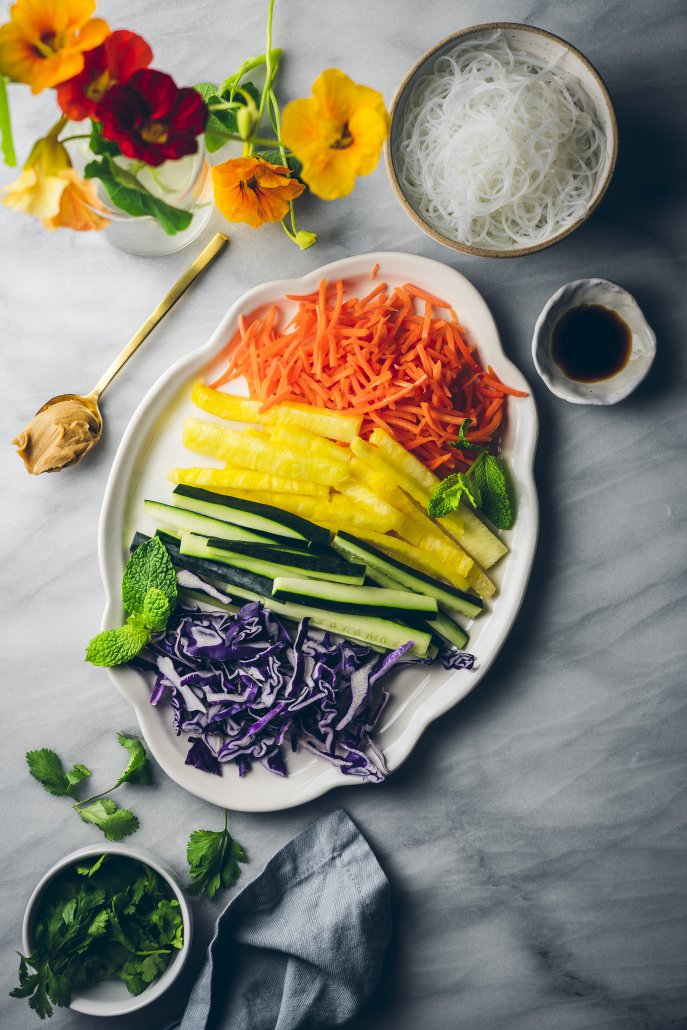 The peanut sauce I crafted is rich in peanut butter, soy sauce and vinegar for that classic creamy, nutty, tangy dynamic. But, a good dose of sriracha and garlic bring a nice spice to blend with the sweet, herbal qualities of the rolls. The result is really quite lovely!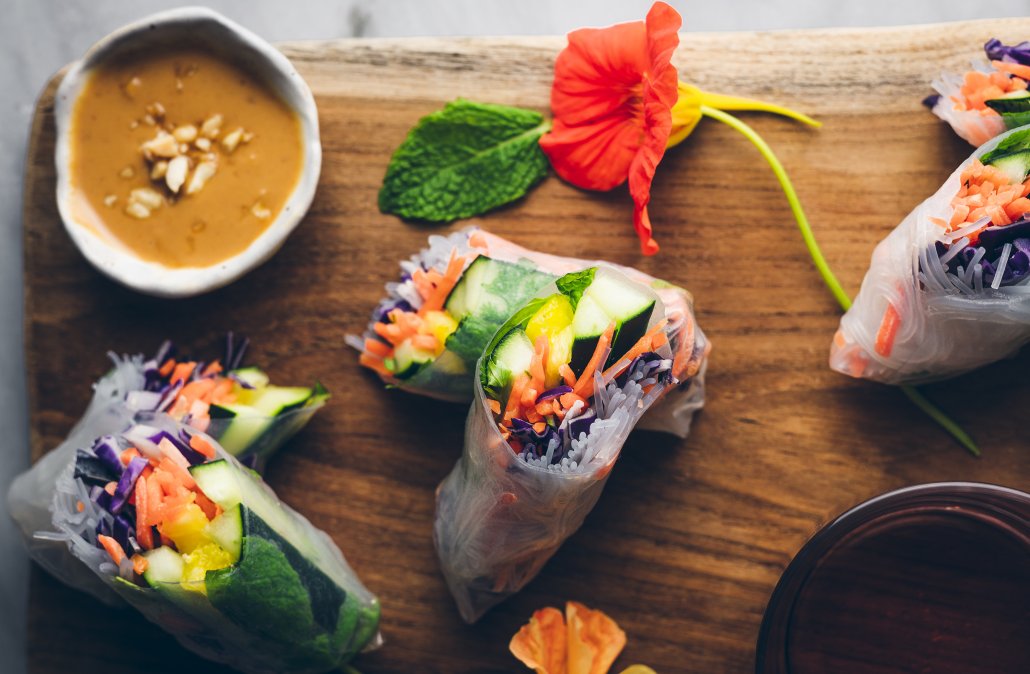 Now remember: fresh spring rolls are versatile. You can start with my recipe and choose whatever fruits and vegetables you want. So much produce is available this season and you should make the most of what you like best. Plus, many of these ingredients come pre-sliced, so most of your work is simply assembling the rolls which takes no time. Just make sure not to overfill them or the wrap just won't hold everything together well.
So you'd think with all these different flavors interacting that it'd be difficult to find the right beverage. And while certainly not everything will go well with these spring rolls, La Crema's Monterey Pinot Noir Rosé definitely does. It's one long rush of flavor, washing over the palette with watermelon and grapefruit, then with strawberry and guava, ending with a vibrant minerality. A perfect springtime wine for a perfect springtime meal.
Fresh Spring Rolls with Pineapple
Author: Kristan Raines
Recipe type: Appetizer/Snack
Prep time:
Cook time:
Total time:
Serves: 8 Rolls
Ingredients
Peanut Sauce Ingredients
1/4 cup Peanut Butter

2 tsp Soy Sauce

2 tsp Rice Vinegar

1 ½ tsp Sesame Oil

1 Garlic Clove, minced

2 tsp Maple

1 tbsp Lime Juice

1 tsp Sriracha, or more to taste

3 tbsp Water
Roll Ingredients
2 oz Dry Vermicelli Noodles

1 heaping cup Pineapple,

cut into thin strips about 4″ long

1 Cucumber, julienned

2/3 cup Mint Leaves

2/3 cup Cilantro Leaves

1 1/2 cup Shredded Purple Cabbage

1 1/2 cup Shredded Carrots

8 Rice Paper Wrappers
Instructions
Peanut Sauce
Begin by making the peanut sauce. In a small bowl add the peanut butter, soy sauce, rice vinegar, sesame oil, garlic, maple syrup, lime juice, sriracha, and 3 tbs of water, whisking until smooth. Add more water, 1 tsp at a time, if a thinner sauce is preferred. Set aside.
Vermicelli Noodles
Next, prepare the vermicelli noodles. Place the noodles in a large bowl and cover with very hot water. Cook for 5 minutes, or as directed on the package. Once cooked, strain the noodles, rinse in very cold water, and set aside.
Wrapper Prep
Fill a pie dish or similarly deep/wide dish with about 1 ½ inches of warm water. Place one rice wrapper into the water and let it soak for 5 seconds (or as directed on the package). Transfer the wrapper (which will still be a little firm, but will soften as you assemble the rolls) to tabletop or plate.
Roll Assembly
On the bottom third of the rice paper in the center, place 4-5 mint leaves, a few cilantro leaves, 2-3 pieces of cucumber, 2 pieces of pineapple, a small portion of shredded carrots, some shredded cabbage, and a few noodles.

Once all of the ingredients have been added, fold in the ends, lay your side's flap over the ingredients, and roll tightly until everything's wrapped up. Repeat this process with the remaining ingredients until 8 rolls have been made.

Cut rolls in half at an angle and enjoy!