Glamping in Colorado: Recipes, Experience & More
I recently went glamping for a getaway from the city. When thinking of what glamping consists of, most expectations would be canvas tents, sleeping in a bed, access to a bathroom and in a beautiful location. I have only experienced glamping once, but it consisted of a queen sized bed in a canvas tent in the pouring rain and 40° weather. Not the most memorable or glamorous trip. I have also been camping, just once, it was a fun experience but I would take a bed over sleeping on the ground any day.
This time, my experience glamping was nothing compared to my previous trials of sleeping in the woods and completely blew these expectations away. King sized beds, gourmet food, private bathrooms and adventure around every corner made this hidden resort something unforgettable.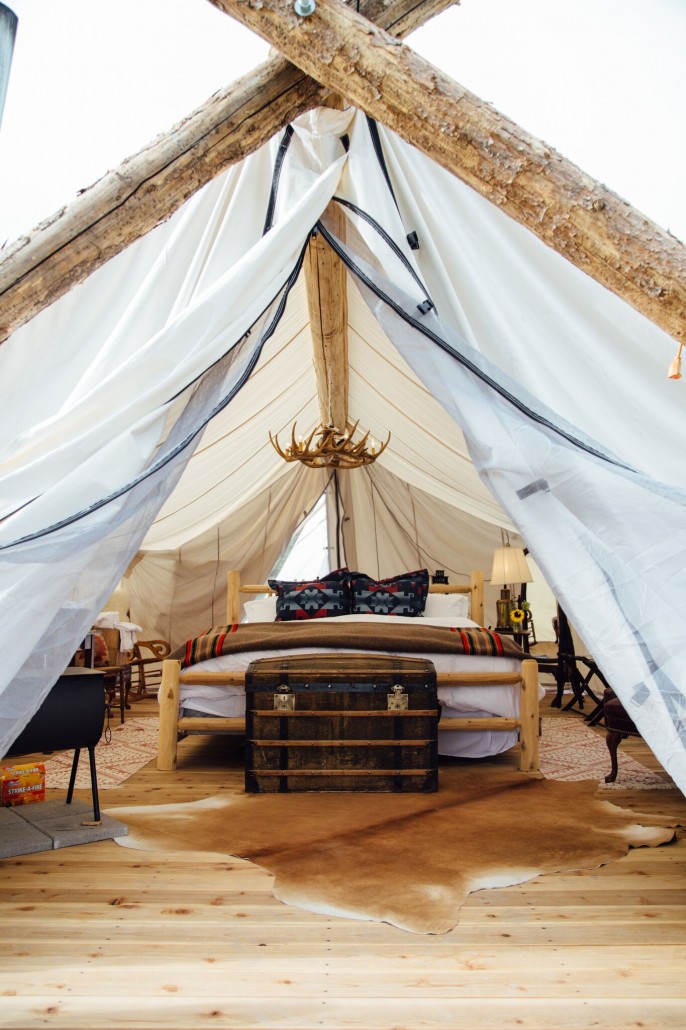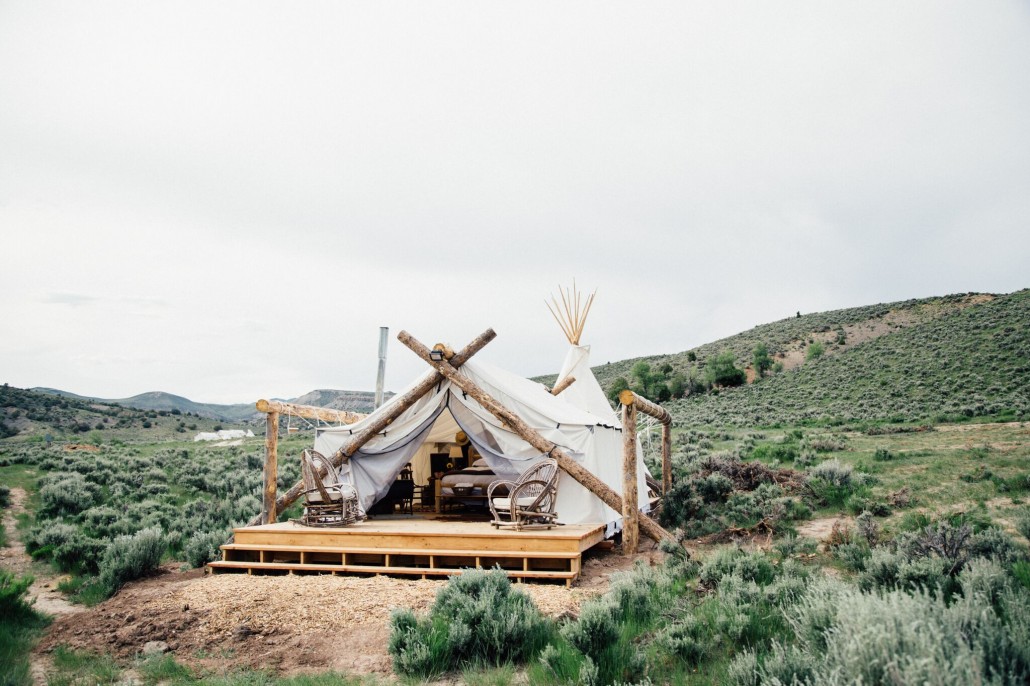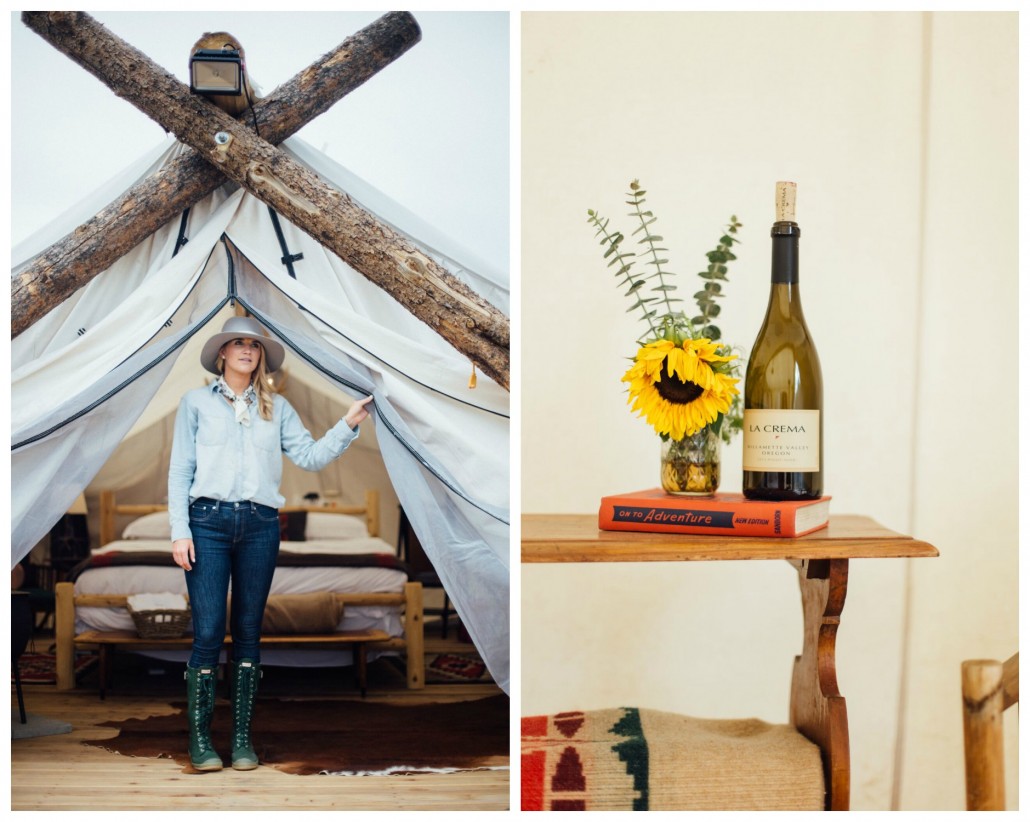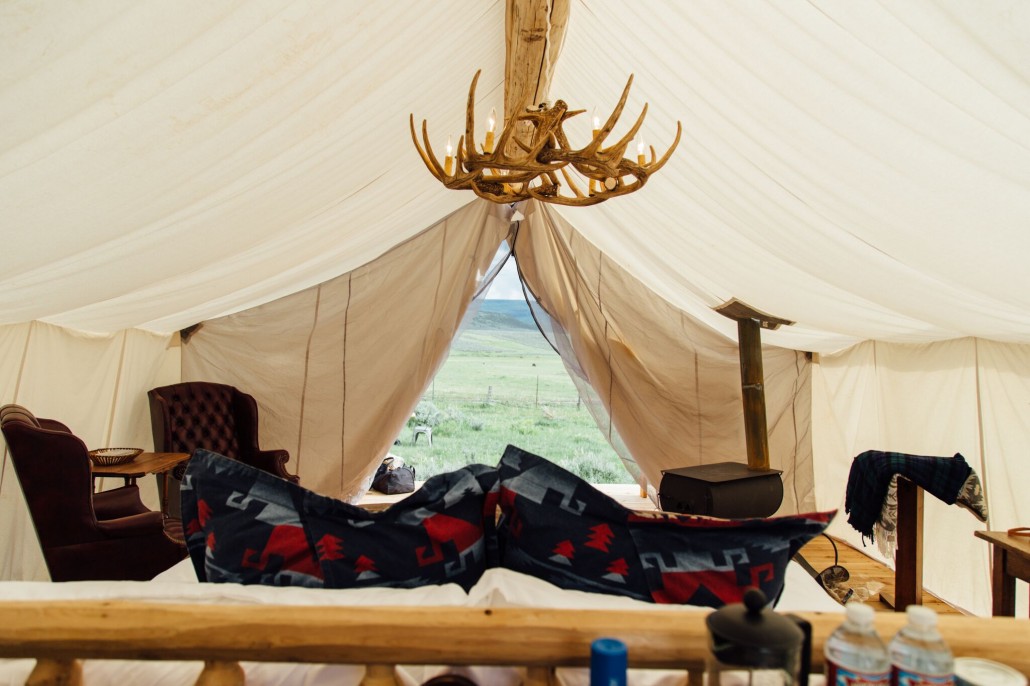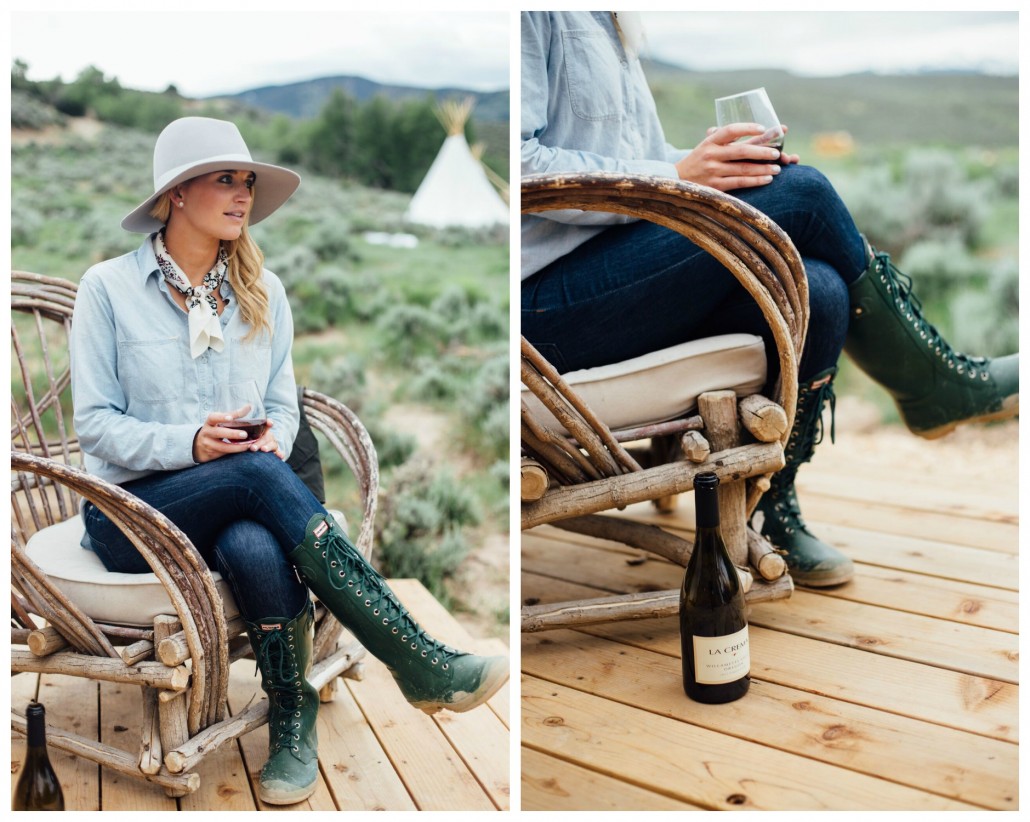 From this experience I wanted to share some glamping style recipes for you to make whether you actually visit a glamping site or are camping. Something great about some resorts is that they'll offer meals whether by a private chef or restaurant, or you are free to bring your own food to cook on their site. Each of these recipes are easy to cook on a grill or over a fire — they take a little time but it is well worth it to enjoy something delicious! There is truly something that makes food taste better when sitting around the campfire in the fresh air with great friends!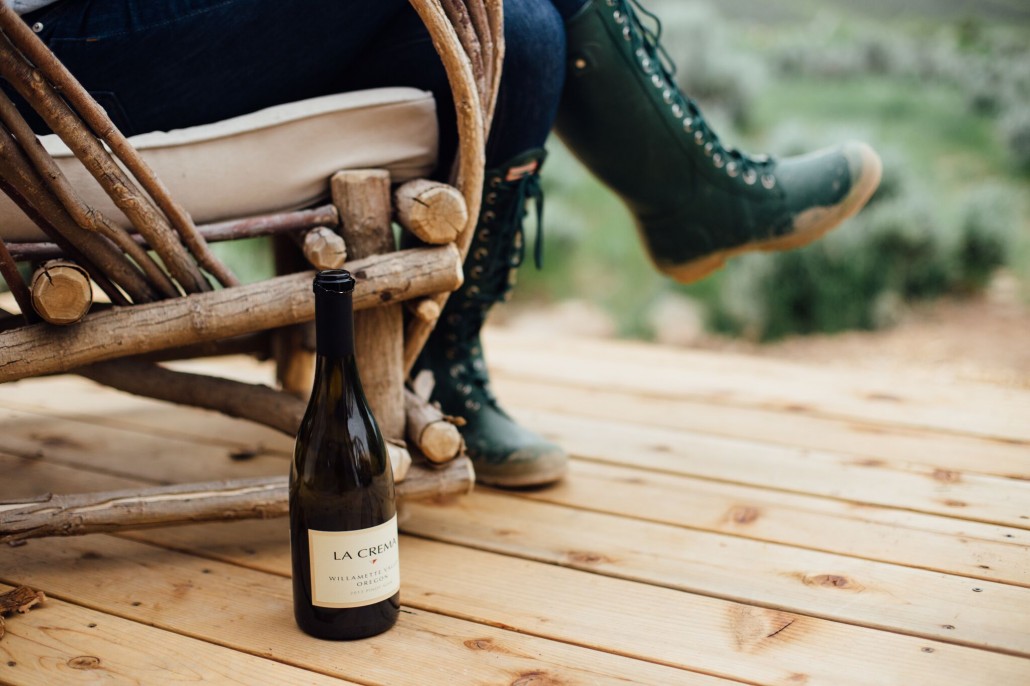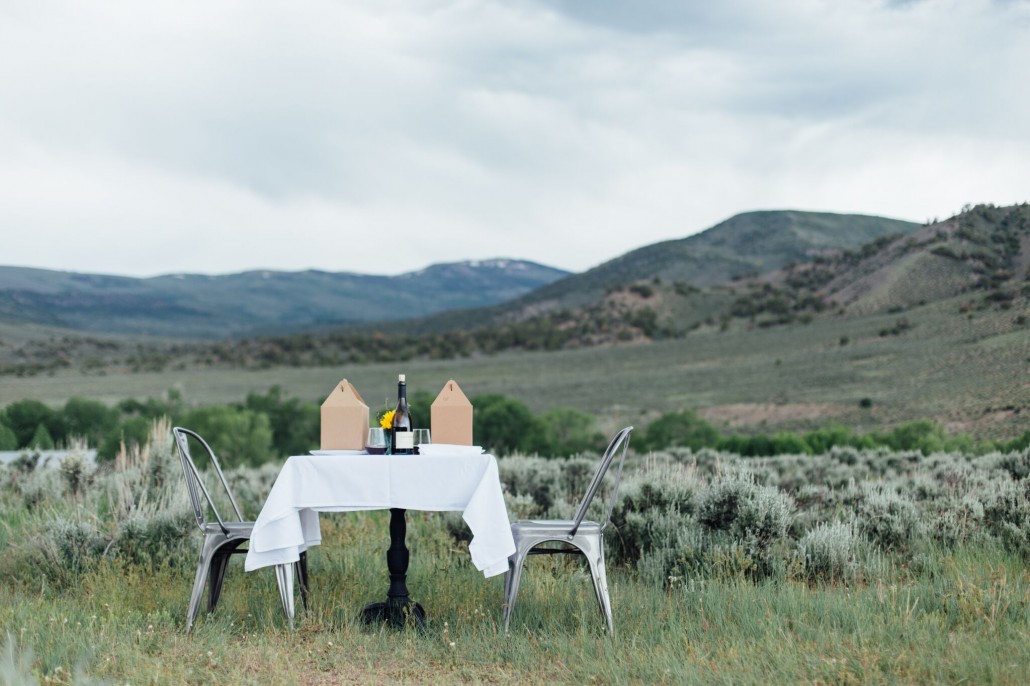 Burgers with Tomato, Zucchini Pasta Salad and Caramelized Onion Stuffed Potatoes
Pair with La Crema Willamette Valley Pinot Noir. Find the recipe below!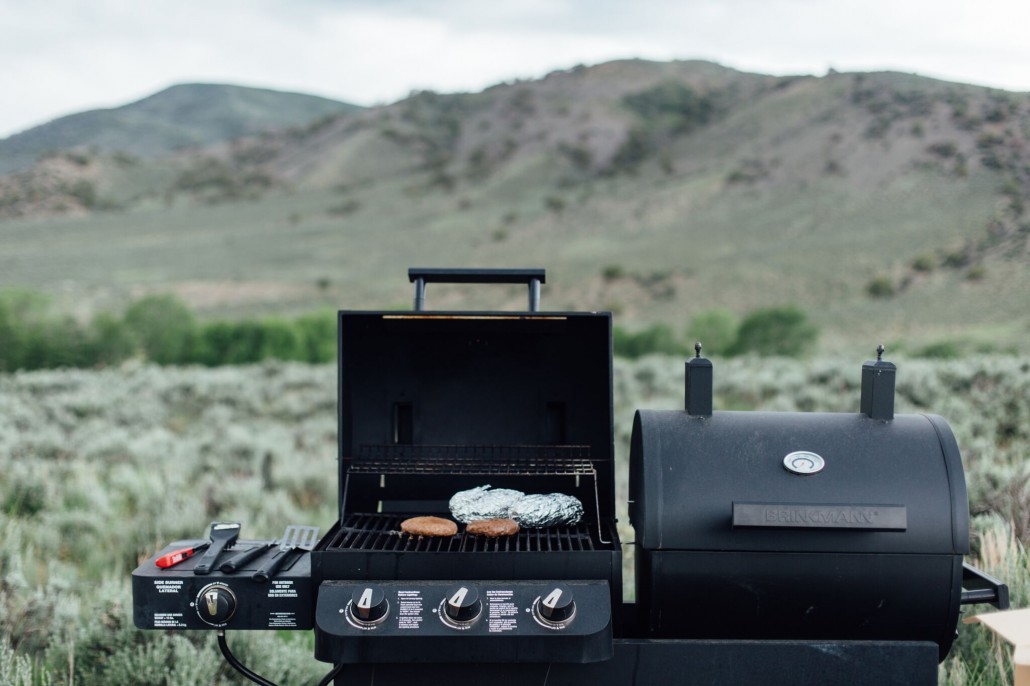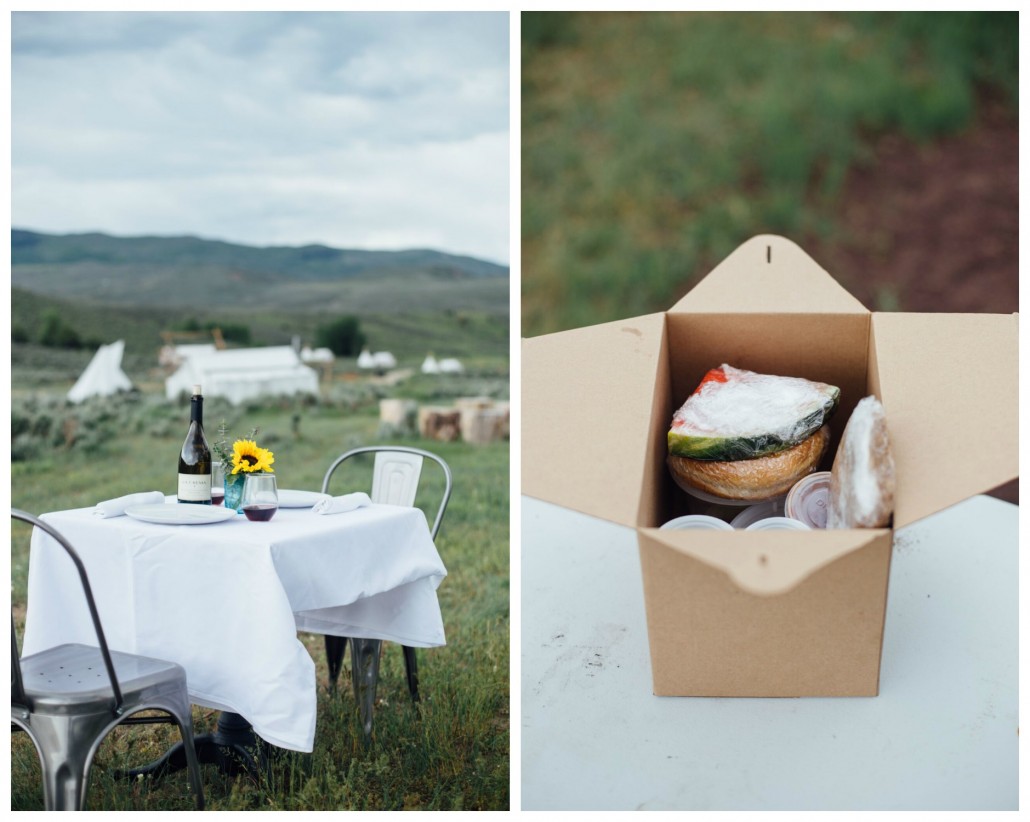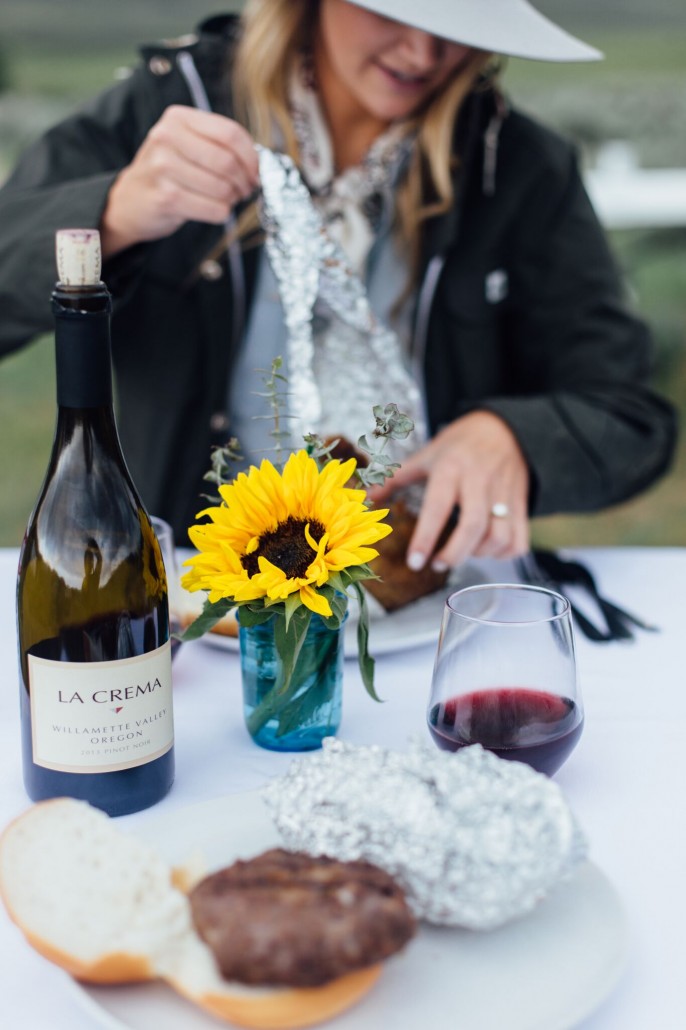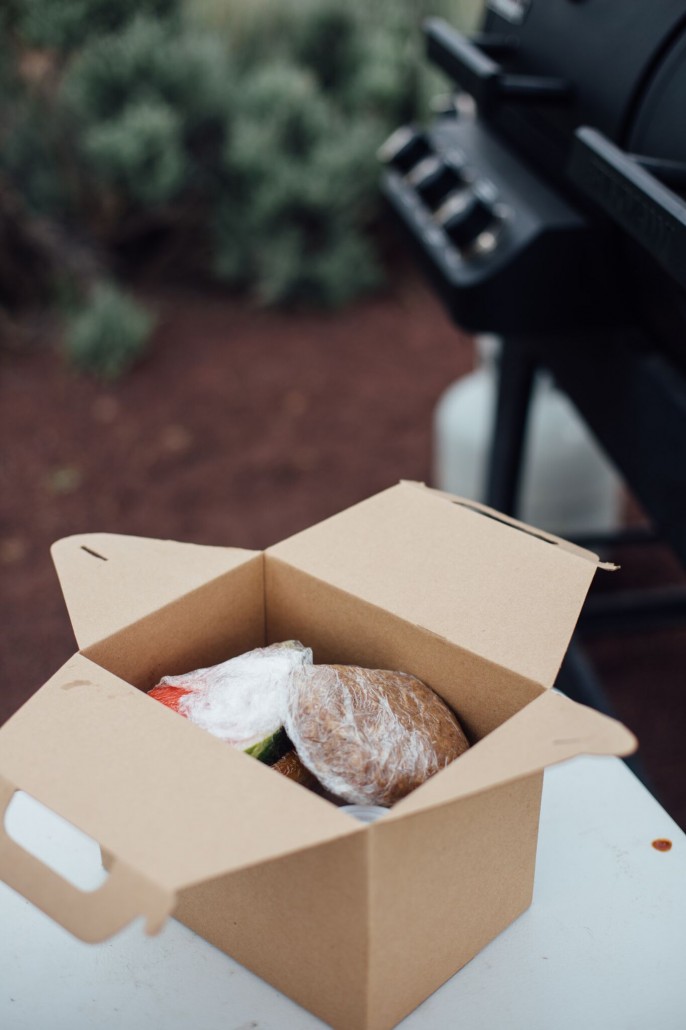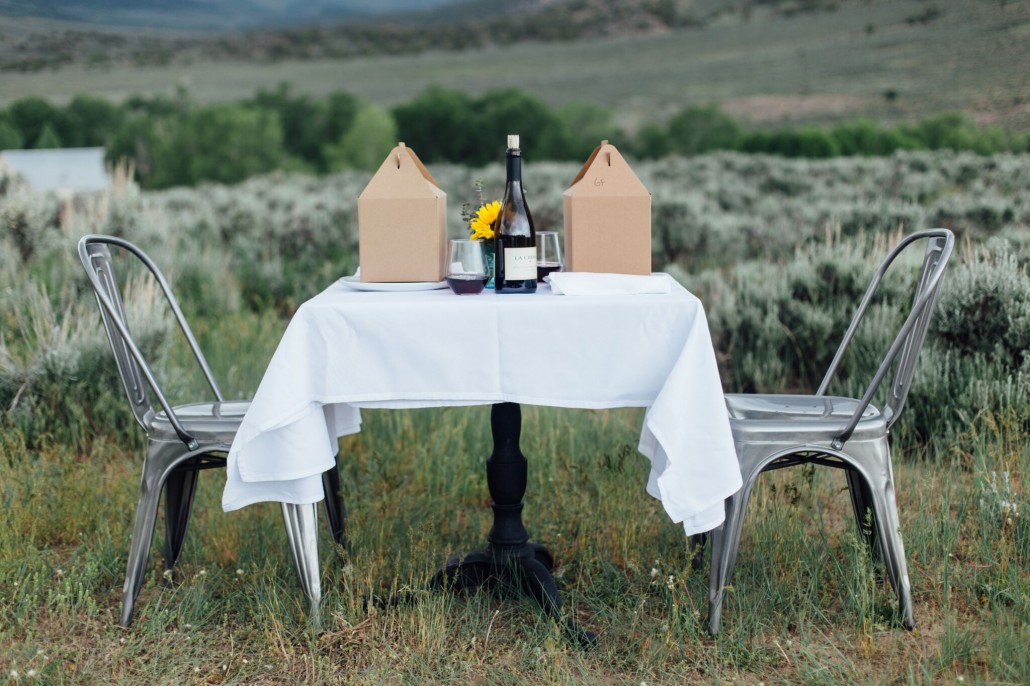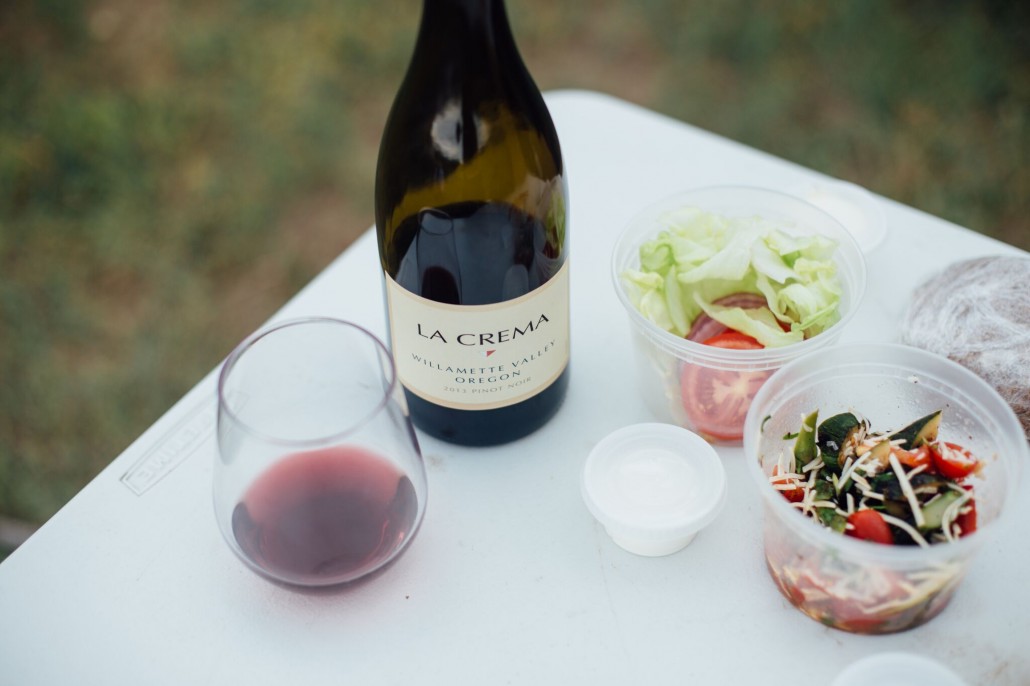 Tomato, Zucchini Parmesan Salad
Author:
This is a recipe you make at home and put in your cooler to serve at the camp site.
Ingredients
2 Tablespoons Extra Virgin Olive Oil
1 whole Lemons (more To Taste)
Salt
Freshly Ground Black Pepper
2 whole Zucchini, Cut Into Small Wedges Or Diced
10 ounces, weight Grape Tomatoes, Halved Lengthwise
6 ounces, weight Parmesan Cheese
Instructions
Sautée the zucchini in a sauce pan with 1 tbs. of olive oil until soft. Add zucchini, tomatoes, parsley, and parmesan to a bowl. Add olive oil and lemon juice, then add salt and pepper to taste (do not undersalt). Toss to combine. Add more of what you think it needs; I like to go heavy on the parmesan! Squeeze in a little more lemon juice/drizzle more olive oil if it needs more moisture.
Cover in plastic wrap for at least a couple of hours. Pasta is best when chilled for a few hours before serving. Put into a plastic container and in your cooler for the campsite.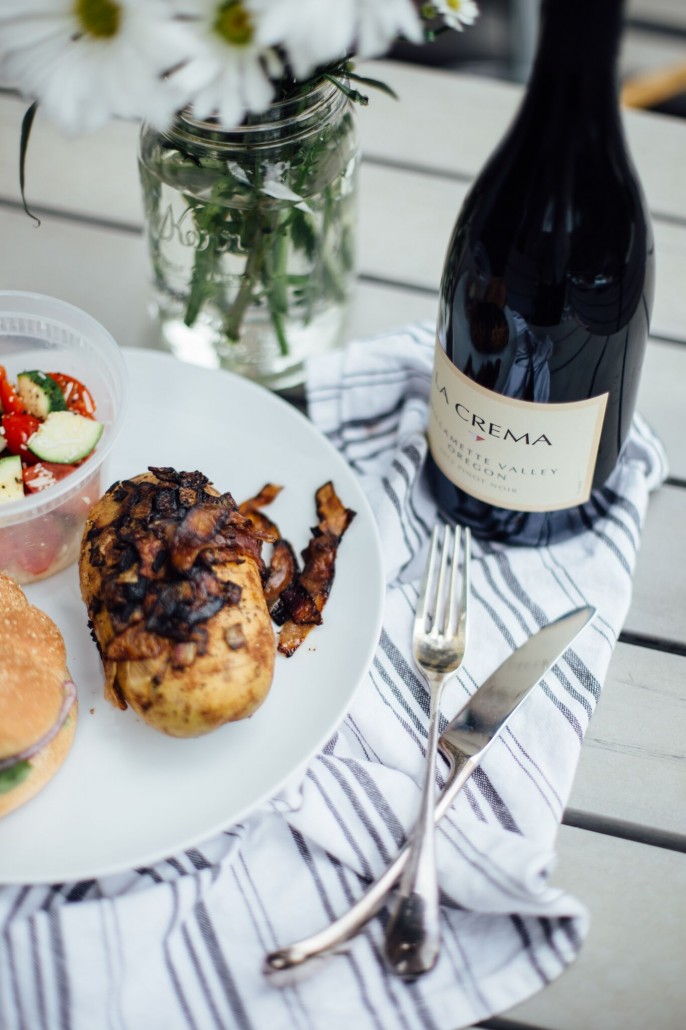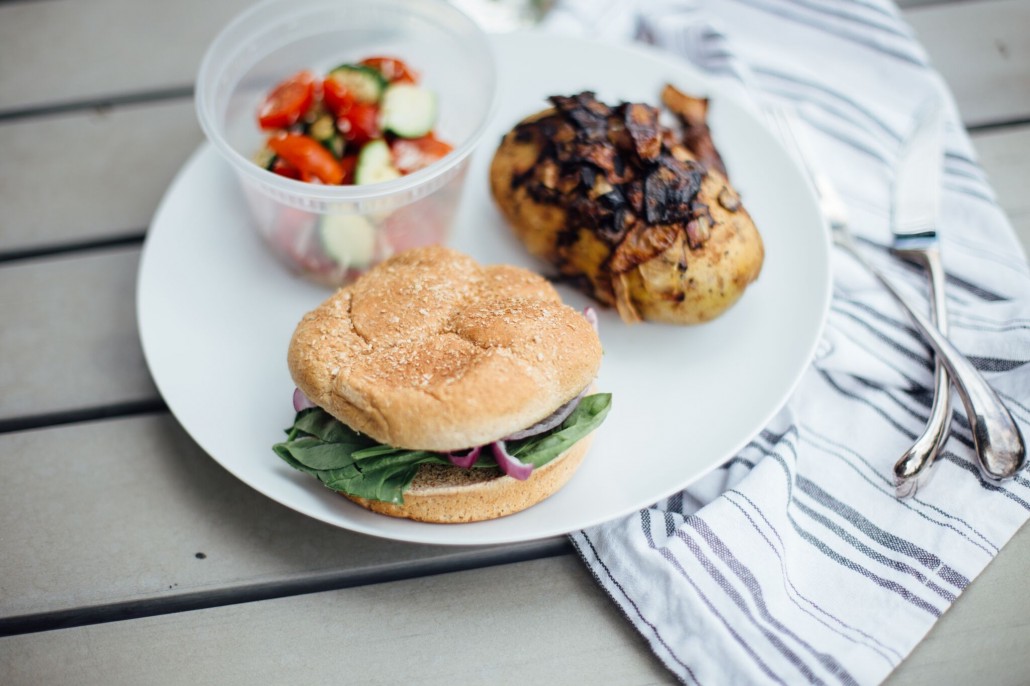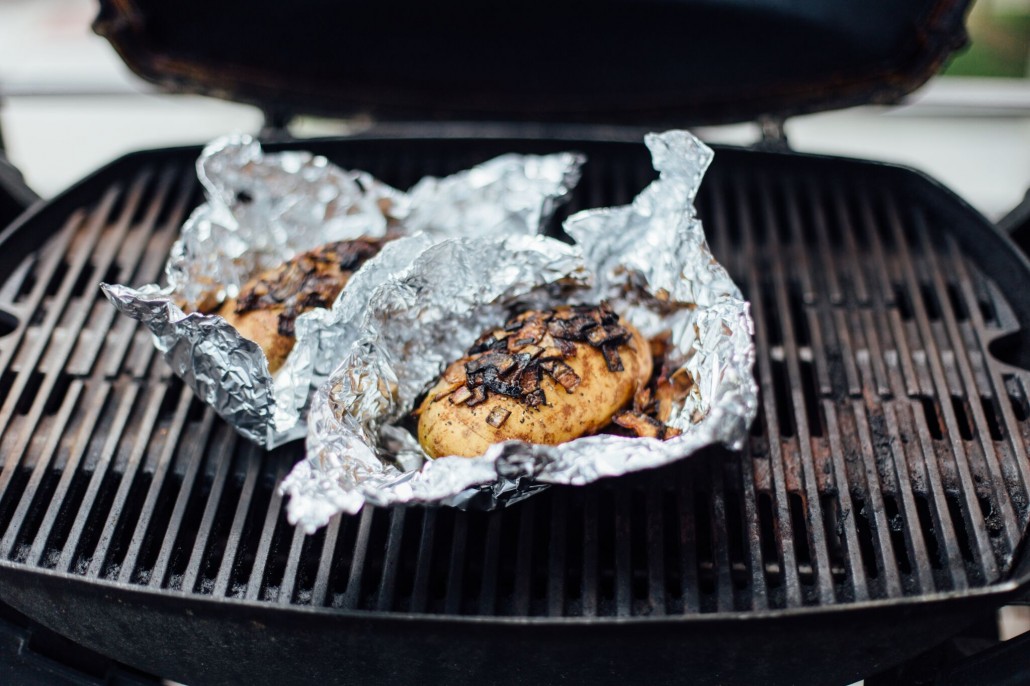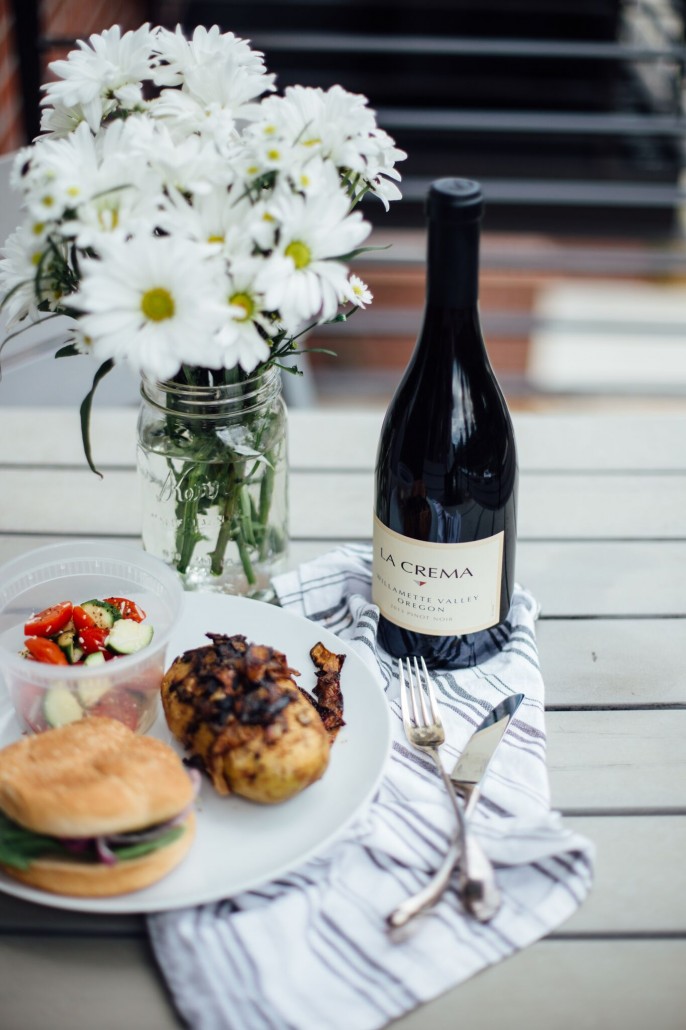 Caramelized Onion Stuffed Potatoes
Author:
Pre-make each potato at home wrapping them individually on foil to put on the grill or fire at the campsite.
Ingredients
1 Russet Potato per glamper
2-4 yellow onions
2 tablespoons butter, extra-virgin olive oil, or a mix
2 tablespoons white or red wine, vegetable or chicken stock, balsamic vinegar, or water
Salt
[i]on't forget tin foil![/i]
Instructions
Slice the onions: Trim the tip and root from the onions, cut them in half and remove the skins. Slice the onion from root to stem into thin slices. (Alternatively, you can dice the onions.)
Melt the butter: Place your skillet over medium heat and melt the butter.
Add the onions: Add all the onions to the pan and stir them gently to coat with butter.
Caramelize the onions: Check the onions every 5 to 10 minutes. Stir the onions and scrape up any fond that forms on the bottom of the skillet.
Assembling the potato:
Cut out individual squares of tin foil to wrap each potato in.
Using a little olive oil, oil each tin foil square.
Cut slices horizontal into each potato
Season each potato with salt, pepper and brush with olive oil.
Top each potato with the caramelized onion and wrap in the foil
At the campsite, put them on the grill for 1hr turning at the half hour point, or on the fire for 30 – 60 minutes until soft.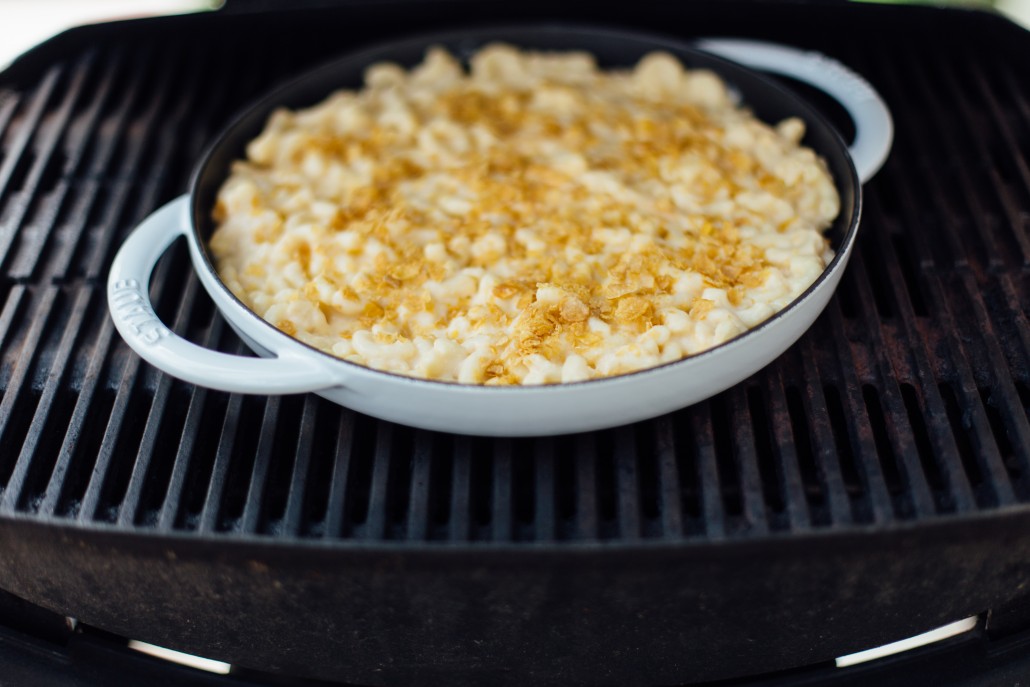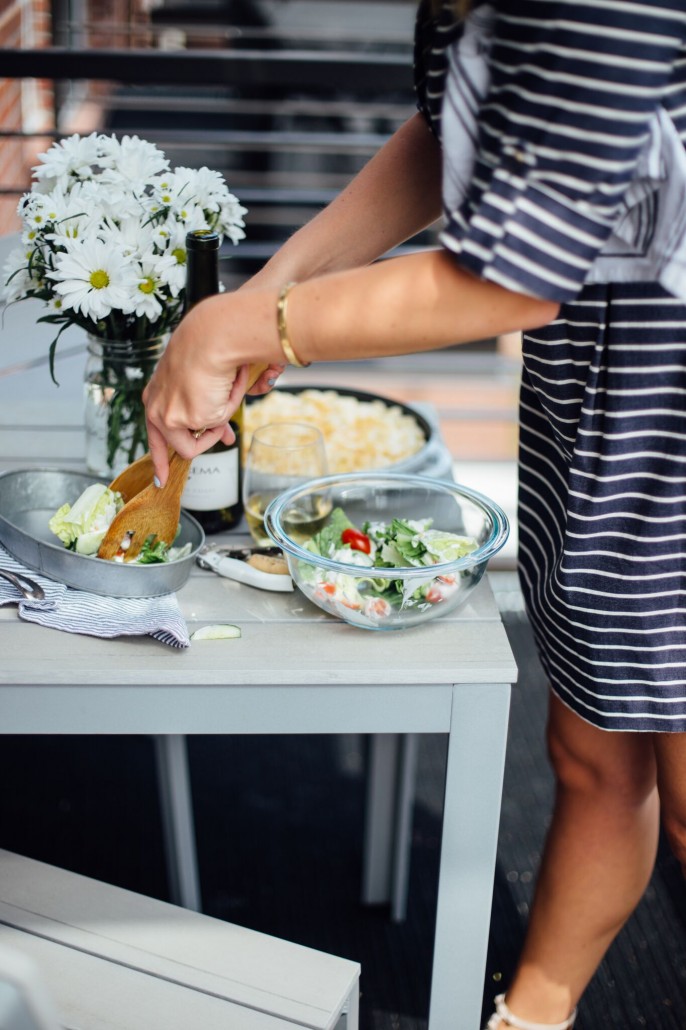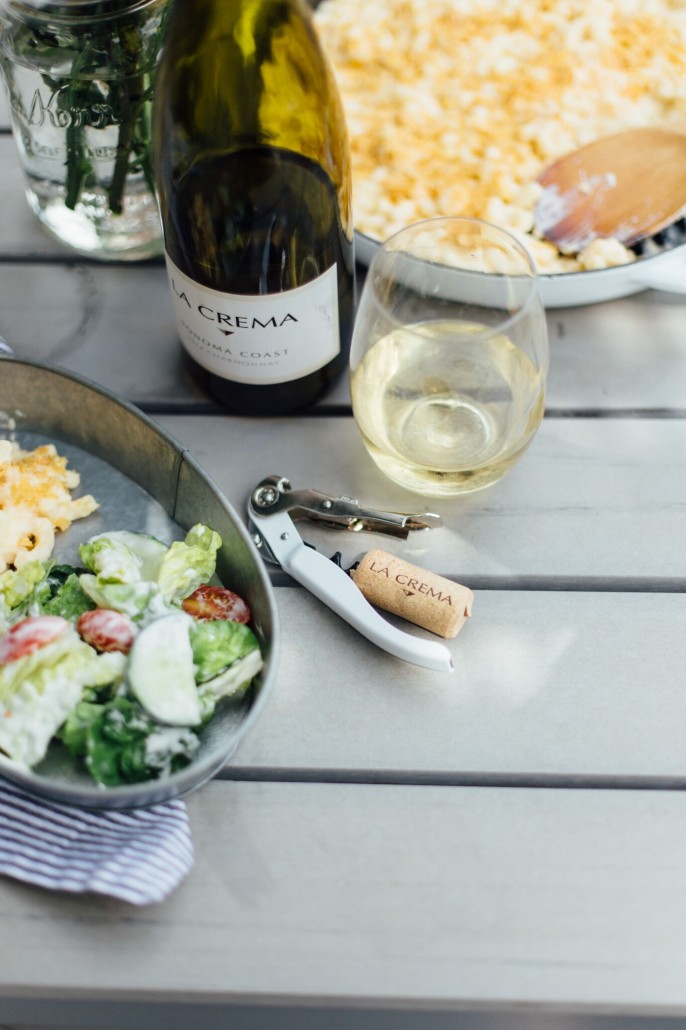 One-Pan Mac 'N' Cheese
Author:
Ingredients
1 1/2 cups bread crumbs (you can make your own with a food processor or use Panko)
1 1/2 tablespoons olive oil
1 1/8 teaspoons kosher salt, divided
About 3/4 tsp. pepper, divided
3/4 teaspoon smoked sweet paprika
1/4 cup salted butter
1/4 cup flour
2 cups milk
2 cups shredded sharp cheddar cheese
12 ounces Barilla Pronto elbow macaroni (a one-pan, no-drain pasta)* or regular macaroni
Instructions
AT HOME
Toast bread crumbs: In a large frying pan over medium heat, cook crumbs with oil and 1/8 tsp. each salt and pepper, stirring often, until crumbs begin to crisp, 4 to 5 minutes. Add paprika and cook, stirring, until crunchy, 2 to 4 more minutes. Pour from pan to a bowl and let cool; then seal in a lidded container or resealable plastic bag.
Make sauce: Melt butter in a medium saucepan over medium-high heat. Add flour and remaining 1 tsp. salt and 1/2 tsp. pepper; whisk until bubbling and light tan, 1 1/2 to 2 minutes. Add milk and cook, whisk­ing, until sauce bubbles and thickens, 3 to 5 minutes. Remove from heat, add cheese, and whisk until melted. Let cool, then transfer to a lidded container and chill in refrigerator or cooler.
IN CAMP
Pour no-drain pasta into a 12-in. cast-iron skillet or other large, deep frying pan on a camp stove; add 3 cups cold water. Cook over high heat, stirring often, until all but about 1/2 cup water is absorbed, 10 to 15 minutes. (For regular pasta, cook in a large pot of boiling water until just tender. Set aside 1/2 cup cooking water; drain pasta and return to pot with reserved water.)
Add cheese sauce to pasta and bring to a simmer, stirring often. Spoon into bowls and scatter bread crumbs over each serving.
Make ahead: Through step 2, up to 3 days.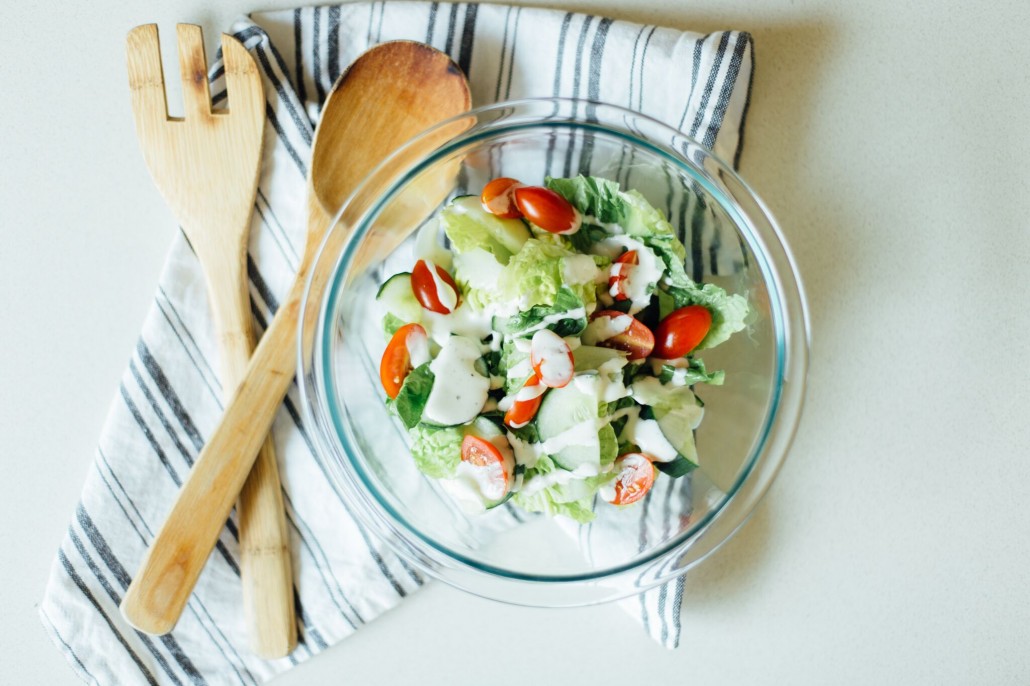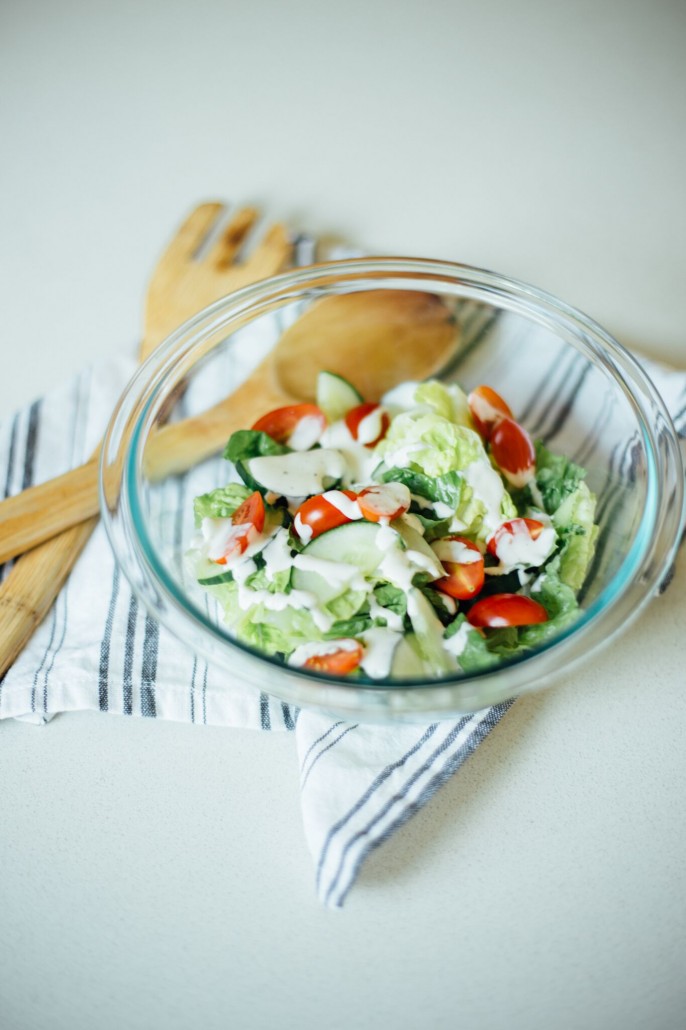 Ranch Dressing Salad
Author:
Ingredients
1 head of lettuce (Romaine or Butter Lettuce)
1/2 Cucumber
1 Cup Cherry Tomatoes
3/4 cup Ranch Dressing (Homemade version below)
For the Homemade Ranch Dressing:
3/4 cup Mayonaise
3/4 cup Buttermilk
1/4 cup lemon juice
3/4 tsp. Kosher Salt
3/4 tsp. Pepper
1 tbsp. dried dill
Instructions
Swish leaves  in a bowl of water to rinse. Gently shake leaves dry, then roll in paper towels and put in a plastic bag. Chill lettuce in a cooler for 30 minutes to crisp the leaves.
With a vegetable peeler, peel the cucumber and cut into half pieces lengthwise, then cute crosswise. Cut tomatoes in half crosswise.
Tear lettuce into pieces, dropping them into a bowl. Add cucumber, tomatoes and as much dressing as you would like. Toss and mix.
In a bowl whisk all the ingredients together. Transfer to a container with a lid and chill in the refrigerator or cooler
*Make this recipe at home up to one week before.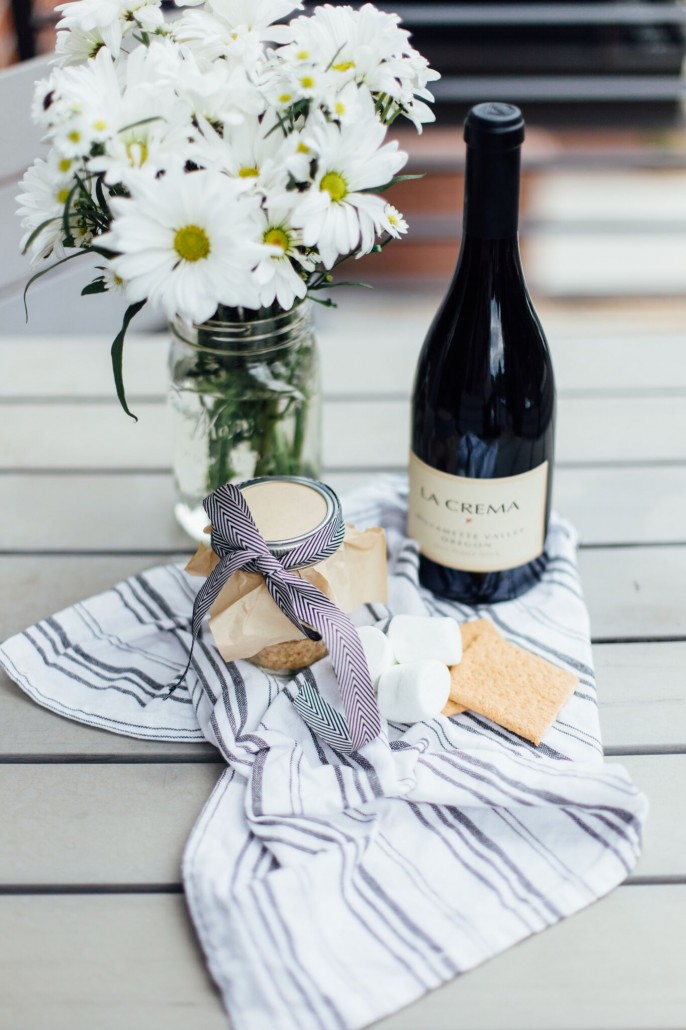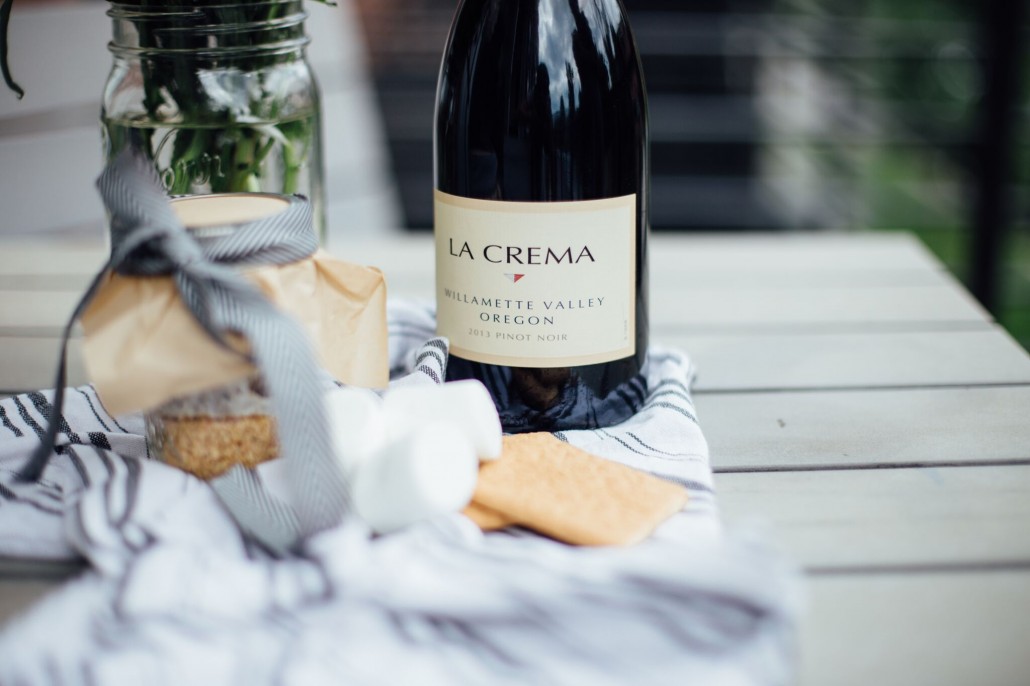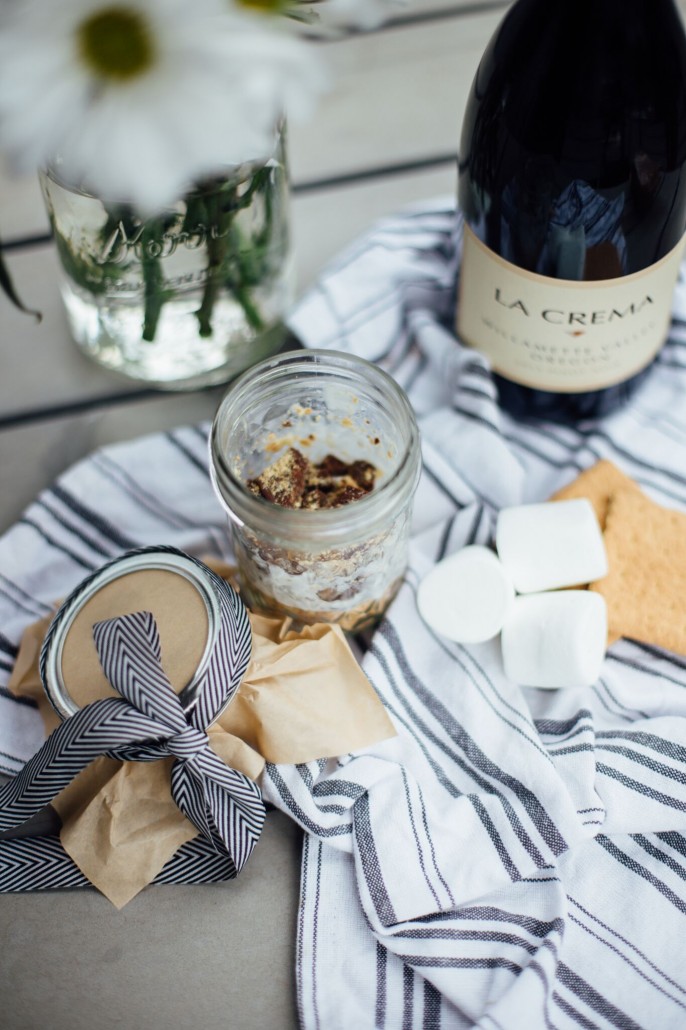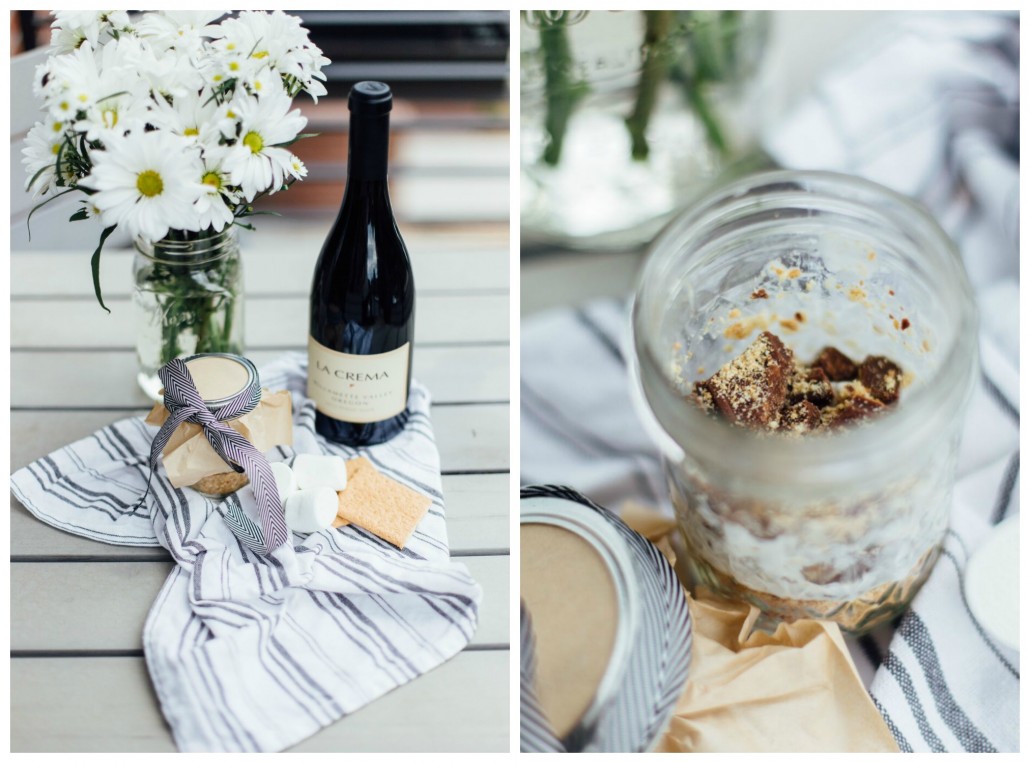 S'mores in a Jar
While roasting s'mores on the campfire is a fun activity, these s'mores in a jar are the perfect make ahead dessert to throw in your cooler.
Ingredients
4 Hershey's bars, roughly chopped
½ cup heavy cream
1 cup marshmallow fluff
16 Honey Maid Graham cracker squares
3 tablespoons butter, melted
Jet Puffed Mini Marshmallows for topping
Instructions
In a saucepan, heat the heavy cream until bubbles start to form on the side, about 2 minutes.
Add the chopped chocolate to a medium sized bowl and pour the hot heavy cream on top. Let it sit for a minute and then whisk until smooth. Reserve.
Process the graham crackers until finely crumbed. Add the melted butter and pulse a few times until the mixture resembles wet sand. Reserve.
To assemble the s'mores in a jar, start by adding ¼ of the Graham cracker mixture to the bottom of the mason jars. Then add ¼ of the marshmallow fluff, ¼ of the chocolate ganache and finish off my topping with mini marshmallows.
Using a cooking torch, toast the marshmallows until browned and serve!
Recipe borrowed from
here.
Head over to my blog for style tips!
Photos by Pure Lee Photography
Thank you to Glamping Hub  for being apart of this post. 
Share this Glamping Post on Pinterest!