Grilled Marinated Chicken and Papaya Salad
For my latest summer salad recipe, I wanted to incorporate a protein that I simply cannot get enough of lately—marinaded grilled chicken. This recipe really breathes new life into an already delicious combination of fruits and greens.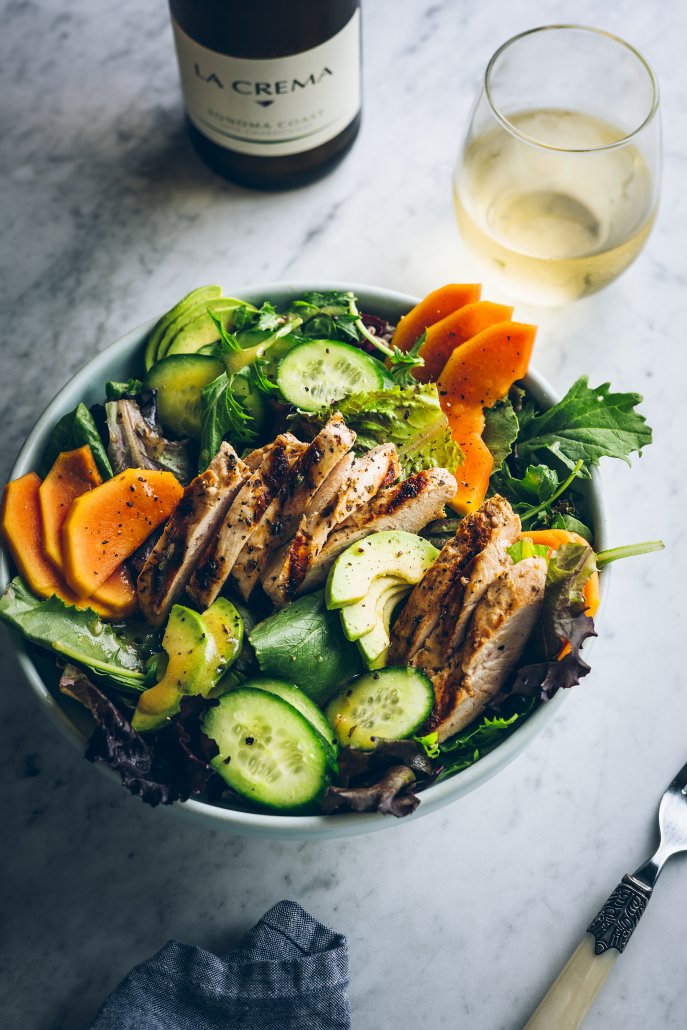 Although I typically enjoy topping my salad with a protein, I've too often fallen victim to dried out chicken. It's a shame because you lose the texture even if you've nailed the seasoning and the flavor's still there. But since the texture of the ingredients is important to every recipe, not least in a salad, I set out to ensure I'd only be cooking juicy chicken from here on out. The best part is that the solution is quick and easy.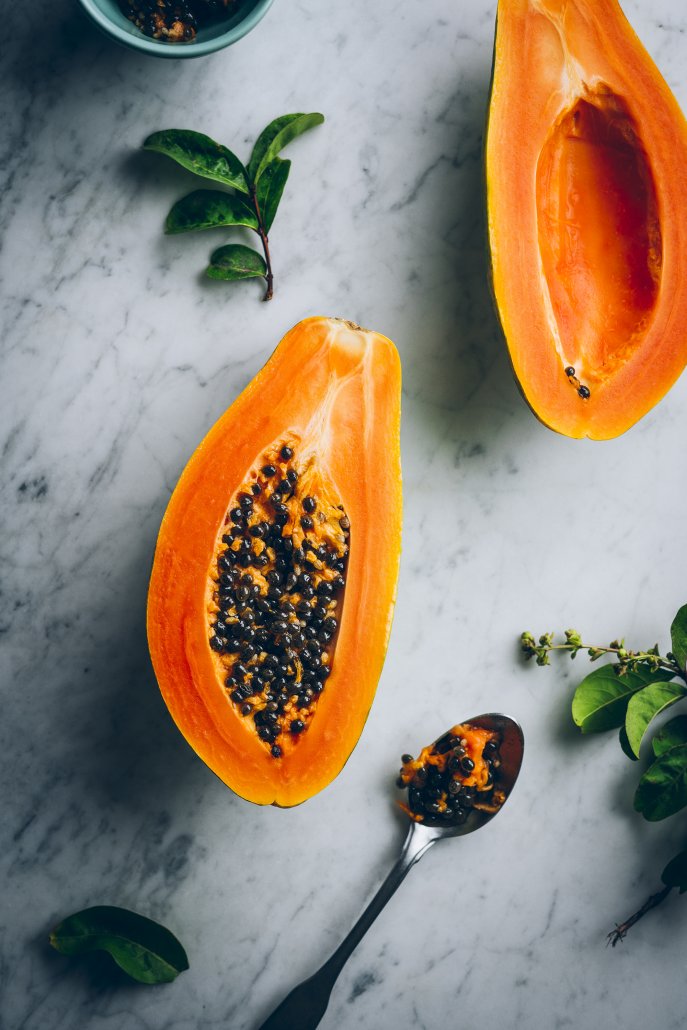 There are two main steps to producing a tender, juicy, flavorful piece of chicken—pounding it out and marinating it. Pounding out your chicken is a swift process that ensures that your meat will cook evenly and quickly. Once that's done, a marinade locks in tenderness and juiciness. I have been marinating my chicken in a mixture filled zingy lemon juice, fragrant garlic, and just the right amount of herbs. Your chicken only needs a few hours in the marinade in order to be perfect.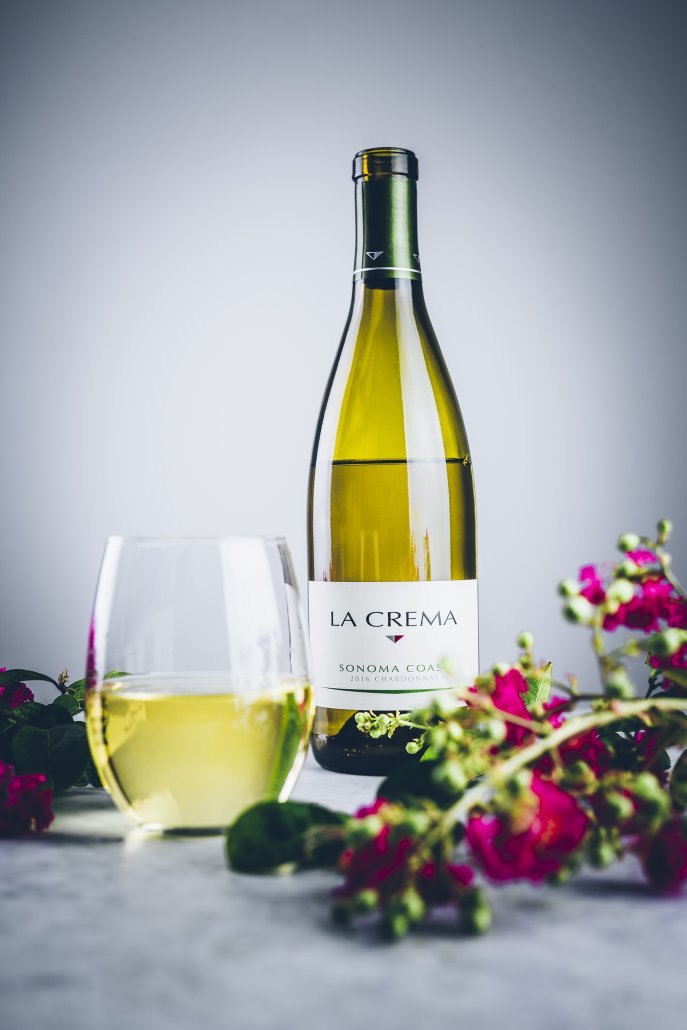 This salad is filled with mixed greens, hydrating cumbers, creamy avocados, and sweet papaya. All of these ingredients pair so well with the herby-lemony flavor of the chicken since there's an ever-present fusion of biting garlic, herbs and citrus on the one hand and soothing, refreshing fruits and vegetables on the other. But it isn't until the addition of that tangy, sweet vinaigrette that the salad truly becomes a meal. It stands on both sides of the fusion of flavors, complete with biting mustard interweaved with sweet honey, and so much more.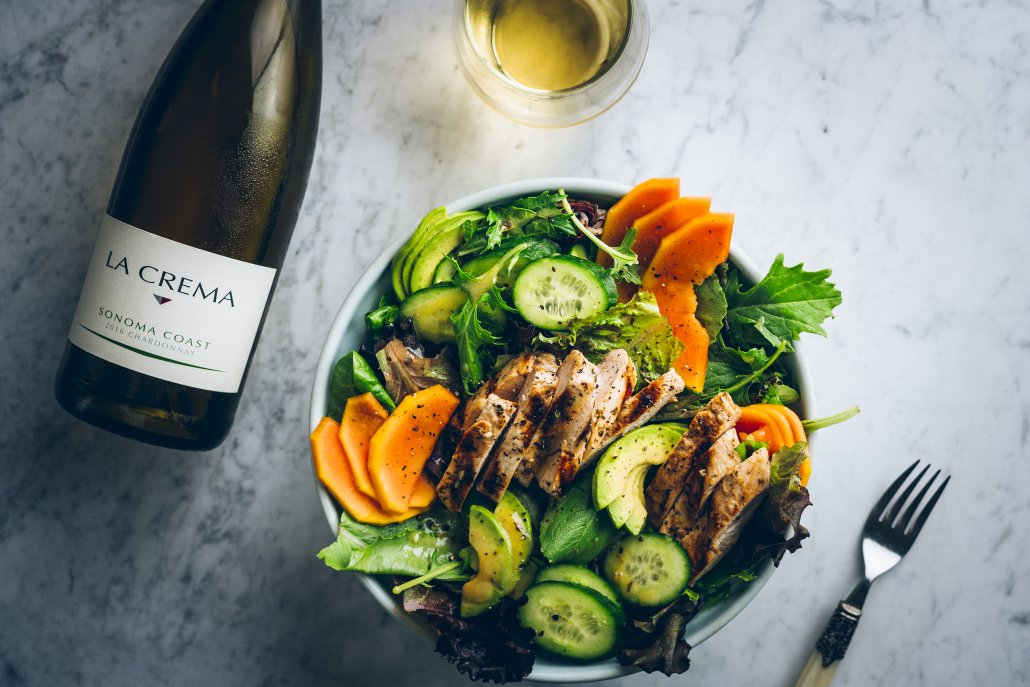 The flavors in this salad demand a very special glass of wine and that's why I reached towards La Crema's 2016 Sonoma Coast Chardonnay. It features generous overtones of lemon and apple and melon, which work so well with the citrus and papaya in the salad. It's subtle oak and spice aromas also go along well with the recipe's combination of herbs. Lastly, the wine is supremely textured. Like the chicken that remains tender and juicy with each new bite, so this chardonnay never fails to remain bold, striking, concentrated, and succulent with every sip—and it delivers a finish that never seems to quit. So pick up a bottle, put some chicken on the grill, and enjoy your summer
Grilled Marinated Chicken and Papaya Salad
Author: Kristan Raines
Prep time:
Cook time:
Total time:
Serves: 3-4
Ingredients
For the Marinade
1.5 lb boneless, skinless chicken breasts

2 ½  tbs olive oil

2 tbs lemon juice

zest of 1 lemon

¾ tsp dried thyme

¾ tsp dried oregano

1 clove garlic, minced

1/2 tsp kosher salt

¼ ground black pepper
For the Salad
1/2 cup olive oil

1/4 red wine vinegar

2 tsp dijon mustard

2 tsp honey

2 cloves garlic, minced

1/2  tsp dried oregano

salt and pepper to taste

5-6 cups mixed greens

2 small avocados, peeled, deseeded, and sliced

2-3 persian cucumbers, sliced

½ a small papaya, seeds and skin removed, and thinly sliced
Instructions
Place the chicken breasts, one at a time, inside a large ziplock bag, or in between to pieces of parchment paper. If using a bag, remove all of the air, seal the bag, and pound the chick breast with a meat mallet until each chicken breast is  ½ inch thick. If you don't have a mallet, a rolling pin will also do the job just fine.

Add all of the marinade ingredients, except for the chicken, to a large ziplock bag, seal it, and use rub the bag to mix everything together. P

lace the chicken breasts in the bag and toss them a few times to coat in the marinade. Place the chicken in the refrigerator and let marinate for two hours and up to a maximum of 4. Marinating any longer will cause the meat to become a little tougher.

Heat a lightly oiled grill pan to medium-high heat. Once hot, add the chicken breasts and cook for about 6-8 minutes, flipping once, or until cooked through. Remove the chicken from the pan and let rest for 5 minutes before slicing.  

While the chicken is resting prepare the dressing. In a small bowl whisk together the mustard, red wine vinegar, honey, and minced garlic. While whisking continually, pour in the olive oil until fully combined. Season dressing with salt and pepper to taste.
To assemble the salad, divide the mixed greens between 3-4 plates. Top each salad with an equal amount of sliced avocados, cucumbers, and papaya. Drizzle each salad with some of the dressing and enjoy!