Herby Grilled Shrimp and a Chilled Grain Salad
I'm such a fan of grilling in the summer–it gets you outside, you can cook multiple things at once, and it cuts down on the number of dishes you have to clean afterward. I'll cook almost anything on the grill, but I especially love grilled shrimp because they're delicious hot or cold, so you can serve them right away or cook them ahead of time and serve them later. It just depends on who you're having over and when and what kind of meal you're hosting.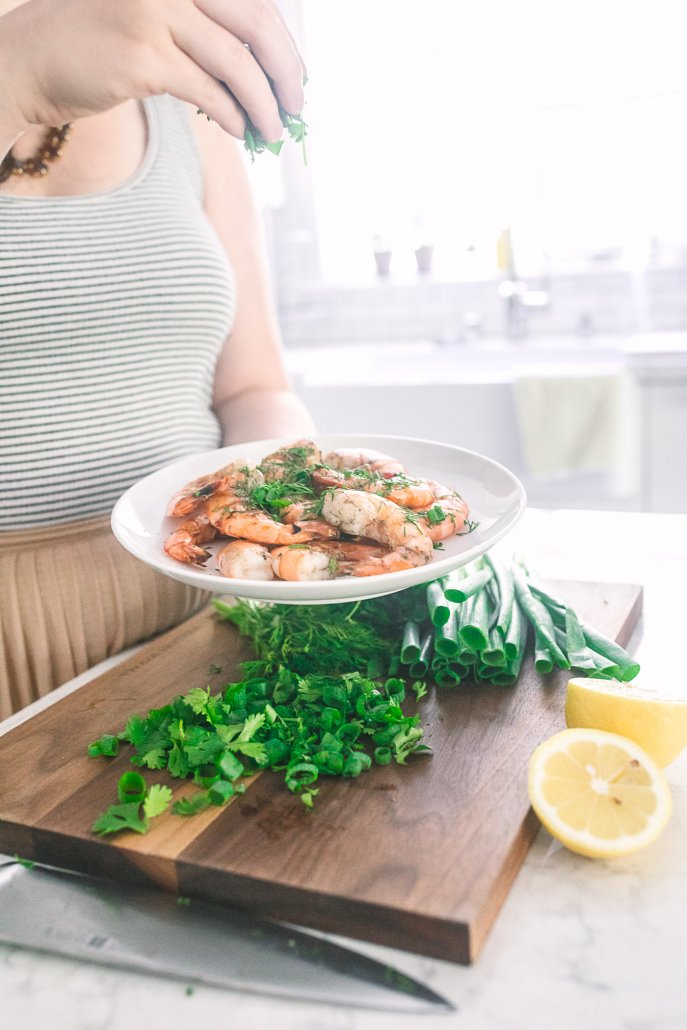 My favorite way to grill shrimp is with the shells on. They're a little harder to peel later but I think they stay together a little better, look prettier, have more flavor, and are easier to turn without losing one. I always buy the biggest ones I can find at the seafood counter and just season simply with salt, pepper, and a little drizzle of extra virgin olive oil. That in itself is a simple, yet fail-proof recipe. However, I also like to toss them in lots of fresh herbs and a squeeze of fresh lemon, which makes them extra-delicious and just a bit more special.
Paired with a glass of La Crema Monterey Chardonnay, you've got a delicious light dinner (served with my chilled grain salad that's also loaded with herbs, both recipes can be found below) or the perfect summer appetizer.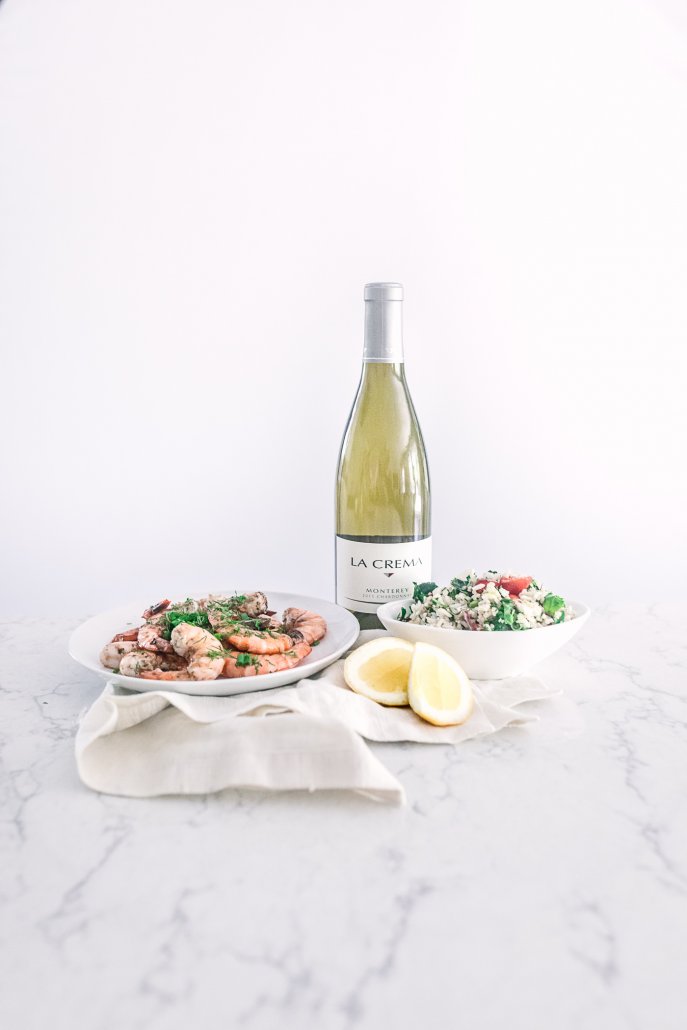 Herby Grilled Shrimp
Prep time:
Cook time:
Total time:

Ingredients
1 pound of jumbo shrimp (I like fresh ones with the shells and tails on but if you prefer them frozen and/or peeled already you can do that too)
2 tablespoons olive oil
Salt and pepper, to taste
2 tablespoons each of fresh dill, fresh parsley, and chopped green onion
The juice of half a lemon
Instructions
In a large bowl, drizzle shrimp with olive oil and season with salt and pepper. Toss everything together and refrigerate until ready to cook.
Heat your grill over medium-high heat (you could also use a grill pan or a skillet if you don't have a grill) and cook shrimp for 3-4 minutes. Flip and cook another 3-4 minutes on the other side. (They're done when they turn pink and the entire shrimp is opaque.) Remove from heat and place shrimp in a large serving bowl.
Squeeze half a lemon into the bowl and add the herbs. Toss well to combine and season with more salt and pepper, if needed. Serve immediately or chill and serve later.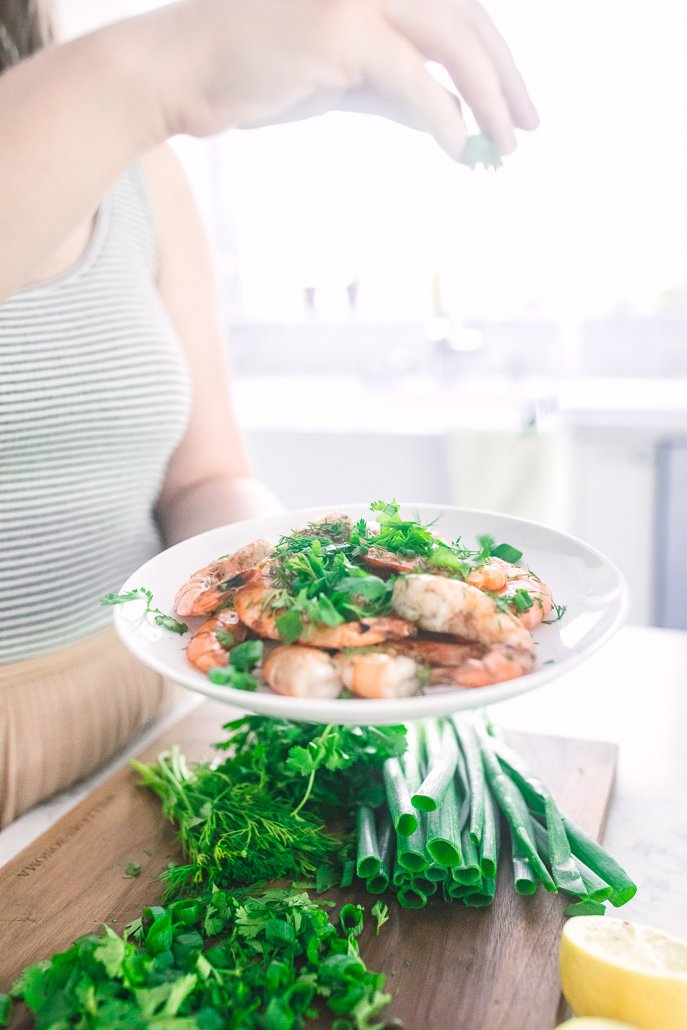 The grilled shrimp are delicious on their own but I love serving them alongside a nice salad, especially if it involves a chilled grain of some kind like rice or quinoa (or both!). Cold rice salads are something I only recently got into. My aunts always serve them when we have summer get togethers with the family and while I love them a lot, I never tried to make them myself at home because for some reason I thought they'd get soggy or not keep well in the fridge.
The trick is definitely cooling the rice or quinoa quickly after cooking, which I do by spreading it out evenly on a sheet pan. If you don't have time to cook your rice ahead of time, you could always buy some pre-made at the grocery store (no one will know the difference and you'll save some prep time).
Chilled Grain Salad
Prep time:
Cook time:
Total time:

Ingredients
1 cup of cooked (and cooled) quinoa

1 1/2 cups cooked (and cooled) rice

1/2 cup of kale

1 cup of arugula

1 tablespoon each of fresh cilantro, basil, and dill

1 tablespoon chopped green onion

1/2 cup cherry tomatoes

1/4 cup of crumbled feta, plus more for serving
The juice of half a lemon
Salt and pepper, to taste
Optional: a drizzle of olive oil or balsamic vinaigrette when serving
Instructions
In a large bowl, add cooked rice and quinoa.
Stir together gently and add kale, arugula, and herbs and green onion. Toss gently and add tomatoes, feta, and lemon juice. Season with salt and pepper. Serve immediately or chill until ready to serve.
Before serving, toss with some olive oil or your favorite balsamic vinaigrette. Top with more feta if desired.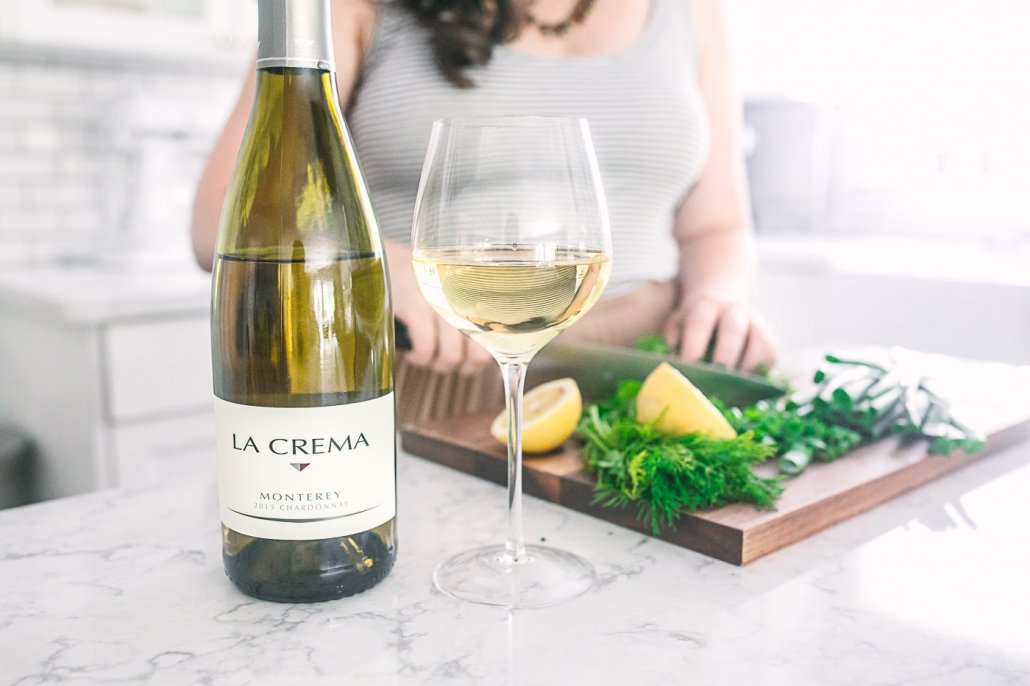 These two simple but tasty recipes can both be made quickly or ahead of time to save for later. Then, you'll always be ready to entertain this summer! I love the combination of luscious grilled shrimp and chilled rice and quinoa with some fresh greens and herbs, especially when it involves a glass or two of La Crema Monterey Chardonnay. Happy grilling!
Photos by Cue the Light.