Scandinavian Dinner: Mustard and Thyme Pulled Leg of Lamb
The Icelandic landscape is incredible. One moment we were driving through an alien landscape of hardened lava boulders tumbling into the sea, the next there were pockets of geyser steam rising up all around us, and then, suddenly, we were in the midst of fields of lupine in front of massive glaciers. Landscapes gave way one to the next in rapid succession. While our starting point in the Reykjanes peninsula left me wondering how anyone had ever decided to settle on such inhospitable ground, in Southern Iceland we found wide green fields and waterfalls and gently grazing sheep. So many sheep! It's no wonder lamb is abundant on Icelandic menus — you can even find it in their famous hot dogs. Which brings me to the final element of this dinner menu: a Mustard and Thyme Pulled Leg of Lamb.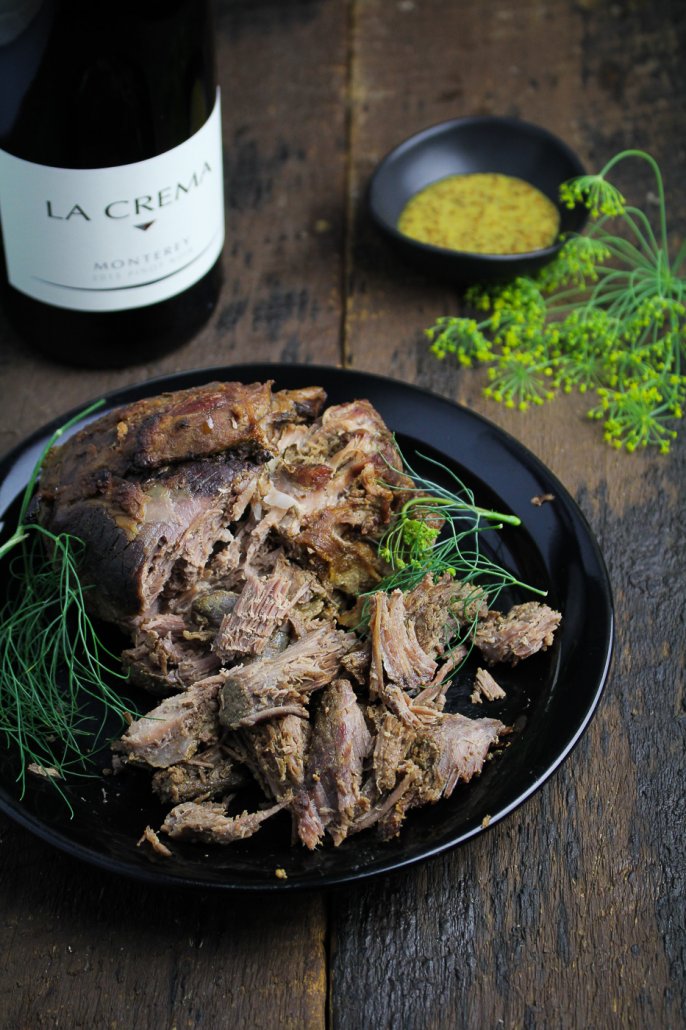 I don't think I've ever had lamb served BBQ style before my trip, but it's so wonderful. Ideally, I would have liked to use a slightly more economical and fattier lamb shoulder for this recipe, but I couldn't find one at my butcher. Leg of lamb seemed to be a suitable (if pricey!) alternative for the results I wanted. You can use either, just keep an eye on the cooking time. The dominant flavors in this dish are mustard, thyme, wine and a bit of smoked paprika for its smoky essence. If you have a full day to devote to BBQing, I think this would be even more amazing smoked on the grill to amp up the smokiness and woodsy flavors.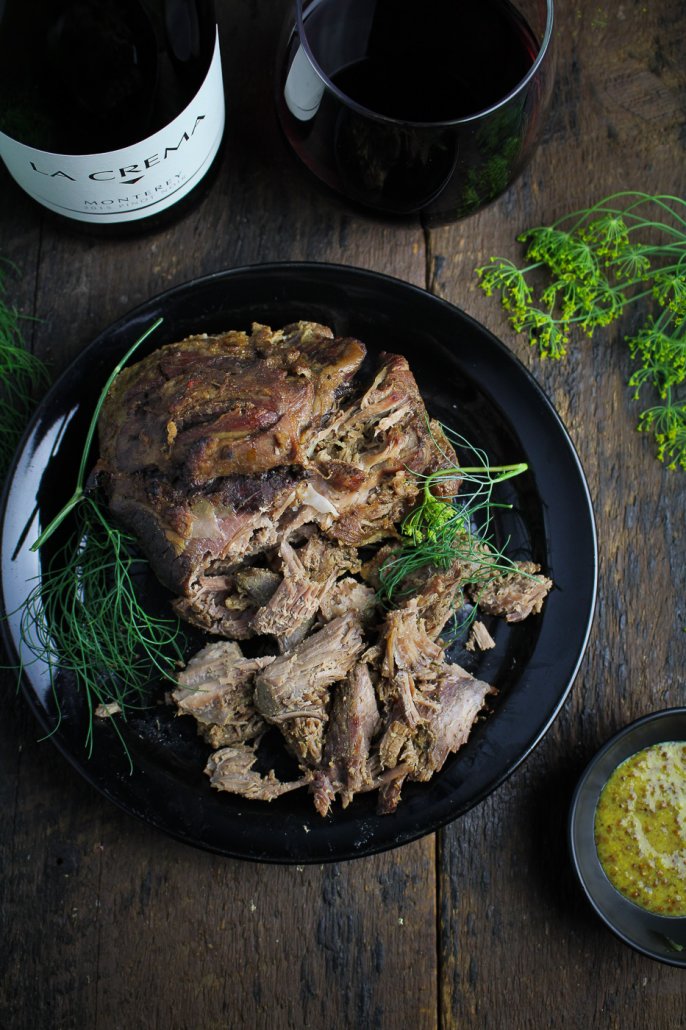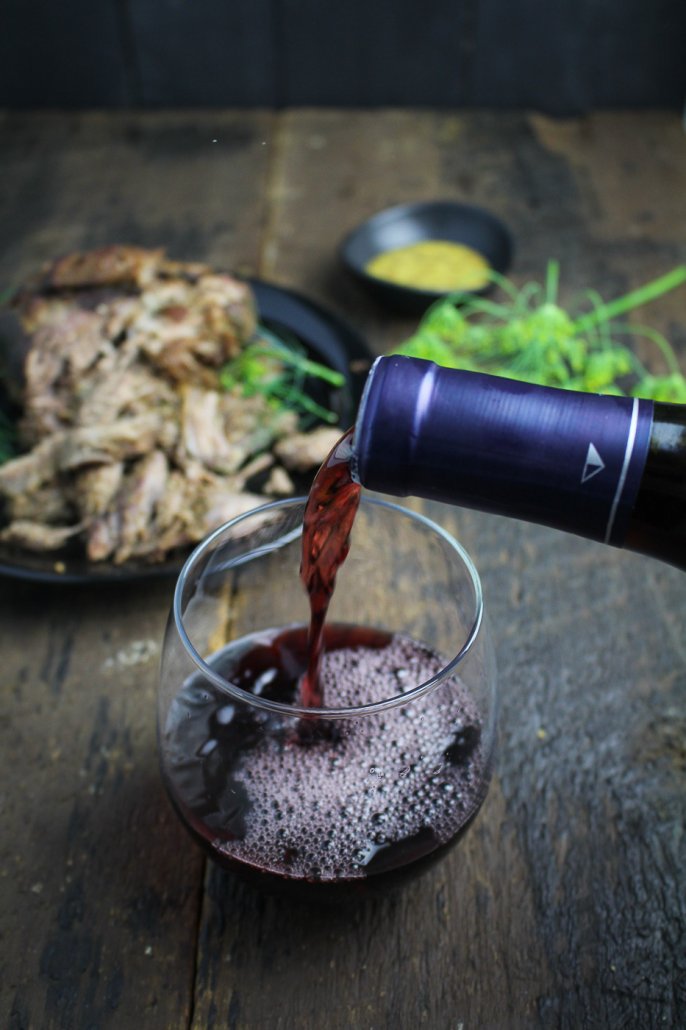 Similar to my waffle concern, I wasn't entirely sure this pulled leg of lamb was going to turn out the way I wanted until the very end. Three hours in to my braise, when my lamb was still very far from what you might describe as "fork tender," I started to worry. What if I had wasted $40 of beautiful lamb leg on a mediocre recipe?
Luckily, unlike the potato waffle fiasco, the pulled leg of lamb turned out amazing. Tender, falling apart, completely imbued with the flavors of mustard and wine and paprika. It was delicious on top of the potato waffles / pancakes, topped with a bit of horseradish sauce and grainy mustard. For this course, I opened a bottle of La Crema's Monterey Pinot Noir and it was so good together! Just tangy and juicy and yum.
Mustard and Thyme Pulled Leg of Lamb
Recipe type: Main
Cuisine: Scandinavian
Serves: Serves 6
Ingredients
3 lb. boneless leg of lamb
RUB
1 TBS sea salt
1 tsp black pepper
2 TBS brown sugar
½ tsp smoked paprika
2 TBS fresh thyme leaves
2 tsp dry mustard
2 cloves minced garlic
2 TBS olive oil
BRAISING LIQUID
1 ½ c. chicken stock
1 c. wine
¼ cup apple cider vinegar
¼ cup Dijon mustard
Instructions
Preheat the oven to 430° Cut and discard any twine holding the lamb together. Score the lamb all over with a sharp knife, cutting about 1/8 of an inch into the meat. Place the lamb in a dutch oven with a lid.
In a small bowl, mix together the sea salt, black pepper, brown sugar, fresh thyme leaves, smoked paprika, dry mustard powder, and minced garlic until evenly combined. Rub all over the lamb, being sure to get some of the mixture into the scored parts and in between muscles. Drizzle with the olive oil and rub to coat evenly.
Transfer the lamb to the oven and roast for 20-25 minutes, without the lid, until browned on top. Remove the lamb from the oven and lower the heat to 300° Use tongs to flip the lamb over. Add 1 cup of very hot water to the pan. In a medium bowl, whisk together the chicken stock, wine, apple cider vinegar, and Dijon mustard. Pour over the lamb. Cover with the lid and return to the oven. Cook until the lamb is falling apart tender, about 4 1/2 hours.
Remove the lamb from the oven and let cool slightly. Use two forks to shred the meat into bite-sized pieces. Serve over potato waffles or potato pancakes.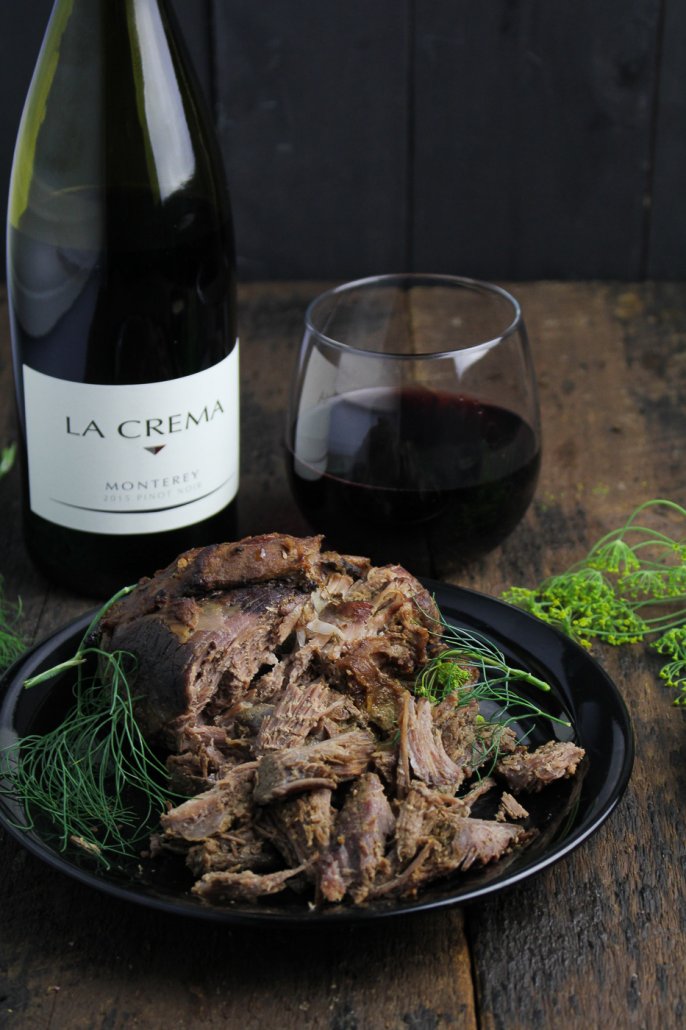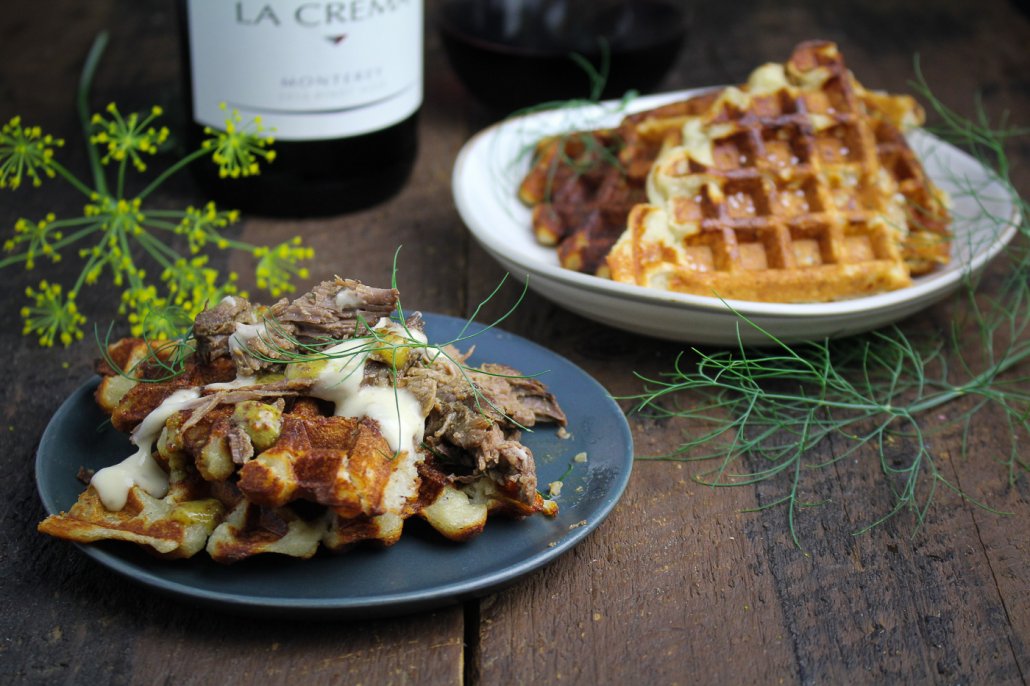 Explore the rest of our Scandinavian menu:
Smoked Salmon Rye Crackers with Caper Cream
Mashed Potato Waffles with Horseradish Sauce
Skyr Mousse with Wild Blueberries and Sweet Gingerbread Crumbs