Scandinavian Dinner: Smoked Salmon Rye Crackers with Caper Cream
Scandinavian cuisine is something I've always enjoyed, but never really made myself. After a jaunt in Iceland, I was excited to test some Nordic-inspired recipes to build this dinner menu, starting with an all-time favorite: the classic Smoked Salmon Rye Crackers with Caper Cream.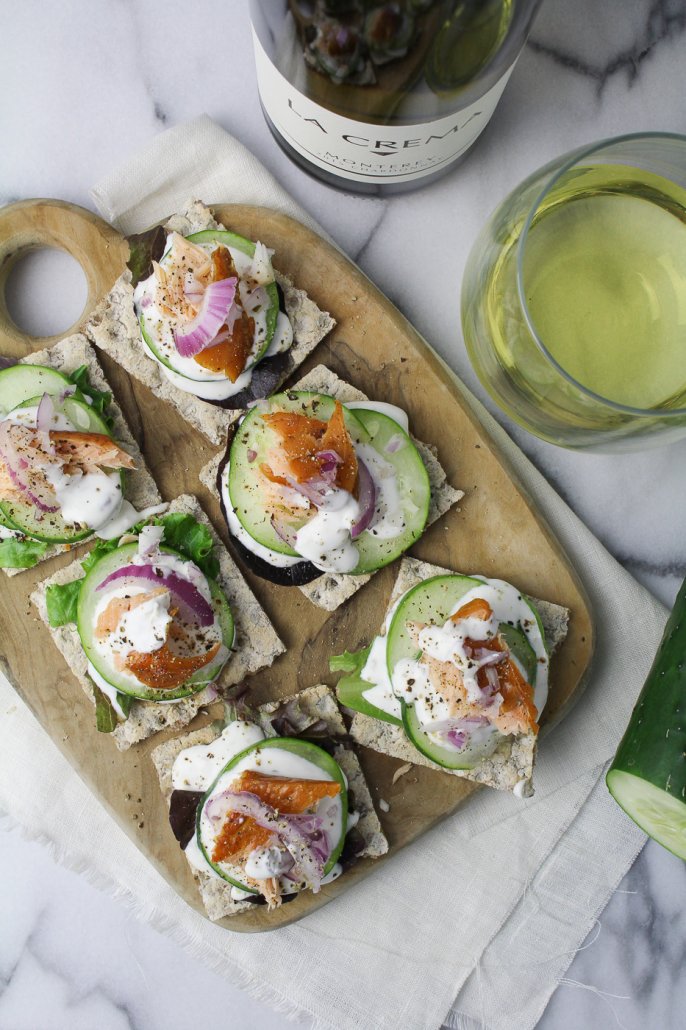 For some background, in July I finally took advantage of Boston's relative proximity to Scandinavia and took a short trip to Iceland. Iceland, like many others, has been at the top of my travel wishlist for years and I was so excited to finally be in the land of moss-covered lava and epic waterfalls. Everywhere I turned there was another natural wonder to gape at.
Iceland is known for being cheap to get to but expensive once you land. I certainly found this to be true, particularly when it came to food. The silver lining to this was that the price differential between cheap food and fancy food was much smaller than it is here in the US. While a gas station hamburger could set you back $20, a three-course meal with wine at a top restaurant only cost $60. So despite the expense, we managed to have some very good meals.
Our most memorable culinary experience was a 3 course dinner at Foretta Barinn in Reykjavik. It was our final night as a group (and a semi-bachelorette celebration) after a long weekend of adventuring in South Iceland. The food was creative and well-executed, the wine was abundant, and the company was unbeatable. That lovely dinner served as the inspiration for this one, a Scandinavian dinner menu I've put together with the team at La Crema.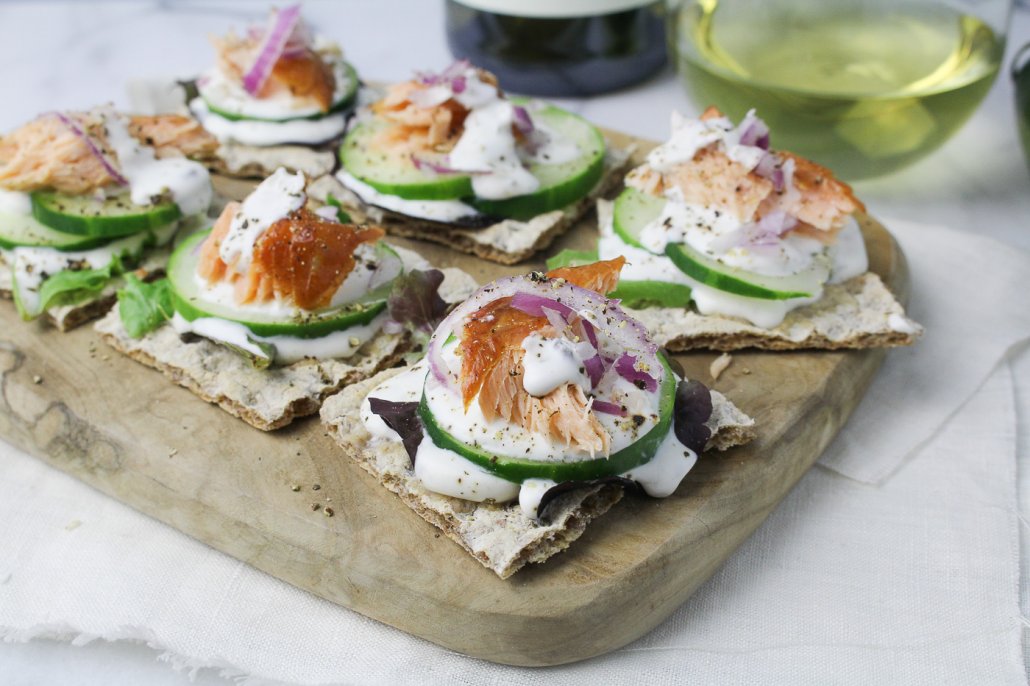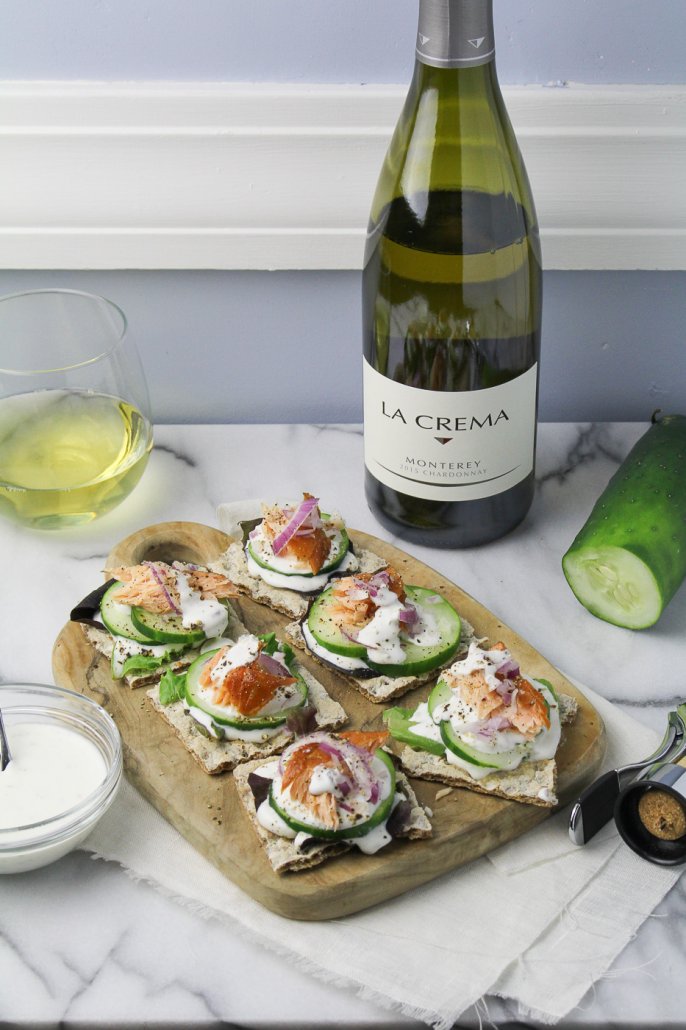 The first course is a super-easy smoked salmon rye crackers appetizer. I found smoked salmon to be almost universally available at Icelandic restaurants. Atlantic salmon is abundant in the crystal-clear rivers of Iceland, and smoke has long been used as a preservative – not only for fish but for meat and dairy. I used hot-smoked salmon because I like the way it flakes, but this would be equally good with cold-smoked salmon (lox).
It's good to have a few minimal-effort, but still fancy-feeling appetizers in your bag of tricks. This should be one of them. The only "cooking" is to whip up a little cream with capers, slice a cucumber, and assemble. It's also very portable, so if you're hosting a dinner that is in any way mobile, guests can grab one of these, a glass of wine and easily navigate the event. On that note, the wine to open for this course is La Crema's Monterey Chardonnay. Its bright acidity, tropical notes and smooth texture stands up nicely to the fatty, smoky salmon and rich caper cream.
Smoked Salmon Rye Crackers with Caper Cream
Author: Katie Morris of
Recipe type: Appetizer
Cuisine: Scandinavian
Serves: Serves 6
Ingredients
¼ c. heavy cream
¼ c. plain skyr
1 TBS capers, roughly chopped
18 rye crackers, such as wasa crackers
½ cup microgreens or torn mixed baby lettuces
½ small cucumber, thinly sliced
6 oz. hot-smoked salmon, flaked into bite-sized pieces
2 TBS finely chopped red onion
Instructions
Place the heavy cream in a medium bowl and whisk vigorously until stiff peaks form and cream is fully whipped. Add plain skyr and whisk the two together to incorporate evenly. Gently whisk in the chopped capers.
Place the rye crackers on a cutting board or serving platter. Dab a very small amount of the caper cream on each cracker (just so the greens and cucumber will adhere!). Place one or two pieces of lettuce or a handful of microgreens on the cracker, then top with one or two slices of cucumber. Add another small dollop of caper cream on top of each cucumber, then top with a piece of the hot smoked salmon. Sprinkle a few pieces of chopped red onion on top and dollop a bit more caper cream to finish. Serve immediately.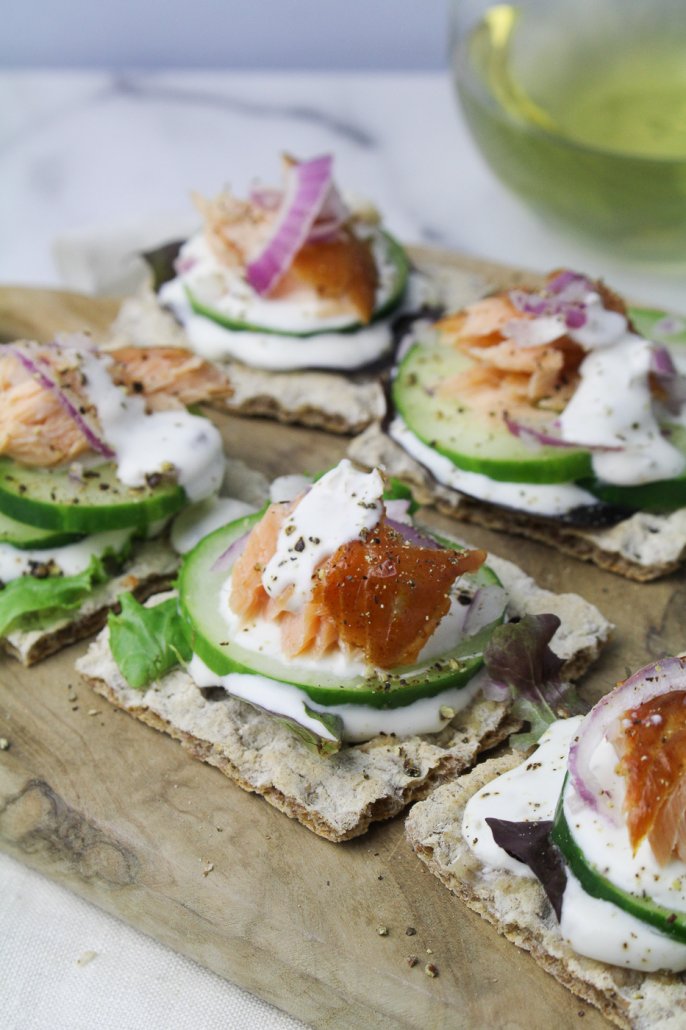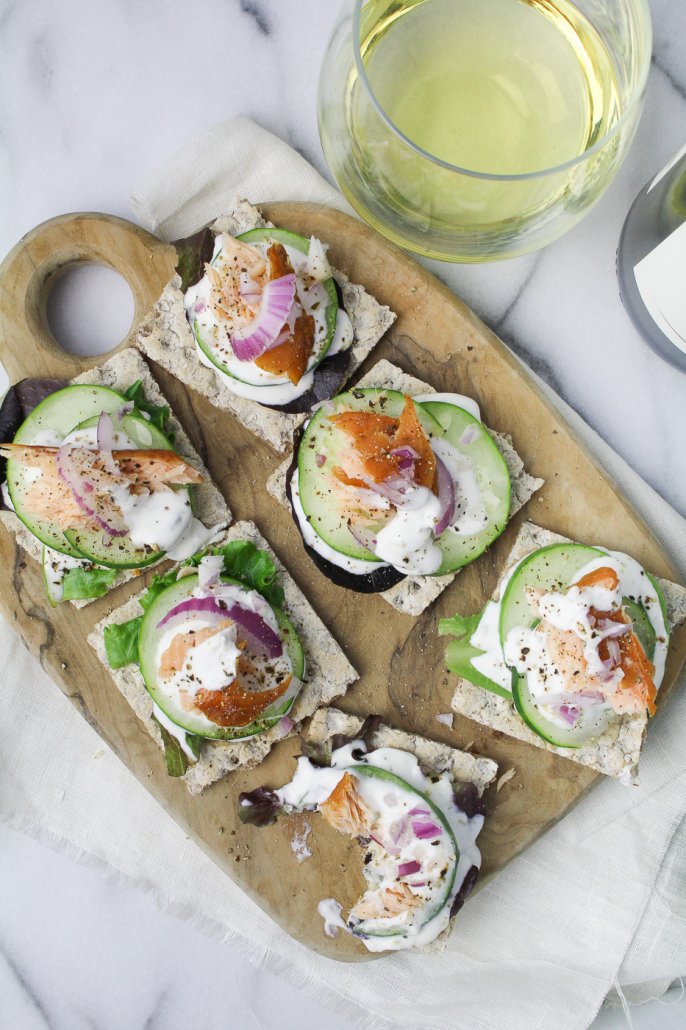 Explore the rest of our Scandinavian dinner menu:
Mashed Potato Waffles with Horseradish Sauce
Mustard and Thyme Pulled Leg of Lamb
Skyr Mousse with Wild Blueberries and Sweet Gingerbread Crumbs