Farm-to-Table at Home: One Pot Risotto
Our final meal of the Farm-to-Table at Home series is a scrumptious easy dinner that is perfect for a weeknight in: a creamy, luxurious one pot risotto with chicken and mushrooms. This risotto is full of flavor and great for beginner cooks looking to expand their recipe basics for an elegant everyday meal.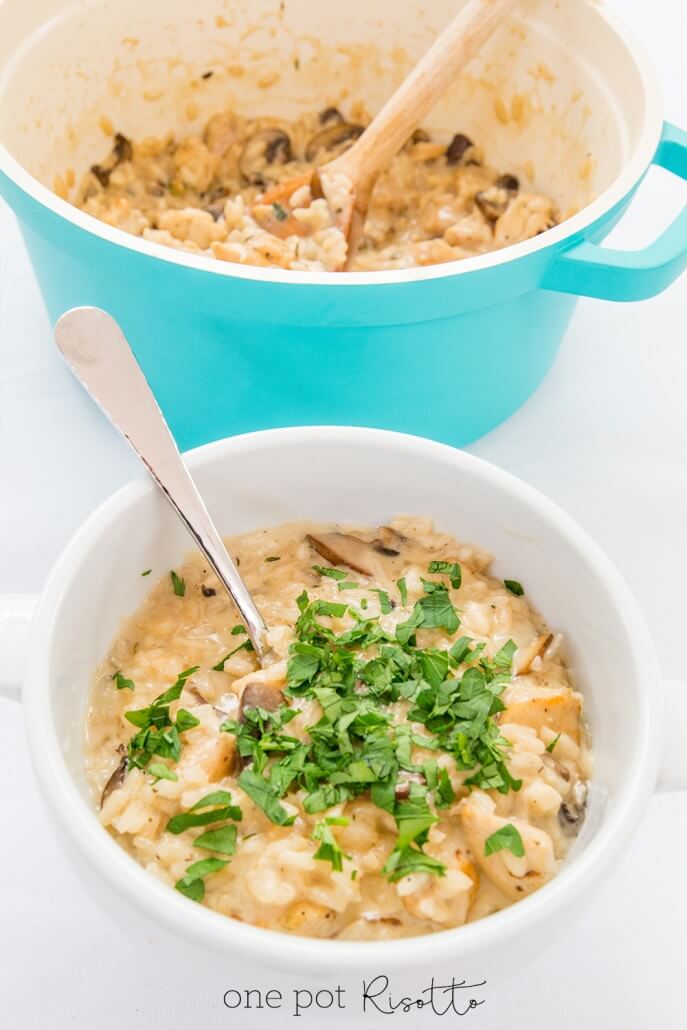 Risotto often gets a bad rap. It is what occasionally sends chefs home on cooking shows, and is fairly hands-on all the time when preparing (which is essentially just a ton of stirring). Risotto is a classy, decadent dish that is impressive on a weeknight and because it is warm and creamy, it makes it a great meal for a cozy night in. So! If you can stir a pot, you can make risotto! And to make things even easier, you can even make it with just one pot to cut down on cleanup time so you can focus on enjoying the evening over a bottle of wine.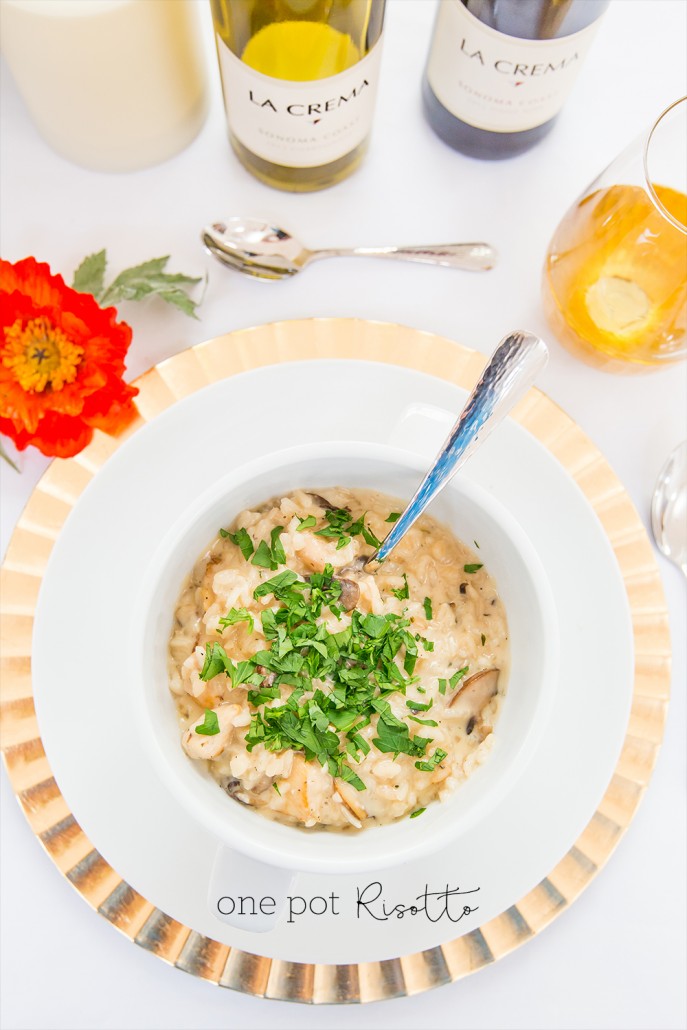 Risotto is perfect with an elegant everyday wine and goes well with both rich whites and light reds. I love La Crema's Sonoma Coast and Monterey Chardonnays and Sonoma Coast Pinot Noir with this dish. Flavors of apple, sweet spices and light citrus in La Crema's Sonoma Coast Chardonnay help cut the fat in risotto, whereas the rich hints of vanilla in the Monterey Chardonnay bring out the strong buttery flavor in the rice.
While you might not think of pairing a Pinot Noir with a chicken risotto, I love the way La Crema's Sonoma Coast Pinot Noir highlights the risotto's rich, meaty mushroom flavor and is still light enough to not completely overpower it.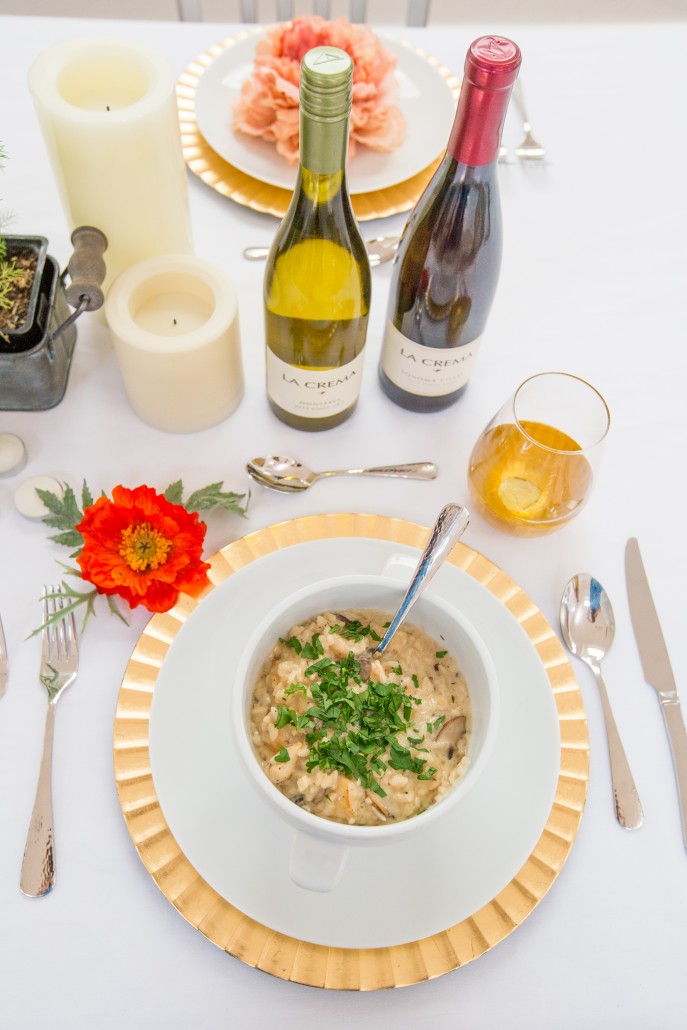 For a fun conversation starter, pour a half glass of both the Pinot and Chardonnay for each diner, and compare how the flavors of the risotto change with each wine. Take notes and share your thoughts — food and wine tastings can spark some of the best debates! You can learn a lot about someone by hearing what flavors they like and how they interpret those notes with the pairings you are tasting alongside them.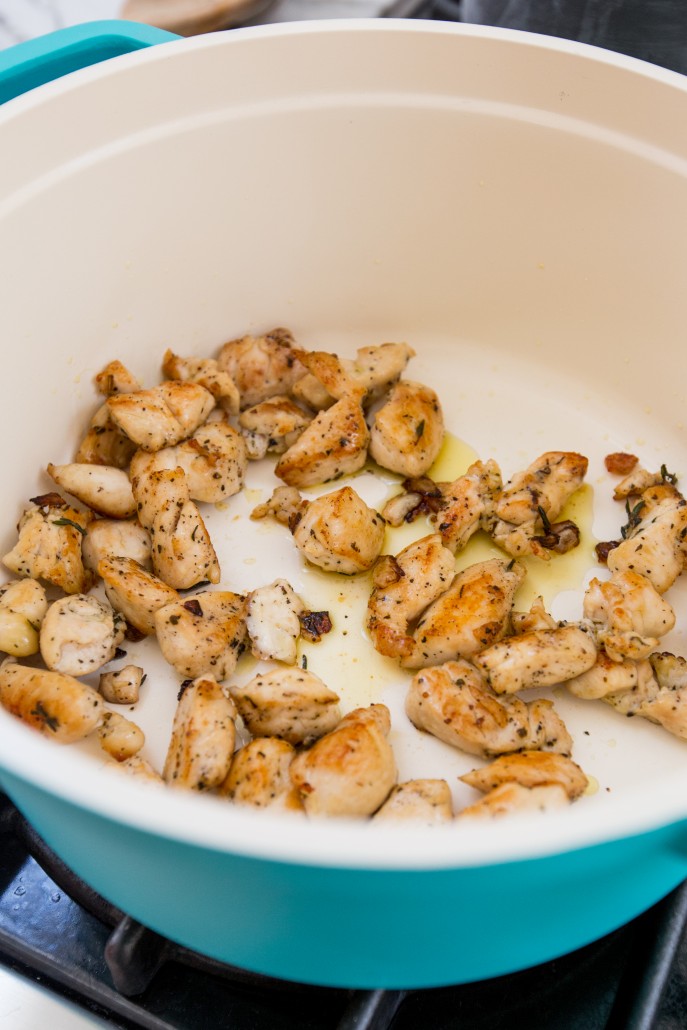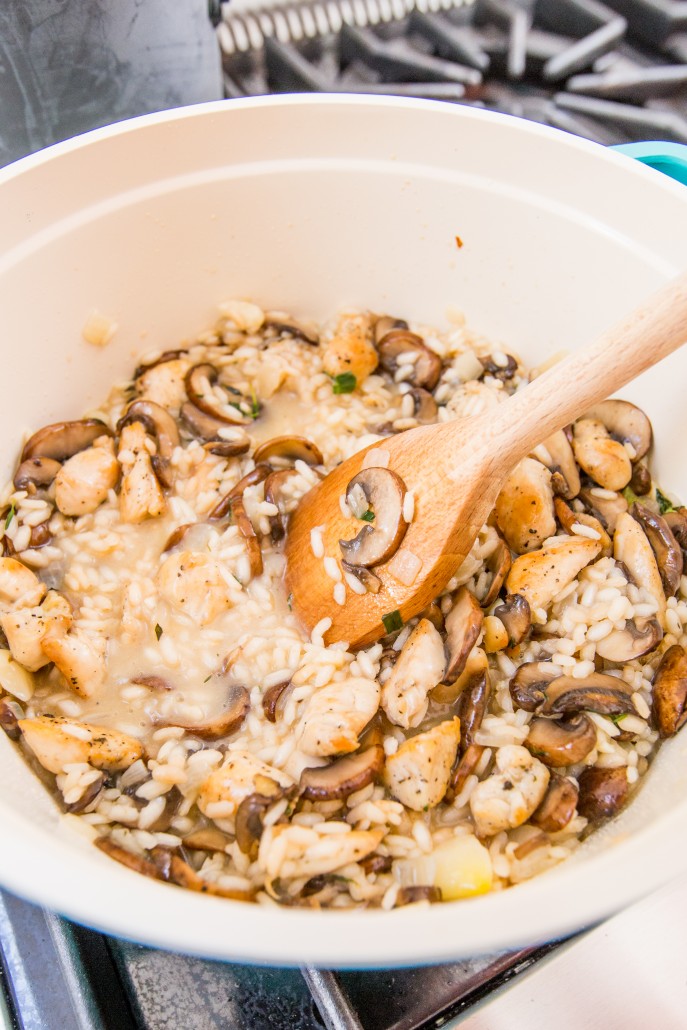 One Pot Risotto
Author: La Crema Culinary Team
Recipe type: Main
Cuisine: Italian
Serves: 6
Ingredients
2 chicken breasts (or 1 full breast if attached), diced to 1″ cubes, seasoned with salt and pepper
1 large onion, diced
8 oz cremini, oyster and shiitake mushrooms
2 1/2 cups arborrio rice
2 packages beef or chicken stock, lower sodium is best (2x 14 oz box- you may use less or have to add additional broth or water to cook to your preferred rice texture. I like beef in this even though its a chicken dish because its a bit saltier and has a richer flavor when cooked down, but that is just a personal preference)
3 tbsp butter
olive oil
salt
pepper
1/2 cup La Crema Sonoma Coast Chardonnay
1 cup water
1/2 cup Parmesan Cheese, fresh grated
Instructions
Heat a large pan or ceramic dutch oven over high heat.
Add 1 tbsp olive oil.
When oil is shimmery, add diced chicken.
Cook until browned on all sides.
Add diced onions and mushrooms.
When vegetables are slightly browned, add butter and stir.
Lower heat to medium-low, add rice, stir well.
Let rice brown just slightly (think "toasted" for a little flavor)
Add a little bit of stock and wine- just enough to keep the consistency liquid.
Stir frequently until rice thickens.
Add a little more stock until it is just barely liquid. Repeat stirring frequently until thickened and adding just enough stock to keep it from burning or becoming too thick.
Realistically, using a regular sized container of stock, you'll use it in about 6ths or 8ths.
When your stock is gone, and the risotto has become thicker, taste a bit of it.
If the rice is too crunchy for your taste, add a little water and proceed with the steps above. Risotto should be slightly al dente- just a slight, teeny crunch when bit. If you over cook the rice, it will become a bit gummy- but its all individual tastes.
Add diced green onions just before your risotto is done cooking- you won't want them to overcook. If using frozen peas, add them with the last addition of stock so they thaw and cook just briefly.
Add parmesan cheese and stir to fully incorporate.
When risotto is thick enough to not spread all over a plate, but not so thick you can shape it like mashed potatoes, it is ready.
Serve when warm.
Grate fresh parmesan cheese over the top and enjoy!
Tips to make the perfect risotto:
– Focus on fresh. Find locally sourced ingredients to bring out strong flavors without adding a ton of extra items. Fresh, simple food shines in easy recipes like this risotto. You can add seasonal vegetables as you like- asparagus in the spring, zucchini in the summer, squash in the fall.
– One pot, or two. While this can be made with just one pot, it is helpful to heat your stock on the stove in another pot. If your kitchen is cool, this is a step you won't want to skip, or the risotto will take longer.
– Stir! The creamy, seductive texture of risotto comes from the rice releasing its starches, not from cream. To get the perfect texture, you need to release a lot of those starches! Stir, stir, and stir some more! Risotto is not a hard meal to make, but it does take a lot of hands-on time stirring.
– Say cheese! Limit the amount of salt you use in the early stages of the risotto in favor of salty cheese later on.
– Save the leftovers. If you are making a big batch and know you won't eat it all, I often pull about half the recipe just before it's done and box it up for leftovers. That way, I can add them to a pan with a little more stock and cook it fresh the next day. If you do end up with leftovers, they are delicious! I prefer to heat it up in a pan versus the microwave, but it works really well either way.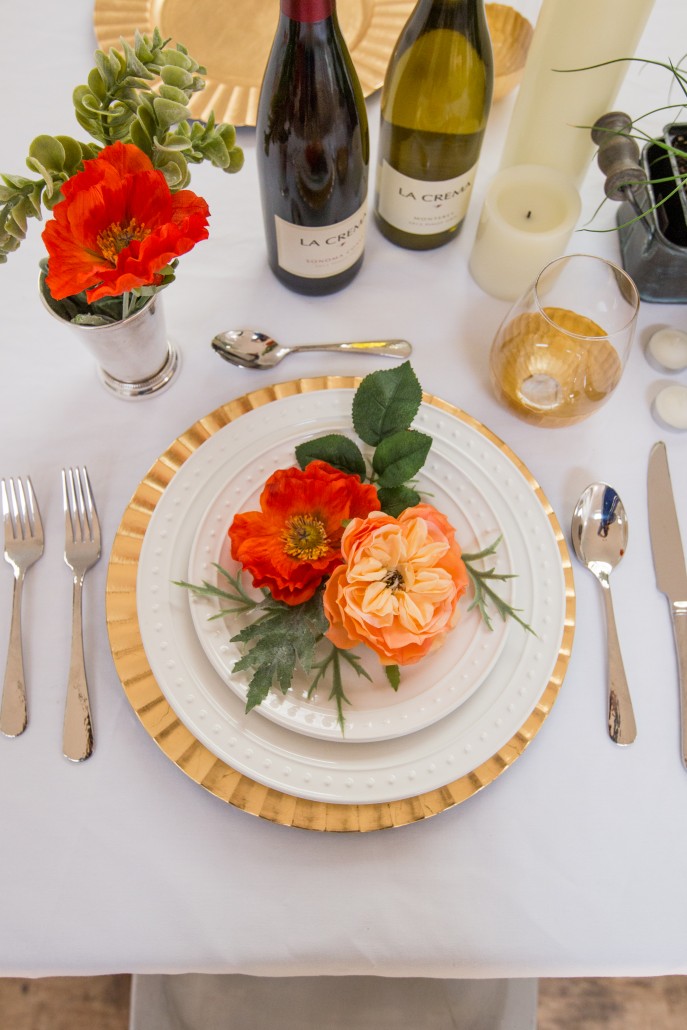 For more information on this weeknight dinner please visit all of our posts in this series.
Farm-to-Table at Home Weeknight Dinners
Farm-to-Table at Home: Weeknight Dinners
Elegant Everyday Table Setting and Decor