How To Pack For Holiday Travel
The holidays are filled with much-needed family reunions, laughter with friends, and holiday hometown travels.  
It truly is the most wonderful time of the year! Make it even more wonderful by sharing your favorite La Crema wines with your loved ones. Use our Ultimate Packing Guide and travel like an influencer by keeping enough space in your luggage for your favorite La Crema bottles.   
Plan Before You Pack 
It's no doubt we're all guilty of overpacking when traveling. Suddenly that sequence dress you've never worn seems like proper attire for your in-law's living room.  
Before you pull out that suitcase, check off each item in the below Pre-Packing To-Do List. 
 
YOUR PRE-PACKING TO-DO LIST 

Check The Weather of Your Destination  
There's a big difference in holiday weather between San Diego vs. Rochester, New York. It's also a gamble if you pack based on your assumptions of the weather in that region. Weather is unpredictable.  It's best to check the local report before you pack those regional-specific items.  
The same goes for hair styling tools. If you're going to wear your hair in a ponytail or a beanie for the majority of your visit, do you really need to bring that straightener? Leave the styling tools you're unlikely to use behind.   
Pro-Tip: If you're visiting friends or family, see if they have items you can borrow. Save space on packing that heavy winter coat or hair curler if they have ones you can use.   
Find Out Your Itinerary  
If your biggest plan involves Karaoke at your hometown dive bar, maybe that fancy dress and heels can stay in your closet. If you're visiting friends or family in a new city, ask them if they have anything planned. If they're unsure, look up local event calendars and local attractions.  Add items to your packing list based on the events and locations you would like to visit.     
Plan Your Plane Look   
Do you need to bring a thick jacket and rain boots? Wear those on the plane. They are easy to remove and store under the seat in front of you once you've boarded. Save space in your suitcase by wearing your jeans on travel day and packing the leggings instead.    
Pro-Tip: More items you wear on the plane means more items you'll have to remove when you hit the security line. Begin preparing the removal of your shoes, jacket, and jewelry before it's your turn to pass through the metal detector. Once you're through, move to a bench so you can take your time getting yourself back together. Other travelers will appreciate your efficiency.   
Take Inventory of Your Luggage  
Do you need a garment bag? Then maybe a smaller piece of luggage will do just fine for the rest of your clothes. Do you have a separate wine suitcase? Then perhaps a carry-on for your wardrobe will be big enough. Be deliberate about which bags and suitcases you choose to pack.   
Pro-Tip: Planes for domestic flights usually have less overhead bin space than planes for international flights. If you do have a carry-on, place medications and anything valuable inside a personal item in case you have to check your carry-on last minute.   
Update Your Luggage Tag  
Even with carry-ons, a luggage tag is best practice in case you misplace an item, or in case it gets gate-checked when you board the plane. Update it with your current phone number, address and email address.  
Pro-Tip: Enter our #PackLaCrema Sweepstakes for a chance to win a cute leather luggage tag and a $50 gift card to cover your baggage fees.  
YOUR PACKING STRATEGY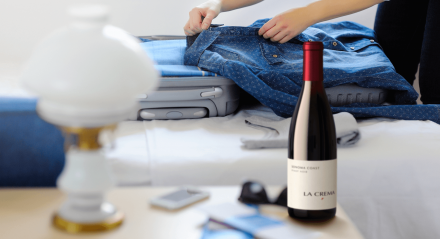 Now that you've completed the Pre-Packing To-Do List, you are ready to pack those bags!  
Maximize your usable space by fitting the right items in the right places. Similar to putting together a puzzle, you don't want to leave any gaps showing.
 
Roll Your Clothes  
Rolling clothes instead of folding them saves room in your suitcase. It also can help limit wrinkles.  
The best way to roll a shirt is by folding in the sleeves and rolling from the bottom seam. For pants, fold the legs together and begin the roll from the waist down to the ankles.   
Pro-Tip: If you're somewhere without access to an iron, hang your clothes while you shower. The humidity and steam will help loosen the wrinkles.   
Let The 5,4,3,2,1 Rule Help Guide You  
If you're one of those people that tend to travel with your full closet, start with this 'essentials packing rule' to help limit the number of essential clothing items you pack for a weeklong vacay: 
5 – Pairs of underwear and socks  
4 – Tops  
3 – Pairs of Pants  
2 – Pairs of shoes   
1 – Hat  
Adjust the number of items based on your trip length. From there, decide which items you need to bring based on your plans.  
Going to the beach? Remember to add that bathing suit. Going to a New Year's party? Pack that dress. If your trip is longer than a week, or you have more specific attire needs, plan on doing a load of laundry. If you won't have access to a washer, shirts, socks, and undergarments are easy to handwash in a bathroom sink.   
Choose Outfits Based on Your Shoes  
Not only do shoes take up space, but they can add extra weight to your luggage. Plan on packing only one pair and wearing your second pair on travel day. You can then choose which clothes you pack based on which shoes you are bringing instead of doing it the other way around.   
Pro-Tip: If you plan on working out but don't want to pack gym shoes, look up bodyweight exercises you can do from your parent's spare room, or opt to do a recovery week and focus on stretching.   
Stuff Your Shoes  
Your shoes are taking valuable real estate within your luggage. Use that space and roll a few clothing items to stuff inside your shoes. This is also a great space for packing jewelry, belts, and watches.    
Carry-On Your Toiletries  
You never know what is going to happen and having your toiletries on hand is a must! Make sure you pack items that are TSA-approved sizes and keep them in a separate pouch with your personal item.   
Pro-Tip: If your personal item is too small for your toiletries bag, use a carabiner snap hook and clip the bag to your personal item instead. Both should be small enough to fit under the plane's seat.   
Avoid Leaving Space   
Leaving space in your suitcase means there's room for your stuff to get shuffled around. This can lead to wrinkled clothes or things breaking. Continue to rearrange your suitcase until there are no more gaps.  
Pro-Tip: If you're leaving room in your luggage for souvenirs and gifts, remember you can always ship them home. You can also pack a separate tote bag and fill it only with items you've gotten on your trip.  
YOUR (WINE) PACKING STRATEGY 
Now that you know how to maximize space in your luggage, it's time to put that space to good use and pack your La Crema wine! If you don't have separate wine luggage, there are a few tricks to ensure your bottles make it to your final destination in one piece. 
Wrap Your Wine In A Plastic Bag 
Although unlikely to break when properly packed, wine bottles are still glass. There is no guarantee they won't break in transit. The first line of defense for protecting your wine is to place the bottle in a plastic bag. Add an extra layer of defense by wrapping an absorbent cloth around the bottles in case it breaks. 
Pro-Tip: There are wine protector bags and kits designed to absorb shock for plane travel.      
Line Your Luggage With Your Clothes  
Before you place the bottles into your luggage, layer your rolled clothes on the bottom and edges of your suitcase.  
Pro-Tip: Hard shelled luggage is best when packing anything fragile.  
Don't Place Bottles Next to Each Other  
Surround each bottle with your rolled clothes or anything soft. Avoid placing hard-surface items next to your bottles.     
Pack The Corkscrew  
It's a tale as old as time, there's a fantastic bottle of wine but no corkscrew. Make sure you can actually enjoy your bottles and pack a corkscrew.  
Pro-Tip: Corkscrews make great stocking stuffers. If you want to take it up a notch, gift someone an electric corkscrew. They look sleek, are easy to use, and are a crowd pleaser.  
YOU'RE (ALMOST) READY TO JET SET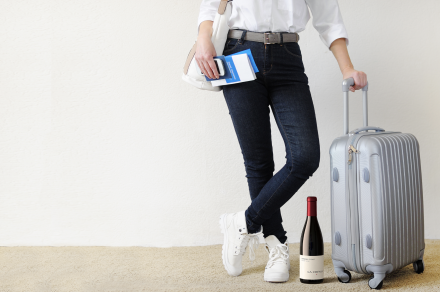 You have a packing strategy. You have wine. What about the baggage fees?  
Because we want you to get the most out of your holiday celebrations, we are offering 100 winners a $50 gift card to cover baggage fees in our #PackLaCrema Sweepstakes.
Starting November 1, 2022, you will be able to enter our sweepstakes.
Now you're ready to jet set!
PACKING LIST