Pork Belly Bánh Mì Sandwiches
A few weeks ago we tackled the challenge of making pork belly at home, half of which we used in this delicious Red Wine Caramelized Pork Belly appetizer. Now, it's time to talk about the ultimate use for the second half of the belly – Pork Belly Bánh Mì Sandwiches.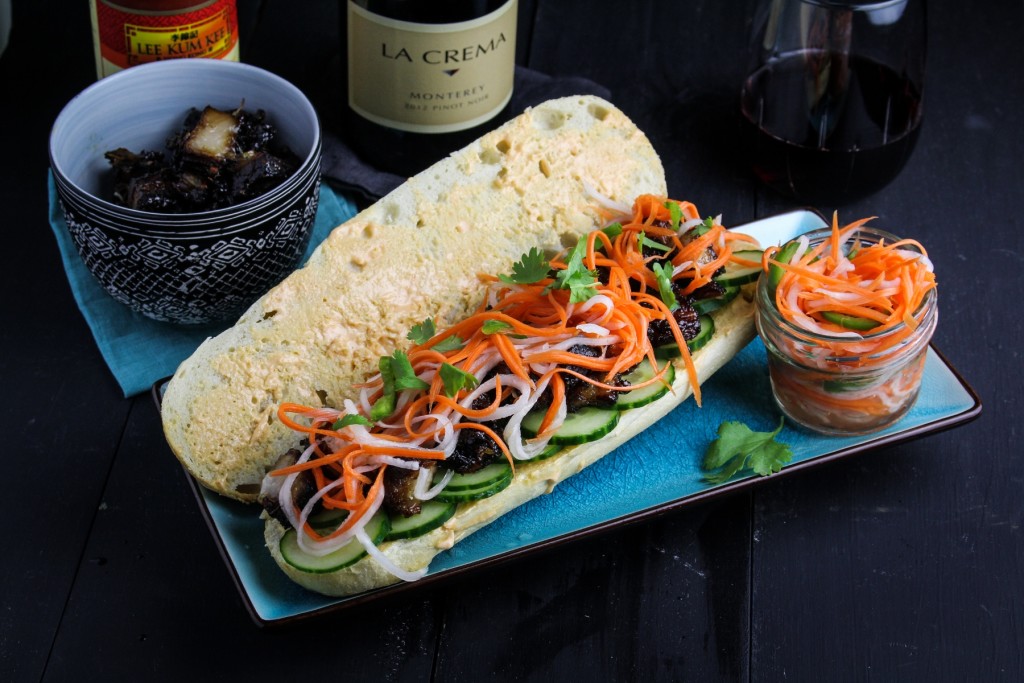 If you haven't had the pleasure of trying this classic Vietnamese sandwich, you're in for a treat. Bánh mì actually refers to various kinds of bread, but in the US the phrase has become synonymous with the sandwich itself. The sandwich is a product of the period of French colonialism in Vietnam, during which much of the French-Vietnamese fusion cuisine that we enjoy today developed. The French introduced wheat-based breads to Vietnam, as well as traditional sandwich fillings like pâté and butter. Over time, the Vietnamese contributed pickled vegetables, spicy sauces, and fresh herbs to the classic Parisian baguette, ultimately resulting in the sandwiches we enjoy today.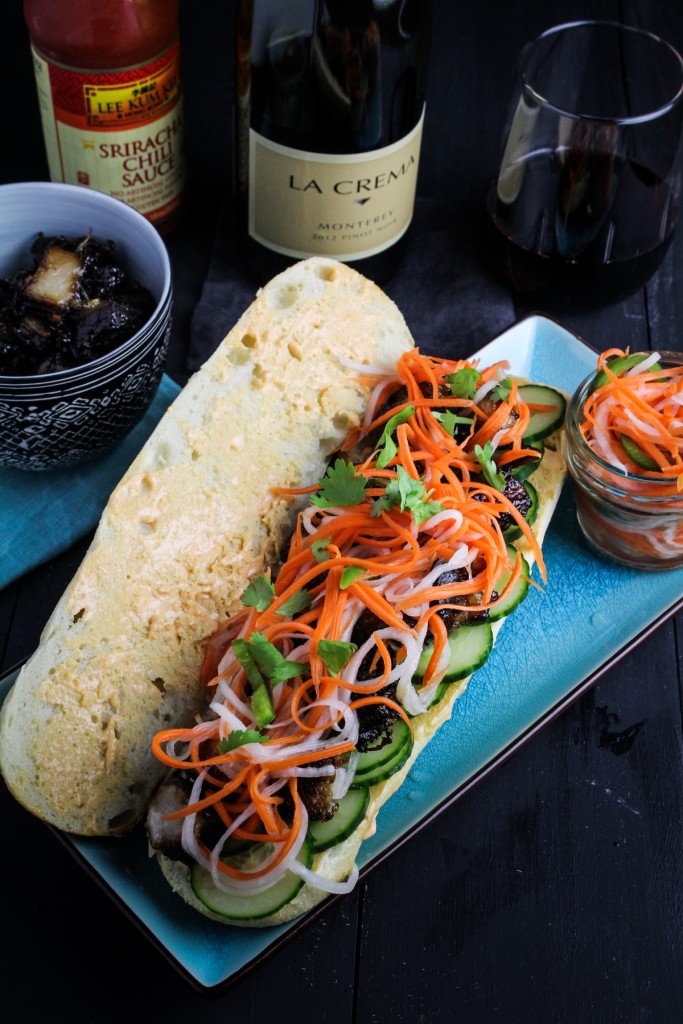 A classic bánh mì has five important elements—a single-serving Vietnamese baguette, a pork-based filling, pickled carrots and daikon, fresh vegetables and herbs (most typically thinly-sliced cucumbers and cilantro),  and a spicy/fatty combination of condiments, such as chili sauce and mayo.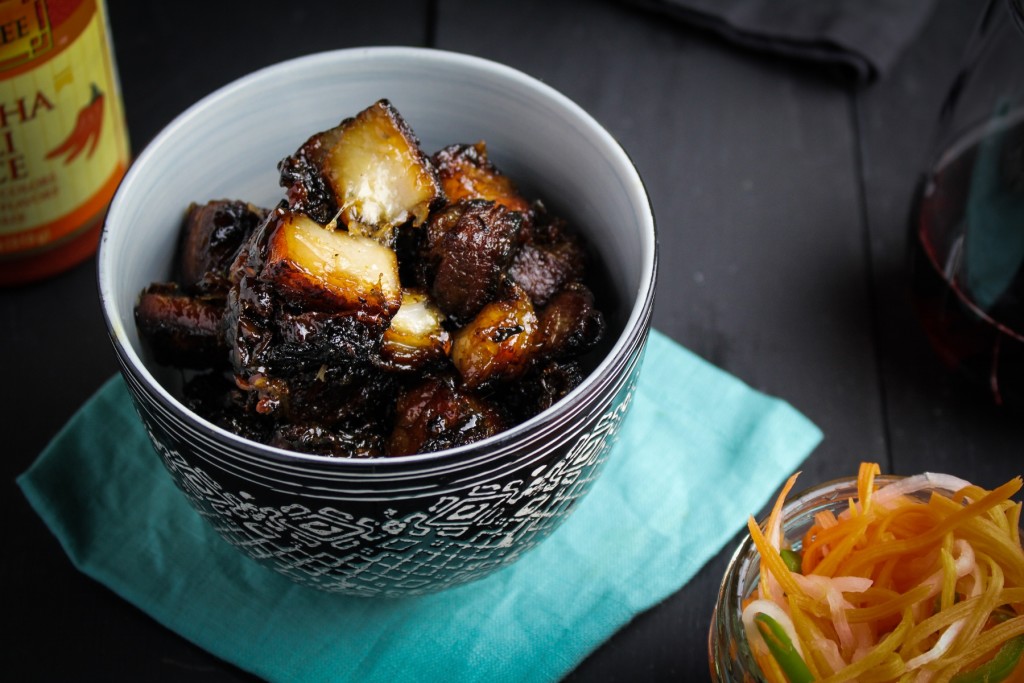 When it comes to the pork filling, there are a variety of different versions out there. Some bánh mì are made with pâté, others use deli-style pork such as thinly sliced porchetta, still others use pork sausage or meatballs, and some use a combination of all of the above. My favorite (and arguably the most popular) version of the sandwich, however, uses hot, caramelized, sticky-sweet chunks of pork belly for the filling. The contrast of the hot, sweet-ish, fatty belly with the cold, crunchy, and astringent pickles is really incredible: In the past few months, I can't seem to get enough of it.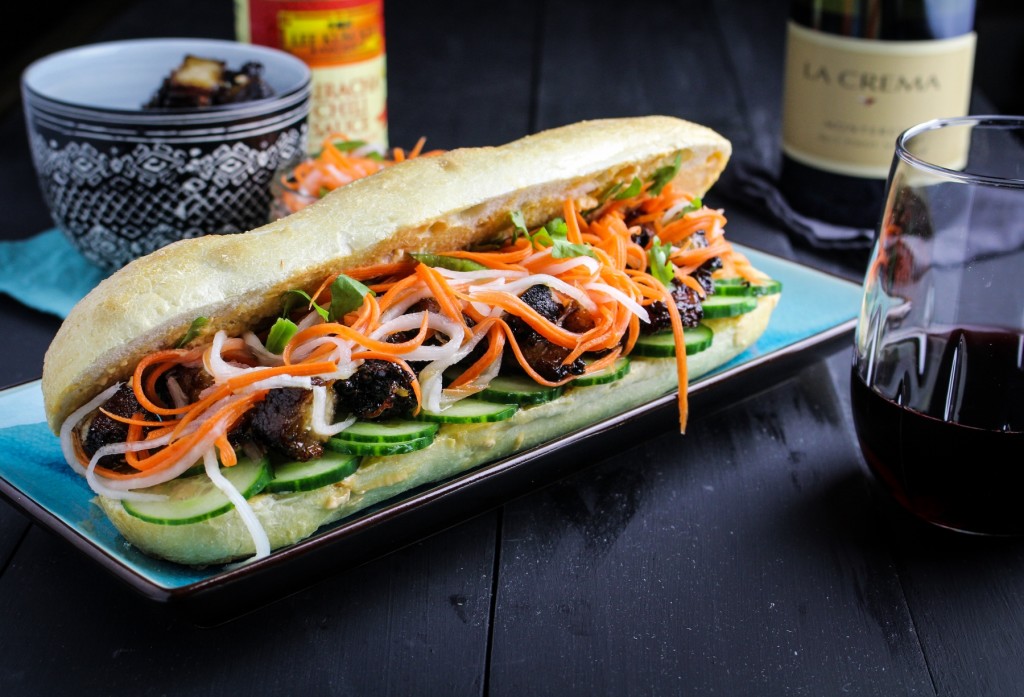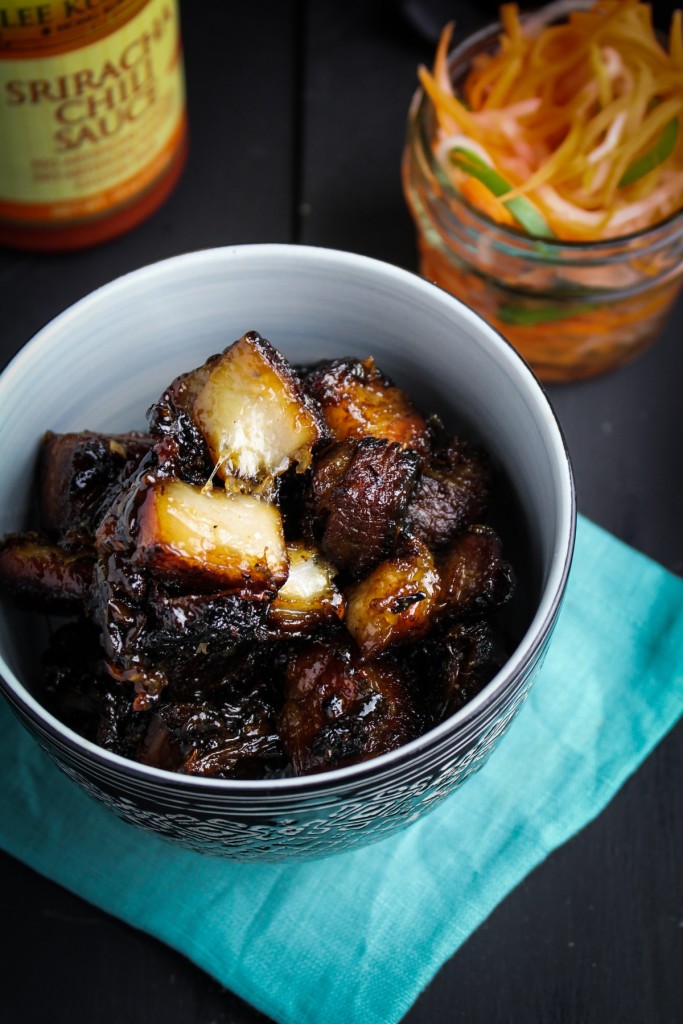 Making Pork Belly Bánh Mì Sandwiches
To make bánh mì at home, you'll need some partially prepared pork belly (see this post for full instructions!), baguette, mayo, sriracha, fresh vegetables, cilantro, and vinegar for quick-pickling.
The sauce for caramelizing the pork belly consists of sugar, garlic, fish sauce, tamarind, Thai chile, pepper, and lime, which makes for lots and lots of sweet-sour-spicy flavor in the belly itself.
It's a little bit of a project to prepare the pork belly, but the other elements are super easy. I'd recommend making enough pork belly for at least a few days worth of sandwiches! I speak from experience—you'll definitely want to have more than one of these. Of course, you'll need something to drink with your sandwich (and to tide you over while you're preparing the pork belly), and La Crema's Monterey Pinot Noir is a great choice.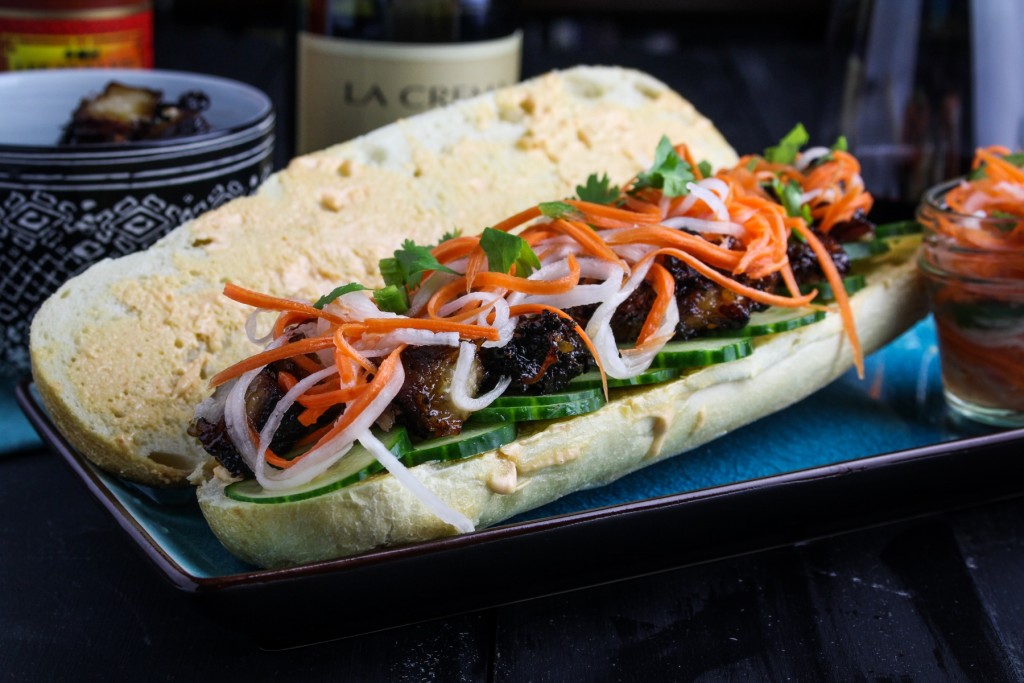 Pork Belly Bánh Mì Sandwiches
Author: Katie Morris
Prep time:
Cook time:
Total time:
Serves: 2-3
Ingredients
6 TBS rice wine vinegar
1 c. warm water
4 TBS sugar
1 TBS kosher salt
2 carrots, peeled
1/2 large daikon, peeled
1 jalapeno pepper, seeded and sliced
1 TBS canola oil
1 clove garlic, peeled and minced
1 tsp fish sauce
1/2 tsp tamarind paste
1/2 small Thai chile, seeded and thinly sliced
1/2 tsp whole black peppercorns
1/4 c. sugar
1 T freshly squeezed lime juice
2-3 individually sized baguettes
2 TBS mayonnaise
1 tsp sriracha sauce
1 cucumber, peeled and thinly sliced
1/2 c. fresh cilantro leaves
Instructions
To make the pickles, combine the rice wine vinegar, warm water, 4 TBS sugar and kosher salt in a large bowl and stir to combine and dissolve the sugar. Use a julienne peeler to grate the carrots and daikon into thin strips, then place the carrot and daikon into the pickle brine. Add the sliced jalapeno. Cover and refrigerate pickles for at least 8 hours – pickles will improve with time and will last in the fridge for a few weeks.
To make the pork belly, cut the roasted and chilled pork belly into 1 inch cubes and set aside. Heat the canola oil in a saucepan over medium heat, then add the garlic and saute until fragrant, about 60 seconds. Add the fish sauce, tamarind paste, Thai chile, and peppercorns and cook for 1 minute, then add the pork belly to the mixture. Stir the pork belly to coat with the sauce, and cook until the pork belly is very hot and beginning to brown on the edges, about 10-15 minutes. Remove from the heat. In a non-stick frying pan, spread the 1/4 c. sugar out in a single layer. Heat the sugar over medium-low heat, keeping a close eye on it but not stirring it. When the sugar begins to melt, use a rubber spatula to push the unmelted sugar into the melting sugar. Once all of the sugar is melted, add the pork belly and sauce and quickly stir to coat with the caramelized sugar, then add the lime juice. Cook until pork is fully coated and caramel sauce is thick, about 2-3 minutes, then remove from the heat and set aside.
To prepare the sandwiches, slice each baguette in half lengthwise. Mix the mayonnaise and sriracha together in a small bowl and spread on the bottom half of each baguette. Place a layer of sliced cucumbers on top of the mayonnaise, then top this with the pork belly. Place a few large spoonfuls of the pickled carrot and daikon on top of the pork belly, then top that with the cilantro leaves. Close the sandwiches and serve immediately.