Harvest Pumpkin Dinner: Pumpkin-Vanilla Pot de Cremes
For the third and final course of our little pumpkin-themed dinner, we made simple Pumpkin-Vanilla Pot de Cremes. Having just had a luscious chocolate pot de creme as the final course of our engagement dinner, the rich dessert, which is basically a fancy version of pudding, was on my mind.I didn't want to go overboard with the "pumpkin spice" flavors, so there's just a little bit of cinnamon, ginger, and cloves, and lots of vanilla to soften the spices.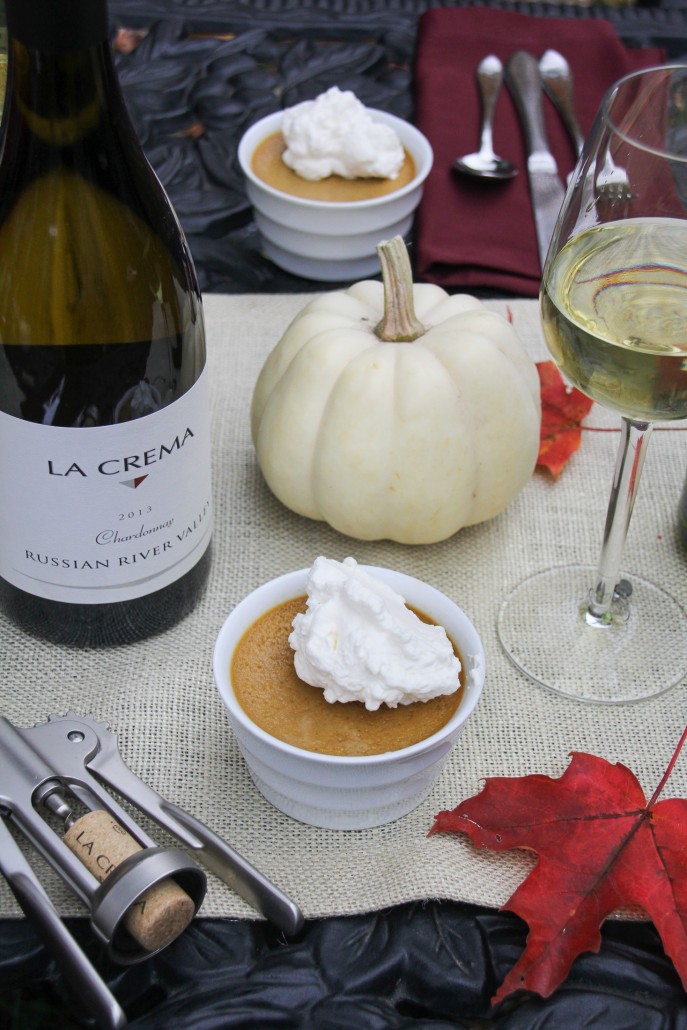 For any dinner party, having at least one course that can be prepared completely ahead of time is a smart move. Pot de cremes, which are baked in a water bath and served chilled, can be made up to a day in advance, and since they are already portioned into individual servings, all that's needed before-serving is a dollop of whipped cream. This means that once you, the lovely host, have gotten the main course on the table, you can sit down and enjoy the rest of the meal with your guests worry-free, only popping up to bring out a platter of pot de cremes (and the last bottles of wine, of course).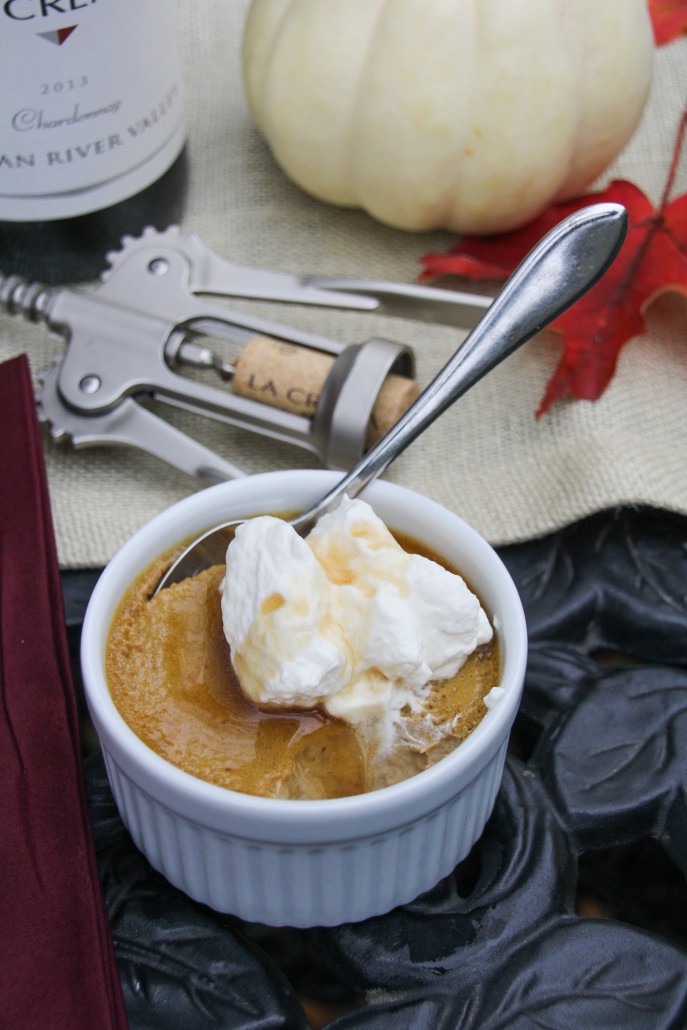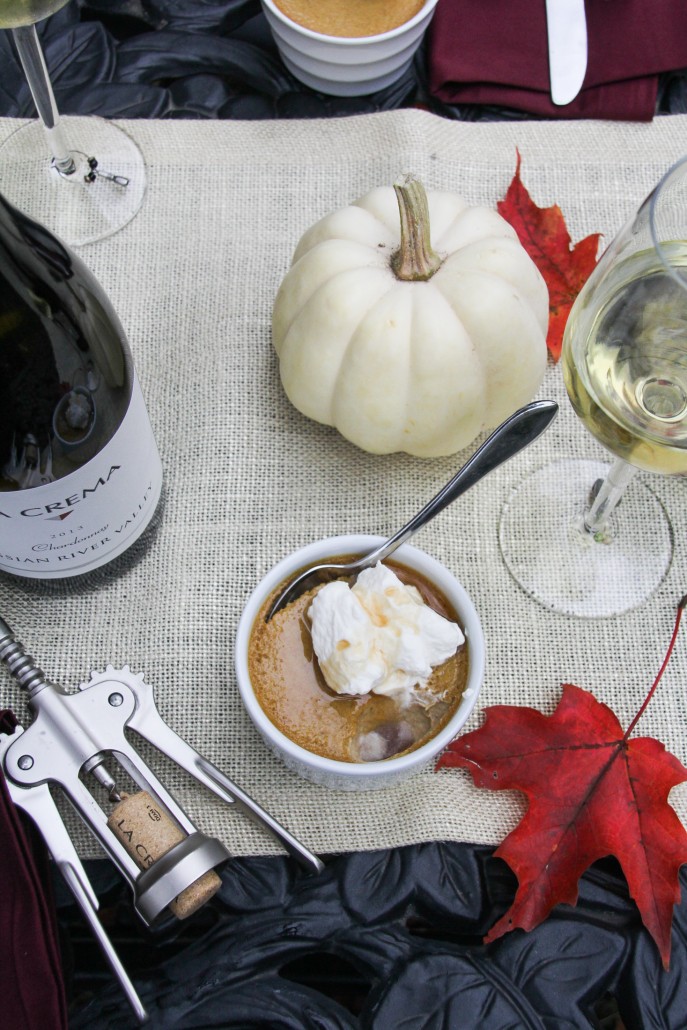 The Chardonnay pairing for our Pumpkin-Vanilla Pot de Cremes was La Crema's Russian River Valley Chardonnay. Dessert can be a tricky course to pair with wine, but with a fairly low sweetness dessert like this one, you can play up the other flavors, such as cream and just a hint of spice. The Russian River Valley is fruity and honeyed, with a slight echo of the spices used in the dessert.
Harvest Pumpkin Dinner: Pumpkin-Vanilla Pot de Cremes
Author: Katie Morris of Katie at the Kitchen Door
Prep time:
Cook time:
Total time:
Serves: 6
Ingredients
6 egg yolks
1/2 c. brown sugar
1/4 tsp ground cinnamon
1/4 tsp ground ginger
1/8 tsp ground cloves
1 1/2 c. heavy cream
1/2 c. whole milk
1/2 c. canned pumpkin puree
1 vanilla bean
1 c. whipping cream
2 tbsp maple syrup
Instructions
Preheat oven to 325°F. In a large bowl, whisk together egg yolks, brown sugar, cinnamon, ginger and cloves until frothy. Set aside.
Whisk together the cream, milk, and pumpkin puree in a medium saucepan. Add the vanilla bean. Bring the pumpkin cream just to a simmer over medium-low heat. Slowly pour the hot pumpkin cream into the eggs, whisking the eggs vigorously as you do so to keep them from scrambling.
Strain the custard through a fine-mish sieve into a large bowl with a spout. Place six, 6-oz ramekins in a large baking dish. Pour the strained custard evenly between the ramekins. Place into the oven. Fill a pitcher or measuring cup with very hot water and carefully pour the hot water into the baking dish around the ramekins, until the hot water comes up about 2/3s of the sides of the ramekins.
Bake until the custards are mostly set, with just a little bit of jiggle left in the center, about 40-50 minutes. Carefully remove from the oven, and remove the ramekins to cool on a cooling rack. Once they are cool to the touch, cover tightly with plastic wrap and refrigerate until thoroughly chilled, at least 2 hours.
Just before serving, beat the whipping cream on high until soft peaks form. Drizzle in the maple syrup and stir to incorporate. Serve over each pot de crème.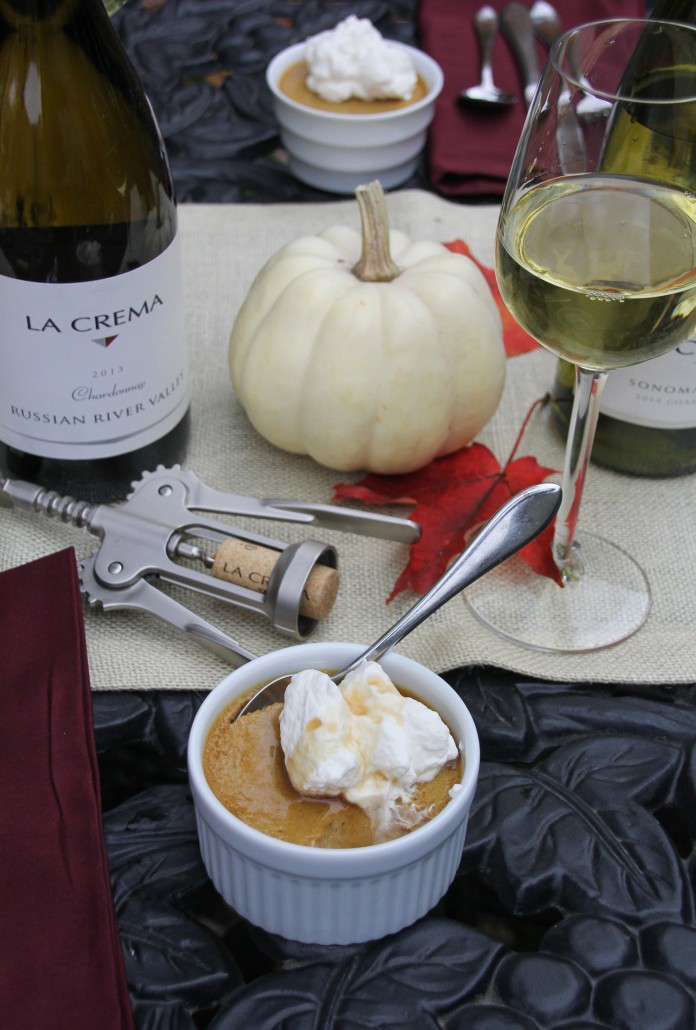 Harvest Pumpkin Dinner
Mini-Stuffed Pumpkins with Middle Eastern Beef & Couscous