Harvest Pumpkin Dinner: Grilled Pumpkin Salad
It's a bit hard to believe that we're already easing out of October and into November – it seems like just a week ago I was a little too warm walking around in sweaters and boots (but it's so hard to resist breaking out your new fall sweaters as soon as September comes around), and now I'm digging out my winter coat to combat the morning frost here in Boston.
Before the foliage fades and it gets too cold to enjoy afternoons outdoors, I decided to host a little outdoor harvest dinner for my parents and fiancé. The theme? Pumpkin + Chardonnay.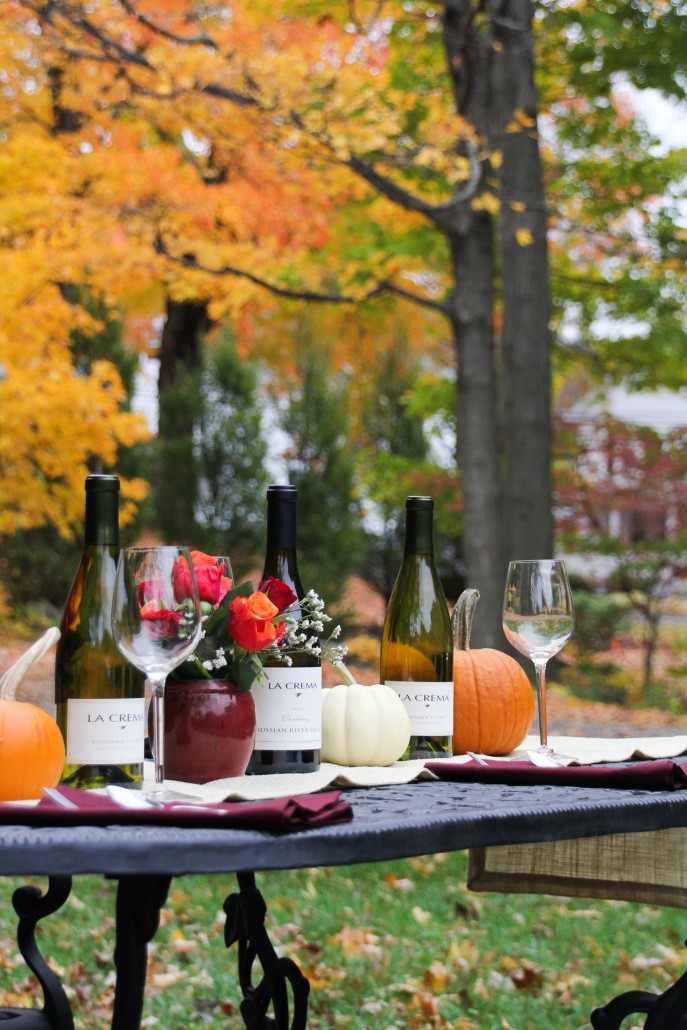 Pumpkin and Chardonnay may sound like an odd pairing at first glance, but after working through three pumpkin-centric courses and three different La Crema Chardonnays to pair with them, I can assure you, it works. Some of the flavors that pair best with pumpkin – cream, nutmeg, brown butter, pasta, soft cheese – are also flavors that are easily enhanced by the right Chardonnay – which, with the help of the team at La Crema, I was able to find for each course of the meal.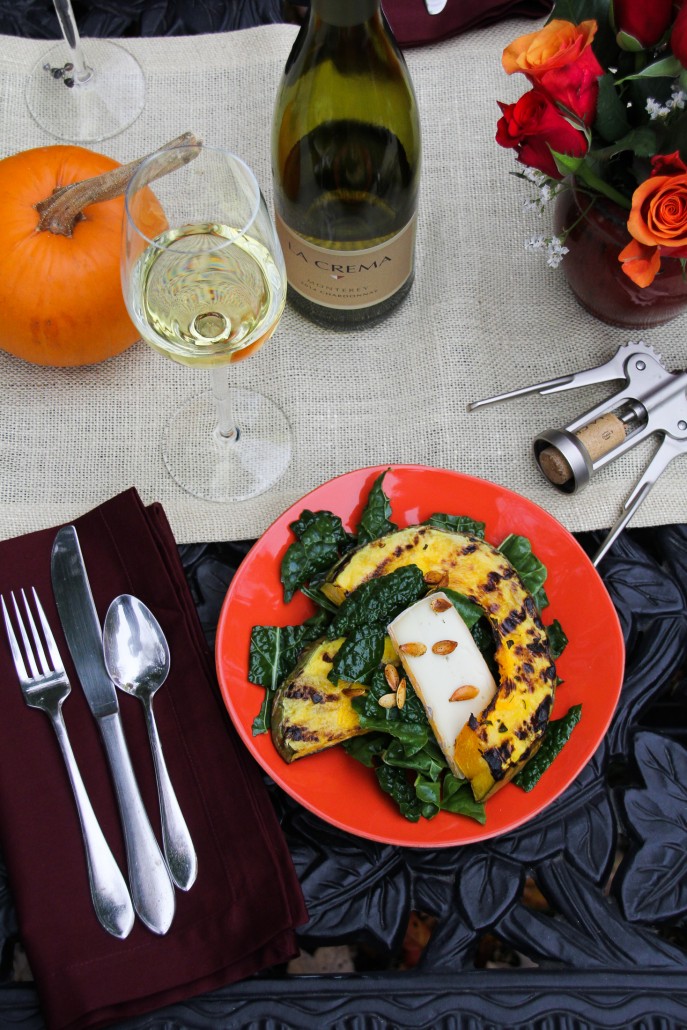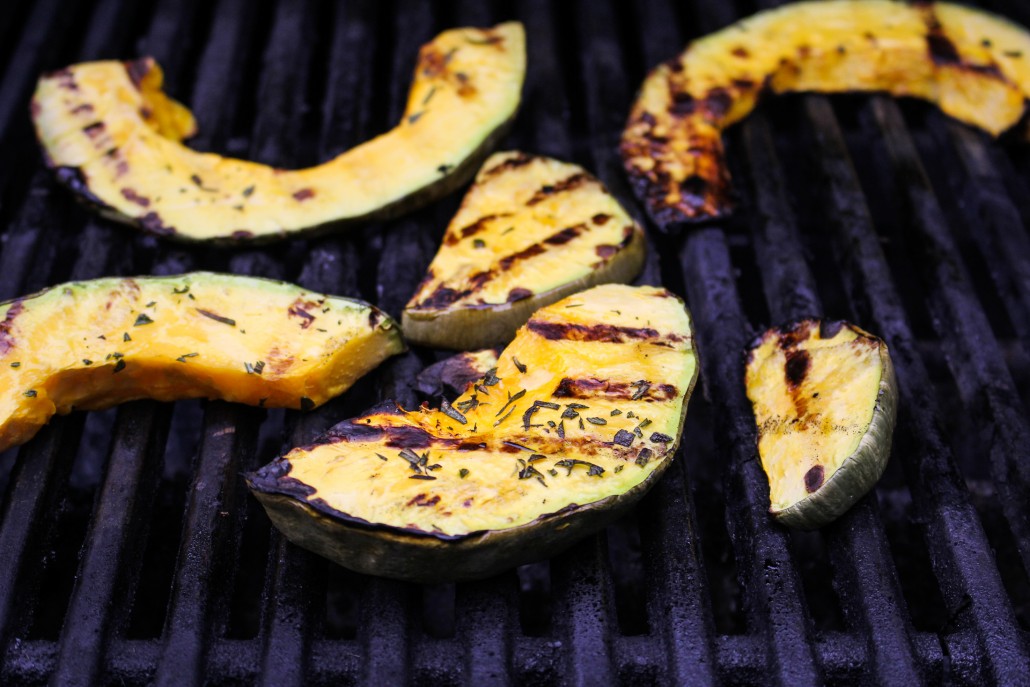 The first course was a simple plated salad, featuring grilled rosemary-marinated hubbard squash. Hubbard squashes are typically large, pale blue-gray, and have a pronounced, sweetish squash flavor and a dense texture. Although not as common as roasting or pureeing, grilling squash or pumpkin is a quick way to soften it while also infusing it with a bit of smokiness. We rounded out each plate of salad with a slice or two of funky soft cheese (the exact variety doesn't matter, but think along the lines of camembert or reblochon), paprika-roasted pumpkin seeds for a bit of crunch, and a mix of raw kale and chard, dressed simply with olive oil, lemon, and salt. Note that while hubbard squash is delicious and worth seeking out, if you can't find them, any other squash can be used in this recipe in it's place.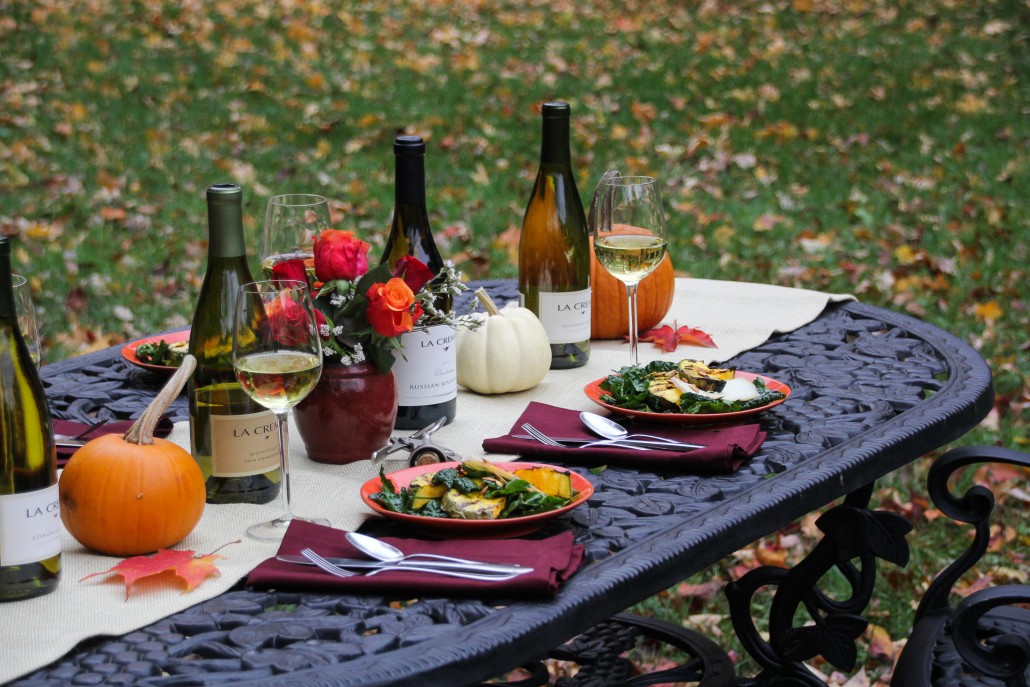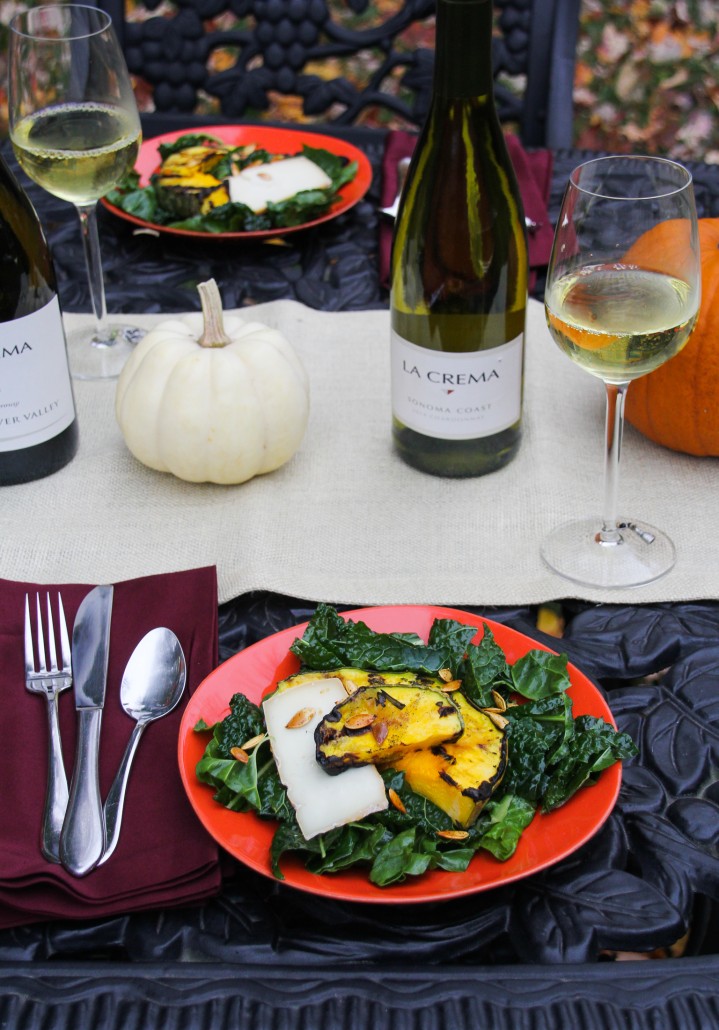 To pair with the salad, we served the La Crema Monterey Chardonnay, which is rich and buttery and played beautifully with the funkiness of the cheese and the bitterness of the greens. While grilled squash and Chardonnay might sound like a summery pairing, everything about this course was pungent, savory, and rich, setting just the right tone for our harvest dinner.
Grilled Pumpkin Salad
Author: Katie Morris of Katie at the Kitchen Door
Recipe type: Salad
Prep time:
Cook time:
Total time:
Serves: 6
Ingredients
1/2 cup raw pumpkin seeds, clean and dry
7 tbs olive oil, divided
1/2 tsp smoked paprika
sea salt and black pepper, to taste
1 medium hubbard squash, or other winter squash
3 sprigs fresh rosemary, leaves finely chopped
1 bunch tuscan kale, cleaned and dried
1 bunch chard, cleaned and dried
1/2 lemon
6 oz. funky soft cheese, such as camembert or reblochon, thinly sliced
Instructions
Preheat the oven to 350F. Toss the pumpkin seeds with 2 tbs of the olive oil, the smoked paprika, and sea salt and pepper, thoroughly coating all the seeds with the mixture. Spread the seeds out on a foil-lined baking sheet and roast until toasted and crunchy, about 30 minutes. Stir the seeds halfway through to keep them from burning. Remove the toasted seeds from the oven, let cool, and store until ready to use.
Cut the squash in half and scoop out the seeds (use them for roasting if desired, or discard). Slice the squash halves into slices that are no more than 1/2 inch thick. Brush the squash slices front and back with 2 tbs of the olive oil, then sprinkle with the chopped rosemary, salt, and pepper. Let sit for 15 minutes. Preheat the grill to medium, then place the squash slices on the grill. Grill without disturbing for 5 minutes, then flip and grill on the other side for 5 minutes. Squash should be charred in spots and tender all the way through. Remove and set aside.
Remove the kale and chard leaves from the tough center ribs, then tear the leaves into small pieces. Place in a large bowl. Toss with the remaining 3 tbs of olive oil and the juice from the lemon. Sprinkle with salt and pepper. Divide the greens between 6 plates, and top each plate with a few slices of squash, a few slices of cheese, and a handful of roasted pumpkin seeds. Serve immediately.
Stay tuned for two more pumpkin recipes with La Crema Chardonnay pairings from this dinner!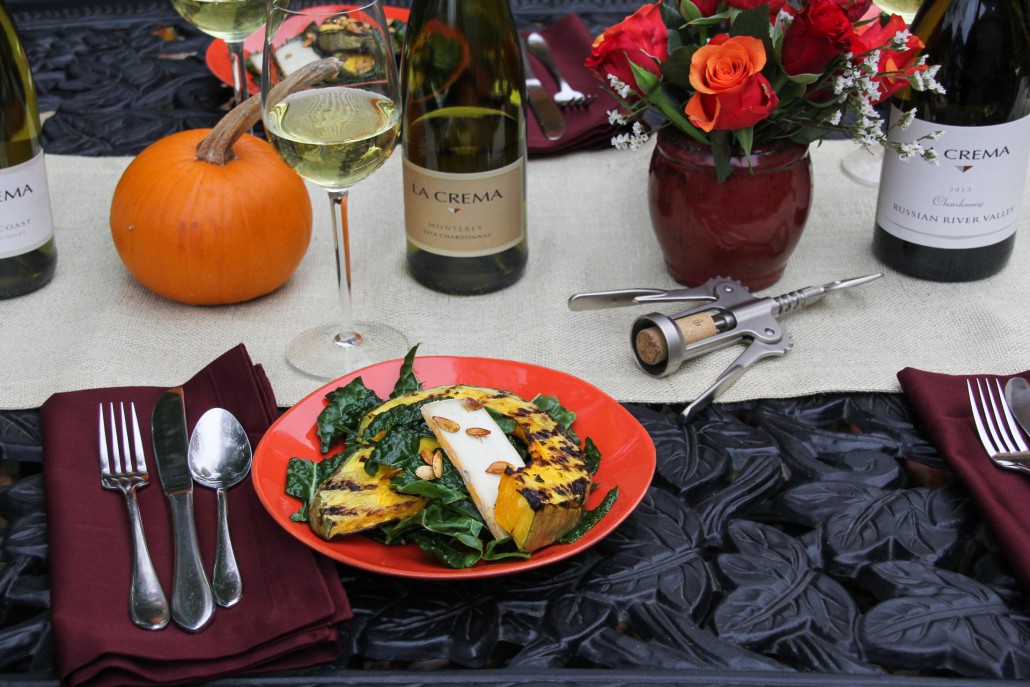 Harvest Pumpkin Dinner
Mini-Stuffed Pumpkins with Middle Eastern Beef & Couscous